How to Plan a Beijing Xian Shanghai Tour 2022/2023
Are you planning your first trip to China? Or looking for great destinations to travel with Beijing, Xian or Shanghai? Then, Beijing, Xian and Shanghai - China's famous golden triangle cities are the best among the bests that you shouldn't miss. What's the best route? How long to take such a tour? What are the top travel experiences? Relax! China Discovery specially collected the most comprehensive and helpful trip planning guide here to help you enjoy a well-organized Beijing Xian Shanghai tour 2022/2023.
Best Time to Go
Tourists can visit Beijing, Xian and Shanghai all through the year, for their most attractions are indoor spots less affected by the weather. The three destinations all have distinct four seasons. To enjoy the best travel experience, spring (March to May) and autumn (September to November) are the best times to visit Beijing, Xian and Shanghai, because the temperature is pleasant warm in spring, cool in autumn with beautiful natural scenery. Summer is hot and winter is cold, and Beijing and Xian even snows in winter. The best idea is to choose a time fitting your itinerary and the weather condition.
▶ Best Time to Visit Shanghai
Beijing has a humid continental monsoon climate. The spring is short and warm, and sandstorms happen in early spring. Later spring is a good time to witness colorful flower blossoms in city parks and the Great Wall. Summer is hot with rich rainfalls in July and August. Summer Palace and indoor sites are recommended for visiting. Autumn is clear and refreshing, a peal travel season for travelers to Beijing. You can visit all types of sites. Winter is cold and windy. Forbidden City and Great Wall with snowy scenery are popular attractions at this time.
Check more Beijing Weather & Seasons - Best Time to Visit Beijing.
▶ Best Time to Visit Xian
With a warm temperature semihumid continental monsoon climate, Xian has obvious dry and wet seasons. Spring is warm, dry and windy. Summer has high temperature and frequent thunderstorms. Autumn is nice and cool and temperature drops sharply. In Winter, Xian is cold and foggy. Snows occur but don't last long. You can visit all attractions in Xian anytime you want. Prepare suitable clothes and protection articles if come in summer and winter. Due to geographic reasons, summer in Xian is hotter than Beijing, and its temperature often rises up to above 35℃.
Learn more about Xian Weather & Seasons - Best Time to Visit Xian.
▶ Best Time to Visit Shanghai
Shanghai enjoys a subtropical monsoon climate with rich sunshine and precipitation. Generally, it's moderate & humid in Shanghai all year, and its annual average temperature is about 15.8℃. But summer and winter is longer than spring and fall. March to May in spring has comfortable temperature and beautiful natural colors in city parks. Summer is acceptable hot with lots of rains (mostly falls during May to September) and possible typhoons. Shanghai in winter is cold and moist.
Read on the Best Time to Visit Shanghai to get detailed seasonal climate features, suitable activities and dressing, packing advice.
Beijing Great Wall in Spring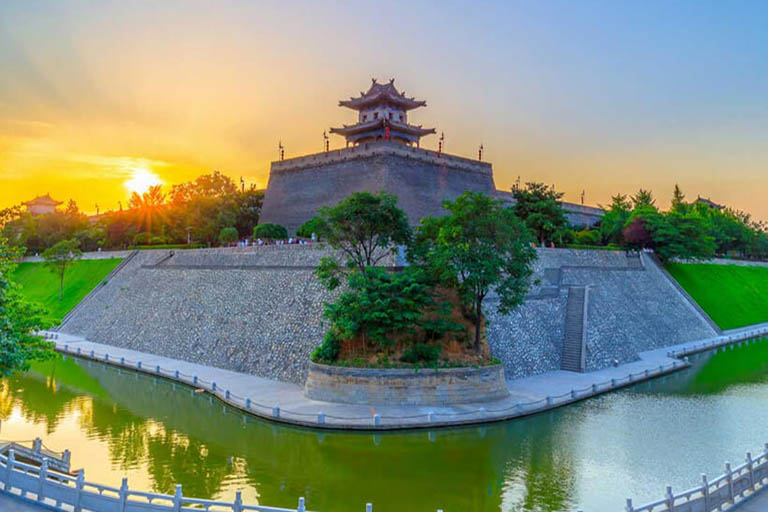 Xian Ancient City Wall in Spring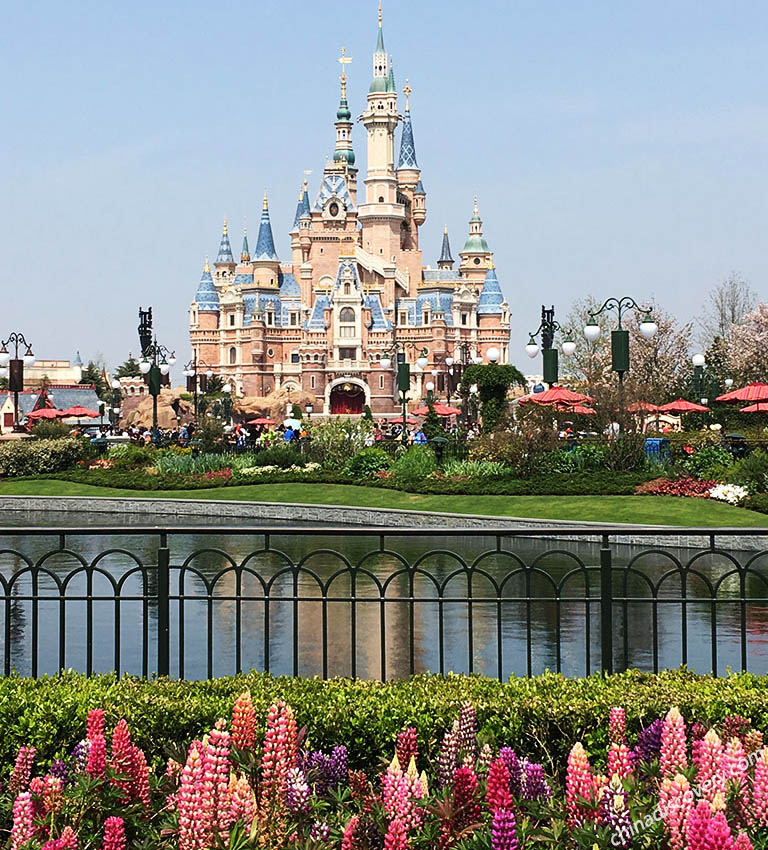 Shanghai Disney Resort in Spring
Decide Your Travel Length
Beijing, Xian and Shanghai are China's top 3 tourist destinations considered the best essence of China. The most popular, classic and recommended length is to spend 3 days exploring top highlights of Beijing, 2 days for Xian and Shanghai respectively. If you count the arrival or departure day and the transfer time in, we suggest 8 days for a Beijing Xian Shanghai tour package covering Great Wall hiking, Terracotta Warriors visiting and the Bund and other Shanghai landmarks checking. Meanwhile, you travel length can be flexibly arranged according to your holiday time and personal interest. If you want to make an in-depth discovery among the cities, or visit more destination, please feel free to contact us to tailor-make a perfect schedule with our professional & experienced travel consultant!
▶Useful Links: How to Plan a Trip to Beijing | How to Plan a Trip to Xian | How to Plan a Trip to Shanghai
Below are our best-selling Beijing Xian Shanghai tours:
☛ 8 Days Best of China Tour (Beijing/Xian/Shanghai)
☛ 8 Days Best Shanghai Xian Beijing Tour
Biking on Xian Ancient City Wall
Choose a Suitable Itinerary
There is no fixed tour order and travel route. But to ensure you the best-organized itinerary and most time-efficient transfer, China Discovery lists several considerations in the following.
▶ Which City to Start?
Most travelers start their trips to China from Beijing and Shanghai, for they are well-connected with oversea destinations through frequent international flights. Besides, they both own many flights and high speed trains to major destinations in China. So, you can easily get to China and get around China from Beijing and Shanghai. Tourist often get to Xian from Beijing, Shanghai or from other cities, for it offers less international arrival flights. Before deciding where to start your tour, please combine your location and the transportation convenience.
▶ Most Recommended Travel Route
Beijing is located in Northern China, while Xian is in Northwest China and Shanghai lies in China's east cost. Thinking about the geographic direction and transfer time, Xian is usually visited between Beijing and Shanghai. Thus, the most popular tour orders are Beijng-Xian-Shanghai and Shanghai-Xian-Beijing.
▶ Regular Sightseeing, Family Tour or Other Theme Tour?
China Discovery can customize different themed tour packages for different travelers. If you want regular sightseeing trip, we will take you to the most famous landmarks. If you travel with family, even kids, we also offer a popular tour itinerary with special family-friendly attractions and activities for your family, such as taking rickshaw in Beijing Hutong, making dumplings with a local family, enjoying trilling rides in Shanghai Disneyland.
We can also arrange other theme activities for your golden triangle cities tour, like Great Wall hiking, biking, photography, local cultural learning, etc. You can choose the most interested type from our China Travel by Theme or tell our travel consultant your own ideas and requirements to design a special one. We will try our best to satisfy your needs and create a memorable trip for you.
Beijing Great Wall Hiking Tour
Beijing Family Tour
Shanghai Group Tourists Visited Yu Garden
The Best Choice of Transportation
● Distance between Beijing and Shanghai: about 1,100 km (683.5 mi); within 2.5 hours by flight, 4.5 ~ 6 hours by high speed bullet train (both popular)
● Distance between Beijing and Xian: about 1,450 km (714.6 mi); about 2.5 hours by flight, 4.5 ~ 5.5 hours by high speed bullet train (more recommended)
● Distance between Xian and Shanghai: about 1,400 km (870 mi); less than 2.5 hours by flight (more recommended), 6 ~ 9 hours by high speed bullet train
Flying is the fastest way for a long-distance travel. The air journey is around 2.5 among the three cities. And there are dozens of direct flight available from the early morning to late night.
A high speed train travel is very popular and convenient in China, so we highly suggest you taking one to experience the fast speed, high technology and landscape variation outside the window. They're clean, comfortable and punctual. There are many high speed bullet trains are commuting among these cities daily. Normal trains are overnight trains with simple facilities are time-consuming, not recommended.
Normally, tourists choose one air travel with one high speed bullet train to experience two kinds of transport. Flying is more chosen between Shanghai and Xian while high speed train is more recommended for transferring between Beijing and Xian and Beijing and Shanghai. If you want to save time as much as possible, you can let us arrange air travels during the whole tour.
Useful Flight Schedules:
Beijing Shanghai Flights | Beijing Xian Flights | Shanghai Xian Flights
Useful Train Scheduels:
Beijing to Xian High Speed Train Schedule
Beijing to Shanghai High Speed Train Schedule
Xian to Shanghai High Speed Train Schedule
Beijing to Shanghai High Speed Bullet Train
Xian Xianyang International Airport
Shanghai Hongqiao International Airport
Choose Accommodations in Beijing, Xian & Shanghai
After arriving in Beijing, Xian and Shanghai, tourists regularly get from the airport or train station to your hotel to check in and have a rest first. So the next step is to find a hotel meeting your needs and budget.
Since Beijing, Xian and Shanghai are top tourist destinations in China, they all provide wide selections of accommodation choices, ranging from luxury 5-star hotels, boutique hotels to cheap local hotels, hostels and guesthouses. The best area to stay is the downtown for it is well located, easy to landmarks and dining & shopping area. Also, you can accommodate near major attractions or the airport and train station. Better book the hotels in advance, especially during the peak tourist season, such as Labour Day (from May 1st) and National Day (from October 1st).
▶ Best Places to Stay in Beijing
The city center around Tian'anmen Square and Forbidden City is the best accommodation area in Beijing. You can conveniently visit the two attractions and transfer to the Great Wall and other attractions in Beijing. Many international luxury brands are located in this area, such as the St Regis Beijing, Waldorf Astoria Beijing, Ritz Calton, etc. There are many express hotels near Beijing South Railway Station. Accommodation choice is less and simple near the Beijing Capital Airport and Daxing International Airport in suburb area.
>>Top Recommended Hotels in Beijing
▶ Best Places to Stay in Xian
In Xian, the most ideal accommodation area is the city center around the Bell & Drum Tower and Muslim Quarter. Terracotta Warriors in the outskirts, You can choose Eastern House Boutique Hotel, Hilton Xian, Sofitel Xian and other top-rated 3-star to 5-star hotels. The area close to the Giant Wild Goose Pagoda is another popular places to stay, for you can visit Shaanxi History Museum and enjoy a music fountain in the front square of the pagoda. Accommodation near the Terracotta Warriors and Xian Xianyang Airport is also available but limited.
>> Best Areas and Top Recommended Hotels to Stay in Xian
▶ Where to Stay in Shanghai
The central Shanghai is the best place to stay, for you have many choices of hotels and convenient transfer to other major attractions and traffic hubs. The most favorite area is near the Bund, for you can easily reach the Bund, skyscraper in Lujiazui, Shanghai Museum, People's Square. Hyatt on the Bund Hotel, Fairmont Peace Hotel, the Peninsula Shanghai are mostly used deluxe hotels in this area. If you want some local, you can book hotels near Yu Garden and in Shanghai old town. Want to enjoy the spectacular city skyline? There are various hotels in Lujiazui, Pudong New Area for you. Moreover, hotels near Nanjing Road is most suitable for shopaholics, Former French Concession is the best area for a leisure walking and mixed cultural exploration.
Explore Highlights in Beijing, Xian & Shanghai
Different past and regional characteristics presents different charms of each city. As the most classic travel route in China, you can discover China's different historical stages in Xian and Beijing, and meet the modern and future of China in Shanghai.
▶ What to See & Do in Beijing
Beijing has many UNESCO World Heritage sites awaiting your exploration, including the Great Walls, Forbidden City, etc. For all travelers to Beijing, the top must-do is a Great Wall hiking tour. You can choose from the less crowded Mutianyu Great Wall, Simatai Great Wall, beautiful Jinshanling Great Wall, most famous Badaling Great Wall and other remote sections.
In city center area, you can visit Forbidden City to view a large-scale imperial palace and numerous cultural treasures, the symbolic Tian'anmen Square, majestic Temple of Heaven and roam through Beijing Hutongs. In suburb area, you can walk in the former royal garden - Summer Palace and 798 Art Zone. Eating a Peking Duck and watching a Peking Opera show are interesting experiences you should try. More Top Things to Do in Beijing >>
▶ What to See & Do in Xian
Xian also owns several World Heritage properties, including the Terracotta Warriors & Horse and Giant Wild Goose Pagoda. The most important highlights is the Terracotta Warriors buried in the Emperor Qin Shihuang's Mausoleum. After your sightseeing, you can even take a class to make a small Terracotta Army. Other major attractions of Xian are located in the downtown area. You can have a morning walking or biking tour on the Ancient City Wall and visit the landmarks - Bell & Drum Towers and sample local snacks in nearby Muslim Quarter, enjoy unexpected serenity in Great Mosque within the walls. Shaanxi History Museum is a must-see for Chinese history fans. Within short distance, you can shortly visit the Giant Wild Goose Pagoda. To relax yourself and better know ancient life, you're advised to see a Tang Dynasty Show in city center with a Dumpling Banquet or in the Huaqing Pool near the Terracotta Warriors. Lots of tourist often take 1 more day to make a Mount Hua hiking tour from Xian. More Top Things to Do in Xian >>
▶ What to See & Do in Shanghai
Shanghai is a young metropolis mainly presenting cultural blend of the West and East, the old and new. The most iconic sites are the Bund lined with groups of western-style historical buildings and four skyscrapers (Shanghai Oriental Pearl Tower, Shanghai Tower, World Financial Center, Jinmao Towner) across the river. If you want to discover the ancient Shanghai, Yu Garden, City God Temple, Jade Buddha Temple are popular sites to go. The Bund and Former French Concession are the best places to make a cosy stroll and discover the west meeting the east. Shanghai Museum rich in cultural collections helps you know more about China's brilliant history and diverse culture. Nanjing Road is a busy shopping block. Taking a Huangpu River night cruise or enjoy an Acrobatic Show can add more fun during your Shanghai tour. More Top Things to Do in Shanghai >>
Tailor-made Group Tour to Mutianyu Great Wall, Beijing
Visit Terracotta Warriors in Xian
Paul & His Wide Visited the Bund in Shanghai
Watch Tang Dynasty Show in Xian
Extended Destinations of Your Beijing Xian Shanghai Tour
There are more wonderful destinations you can travel with Beijing, Xian and Shanghai, if time allows, like Guilin, Chengdu, Yangtze River, Zhangjiajie, etc. If you want to add 1 or more destinations into your Beijing Xian Shanghai tour, that's totally doable. Our travel consultant will customize a unique itinerary according to your requirement and calculate the time needed for your tour.
If you want to escape from the urban, Guilin is a nice option. You can select from our Beijing Xian Guilin Shanghai Tour Packages to enjoy a Li River Cruise in Guilin and idyllic countryside scenery in Yangshuo with the golden triangle cities. 10 Days Classic China Tour from Beijing - First Touch of China is the best-seller. If you dream of Avatar adventure in Zhangjiajie, 13 Days of China Landscape Tour is the best recommendation.
Between Beijing and Xian, you may visit Mount Wutai, Datong (Yungang Grottoes), Pingyao Ancient City. Qufu (Hometown of Confucius) and Moun Tai, Qingdao are hot destinations to drop by between Beijing and Shanghai if you take a high speed train. Between Xian and Shanghai, you can extend trip to Mount Hua, Luoyang (Longmen Grottoes), Shaolin Temple, Chengdu, Yangtze River, even to southwestern China's Yunnan (Dali, Lijiang, Shangri-La...) and Guizhou. From Shanghai, it's super popular to visit Suzhou, Hangzhou and Huangshan Mountain with 1 to 2 days each.
Longer China Shanghai Tours with More Destinations:
Shanghai Suzhou Tours | Shanghai Hangzhou Tours | Shanghai Huangshan Tours | Shanghai Guilin Tours | Shanghai Zhangjiajie Tours | Shanghai Yangtze River Tours
Cycling along Yangshuo Yulong River, Guilin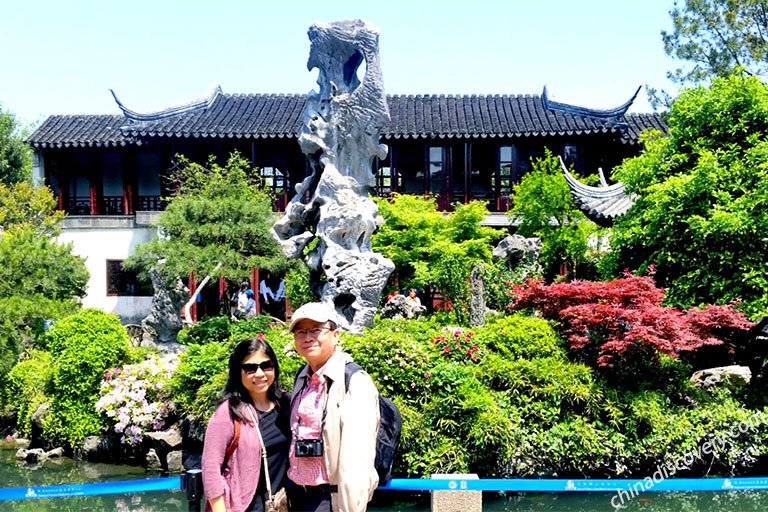 Our Delighted Customers Visited Lingering Garden in Suzhou
Travel Beijing, Xian & Shanghai with China Discovery
As a leading travel agency in China which dedicates to offering high-quality China tours, China Discovery has helped thousands of travelers enjoy their trips to Shanghai, Xian, Beijing, etc., in China. Travelling with us, you can enjoy a well-organized itinerary and worry-free transfer service, and our assistance of Chinese Visa application, knowledgeable tour guide, safe & licensed private vehicle, satisfactory accommodation and dining and so on. One-to-one consultant is specially provided to meet all your requirements. You are free to choose from our most popular Beijing Xian Shanghai tour packages or contact us to design a memorable holiday on your own!
Tailor-made Xian Terracotta Warriors Tour by China Discovery
Keep Reading
Recommended Beijing Xian Shanghai Tours
Top 3 Beijing Xian Shanghai tours chosen by most customers to explore Beijing Xian Shanghai in the best way. Check the detailed itinerary, or tailor your own trip now with us.
8 Days Best of China Tour (Flight/Bullet Train Covered)

Beijing / Xian / Shanghai
8 Days China Golden-triangle Destinations Tour

Shanghai / Xian / Beijing
8 Days Beijing Xian Shanghai Tour by Flight

Beijing / Xian / Shanghai
Start planning your tailor-made holiday to China by contacting one of our specialists. Once inquired, you'll get a response within 0.5~23.5 hours.
Customize a Trip
Have a question? Get answers from our travel experts or guests
Your Question:

Your Name:

Your Email: