Top Things to Do and Attractions in Beijing and Tibet
Beijing and Tibet are two totally different places with different history, culture, food, tradition and landscape. The most interesting attraction of a Beijing Tibet tour is to experience the huge contrast which can shock your heart.
● Wonderful Visiting to Some of the Best World Heritage Sites in China
Beijing has 7 World Cultural Heritage Sites, and Tibet has one. These heritage sites are not only good educational sites to learn about Chinese and Tibetan culture, but also some brilliant man-made historical architectures, such as the famous Great Walls, Potala Palace, Forbidden City. Our best Beijing Tibet tours have already covered all of these heritages for you.
● Ancient Chinese Feudalism Culture & Tibetan Buddhism Culture
China had the longest Feudalism history in the world. And the capital Beijing where the empires ruled the nation is the best reflection of the characters of ancient Chinese Feudalism culture. Beijing used to be the capital city during many feudal dynasties. Many historical sites in Beijing are themed by imperial culture, especially the Forbidden City, Temple of Heaven, Summer Palace, etc.
While in Tibet, you will witness the most devoted religious culture – Tibetan Buddhism. Buddhism is the spiritual belief of Tibetan people, also the study and meditation of Tibetan monks, even the political power to unite the whole Tibetan regions. The best representation of Buddhism is no doubt the numerous Buddhist monasteries and temples which were built by featured Tibetan style.
● Amazing Journey to See High Plateau Landscapes
Tibet is regarded as the last pure land on our planet, and no mistake, Tibet really offers you an amazing feast of natural landscape. Here you can see many of giant and highest mountains in the world. They are always covered by pure snow, and associated with old legendary stories. In Tibet, you can't miss the visiting to its several holy lakes. Actually, no matter where you go, you will get amazed by its beautiful plateau views.
Most Popular Beijing Tibet Tours:
✔ 7 Days Classic Beijing Lhasa Tour by Flight / ✔8 Days Tibet Train Tour from Beijing
✔11 Days Beijing Tibet Overland Tour to Kathmandu / ✔14 Days China Treasure Tour with Tibet Dream
What to See in Beijing - Top Tourist Attractions in Beijing
Most of the top visited attractions in Beijing are conveniently located in and near Beijing city. You don't need to transfer very long distance. And each site gives you different learning and seeing. Following are some best attractions in Beijing.
Great Walls of China
The Great Wall is the No.1 attraction in Beijing, and hiking the highlight section is the best experience you are able to have. The Great Wall is located in northern outskirt of Beijing city consisting of some well-preserved walls and some ruined walls, including the most famous Badaling Great Wall, and less crowding Mutianyu Great Wall and Simatai Great Wall. Usually you only need to hike one of them.
Forbidden City (Palace Museum)
Forbidden City is the main body of ancient imperial palaces. It is famous as one of "Five World Palaces", used to be the imperial seat of 24 emperors of Ming and Qing Dynasties. It is also one of the most fabulous and outstanding architectural art which is well preserved. The Forbidden City embodies the longlasting ancient Chinese feudalism tradition.
Temple of Heaven
Temple of Heaven used to be the place for emperors to worship to heaven and pray for a prosperous and harvest year. It is actually a large group of ancient buildings of temples, walls, stages, towers, etc, which were firstly built in 1420 when the emperor Yongle ruled Ming Dynasty. Today, it is a peaceful park where you can learn about ancient Chinese history and culture.
Beijing Hutongs
Hutong is one of the unique features of Beijing. It is a spectacular living residential architecture originated from ancient China. It reflects the traditional custom of Beijing as well as the past looks of ancient Beijing. The history of Hutong can be traced back to Yuan Dynasty when Mongols ruled China. Beijing Hutongs consists of many connecting deep alleys, streets and residential houses.
Useful Beijing Travel Guide:
Popular Beijing Tours / China Great Wall Tours/ Top Things to Do in Beijing
Great Wall in Beijing
Forbidden City
Beijing Hutong
What to See in Tibet - Top Tourist Attractions in Tibet
There is no need to worry finding no things to do in Tibet, and you only need to worry how I can have more days to spend in Tibet. We conclude three best highlights of Tibet.
1. Fabulous Tibetan Monasteries, Palaces
Since the ancient time, Tibetan craftsmen has created excellent skills and styles, and inherited from generation to generation. The architectural style of Tibet originates from local tradition, and gets influence by Chinese and Indian building style, and is deeply themed by Buddhist elements, such as prayer wheel, prayer flags, golden roof, Buddha statues, Thangka, etc. Many of monasteries are built on elevated sunny hillside facing south, and are usually made of mixture of rocks, wood, cement and earth. The walls are usually pained white or red colors.
Among all the excellent buildings in Tibet, the Potala Palace in Lhasa is the most outstanding one. This palace stands at 117 meters in height and 360 meters in width. It is considered as the most important and typical building applying the best features of Tibetan architecture. There are thousands of rooms and chapels inside the palace housing precious arts and treasure.
Some other important monasteries are Jokhang Temple, Sera Monastery, Drepung Monastery, Ganden Monastery, Sakya Monastery, Tashilhunpo Monastery, Palcho Monastery, etc. They share similar architecture style, but usually differ a lot in details. The Sera Monastery is famous for Buddhism debating, Jokhang Temple is the holiest place of pilgrimage, Palcho has the famous Kumbum…
2. Highly Sacred Snowy Mountains
Everyone has the ambition to tread the high mountains underfoot. So why not come to Tibet to challenge yourself? If you are professional and fully prepared, go to conquer the highest peak in the world – Mount Everest. As for regular tourists, we don't need to hike up to the top of those mountains higher than 7000 meters, but we can get closer to them. Today, the highest peak can't stop our steps. We can travel to the Everest Base Camp which is located at 5200 meters above the sea level, and offer you clear views of the giant Everest. Tibet has too many high mountains, and the locals relate them with many beautiful legendary religious story. The most holiest mountain in the world – Mt. Kailash is standing on the remote Ngari and waiting for you visiting.
3. Turquoise Holy Lakes
Lakes on the plateau are quite different from those in plains, basins, etc. They are less visited, and still keep the wild environment. Tibet has three most famous holy lakes – Namtso Lake, Yamdrok Lake and Manasarovar Lake.
Namtso is usually reported as the most beautiful lakes in China. It is only 220km away from Lhasa. It is surrounded by snow mountains and grasslands. Namtso is also a popular place for pilgrimage and meditation. Yamdrok Lake is located along the roads from Lhasa to Gyantse. Its water is as pure as crystals. While the Manasarover Lake is in the remote western Tibet. Around the lake and Mount Kailash is the word famous pilgrimage yatra route.
Useful Tibet Travel Guide:
Popular Tibet Tours / Top Things to Do in Tibet/ Tibet Travel Permit
Potala Palace
Sakya Monastery in Shigatse
Mount Everest
Namtso Lake
How to Plan a Beijing Tibet Tour
Your Beijing Tibet tour can be flexibly designed according to your holiday time and personal appetite. A classic Beijing Lhasa trip can be done in around one week while an in-depth exploration tour of Tibet can be over 10 days and more. First, you can take 2 to 3 days to hike the Great Walls (like Mutianyu, Jinshanling Great Walls) in or near Beijing and visit world-famous landmarks in downtown Beijing, including the Forbidden City, Temple of Heaven, Summer Palace, etc. Meanwhile, you can explore Beijing in more interesting ways, maybe try the Peking duck and other featured Beijing food, watch a Peking Opera and wander around the twisted Hutongs.
Useful Links: Beijing Tibet Tours / Top Beijing Tours / Things to Do in Beijing
Next, take a fast flight or scenic train to Tibet. Start Tibet journey from spiritual center - Lhasa. Apart from the arrival and departure, it usually needs 2 full days to visit landmarks in Lhasa, like the Potala Palace, Jokhang Temple, Barkhor Street, Sera Monastery and other must-visits. If time allows, travel further regions of Tibet, to Gyantse - the City of Heroes, to Gyantse, Mount Everest, Mount Kailash, Nyingchi, Shannan and others. Or, cross the border to visit Nepal in the south Himalayas or continue to explore other great destinations in China, such as Xian, Chengdu, Lijiang, Guilin, Zhangjiajie and so on.
Useful Links: Top Tibet Tours / Top Things to Do in Tibet / Chengdu Lhasa Tours
Extended China Tours with Beijing & Tibet:
✔ 11 Days Beijing Tibet Overland Tour to Kathmandu
✔ 14 Days China Treasure Tour with Tibet Dream
✔ 15 Days China Tour with Tibet Discovery and Panda Visit
✔ 17 Days China Paradise Tour with Tibet Discovery & Yangtze Cruise
Travel with China Discovery
China Discovery is a leading comprehensive travel agency in China, providing excellent customized tour packages across China. We have helps thousands of travelers fulfill their dream tour in China. Just telling us your schedule and budget, we can arrange a satisfied China tour including Beijing, Shanghai and other popular tourist destinations and covering transport, sightseeing, tour guide, local vehicle and driver, accommodation, Chinese Visa application assistance, etc. The length, places to visit, theme can be arranged depending on your individual requirements. You may choose from our most popular Beijing Tibet tour packages or contact us to customize a special one!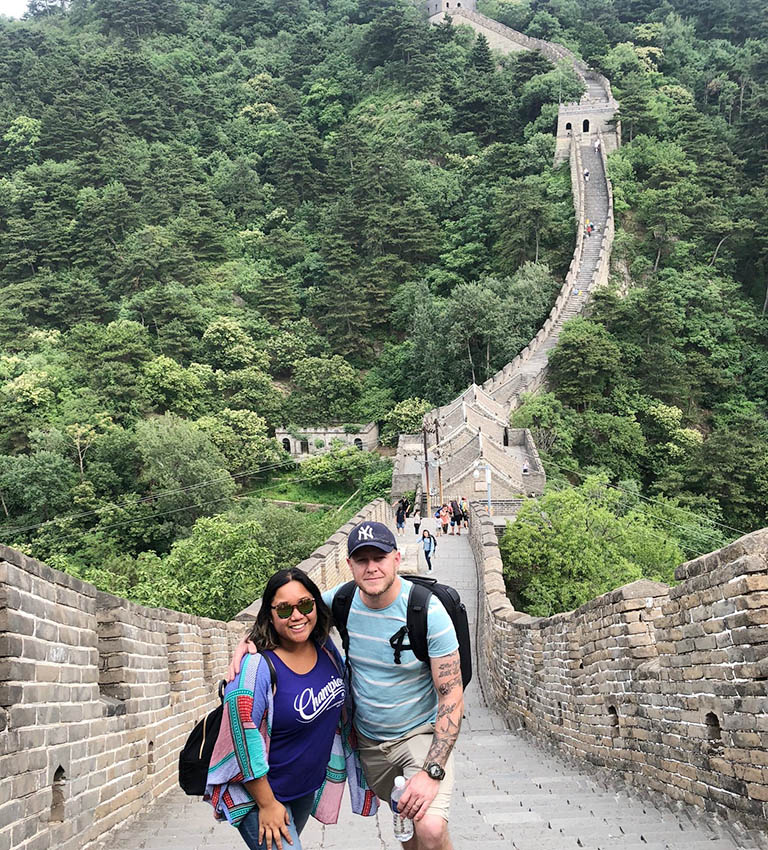 Our Austrlian Tourists Enjoyed Mutianyu Great Wall Hiking in Beijing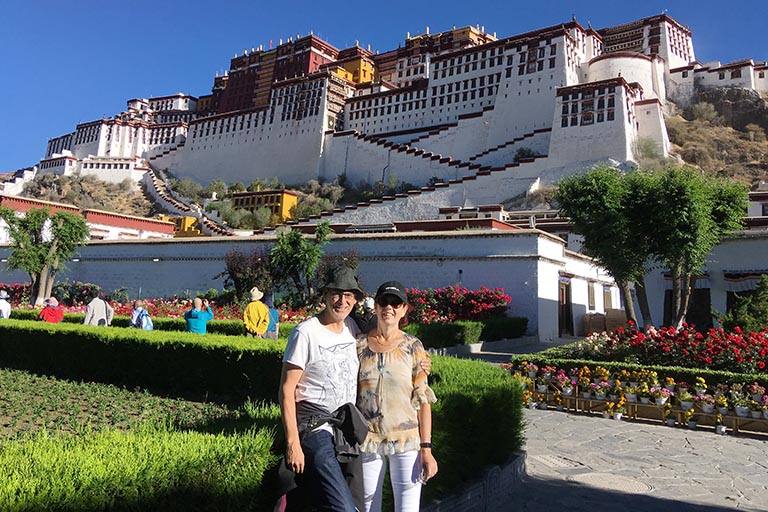 Tibet Tour Customized by China Discovery
Recommended Beijing Tibet Tours
Top 3 Beijing Tibet tours chosen by most customers to explore Beijing Tibet in the best way. Check the detailed itinerary, or tailor your own trip now with us.
7 Days Classic Beijing Lhasa Tour by Flight

Beijing / Lhasa
8 Days Tibet Train Tour from Beijing

Beijing / Lhasa
11 Days Beijing & Soul of Tibet Tour

Beijing / Lhasa / Gyantse / Shigatse / Everest
Start planning your tailor-made holiday to China by contacting one of our specialists. Once inquired, you'll get a response within 0.5~23.5 hours.
Customize a Trip
Have a question? Get answers from our travel experts or guests
Your Question:

Your Name:

Your Email: