How to Travel from Lhasa (Tibet) to Beijing: by Train or Flight
After finishing a Tibet tour, most tourists choose to leave Tibet from Lhasa, because as the administrative capital and the largest city of Tibet, Lhasa is the major transportation hub with the most convenient traffic network. If you are planning a Beijing tour from Tibet, there are both non-stop flights and direct train available. Transferring from Tibet to Beijing via some connected cities, like Chengdu, Xining, is also a good idea to discovery China more. Compare the following travel time, price and highlights to pick up your favored way for your Tibet Beijing tour.
Lhasa to Beijing Distance
Tibet is located in southwest of Qinghai-Tibet Plateau, southwest border area of China, bordering Sichuan in the east, Xinjiang in the north, Yunnan in the southeast and Nepal, India, Bhutan and other countries in the south. Its capital city - Lhasa lies in middle of the plateau, southeast of Tibet while Beijing is positioned in Northern China. The estimated shortest distance from Lhasa to Beijing is about 3,500 km (2,175 mi), with at least 4 provinces between them, e.g. Sichuan, Shaanxi, Shanxi and Heibei.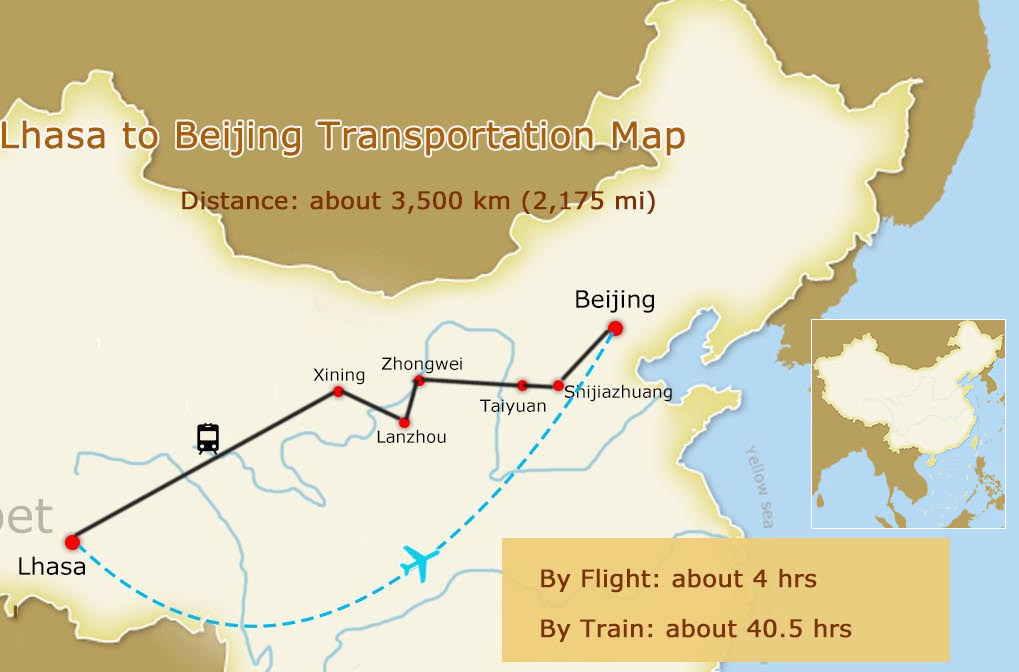 Lhasa to Beijing Transportation Map
Travel from Lhasa to Beijing by Flight - the Fastest & Most Convenient Way
Flight Time: about 4 hours
From: Lhasa Gonggar International Airport (LXA)
To: Beijing Capital International Airport (PEK)
The fast and convenient air travel always wins many people's hearts with stunning bird's-eye views. So far, in Tibet, only Lhasa has direct flights to Beijing, and none of other cities have air connection with Beijing. Departing from Lhasa Gonggar International Airport in Lhasa, the Lhasa to Beijing flight only takes 4 hours short, about 30 minutes less than the opposite air route. Every day, you have three non-stop flights to choose from, one in the morning and two are scheduled in the afternoon, and the last flight getting to Beijing at almost midnight. Air China is the only carriers for the direct flights.
If you miss the non-stop flights, you may consider the connecting flights via Kunming or flights with stopovers in Chengdu. More than 8 hours to nearly one full day is required for the second option. If you take a flight, your elevation will decrease from plateau at an average elevation of 3,000 m to plain area only tens of meters above sea level.
Transfer Tips: Lhasa Gonggar International Airport is located about 60 km, 1 hour's driving from Potala Palace. Beijing Daxing International Airport lies in northeast suburb of Beijing, taking around 40 minutes ~ 1 hour by taxi.
Recommended Beijing Tibet Tours (by Flight):
✔ 7 Days Classic Beijing Lhasa Tour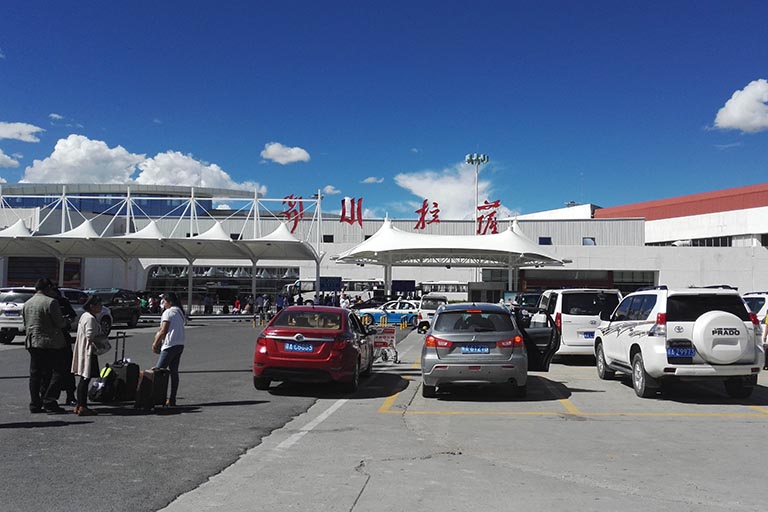 Lhasa Gonggar International Airport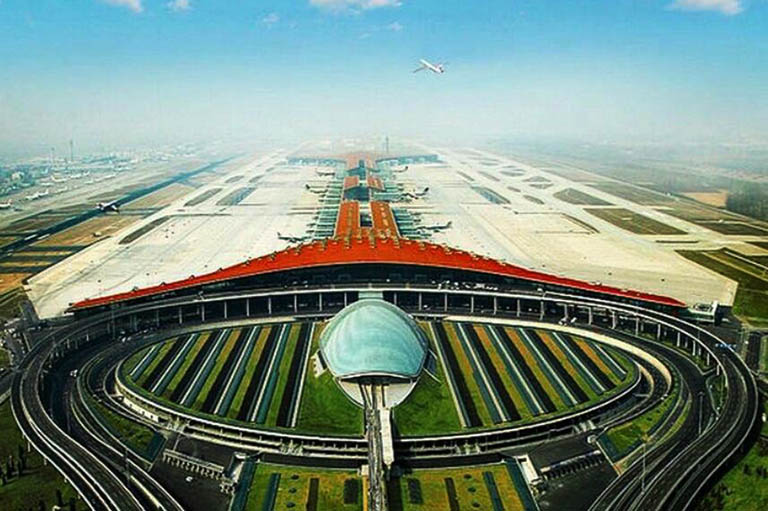 Beijing Capital International Airport
Lhasa to Beijing Flights Schedules:
Flight Route
Airline
Dep.~Arr. Airports
Dep.~Arri. Time
Duration
Frequency
Lhasa - Beijing
Air China
Lhasa Gonggar International Airport -
Beijing Capital International Airport (T3)
09:20 - 13:20
4 hrs
daily
Lhasa - Beijing
Air China
Lhasa Gonggar International Airport -
Beijing Capital International Airport (T3)
15:50 - 19:50
4 hrs
daily
Lhasa - Beijing
Air China
Lhasa Gonggar International Airport -
Beijing Capital International Airport (T3)
19:15 - 23:20
4 hrs 5 mins
daily
Note: Above flight timetable is listed for reference only, please contact us for the latest updates and more connecting flights schedules if you want to know.
Travel from Lhasa Tibet to Beijing by Train - A Long & Scenic Train Ride
The train ride from Lhasa to Beijing is very long but often chosen as a unique travel experience, for you can enjoy different scenery, especially the impressive plateau landscape along the Qinghai-Tibet Railway (between Lhasa and Xining) and see some special facilities used for helping passengers acclimate to the rising elevation.
Train Type: Z Train
Running Speed: 120 km/h
Distance: about 3,756 km (2,334 mi)
Train Time: about 40.5 hours
Departure & Arrival Stations: Lhasa Railway Station - Beijing West Railway Station
Currently, there is only 1 direct train (overnight train) running from Lhasa to Beijing each day. The train starts from Lhasa at 15:50 and arrives in Beijing at 08:28 on the third day. It will stop at 8 stations, in Nagqu, Xining, Lanzhou, Taiyuan, Shijiazhuang, etc., ranging from several minutes to nearly half an hour. Due to a long staying onboard, you are suggested to book a Soft Sleeper, rather than a Hard Sleeper or a Hard Seat ticket. With a lower running speed, the train journey will relax your body and show you lots of breathtaking sights outside the window. Even, you can make a short visit in some midway cities, such as Xining. Let alone the record-breaking length, this train trip must be a novel and unforgettable doing you will never meet in other places in China.
Tibet Train Travel Notes: 1.)There are sockets on a Tibet train, so you can bring chargers for your cellphone and camera. 2.) Cellphone signal is not stable on the Tibet train, you'd better bring some books, download some movies, prepare some snacks to kill your time. 3.) Facilities on a Tibet train cannot be compared with those at the high speed trains in China but basic needs can be fulfilled as well.
Transfer Tips: Lhasa Railway Station is located in about 9 km southwest of Lhasa city. Taking a taxi or private driving from Potala Palace to Lhasa Railway Station needs approximately 30 minutes. Beijing West Railway Station lies close to downtown, just about 8 km. It simply costs 20 minutes to city center (Tian'anmen Square) from the station.
Recommended Beijing Tibet Tour (by Train):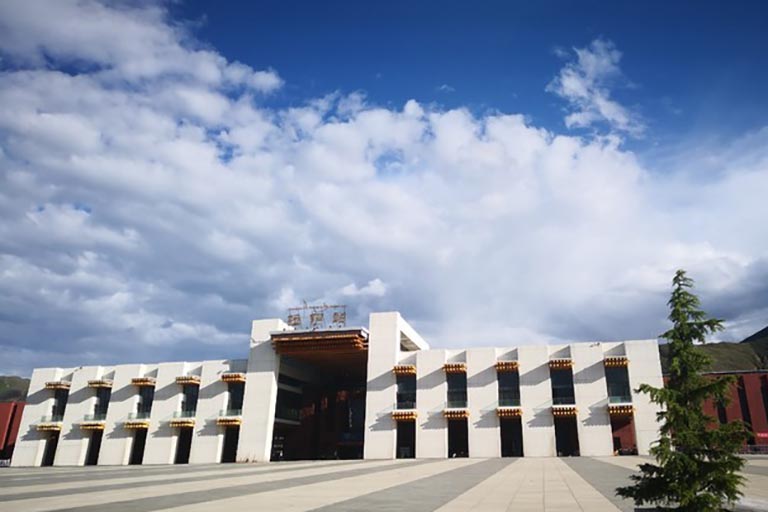 Lhasa Railway Station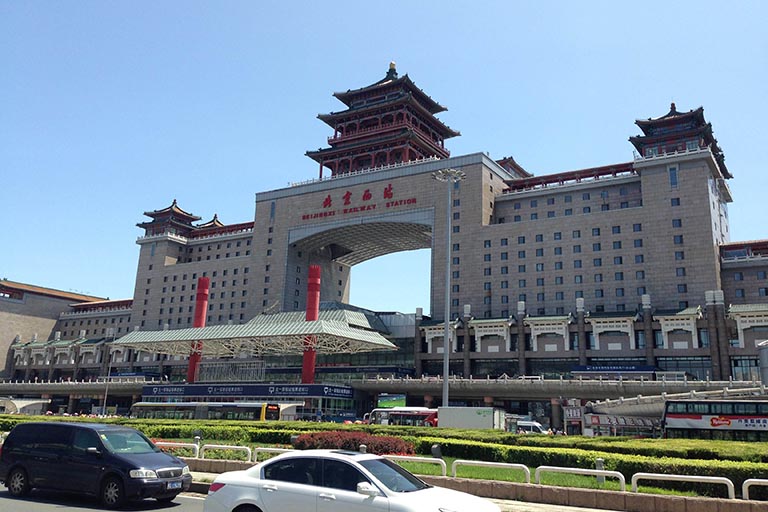 Beijing West Railway Station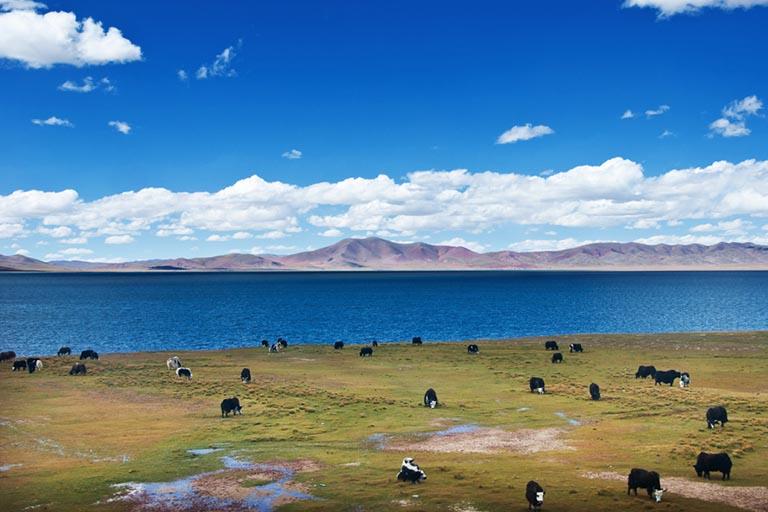 Picturesque Scenery of Cuona Lake along Qinghai Tibet Railway
Lhasa to Beijing Train Schedule:
| | | | | | |
| --- | --- | --- | --- | --- | --- |
| Train No. | Departure Station | Arrival Station | Departure Time | Arrival Time | Duration |
| Z22 | Lhasa Railway Station | Beijing West Railway Station | 15:50 | 08:28 (the 3rd day) | 40 hrs 38 mins |
Note: The above train schedule is listed for your reference and is subject to change. You can check real-time Lhasa-Beijing Train timetable to know more updated train information.
How to Plan a Tibet Beijing Tour
Your Tibet Beijing tour can be flexibly arranged according to your holiday time and personal appetite. A classic Tibet Beijing trip can be done in around one week while an in-depth exploration tour can be over 10 days and longer. In Tibet, tourists usually use 2 full days to tour spiritual center - Lhasa, visit landmarks like Potala Palace, Jokhang Temple, Barkhor Street, Sera Monastery and other must-visits. If time allows, you're strongly advised to extend Tibet tour to further regions, to Mount Everest, Mount Kailash, Nyingchi, Shigatse, Gyantse, Nyingchi, Shannan and others destinations. Leave at least 1 week for Evereset your and more days for other places. If you get to Tibet overland from Nepal, you can drop by them before reaching Lhasa. And then, take a train or flight out of Tibet from Lhasa.
Useful Links: Beijing Tibet Tours / Top Tibet Tours / Top Things to Do in Tibet
During your trip in Beijing, 2 to 3 days is enough to tour major highlights, such as hiking the Great Walls (like Mutianyu, Jinshanling Great Walls), visit Forbidden City, Temple of Heaven, Summer Palace and more sites in city center. Meanwhile, you can explore Beijing in more interesting ways, maybe try the Peking duck and other featured Beijing food, watch a Peking Opera and wander around the twisted Hutongs. To leave more precious and meaningful memory of your China travel, Xian, Chengdu, Guilin and more great destinations are highly recommended, which not only has outstanding attractions, culture, history, but also have quite convenient transportation link with Beijing.
Useful Links: Top Beijing Tours / Things to Do in Beijing / / Lhasa Chengdu Tours
Extended China Tours with Beijing & Tibet:
✔ 11 Days Beijing Tibet Overland Tour to Kathmandu
✔ 14 Days China Treasure Tour with Tibet Dream
✔ 15 Days China Tour with Tibet Discovery and Panda Visit
✔ 17 Days China Paradise Tour with Tibet Discovery & Yangtze Cruise
Travel with China Discovery
China Discovery is a leading comprehensive travel agency in China, providing excellent customized tour packages across China. We have helps thousands of travelers fulfill their dream tour in China. Just telling us your schedule and budget, we can arrange a satisfied China tour including Beijing, Shanghai and other popular tourist destinations and covering transport, sightseeing, tour guide, local vehicle and driver, accommodation, Chinese Visa application assistance, etc. The length, places to visit, theme can be arranged depending on your individual requirements. You may choose from our most popular Beijing Tibet tour packages or contact us to customize a special one!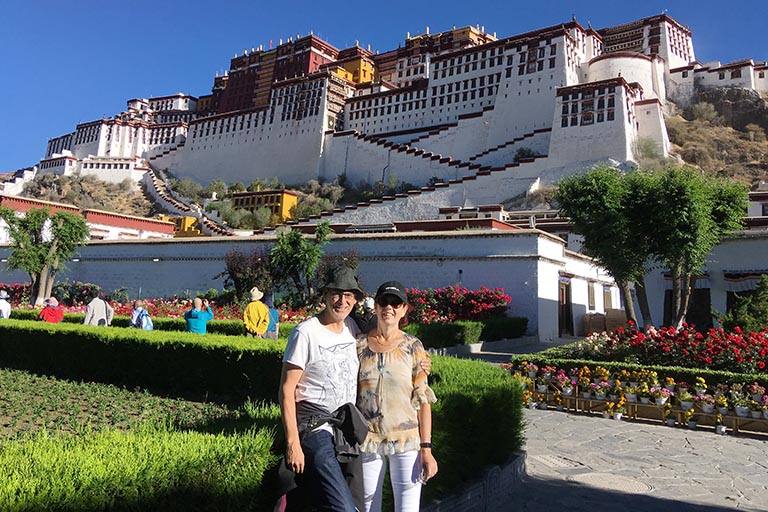 Tibet Tour Customized by China Discovery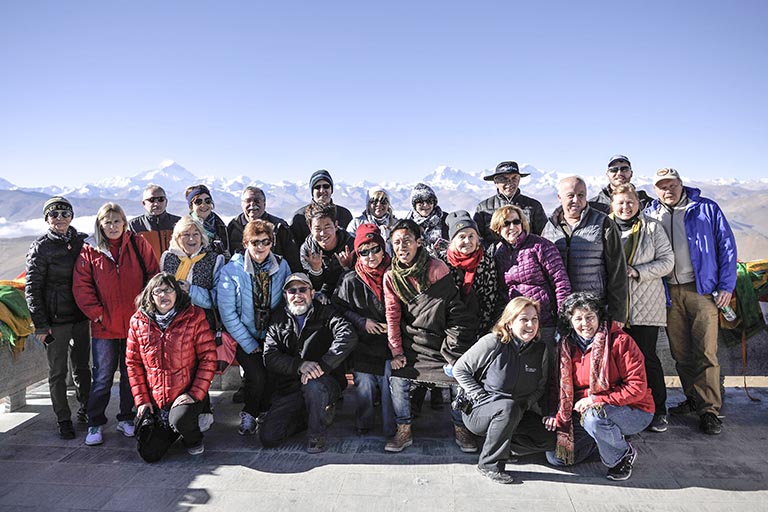 American Group Tourists on Their Way to Mount Everest, Tibet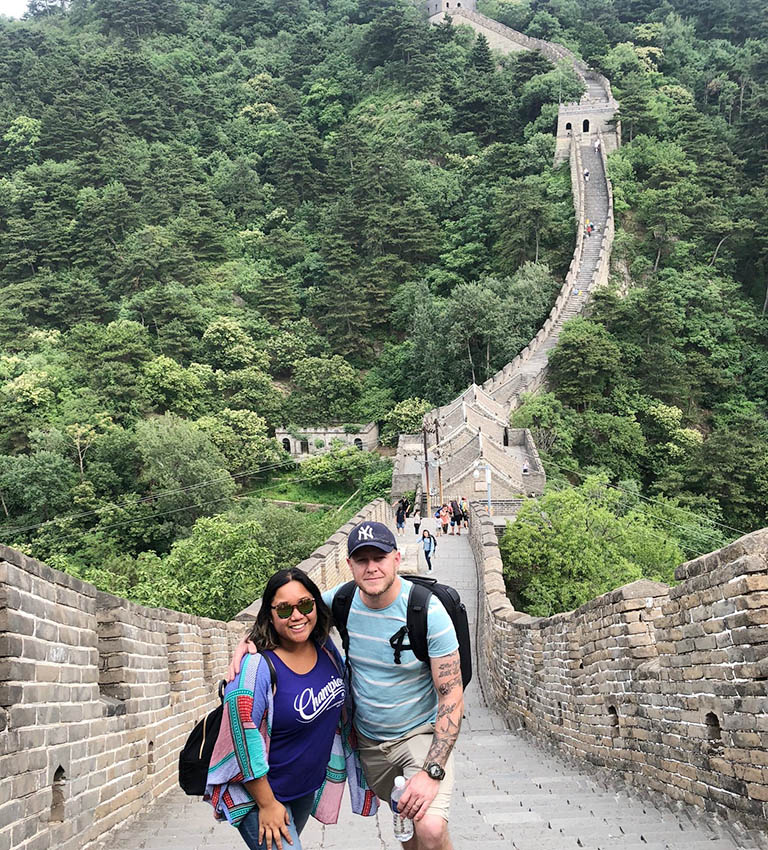 Our Austrlian Guests Enjoyed Mutianyu Great Wall Hiking in Beijing
Recommended Beijing Tibet Tours
Top 3 Beijing Tibet tours chosen by most customers to explore Beijing Tibet in the best way. Check the detailed itinerary, or tailor your own trip now with us.
7 Days Classic Beijing Lhasa Tour by Flight

Beijing / Lhasa
8 Days Tibet Train Tour from Beijing

Beijing / Lhasa
11 Day Beijing Tibet Overland Tour to Kathmandu

Beijing / Lhasa / Gyantse / Shigatse / Everest / Kathmandu
Start planning your tailor-made holiday to China by contacting one of our specialists. Once inquired, you'll get a response within 0.5~23.5 hours.
Customize a Trip
Have a question? Get answers from our travel experts or guests
Your Question:

Your Name:

Your Email: