China Discovery Working with You to Fight Against COVID-19
Dear travelers and world friends,
Warm greetings from China Discovery!
With the COVID-19 out breaking worldwide these days, our whole team here sincerely hope you and your families, friends, fellows are well.
The COVID-19 epidemic in China is basically under control. According to the latest update, around 421 confirmed cases (Updated at 09:00 am (Beijing time) on July 01, 2020) are still in hospital. On April 8, Wuhan lockdown was ended and this central city in China has reopened after more than 10 weeks' struggling. What great news! Most of the country is classified as low-risk areas. Besides, most tourist attractions, restaurants, hotels, transportation network all over China have been restoring. Compared with the total number of people with new crown virus infection (more than 80,000) earlier, this number indicates that the COVID-19 infection is getting controlled and the industries resuming gradually. Very few cases have been found in mainland China in recent days and most are imported cases (1918 till today) that people travel back from other countries potentially carrying virus. To check the real time Chinese COVID-19 data, please turn to the official site China Daily (Ref: https://www.chinadaily.com.cn/china/special_coverage/2020latestdata).
To a large extent, most people in China have defeated the virus and everything is getting back to track progressively. Nevertheless, we are still very conscious and careful to prepare the full protection measures in our daily life and work, people wear masks whenever they go out of home, wash hands often, try to avoid the public transportation and keep distance with each other etc. We suffered a lot from this virus and no one wish to see it break out again.
We are very caring about your health and safety during this world coronavirus storm. Our team have sorted out some information and suggestions about the COVID-19 published by the authoritative medical institution in China. Let's work together to come out of COVID-19 with confidence and calmness! If you find it useful, you may also pass on it to your families, friends and people around you. We truly wish you and your lovely country can go through the hard time soon.
At last, if you have any questions and worries about Novel Coronavirus Disease, if you have any concerns about your future China tours, please let our professional China travel consultants know. Our whole team is ready to help and work for you at any time!
Blessings!
China Discovery
Traveling to & in China During COVID-19
1. Domestic Inbound:
● No 14-day quarantine requirement from low-risk areas (almost all the provinces and cities except Beijing belong to low risk areas).
● Visitors from high risk areas (such as 4 areas in Beijing) are subject to a 14-day mandatory quarantine in designated places and RNA test.
● Visitors from medium risk areas (such as 37 areas in Beijing) need to conduct RNA test when arrive, comply with the community health management (provide health notice and green health code, carry out health consultation).
2. International Inbound:
From 28th March, all passengers entering China from abroad, including those transferring in the ports in any cities, will be subject to RNA virus testing and centralized quarantine for 14 days. 
Please Note: Different cities/regions will implement different policies slightly. Before traveling to and in China, you'd better ask our travel consultants for more details.
How to Apply for Health Code of Entry?
If you are passengers who are allowed to enter China or if you are expats in China, you need to apply for health code of entry. Since different cities have different ways to apply for the health QR Code, it would be complicated to do it when traveling to multiple cities. To make things easy, you can get the commonly-used health code on "国家政务服务平台" APP to travel in different cities.
How to Apply for Health Code of Entry on "国家政务服务平台" APP?
● Download the "国家政务服务平台" APP and register (only accept real name and correct personal information);
● Click "Health Code of Entry (入境版)" to get registered. You need to provide valid certificate like passport, Chinese cellphone number to fill the info.
● After filling the form and verified, you will get the Health QR Code.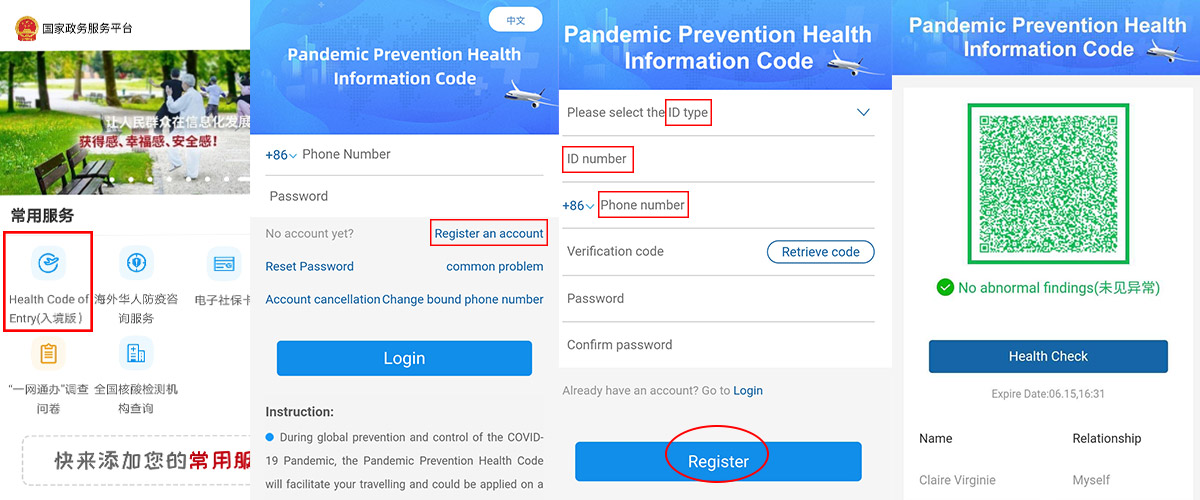 Click to Enlarge the Applying Procedures
About Prevention of COVID-19
1. Keep distance with people when talking.
The novel coronavirus can be transmitted via droplets and fly 1 to 2 meters in the air before falling to the ground. Droplets can be transmitted far longer when sneezing and coughing than speaking, so apart from keeping 1 to 2meters of distance. Also remember to wear a mask when you are close to someone else.
2. Washing hands can reduce risk of get infected
Please wash your hands promptly and properly after touching elevator buttons or using cash. Do not touch your nose or mouth or rub your eyes before washing your hands. Do not use smart phones while eating.
Why? Washing your hands with an alcohol-based hand rub or soap and water kills the virus if it is on your hands.
3. Wearing a mask
A surgical or N95 mask shall be worn when visiting public areas, hospitals or taking public transportation.
The importance to wearing a mask
Novel coronavirus is transmitted via droplets and fomites during close, unprotected contact between an infector and infectee. 2019-nCoV during its incubation period, which may last up to 14 days before symptoms emerge. Rarely know that some spread might be possible before people show symptoms, there have been reported of this occurring with new coronavirus. So many persons even don't realize themselves are carrying virus before show symptoms. When people realize they need to wear a mask, the virus is already spreading. So it's difficult to recognize who is carrying the virus by wearing a mask or not. In this case, wearing a mask is most efficient method of self-protection.
4. Practice respiratory hygiene
When coughing and sneezing, cover mouth and nose with flexed elbow or tissue-discard tissue immediately into a closed bin and clean your hands with alcohol-based hand rub or soap and water.
Why? Covering your mouth and nose when coughing and sneezing prevent the spread of germs and viruses. If you sneeze or cough into your hands, you may contaminate objects or people that you touch.
5. Avoid consumption of raw or undercooked animal products
Handle raw meat, milk or animal organs with care, to avoid cross-contamination with uncooked foods, as per good food safety practices.
6. Avoid touching eyes, nose and mouth
Why? Hands touch many surfaces which can be contaminated with the virus. If you touch your eyes, nose or mouth with your contaminated hands, you can transfer the virus from the surface to yourself.
7. Reduce outdoor activities as much as possible.
Avoid visiting areas where the disease is prevalent.
It is recommended to make less visits to relatives and friends and dining together during the epidemic prevention and control, and stay at home as much as possible.
Try to avoid visits to crowded public areas, especially places of poor ventilation, such as public bathrooms, hot springs, cinemas, internet bars, Karaokes, shopping malls, bus/train stations, airports, ferry terminals and exhibition centers, etc.
8. Keep indoors properly ventilated.
Open the window and ventilate 2-3 times a day for half an hour each time. Remember to keep warm since the temperature can change dramatically in the period where winter changes to spring.
9. Relax and do appropriate exercise.
It is advised that you do calisthenics and Tai Chi. The exercise time is preferably 30-40 minutes, four to five times a week. Remember to warm up before exercising.
10. Measure the daily body temperatures
Measure the daily body temperatures of you and your family members, and monitor respiratory tract infection symptoms.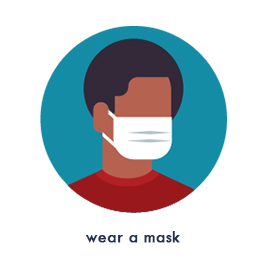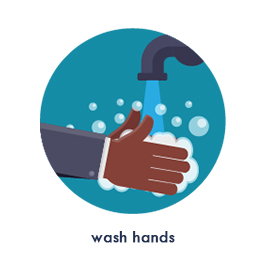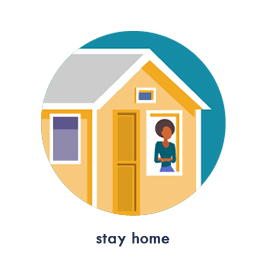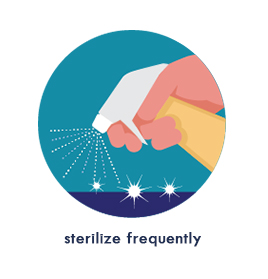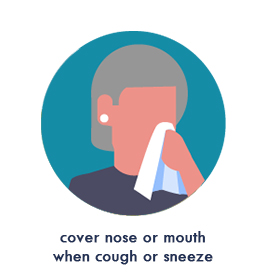 China Discovery is the enthusiastic, experienced local China travel agency at your side to support you and work for you! Let's build the confidence to conquer the COVID-19 TOGETHER!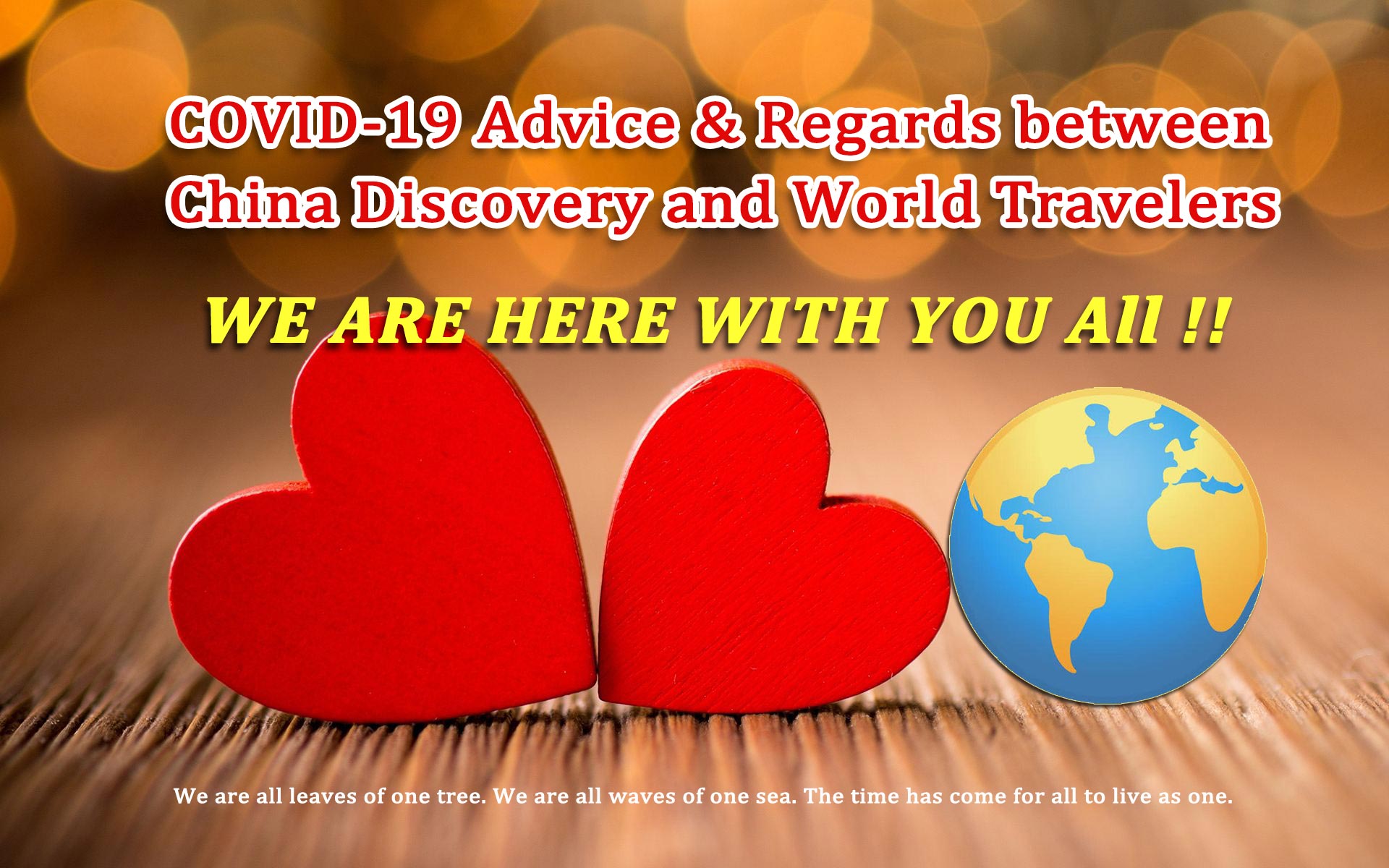 Keep Reading...
Recommended Tours
Top 3 tours chosen by most customers to explore in the best way. Check the detailed itinerary, or tailor your own trip now with us.
8 Days Best of China Tour (Flight/Bullet Train Covered)

Beijing / Xian / Shanghai
11 Days China Golden Triangle Tour with Yangtze River Cruise

Beijing / Xian / Chongqing / Yangtze Cruise / Yichang / Shanghai
17 Days China Paradise Tour with Tibet Discovery & Yangtze Cruise

Beijing / Xian / Lhasa / Chengdu / Chongqing / Yangtze Cruise / Shanghai
Start planning your tailor-made holiday to China by contacting one of our specialists. Once inquired, you'll get a response within 0.5~23.5 hours.
Customize a Trip
Questions & Discussions
Following are latest questions and answers from our webusers and customers. You can learn many useful information from the discussion and cases. You can also join in the discussions or ask your own question. Our experts will help you ASAP.
Have a question? Get answers from our travel experts or guests
Your Question:

Your Name:

Your Email: