Updated Maps of Urumqi - Urumqi China Map, Urumqi Attraction Map, Urumqi Transportation Map 2021
Urumqi is often visited as the gateway to Xinjiang and the first stop of a Xinjiang tour. It has connection with major destinations in China. Visitors can visit mysterious Xinjiang ancient mummies in Urumqi and transfer to the Heavenly Lake (Tianchi) of Tianshan Mountains, Kanas Lake, Kashgar, Ili and other great destinations in Xinjiang. Whether you're planning an in-depth Silk Road adventure to Xinjiang or want to discover Xinjiang from Urumqi, it's essential to know the best way to get there, top places to visit, transportation between other destinations to plan your Xinjiang trip.
To help you have a better understanding about Urumqi city, we have collected some of the most useful Urumqi maps, including Urumqi location maps, tourist attraction maps, transportation maps and so on. All of maps are lately updated, free to download and print.
Where is Urumqi Located? - Urumqi China Map, Urumqi Xinjiang Map
Urumqi is located in the Central Xinjiang, the northern slope of the middle Tianshan Mountain and the south edge of Junggar Basin, Northwest China. It is the world's most distant city from the ocean. The city lies about 167 km (1 hour's bullet train journey) west of Turpan (Jiaohe Ancient City, Flaming Mountain...), 770 km from Kanas Lake, 685 km away from Ili and 1,465 km northeast of Kashgar.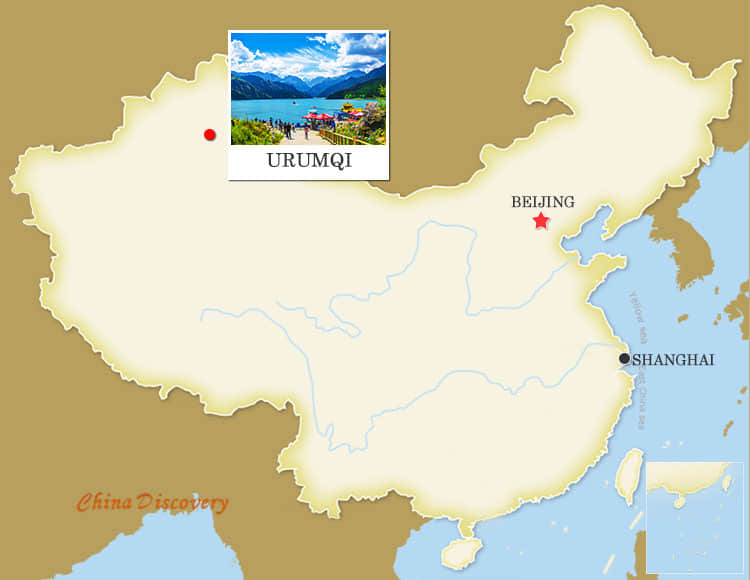 Urumqi China Map
What to See in Urumqi? - Urumqi Tourist Attraction Map
The major tourist attractions of Urumqi, including Xinjiang Regional Museum, Xinjiang International Grand Bazaar, Red Hall Park, are concentrated in the downtown area with short distance from each other. The Tianchi (Heavenly Lake) of Tianshan Mountains is situated about 68 km east of Uruqmi and Nanshan Pasture is in the southern suburb for about 1.5 hours' drive.
Top Places to Visit in & around Urumqi:
How to Get to & around Urumqi? - Urumqi Transportation Map
Though Urumqi is located in remote region of Northwest China, the city can be reached by flight, train and bus. If you're in Beijing, Shanghai, Xian, Guangzhou, Chengdu, Guilin, Qingdao, Harbin, Lhasa, Xiamen, Xining, Shenzhen and other major destinations with a long distance, there are non-stop flights available. Besides, you can take regional flights to travel from Urumqi to Kashgar, Altay, Khotan, Tacheng and other areas of Xinjiang. The Lanzhou-Xinjiang High Speed Railway also offers fast bullet train travels to Urumqi from Zhangye, Dunhuang, Jiayuguan, Turpan along the ancient Silk Road. In Xinjiang, driving is a common way to get around and enjoy scenery on the way.
Below are useful Urumqi transportation maps to help you find the most efficient and convenient way to get to Urumqi and get around Xinjiang.
Helpful Transportation Guide of Urumqi
How to Plan A Urumqi Xinjiang Tour
How to Get to Urumqi: Fly to Urumqi from Beijing (4-4.5hrs), Shanghai (5.5hrs), Guangzhou (5hrs), Shenzhen (5.5hrs), Xian (3.5hrs)..., or take a high speed bullet train from Dunhuang (4hrs), Zhangye (7-7.5hrs), Turpan (1hr), etc.
Best Time to Visit Urumqi: May to October when the temperature is comfortable and the seasonal scenery is very beautiful.
Top Places to Visit Urumqi: Tianchi (Heavenly Lake) of Tianshan Mountains, Xinjiang International Grand Bazaar, Xinjiang Regional Museum, Red Hill Park, Nanshan Pasture.
Most travelers start a Xinjiang tour from Urumqi and take Urumqi as the transfer center of visiting the Northern Xinjiang. Usually, tourists spend one day exploring Urumqi's highlights in the down area, including the Xinjiang International Grand Bazaar, Red Hill Park and Xinjiang Regional Museum. Making a day trip to Tianchi Lake is a popular itinerary if you won't visit Kanas. Nanshan Pasture is a good summer resort worthy of your visit if you happen to visit Urumqi in summer.
☛ 3 Days Urumqi Tour including Heavenly Lake and Mummy Visit
Xinjiang is vast and beautiful. The Northern Xinjiang is most known for the natural beauty while the Southern Xinjiang is characterized rich cultural and historical treasures. Depending on your time and personal interests, you can extend trip to more destinations, such as the Turpan, fairyland Kanas Lake and Hemu Village in Altay, incredibly beautiful Sayram Lake, Wu'erhe Ghost City in Karamay, Ili (Kalajun Grassland, Narati Grassland, Guozigou...) in Northern Xinjiang, and travel further to the Southern Xinjiang's Kashgar and vicinal Tashkurgan, Taklamakan Desert, Bosten Lake, Tomor Peak, Kuqa, Khotan, etc. You can pick up some highlighting places for a week's travel or haven an in-depth discovery for up to one month.
☛ 8 Days Urumqi Turpan Kashgar Xinjiang Tour
☛ 9 Days Kanas Lake Fairyland Tour from Urumqi
Northwest and Southwest China are two mysterious regions travelers love to visit. Following the ancient Silk Road from Xian to Xinjiang is also a popular travel route. It's highly suggested that you visit Xinjiang with Dunhuang, Zhangye, Jiayuguan along the ancient Silk Road, or with the holy land of Tibet (Lhasa, Shigatse, Mount Everest, Mount Kailash, Nyingchi...). The nature scenery and distinctive culture will impress you deeply. China Discovery provides not only all-inclusive Xinjiang tours, Silk Road tours, but also can help you customize a wonderful trip on your own.
☛ 10 Days Classic Silk Road Tour from Xian
☛ 11 Days Wild In-depth Silk Road Adventure Tour
☛ 15 Days Classic Ancient China Silk Road Tour with Bullet Train Experience
Heavenly Lake (Tianchi) of Tianshan Mountains
Local Xinjiang Nomad - Photo Shared by Our Frech Customers on the Way to Kanas Lake
Erin Family (USA) Visited Zhangye Danxia Geopark
Keep Reading About Urumqi
Keep Reading About Xinjiang Tours & Travel Guide
Recommended Urumqi Tours
Top 3 Urumqi tours chosen by most customers to explore Urumqi in the best way. Check the detailed itinerary,or tailor your own trip now with us.
11 Days In-depth Wild Silk Road Adventure Tour (Cultural Relic & Unrivalled Landscape)

Lanzhou - Zhangye - Jiayuguan - Dunhuang - Turpan - Urumqi - Kashgar
8 Days Classic Xinjiang Tour including Urumqi Turpan Kashgar Tashkurgan

Urumqi - Turpan - Kashgar - Tashkurgan
13 Days In-depth Xinjiang Silk Road Adventure Tour

Urumqi / Turpan / Korla / Kuqa / Taklimakan Desert / Minfeng / Hongtan / Kashgar / Tashkurgan