Dear Mr. Wonder Wang,
I am again in touch with you, to express my greatest gratitude for the work done by you and your team of guides. I must say that its availability, and ability to meet the goals we have set, and to find alternatives, was gratifying and indisputably, was an added value to make this trip through china, a delightful ride. in which we had access to a small part of the history and culture of this great country. where we were able to contact people from urban centers to the most rural areas. and to feel at the end of your work, that everything, but everything that we have combined, has been fulfilled, and where it has been added more by the initiative of the guides themselves, enriching our trip. I would like to express my sincere appreciation for the professional, efficient and diligent work they have done, for total honesty. As far as our guides are concerned, I have nothing to point out that is not the total dedication to our group, fulfilling in all aspects with extreme kindness, friendliness and incredible education, elements that also contributed a lot, that trip that we dreamed and that I would not hesitate to recommend it to my friends and acquaintances, I would recommend it to my own son.
As far as China Discovery is concerned, as I have already mentioned, I have been totally satisfied with the work done, and I would recommend and recommend to all my friends, acquaintances and family members who intend to pay a visit to your great country.
Thank you for the unforgettable moments you have given us.
I do not know what I can say more about your work, in an appreciation of 1 to 5 stars, my evaluation would always be more than 8 stars, because they were much more than a company, and your guides went far beyond a cold commercial relationship.
I am at your disposal for what you need to pay for your benefit.
Ps: As you understand, my English is weak and I am using a translator, I apologize for that.
I will send the original of this text in Portuguese in another email in order to use it. Thank you again for everything.
Manuel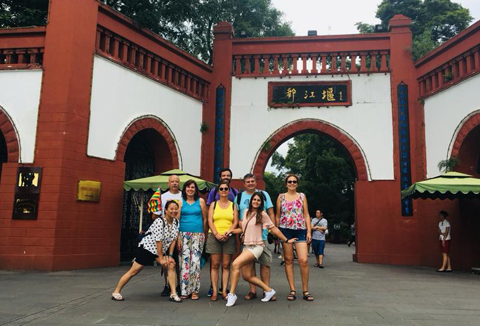 Our group visited Dujiangyan to admire the irrigation system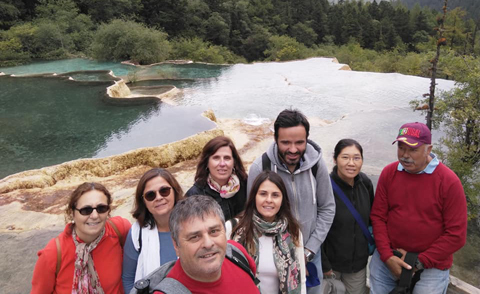 The water in Huanglong Geopark is beautiful