Dear Johnson,
We are safely home, settled into our normal life and it is with great pleasure that we respond to your request for feedback.
1. Is your travel consultant of our company fast enough to answer your E-mail and patient enough to answer your questions?
I can not recommend Johnson Wang highly enough. He was incredibly prompt and patient with my numerous emails, and super helpful in allaying concerns or accommodating specific requests.
2. How do you comment your tour arrangements?
From my initial enquiry, until completion of our tour 12 months later, Johnson ensured that every detail of our tour was thoroughly met. The tour arrangements exceeded our expectations!
3. Are you willing to recommend our service to your people who also have an interest to visit China?
There are multiple tour companies and travel agents offering very cheap packages for China tours, but we are so pleased we chose to contact China Discovery and negotiate a package that met the travel needs of each of us, and that made our experience in China feel exceedingly VIP compared to the travel stories we have heard from our friends who chose the cheaper deals. We would only recommend your services, as every detail from the communication, guides, drivers, itinerary and special touches are what made our tour so incredible!
4. Your general opinion on us?
Admittedly we had some reservations about creating, booking and paying for the tour entirely online, as there are too many stories about dodgy agents and fraudulent companies, but China Discovery (& particularly Johnson Wang) were exceptional to deal with, reassuring and very trustworthy. I give them a 100% recommendation!
5. Do you have any suggestions on improving our services?
The recommendations for optional activities was appreciated, but as the expectation between Western and Chinese culture is so different, I think a suggestion of dress code for each activity would be a good idea.
For example, in Western or European culture the dress code for an Opera is formal, but in China it is casual, so we felt a bit silly when we dressed up very formally but then had to walk 30minutes to the venue and everyone else was wearing casual clothes.
6. Can we use your comments of our service, the photos or other images that you took on the tour for our websites, brochures, marketing and publicity? If yes, could you please send us some of your photos by E-mail?
Of course.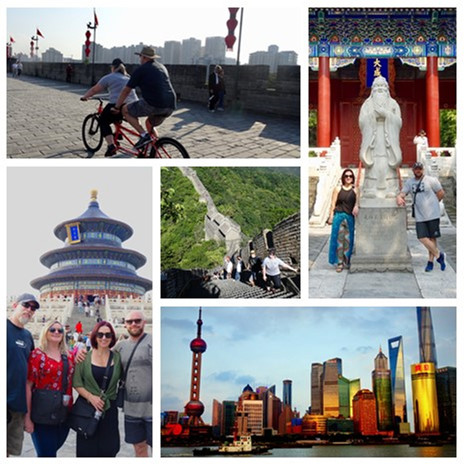 Our China Trip in Beijing, Xian, Shanghai