Hi Wendy,
Thank you yes, we arrived home safely. Both Jacqui and I returned to work the following Monday so life has been very busy in the two weeks since our return. You are welcome to use my feedback on your website.
We were more than happy with our Yangtze cruise and enjoyed every minute on the "Victoria Anna". The ship was only at half capacity for passengers so we took the option and upgraded our cabin. The staff were always pleasant and helpful and the evening entertainments enabled them to display some of their other talents while we learned some of the local culture and history. The food was excellent and no request was too much trouble for the restaurant or bar staff.
The optional excursions were wonderful, especially the small boats in Shennv Stream. The highlight however was definitely the Ship Lift and the Three Gorges Dam. There were two American couples, who were also travelling independently, so we spent a great deal of time with them, both on and off the ship. By the end of the cruise we were firm friends. All in all a wonderful cruise.
Booking the cruise and train tickets to Suzhou with Wendy was trouble free and went off without a hitch. The email correspondence was always prompt and the arrangements perfect.
We had originally booked a tour with Sinorama who went into liquidation in October 2018 so we lost our money. We decided to travel independently so that we could have greater control over where we went and how long we spent in each place. Neither of us are shoppers and we like to get outside the cities and go on hikes. We did have private guides for some of our chosen activities but by the time we arrived in Chongqing we wanted to do something as part of a group - it was not important that they spoke English. We found a tour company two doors from our hotel and they booked us on a full day tour to Wulong Karst where we hiked as part of a large group - none of whom spoke English and the tour guide spoke only a little English. That is fine - we are after all in China - and we were hiking, we actually went on two hikes that day. The total cost of the day, including lunch, was 420rmb for both of us. This does not compare well with the quote of 5352rmb for the a private tour to Wulong Karst and Dazu the following day.
I would suggest that China Discovery offer group tours, as well as private tours, before the Yangtze cruises.
I will certainly recommend China Discovery and Wendy Dan to any friends who decide to travel independently in China.
Kind regards,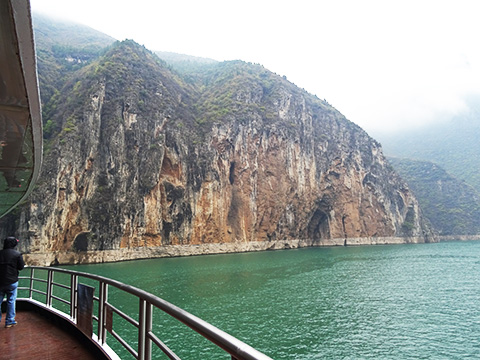 Broad View from the Deck