Hi Wendy,
My deepest apologise for my late reply. We have just been very busy since returning to Australia.
Firstly, yes we received the refund. Thank you, much appreciated.
To answer your questions;
1. Was your travel consultant of our company fast enough to answer your E-mail and patient enough to answer your questions?
Yes, very much so. Wendy was very prompt in replying to our questions, even while in China through WeChat.
2. How was your tour? Are you satisfied with the tour we arranged for you?
The tour was excellent. Everything we dreamt it would be and more. All of our guides were exceptional and made the visits to each location enjoyable and memorable.
3. Do you have any suggestions on improving our services?
Some places we would have liked to have stayed longer and/or maybe had a free day to look around on our own once we knew what was there. Maybe suggest some free days. This would have been good in Beijing, Xian and Shanghai. We had an extra day in Beijing although if we had our time again we would have had that on Day 3 and explored the Hutong area more. In Xian, we would have liked to explore in the centre of the old city more (maybe have hotel closer to centre). In Shanghai we could have walked around the French concession and Bund area for a whole day.
Knowing about a good online map service would have been good when exploring on your own. In Australia we use Google Maps and you cannot get lost. Not having that available in China, I was not sure what was a good online Map service.
We absolutely loved our tour and all our guides. Wendy, you organised a great tour and we would definitely recommend you and your services to our friends and family.
The Great Wall was definitely our highlight, especially as it has been a childhood dream. So happy we went to Jinshanling section. Absolutely glorious day!!!
I have included a couple of photos that you can use. I will also get onto Trip Advisor and add a review.
Thank you so much for organising this fantastic holiday. We look forward to coming back someday.
Best regards,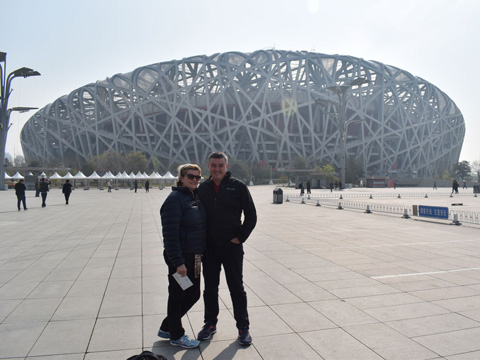 In Front of the Bird's Nest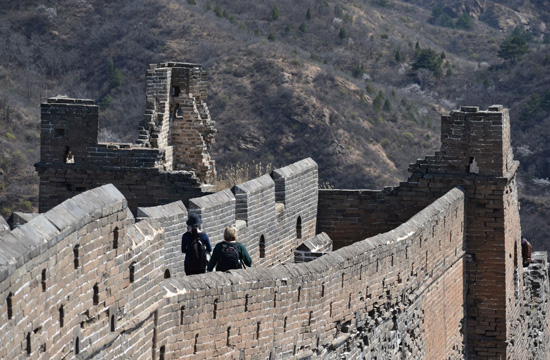 Brook and Andie Walking on the Great Wall