Hi Wonder,
In Shanghai:
"I want to thank you for arranging a very good guide & driver in Shanghai. Both Rocky & Siao Ma are very efficient & caring, Rocky is very knowledgeable and very well verse about our Chinese history, very impressive. I highly recommend both of them."
In Huangshan:
"We had a wonderful time in Huangshan, we were brave to climb that mountain, even my husband did it, slowly, but we did it. The Huangshan guide was excellent, the hotel you booked us was beautiful and people there were very friendly. Love the food too, especially bamboo shoot."
In Chengdu:
"What a pleasure to finally met you!! Meeting you was the highlight of my visit to China!! And thank you for taking us to dinner and given us such wonderful experience! The food was so tasty, the ambience was wonderful, my husband liked it very much! But the best part of all was having it with you! We enjoyed it enormously! This is such a memorable journey, and you helped made it happened Thank you for being so detail oriented; it is incredible for you being so young yet so thorough!
Yesterday we saw the Big Buddha at Ling Yun Mt, the weather was perfect and no crowd. We did not go down the stairs to the foot of the Buddha cause it really is too high and steep. Later we went to the Ebony Museum, what an amazing & massive collection! In the evening we went to see a show, it was the 4th show we saw, one in Shanghai, one in Huangshan, one in Yangshou, and the best one here on Sichuan. It was almost 10:30 pm my time we got back to the hotel.
And this morning we had to wake up early for our 8 o'clock journey to Mt.Emei. We climbed the steeped & very wet steps, it was a little hard today because it was so cloudy and cold and the air is so thin on top! We did not walk down the mountain, instead, we rode the Sedan Chair! What an experience! We loved it. Those guys are so strong and fast!! "
Thank you.
Rosy
(The following photos are shared by Rosy)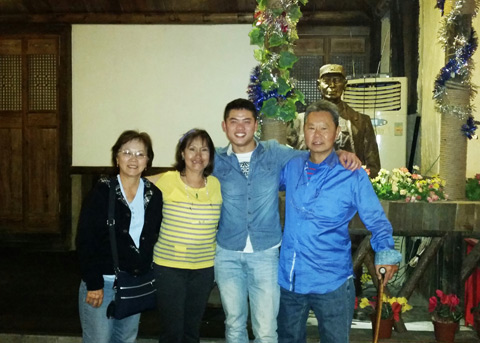 Rosy and his family visited Chengdu in March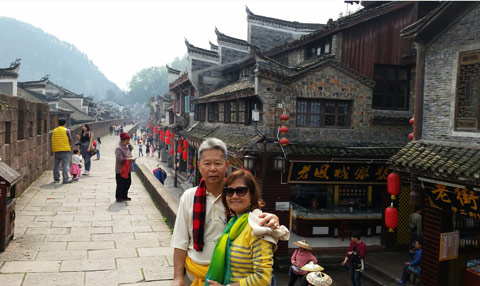 Rosy and his family visited Fenghuang Ancient Town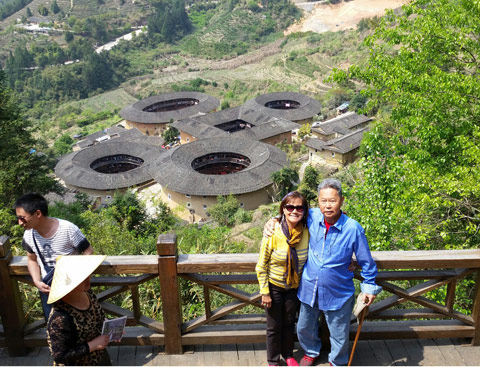 Rosy and his family visited Tulou in Nanjing County, Fujian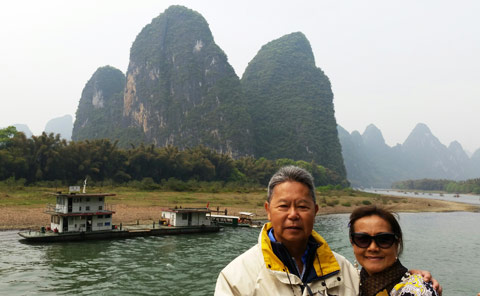 Rosy and his family visited Tulou in Li River, Guilin