Hello Wonder,
Please see below my comments.
1. Is your travel consultant of our company fast enough to answer your E-mail and patient enough to answer your questions?
China Discovery (Wonder and Tiffany) were excellent in being able to meet our needs and be accessible with any enquiries we had. When I was on tour Wonder answered a number of queries I had promptly and often outside normal business hours.
2. How's the service of the tour guides during your whole tour?
We visited a number of cities and were provided with tour guides and drivers. All had excellent English and were knowledgeable of the sites we were visiting, they were engaging and drivers made suggestions as to the best times to leave to avoid traffic and crowds.
The guides who took us to our Train stations proved additional city commentary and went out of their way to make sure we knew where to go to make sure we caught the correct train, that was unexpected and very reassuring.
3. Would you like to recommend our company?
If you are travelling to China and need local expertise, China Discovery is well suited to assist you. Wonder and his tour guides are all strong in their English speaking and provide you with a detailled itinerary, pick up, tour and drop off service. All contact details are provided and communications are excellent.
I am happy for you use these if you wish.
I will send over any photos I think will be of use.
Regards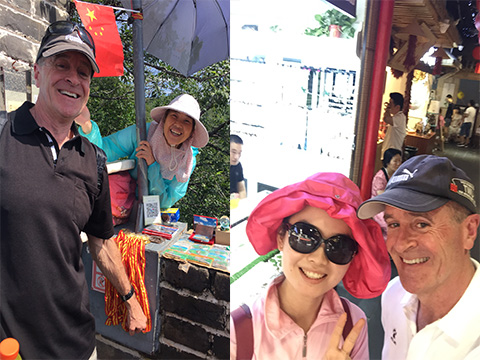 Lovely Lady at the Great Wall and My Guide at Muslim Market