Hello Rita,
Sorry to take so long to write. I came down with a cold and haven't been feeling well.
All of our expectations were met. Eben was on time and very informative about the city of Chengdu and surrounding areas. He is a very pleasant young man and answered or many questions with very good English. He was very helpful as well at the airport in seeing us off and helping with luggage.
Eben had suggested we go on our free day to the Chengdu Panda Reserve and I am so glad we did. I did not realize that was where the baby panda nursery was so we were able to see the newborns.
The arrangements for the d reserve went very well. It was a lifelong dream of mine to hold a panda. Eben lead us through the reserve and handled the arrangements for the photo.
The restaurant we ate at for lunch was very nice and the food was wonderful!
From there Eben helped us navigate our way through Jingli Street and was very patient as I shopped for gifts and souvenirs.
The taxi driver drove very responsibly and we were able to relax and enjoy the scenery.
If I know of anyone going to China and would like to connect with tours I would definitely recommend you. You were always prompt when responding to questions and very accommodating to our plans and very helpful with the changes we made.
It was a pleasure working with you and if I return to China I will be sure and get in touch with you.
Thank you,
LaDonna Elvig
The following pictures were shared by Stephen.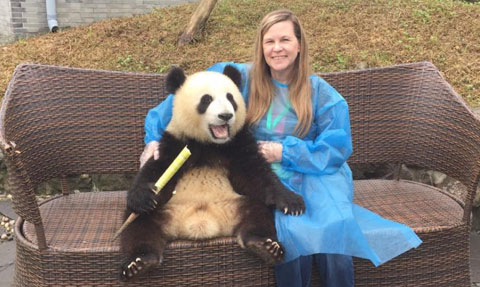 Ladona's close contact with cute giant panda