Hello Cathy!
Sorry sorry sorry for the delay!
I hope you will forgive me after reading my comments :-) Here are the answer to your questions:
1. Is your travel consultant of our company fast enough to answer your E-mail and patient enough to answer your questions?
Cathy was a great travel consultant. Due the time zone shift she always answered me when in Italy was night, but I was sure to find her answer the very early morning when I woke up. She organized for us a very well planned and interesting tour and always tried to please my requests, when possible. Cathy is highly recommended!
2. How's the service of the tour guides during your whole tour?
Our tour guides were great, we enjoyed very much to get to know actual cheese people and spend with them whole days together.
Here one by one:
Anna (Beijing): our less favorite but still nice. She remembers the explanations by heart but overall she's ok. We had little problems in understanding her English from time to time.
Walder (Xi'an): very professional, perfect English, he always called us with our names, very well prepared. Highly recommended!
Yangtze cruise: on the Century Sun. WONDERFUL.
Zach (Chengdu): a very young and talented boy, was a pleasure I spend with him our time in Chengdu!
Smiley (Guilin): my favorite! In the two days we spent with her, I got to know a wonderful girl and I hope to see her again. Personally, she made me spend my favorite trip in the whole itinerary!
Lee (Zhangjiajie): a quite shy guide, but with time she opened and we had long chats and long walk! She brought us to a wonderful scenic spot, breathtaking!
[About the itinerary in Zhangjiajie, the last day we had a late plane so we have lost half a day with nothing to do but boring]
Laura (Shanghai): this was the most mature guide we had, very professional and nice. We had only one day in Shanghai but she arranged to shorten the whole 2-days itinerary in just one, to allow us to see everything… Amazing!
3. Would you like to recommend our company?
During the booking procedure, I recommended the company to a friend of mine who reserved and travels with you on August, so yes, definitely recommended!
May I add a comment on the hotel? We found all the hotel clean and nice, but let us comment that 4/5 star level is not a western 4/5 star level. The only real 5 star hotel was Sunrise on the Bund in Shanghai. That was great. All the others need to be strongly renovated. In the hotel in Zhanghjiajie the swimming pool was already empty at mid-September, even though it was still warm outside. What a pity...
Thank you again...
All the best,
Alexia and Bruno
The following pictures were shared by Alexia and Bruno.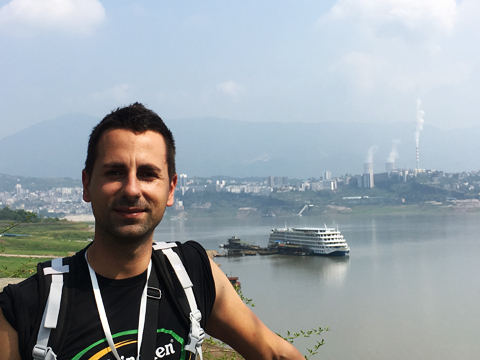 Amazing Yangtze Cruise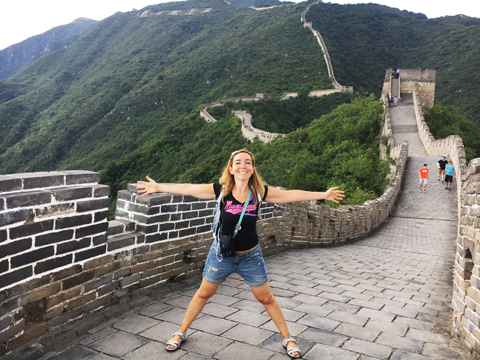 Alexia's Happy Time in the Great Wall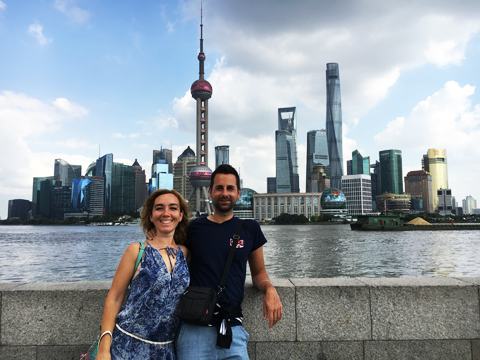 Alexia and Bruno Visited the Oriental Pearl Tower