Hello Lyn,
The tour went well. We are pleasant with your service.
All the tour guides were good. But I must do some comments:
- Smiley at Guilin tour: She was excellent. The name is just her face. Always available to help us and very funny. Excellent guide!
- Wendy at Zhangjiajie tour: She was very professional. The weather didn´t help but she made all the efforts to minimize that. Highly recommended guide.
- Johnny at Xi'an tour: Excellent spoken English.
All the guides speak very well English and they help us with everything - hotel check-in, train station (where to go, read the ticket …), flights check-in. They had good knowledge about the places visited and their history.
About the sites visited, we enjoy all. China has beautiful landscapes. We had high expectations about Zhangjiejie mountains but we didn't have lucky about the weather (very foggy and some rain). But Wendy went well showing us the best places to see something.
The travel between Zhangjiajie and Fenghuang is about 4 and half hours. We suggest that the car/van for that travel must be very comfortable and with more space for the legs. The food included in our program, generally was good. We enjoyed Chinese food and we taste very good dishes.
In general we are very satisfied with your company and if we return to China or have some friends visiting China, we will recommend your company.
About China. We arrive to our country with a new idea about China. We saw organized cities and good communications infrastructures. China has a very rich history. About travelling around China, high speed trains is must better than flights.
I send in attachment some photos.
Thank you and best regards.
Paulo Morais
The following pictures were shared by Paulo.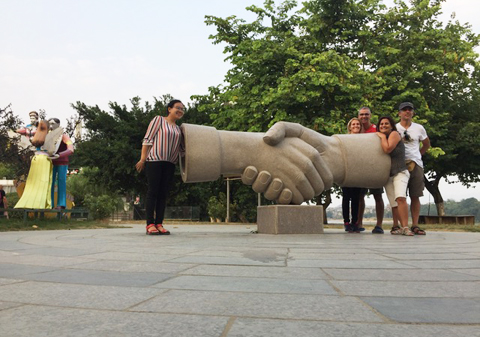 Paulo's Happy Time in the Elephant Trunk Hill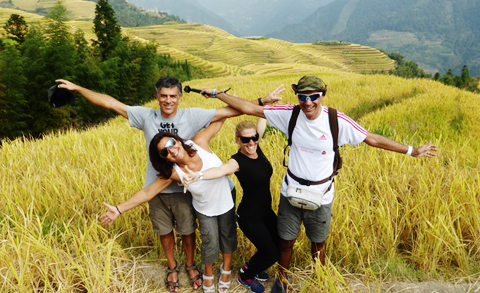 They have a Good View in the Longji Terraces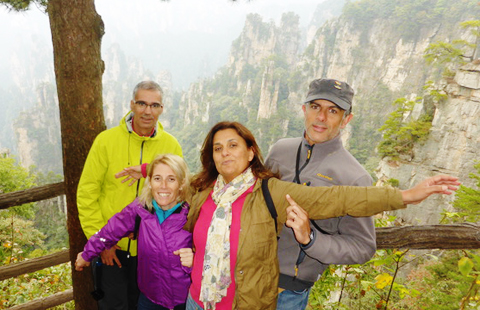 Exciting Journey of Zhangjiajie