Dear Johnson,
Thanks for your email. We had a great time and we felt that everything was very well organized.
1. Is your travel consultant of our company fast enough to answer your E-mail and patient enough to answer your questions?
Yes, I have absolutely nothing bad to say about the service I received from the tour agency. Emails and phone calls were fast and efficient and very courteous. It was a pleasure to communicate with the tour consultant.
2. How do you comment your tour arrangements?
It was great and fitted our needs perfectly. We didn't have many days and the six day tour was just right. The accommodations on the tour were also well chosen, comfortable and the sights were a good introduction to Tibet. Our tour guide was also absolutely charming and very knowledgeable.
3. Are you willing to recommend our service to your people who also have an interest to visit China?
Yes absolutely.
4. Your general opinion on us?
Very fast and helpful service, and once arrived in Tibet the tour was well organized. Having a local Tibetan tour guide made the trip even more interesting because we were able to learn about their culture.
5. Do you have any suggestions on improving our services?
The only thing I would suggest is to vary the restaurants in Lhasa. We ate at the same two restaurants twice and we would have liked to try other places although we understand the agency may have contracts with some restaurants.
6. Can we use your comments of our service, the photos or other images that you took on the tour for our websites, brochures, marketing and publicity? If yes, could you please send us some of your photos by E-mail?
Yes, no problem.
Thank you!
Zhixia
The following picture was shared by Zhixia.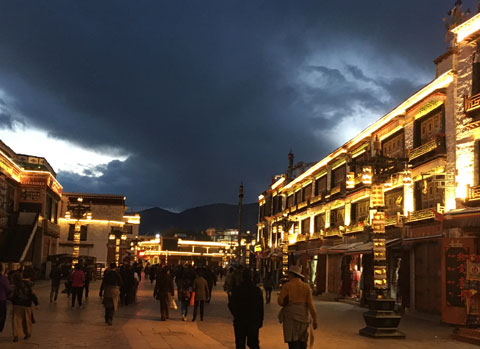 Wonderful Nightview of Barkhor Street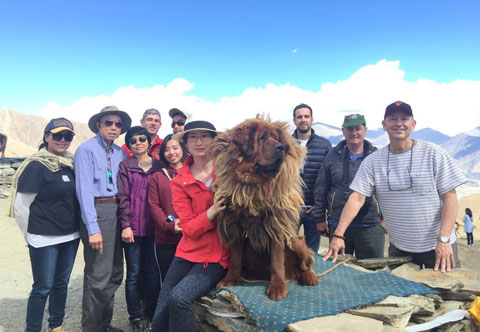 Zhixia's Group had a picture with Tibetan Mastiff