Hi Rita,
Of course I will give a note to Tripadvisor. Both for your company and for your very good service. I have already told several people back home about your company, and I think at least one couple are planning to visit China next year. We are going to invite them for dinner, and then we will tell about our experience, and about your company. I just wondered why is it important not to mention your company's website or email address? I thought that could be good...
One thing I want to tell you is that it is very important that the guides can speak good English. Most of the guides did speak very fine English, especially good in Chengdu. Both Jessie and David were doing very good in explanation and in speaking English, and the same for nearly all the other guides. But it was a bit harder in Beijing with Cici. She was a wonderful person, but her English was not that good. We struggled a bit for understanding what she was telling. I'm telling this to you now because I want to advise you to not only trust the evaluation form given by the guide herself. It might be difficult for the guest to give negative feedback in front of the same person. So evaluation related to the guide should be asked for in a mail like this. That is my opinion anyway.
As tourist we are very different, I can imagine. Some people like this and others like something else. For us we will rate Guilin as the most spectacular place and Shanghai as the city with lowest interest. We loved the stay in Guilin, and we would advise tourists to spend as many days there as we had. Not less. Shanghai was mostly concrete and steel, buildings and modern city. But of course also gardens and temples. Maria did a very good job there.
And I liked to visit you and your company in Chengdu. It was nice. I love to meet people more than watching buildings and temples. And you confirmed that you were just as nice and clever as my first impression after mailing with you. And thanks for the gifts. I will definitely wear the tie. I'm enclosing some pictures. Hope you like them. And you can use our name and mail if you need someone to be a reference for you or your company.
Hope to see you again, one day. Take care.
Best from Rune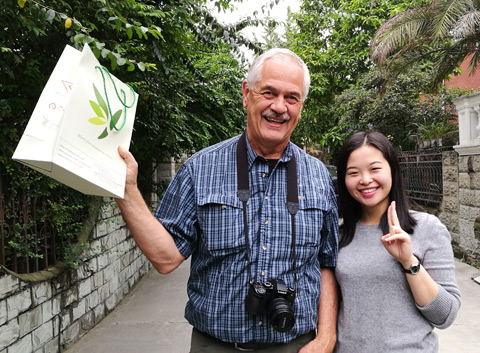 I visited Chengdu (Photo with Rita)