Hello Jack,
I would want to give my evaluation for your services last September. Sorry I very late, I have many things to take care of after my travel so I left this for later. It´s on below.
Guilhermo Romero
1. Is your travel consultant of our company fast enough to answer your E-mail and patient enough to answer your questions?
Yes, the travel consultant always answered my e-mail rapidly and was very patient.
2. How do you comment your tour arrangements?
The schedule was very good to the tour selected. The transportation was very fast and daily itinerary was good, allowing to move rapidly and don´t waste any more time in the hotels or transit beyond necessary.
3. Are you willing to recommend our service to your people who also have an interest to visit China?
Yes, I would like to recommend your service to any future customer.
4. Your general opinion on us?
Your company is very organized and the people who are responsible by the tour planning and the tour guides on field always know of my schedule. This is very important because on field we at almost times can only depend on the tour guides.The travel consultant always respond to my questions prior to travel very fast, this is also importante because the client always has to prepare many things in advance and these informations help the travel planning. The guides speak english very fluently and gives many information, and kindly answer to our questions, this is very good.
5.Can we use your comments of our service, the photos or other images that you took on the tour for our websites, brochures, marketing and publicity? If yes, could you please send us some of your photos by E-mail?
Yes, you can use my comments. I´ve attached some photos.
6. We sometimes have requests from potential customers who would like to inquire from or our ex-customers. May they contact you for advices? ______
Yes, they may contact me, but I can be a little slow to respond as you see. But I try to answer quickly.
See you,
Guilhermo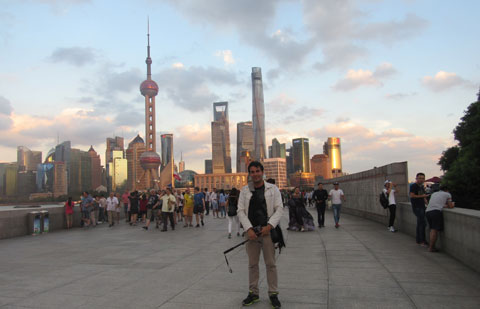 The View of Metroplis Shanghai
Guilhermo Climbed to the Great Wall