Hi Wing,
Once again - sorry for the delay. Flu - thank you for asking - it was serious - had terrible 10 days - but now we are OK.
Just to let you know that we have posted our comments
It was an incredible and unforgettable winter Beijing-Luoyang-Xian-Harbin trip (December, 23, 2017-January, 02, 2018). We not only had an excellent overview of the Chinese history while visiting the most famous astonishing sites (Beijing's Forbidden City and Summer Palace, Shaolin Temple and Longmen Grottoes in Luoyang, Terracotta Warriors and Horses and Ancient City Wall in Xian) but could immerse ourselves in a magical winter world at the unique International Snow Sculpture Festival and Ice World in Harbin on the Eve of the New Year! The extraordinary ice and snow masterpieces were incredibly beautiful – a real wonderland!
The Siberian Tiger Park in Harbin - the largest park for wild Siberian tigers in the world – is a must to visit. The city itself is fascinating – with streets and buildings of the most influential Russian and European architectural style.
Special thanks - to our tour operator Ms Wing Zeng at China Discovery, based in Chengdu, who organised our private tour and kept checking on us while we were on a route. Our initial research provided us with a level of confidence in your organisation's ability to deliver an incredible experience.
All our requests were addressed promptly with very warm attitude. All documentation was timely, informative and comprehensive. Everything was organised extremely well, went very smoothly and exceeded our expectations.
Our tour guides were exceptional. Their knowledge and attention to detail were fantastic. They were very passionate about their country and really made our trip to remember.
We were very well informed by our guides on the Chinese cuisine and enjoyed high quality food in local cafes and restaurants.
Once again we would like to express our gratitude to the whole team: our tour guides – Kevin (in Beijing), Jenny (in Luoyang), Johnny (in Xian), Celina (in Harbin) and Candy (in Beijing) - and all our skilled well-experienced drivers for arranging such a wonderful trip to China. We felt very well cared for by all of the staff.
The tour was really very interesting and unforgettable! We wish we could stay longer.
We highly recommend China Discovery, based in Chengdu, for anyone planning a trip to China.
Photos. Please find some photos attached (in 3 letters). Hope you can select interesting for your website.
Suggestions. May be it'll be a good idea to provide your tourists (upon arrival) with some promotional information (leaflets, booklets or just printed sheets) on optional activities if they have time after /before sightseeing. Usually you can find this type of information at your hotel, but unfortunately the hotels (3*-4*) we were accommodated in did not have anything. We personally did not have any problems because we "had done our homework" and had all necessary for us information but for some people it'll help. E.g. in Beijing we ourselves visited NCPA and attended a concert there, visited the Beijing Zoo and Oceanarium. In Xian we visited the Gao's Grand Courtyard or Mansion museum in the Muslim Quarter.
Thank you once again and have a good day.
Elmira and Nick
The following pictures were shared by Elmira and Nick.
Summer Palace is a beautiful garden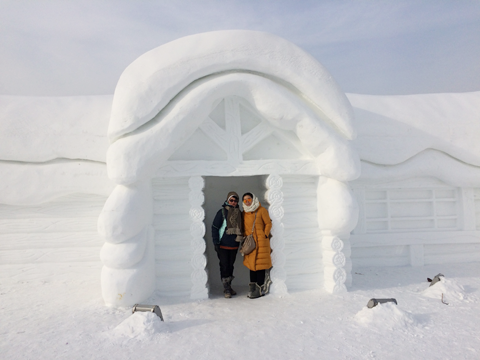 We visited Harbin during Harbin Ice and Snow Festival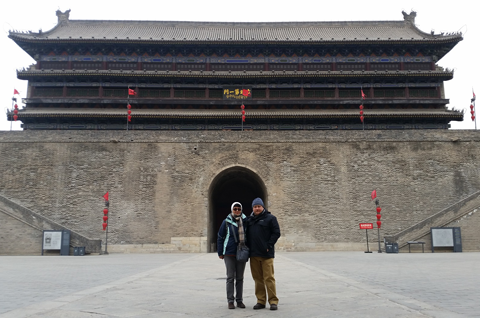 Ancient City Wall in Xian