Dear Johnson,
Sorry for the delay, I had a lot to catch up on at work.
First I wanted to let you know that we are very very happy with the whole package of services and arrangements you made for us via your company. I will be submitting a positive feedback for China Discovery in TripAdvisor when I have the time. Everything went seamlessly, the guides were perfect. On this front Daniel was the best from them all our family felt he really spent time telling us details and we learnt a lot from him about Chinese culture and customs in Guilin. He was also very patient and flexible (so were the other guides by the way). The fact that he was from Yangshou also could be why we got more details and could see his passion and that he a more experienced guide. The other guides were all good too, but Daniel really was the best.
Most of all I would like to thank you for your patience in working with me to develop the holiday suited to our needs. My husband and children were very happy with the arrangements. I have not gotten this professional level of support before, most companies are reluctant to work with their clients and push their own tour agenda. You really were very helpful in researching the type of hotels I wanted and making the bookings. On the hotel, I wish China would promote more the small boutique hotels like Yangshou Mountain Retreat and the Longji Art Hotel.... foreign tourists really like these as you can escape the big Chinese tour groups and their loud guides using loud speakers that mostly stay in bog hotels.
With regard to the tour of the Water Town near Shanghai, I would like to give you feedback that the guide did not initially take us to the area where there are the tea shops along the river, its a good thing I had read about it in TripAdvisor so I told her we wanted to go there. Which was great, we had coffee in one of these places. I really recommend telling your guides to take your clients for some coffee or tea to these teashops along the canal. The visit to the pharmacy is not worth the trip, please drop it from you itinerary.
Zhangjiaje was fantastic, we loved the hiking and walking along the river. The Sky Bridge and the walk along the river was also great. Loved it. Tianmen Mountain was beautiful as well, however we did not like the crowds so much there.
Yangshou and Longji were our MOST favorite places and our favorite hotels. If we come to China again we all voted to go to Yangshou again. I would skip Guilin, nice place and we had a nice tour of the 2 rivers, 4 lakes but for as foreign tourist I'd rather have spent more days in Yangshou and Longji hiking and relaxing. Especially since you don't come across the big tour groups at all, only families.
Chengdu is a fascinating city, we like the fact that the guide taught us how to play Majong, now we all want to buy a Majong set. That was really kind of her. The Panda visit was not that impressive, we had hoped it was more natural and required some hiking etc. like safaris we are used to in India and Africa. Next time, if we come to China we would like to go to the Panda Reserve in the wilderness and camp there for a few days and then also visit Tibet. I understand that your company can arrange this too. Do you have good outdoor nature guides with good camping and wilderness experience in Panda country?
Note sure if you still need me to answers the questions below, having given you my comments above. But will answer them quickly.
Is your travel consultant of our company fast enough to answer your E-mail and patient enough to answer your questions?
yes you were super fast, I was impressed
How do you comment your tour arrangements?
As mentioned above, you did a great job, I would recommend China Discovery to everyone who wants to visit china and have them get in touch with you.
Are you willing to recommend our service to your people who also have an interest to visit China?
Yes
Your general opinion on us?
Already mentioned that I was very impressed by how professional your company is and how patiently you worked with me to development my tour agenda.
Do you have any suggestions on improving our services?
Already mentioned above in my email, on the locations. Otherwise I have not additional suggestions. You did a great job. Everything worked very smoothly, even the flights and train tickets and local transport. Like clockwork. Perfect!
Can we use your comments of our service, the photos or other images that you took on the tour for our websites, brochures, marketing and publicity? If yes, could you please send us some of your photos by E-mail?
Sure, would prefer that you don't use our names and pictures of the family but pictures I attach here only. You can say Sommer Family if you need to use a name.
Thanks
Sommer Family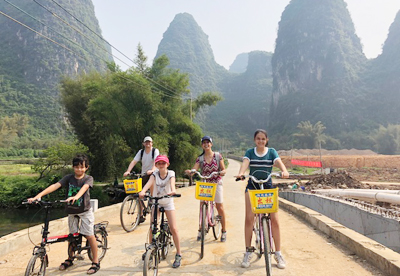 We are biking in Yangshuo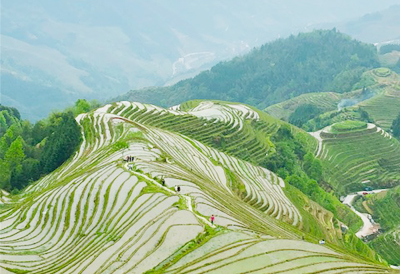 The landscape in Longji Rice Terrace is amazing