Located in central Shanxi Province, Pingyao is a hot short trip destination between Beijing and Xian, which is most famous for the well-preserved Pingyao Ancient City. Listed as a UNESCO World Cultural Heritage with nearby Shuanglin Temple and Zhenguo Temple, Pingyao Ancient City is one of the best examples of ancient urban settlement during Ming and Qing Dynasties. Except the ancient city, Pingyao has also conserved more splendid cultural attractions, including Shuanglin Temple, Zhenguo Temple with stunning painted sculptures, Wang's and Qiao's Family Compound with massive residences, etc. Below are the top 6 tourists attractions recommended visiting in and near Pingyao.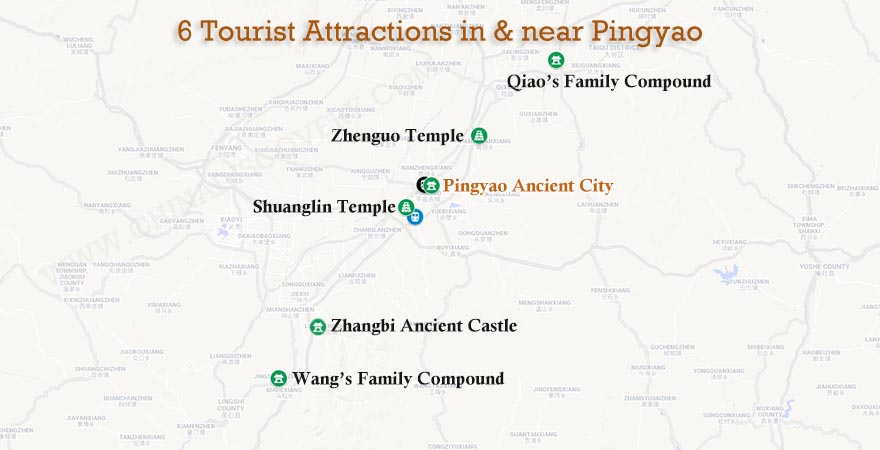 Top 6 Places to Visit in & near Pingyao
How to Plan a Pingyao Tour if you have 1 Day, 2 Days (Excluding the Arrival Day)
● 1 Day Pingyao Ancient City Discovery Tour: Pingyao Ancient City, Shuanglin Temple
If you only spare one day to visit Pingyao, then the Pingyao Ancient City is the top must-see. You can take 1 full day to leisurely visit major ancient sites in Pingyao Ancient City, get panoramic view from the imposing Ancient City Walls, learn bank history in Rishengchang Former Bank, sense local life in the old residences, watch performance in Ancient Government Office, taste local flavors in Ming and Qing Dynasties Street, even watch the Another Glance at Pingyao show at night and stay overnight to capture stunning night scenery. A quick ancient city trip with Shuanglin Temple nearby is also doable within 1 day. But please leave enough time to take your train for leaving.
● 2 Days Pingyao World Cultural Heritage Visits: Pingyao Ancient City, Shuanglin Temple, Wang's Family Compound
The itinerary brings you to visit two World Cultural Heritage properties at a slower pace. On the first day, you will make an in-depth exploration in the Pingyao Ancient City. On the next morning, you will drive to visit Shuanglin Temple, take several hours to enjoy massive painted sculptures. Next, drive southward to Wang's Family Compound to continue your cultural and historical journey of Shanxi.
>> 2 Days Classic Pingyao Ancient City Tour
● 2 Day Pingyao Diverse Cultural Exploration: Pingyao Ancient City, Shuanglin Temple, Zhangbi Ancient Castle, Wang's Family Compound
To help you make full use of your time and know ancient Pingyao better, this itinerary takes you to visit most of the top landmarks in and near Pingyao. You will visit Pingyao Ancient City and Shuanglin Temple in half a day separately. On the second day, Zhangbi Ancient Castle will be toured on the driving route to Wang's Family Compound.
>> 3 Days Pingyao Discovery Tour (First Day for Arrival)
>> 4 Days Essence of Datong & Pingyao Tour
>> 6 Days Datong Pingyao Tour plus Wutaishan Visit
6 Most Recommended Pingyao Tour Packages
Start planning your tailor-made holiday to China by contacting one of our specialists. Once inquired, you'll get a response within 0.5~23.5 hours.
Customize a Trip
Have a question? Get answers from our travel experts or guests
Your Question:

Your Name:

Your Email: