Panda Volunteer Program in Dujiangyan Panda Base
-- Once-in-a-lifetime Panda Volunteer Experience for 1 Day

Departure Date

/

2019-01-06

Travel Length

/

1 Day

Travel Theme

/

Panda Volunteer

Group Size

/

2

Travel Route

/

Chengdu - Dujiangyan Panda Base - Chengdu

Highlights

/

Do Daily Chores, Panda Feeding, Panda Cake Making

Recommended Trip:

/

1 Day Dujiangyan Panda Volunteer Tour
On Jan. 6th, I, together with my colleague Livia, participated in the once-in-a-lifetime panda volunteer program in Dujiangyan Panda Base, and now it's a great pleasure to share our exciting experience with you.
Dujiangyan Panda Base, the Closest Base to Do Volunteer Program
Dujiangyan Panda Base, also known as China Conservation and Research Center for Giant Panda Dujiangyan Base, the only giant panda care, disease prevention and control institute in the world, is situated in Mt. Qingcheng Town, about 56 km (34 miles) northwest of Chengdu and 18 km (11 miles) from downtown Dujiangyan. This is one of the 3 panda bases that volunteer programs are carried out. The other 2 are Wolong National Nature Reserve and Ya'an Bifengxia Base of China Conservation and Research Center of Giant Panda.
Since the volunteer work will start at 8:30 in the morning, we took a high speed train to Dujiangyan City one day before, and we stayed at the Zhongyan International Hotel. The hotel is good except that the location is a little remote.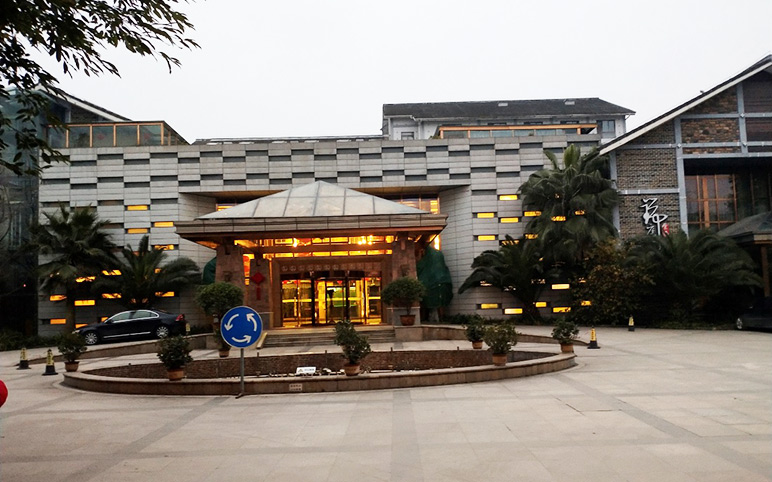 Dujiangyan Zhongyan International Hotel
In the next morning, we took a taxi to the panda base from our hotel which took about 30mins. We arrived there at about 8:10am, so we wandered around the panda base and took some pictures. Don't you think the 4 panda models at the entrance are adorable?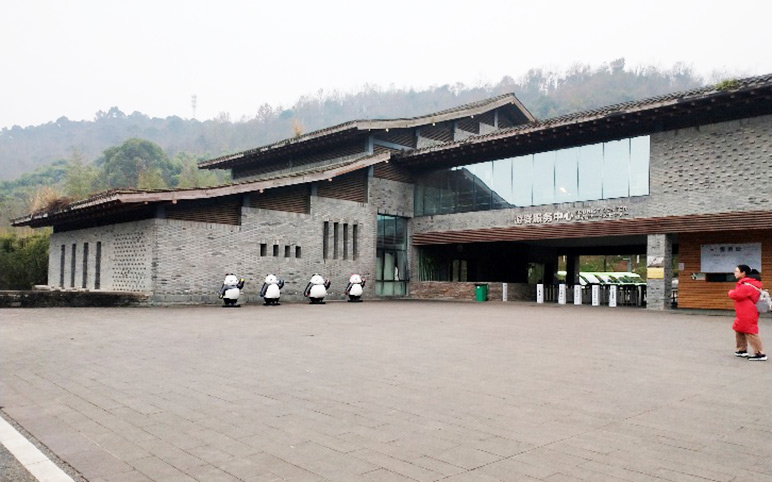 Dujiangyan Panda Base Entrance & Panda Models
Make Preparation After Arrival
When the panda base was opened, we entered and found our way to the volunteer office. It is on the 2nd floor. Upon arrival, we started with the preparation work. We read and signed the security agreement, wore the work clothes and gloves, and stored our personal stuff in the lockers. We even took a picture at the cute toy pandas' area in the office.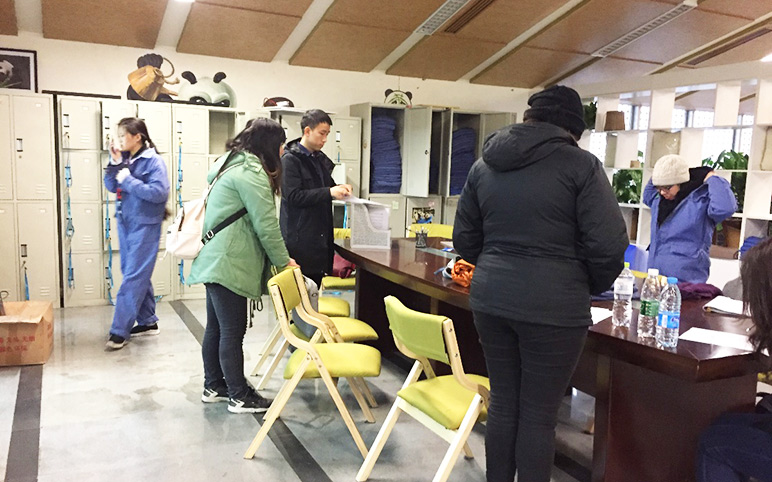 Signed the Security Agreement Before Did the Work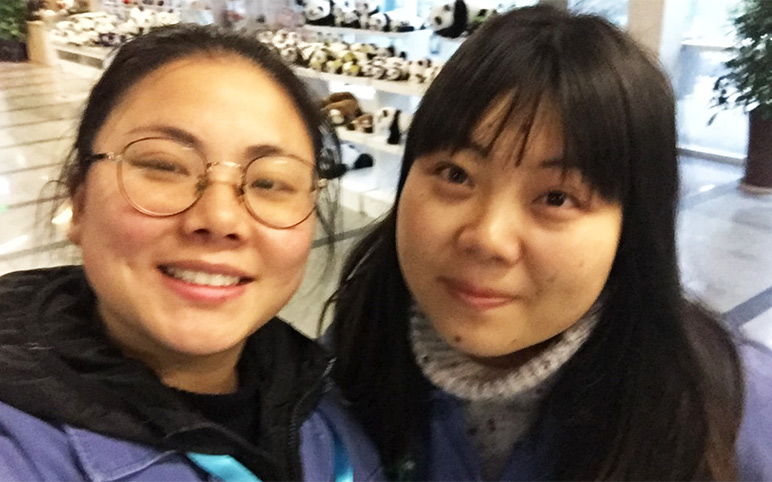 Livia and me at Dujiangyan Panda Base
Then we are led by the personnel to start our volunteer work. We first took the green tourist bus up the road, and then we walked several minutes and finally got to the destination for the volunteer work.
Do Daily Chores First
Livia and I were asked to be a group with 3 senior high school students because they have done the volunteer for 2 days, and so they could tell us what to do. We started to work at about 9am, and the things that we did included carrying out old bamboos, picking up droppings, cleaning up panda enclosures and then carrying in fresh bamboo leaves and shoots. I picked up a lot of droppings that day since the closure that we cleaned lived an adult panda, and he ate a lot. But the smell was not that bad since pandas eat bamboos most. We did all the work happily and fast with the 3 students. You know what? Youngsters are always energetic, haha!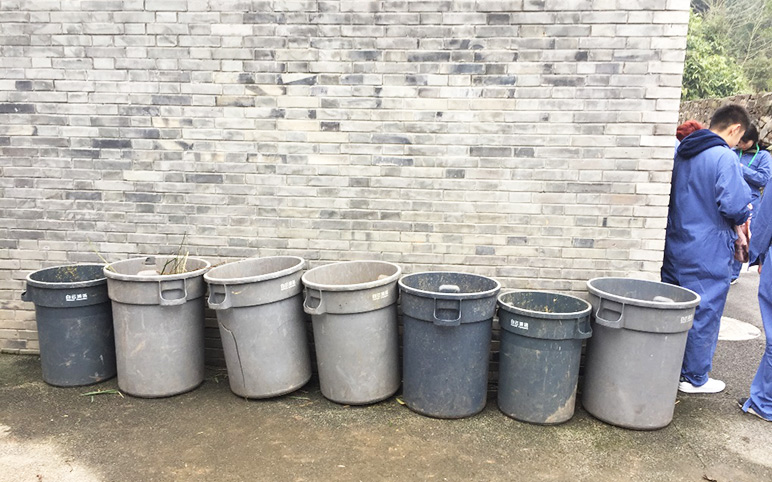 Buckets Used to Hold Droppings and Old Bamboos
In-depth Leisure Visit in the Panda Base
After the volunteer work in the morning, we followed the personnel to take a visit to some other closures in the panda base. She told us about each panda, such as their names, their age and their habits. We were told that one panda named Bingbing is a web-star, and he has a lot of fans. Every year his fans will come to see him from far away.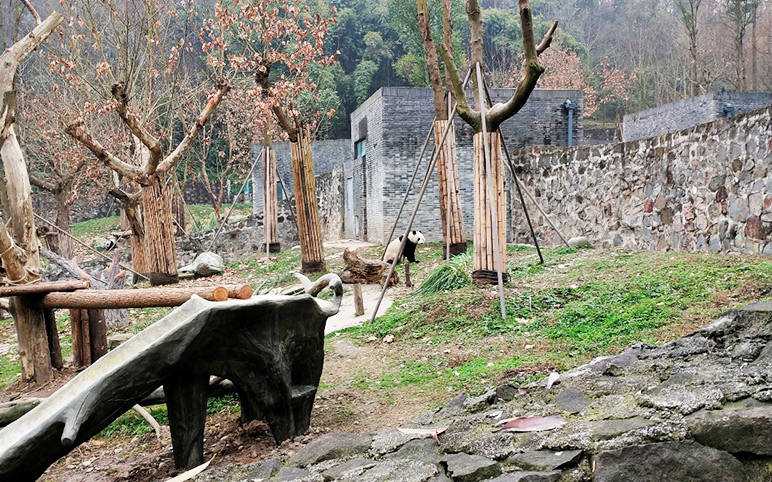 This is Bingbing, the web-star.
Feed the Pandas
After the happy visiting, we got the chance to feed the pandas. That's really exciting because we were able to have close contact with the pandas. The food prepared for that day is bamboos, and each of us could feed the panda 2 bamboos. We lined up to feed the panda one by one, and the personnel helped to shoot a lot of photos for us.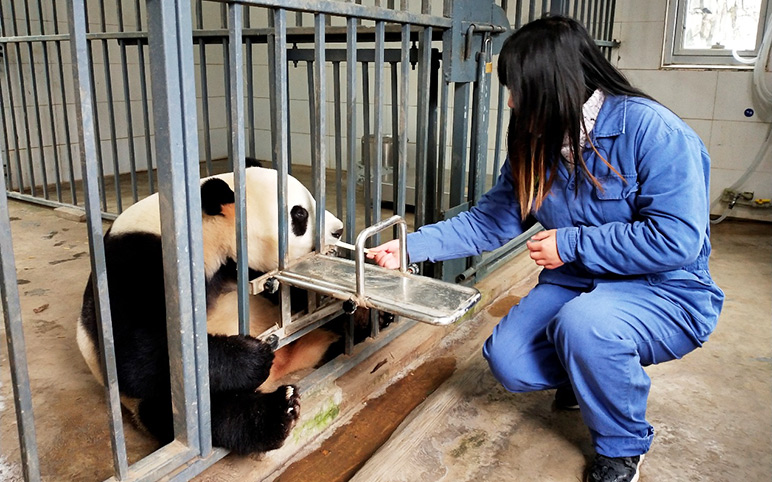 Feed the Panda with Bamboos
Enjoy Lunch with Partners
After the panda feeding, it's time for lunch. There are Chinese dishes served in the restaurant of the panda base, including pork, chicken, vegetables and fruits. It's like buffet, and you can choose what you like by yourself. We had lunch with a German girl, and we felt that the food tastes good. But if you don't like Chinese dishes, you could bring something to eat by yourself.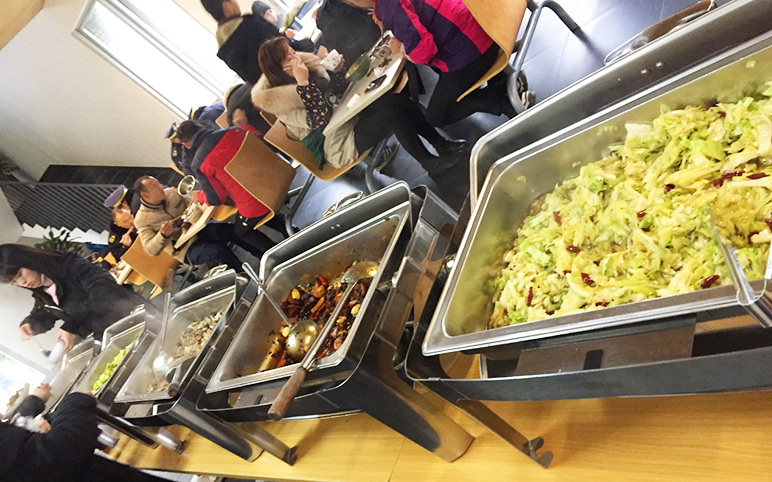 Dishes for Lunch at Dujiangyan Panda Base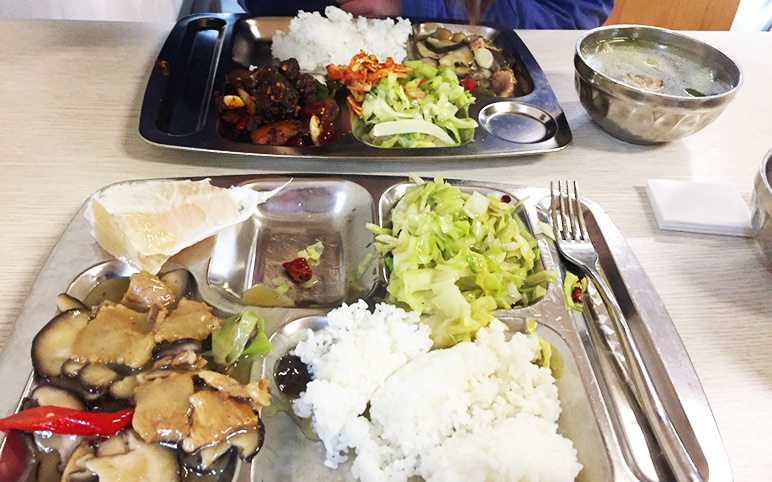 Enjoy Lunch at the Staff Cafeteria at Dujiangyan Panda Base.
Watch Panda Documentary
After lunch, we got back to the office and had a short rest. It's easy to get sleepy after a good meal. When we woke up at about 1pm, we watched a documentary which introduced the scientific facts about the pandas and the protection of the pandas. We learned that some people are making a lot of efforts to protect and care about pandas, and thanks to them, pandas can live at a good environment and we have a chance to take a close look at these cute animals.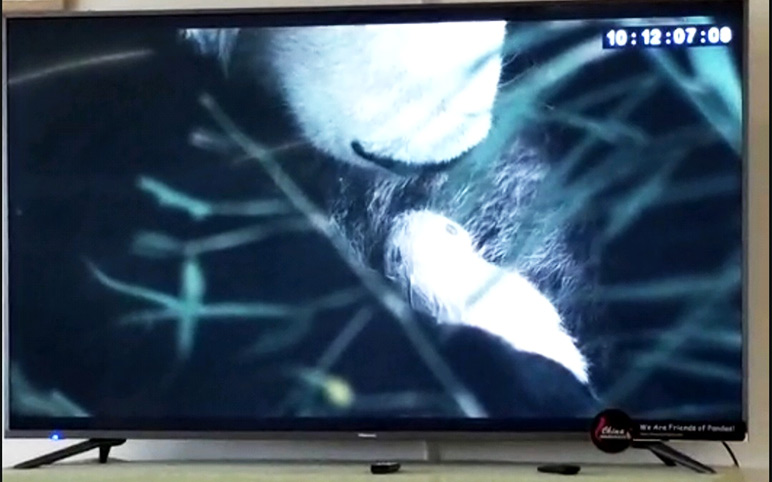 Watch Panda Documentary at Dujiangyan Panda Base
After about one hour's watching, we went to feed the pandas again, and we also carried some fresh bamboos to their closure.
Learn to Make Panda Cake
Then we went to the kitchen to learn how to make the panda cakes. Panda cakes are made of rice, corn, eggs and soybeans. They have the nutrition that the pandas need. But we heard that when the cakes are steamed, they are very hard.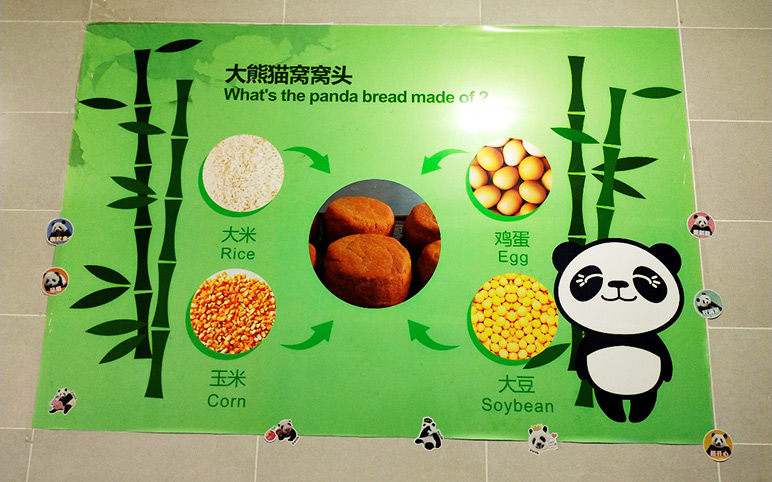 Make Panda Cake at Dujiangyan Panda Base
You can make any shape of panda cakes as you like and it is very interesting to knead the dough. It seems that we made some ugly panda cakes.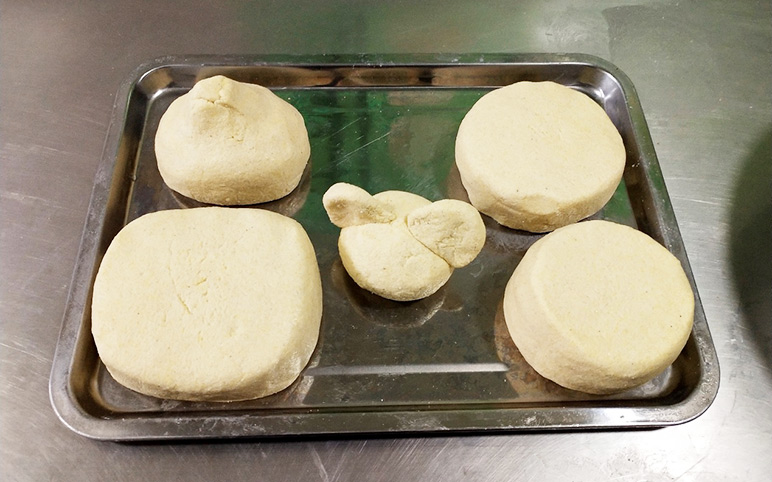 Panda Cake, try different shape...
After the panda cakes making, the panda volunteer tour came to an end. We said goodbye to the pandas and the personnel, and we came back to Chengdu by high speed train.
This tour is really an unforgettable experience in our life, and we hope you, who love pandas and want to do the volunteer, will feel the same as us.

Ashley
" Hi, dear friends, this is Ashley at China Discovery. Panda is my favorite animal and I have been dreaming to get intimate contact with them for many years and it has come true this year. If you are panda fans like me, I can share so many stories and experience about doing panda volunteer program with you. No matter how many days you are interested in, which panda bases you choose, I have the ability to customize the panda tour totally based on your likes and interests. Just trust my passion and expertise, and leave all the troubles to me! Come on! "
Stunning Panda Experience & Community
Useful Articles to Plan Panda Tours
Recommended Tours
Top 3 tours chosen by most customers to explore in the best way. Check the detailed itinerary, or tailor your own trip now with us.
1 Day Dujiangyan Panda Volunteer Tour

Dujiangyan
4 Days Chengdu & Dujiangyan All Bests with Panda Volunteer Tour

Chengdu / Dujiangyan / Chengdu
2 Days Chengdu & Lifetime Panda Volunteer Tour

Chengdu / Dujiangyan Panda Base / Chengdu
Start planning your tailor-made holiday to China by contacting one of our specialists. Once inquired, you'll get a response within 0.5~23.5 hours.
Customize a Trip
Have a question? Get answers from our travel experts or guests
Your Question:

Your Name:

Your Email: