Kashgar Maps: Kashgar China Map, Kashgar Travel Map...
Kashgar, one of Xinjiang's top destinations together with Urumqi and Turpan, has attracted numerous tourists with its unique multi-ethnic charm and traditional local life. Unlike China's developed cities (like Beijing, Xian and Shanghai), Kashgar is not familiar to most travelers. To plan an effective Kashgar vacation, getting a great understanding of its location, transfer means and attractions distribution will be extremely helpful. China Discovery here collects some downloadable maps, including Kashgar China Map, Kashgar Location Map, Kashgar Flight Map, Kashgar Attractions Map etc. to make things much easier. Feel free to use them and plan your Kashgar tour wisely.
Kashgar Location Maps – Where is Kashgar
Kashgar Region is located in far western China in Uygur Region of Xinjiang. It borders Afghanistan, Kyrgyzstan, Tajikistan and Pakistan in southwest and some other regions of Xinjiang (like Aksu, Kizilsu Kirghiz and Hotan) in other sides. It is about 1100 kilometers away from Urumqi and about 3,400 kilometers away from Beijing. Check its detailed location maps: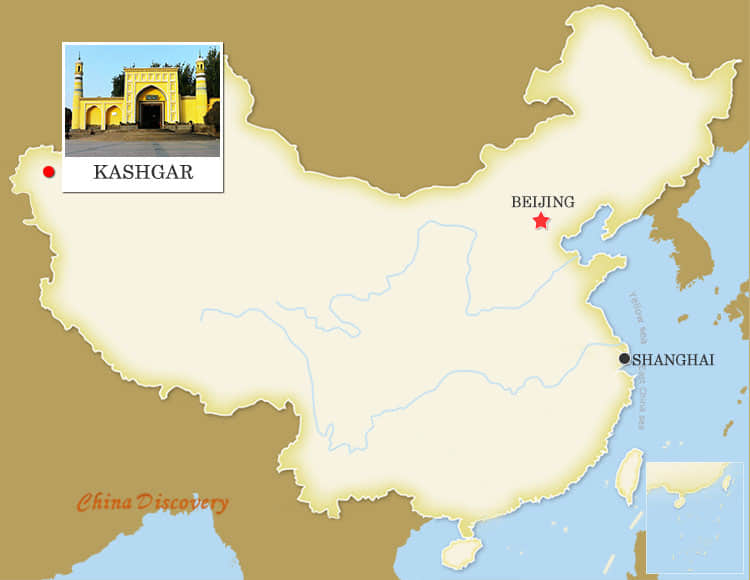 Kashgar Location Map
Kashgar Transfer Maps – How to Get to/around Kashgar
Kashgar can be reached by weekly flights from Beijing (5.5h), Lanzhou (2.5h), Changsha (4.5h), Zhengzhou (4.5h), Korla (1h), Burqin (1h15min), etc., and high speed trains from Xian (about 12.5 hours), Lanzhou (about 9.5 hour), Xining (about 8 hours), Zhangye (about 6.5 hours), Jiayuguan (about 5 hours), Dunhuang (about 3.5 hours), Hami (about 1.5 hours), Urumqi (about 1 hour), etc. Its best gateway cities are Urumqi and Dunhuang. Learn more about Kashgar Transportation Guide>
Kashgar Tourist Maps – How to Travel Kashgar
Top attractions to visit in Kashgar include Jiaohe Ancient Ciy, Karaz System, Beziklik Thousand Buddha Cave, Flaming Mountian, Tuyuk Valley, etc. Check the following attractions map and accommodation map to help you organize your itinerary in Kashgar in a smarter way:
How to Plan A Kashgar Xinjiang Tour
How to Get to Kashgar: From mainland cities - you can take domestic flights from Beijing (about 6~7 hours), Xian (about 4 hours), Chengdu (about 6~7 hours), Shanghai (about 8 hours), Guangzhou (about 8 hours), Jinan (about 7 hours), Zhengzhou (about 7 hours), etc., or provincial flights from Urumqi (about 2 hours), Korla (about 1.5 hours), Yili (about 1.5 hours). From the borders - you can also get to Kashgar from land border ports, such as Kalasu Port, Irkeshtam Port, Torugart Port, Khunjerab Port. If you need transfer, we can send a tour guide and driver to pick up you from the borders.
Best Time to Visit Kashgar: suitable for travelling all year around, but May to October is most comfortable and beautiful.
Top Places to Visit Kashgar: Kashgar Old City, Karakul Lake, Tashkurgan (Stone City, Golden Grassland), Id Kah Mosque, Kashgar Bazaar
Plus arrival and departure days, you'd better plan at least 4 days for your Kashgar trip. If you want to extend your trip to Tashkurgan, you need at least 5 days. You can spend 2 days exploring attractions in Kashgar city and its old town, such as Kashgar Bazaar, Kashgar Old City, Id Kah Mosque, Abakh Hoja Tomb, Ancient Tea House, etc., then have a day trip to Karakul Lake from Kashgar. If you want to experience something more authentic, Tashkurgan, about 3.5 hours' drive from Kashgar, is strongly recommended.
☛ 4 Days In-depth Kashgar Tour to Karakul Lake
☛ 5 Days Legendary Pamirs Tour from Kashgar to Tashkurgan
After Kashgar tour, you can take a flight to Urumqi to marvel at the alluring Heavenly Lake and visit the mummy and Silk Road exhibitions in Xinjiang Regional Museum, then keep traveling to Turpan to see the grape valleys, visit historical Jiaohe Ancient City, etc. For an in-depth Silk Road journey, you can travel from Kashgar to Hotan, Kuqa, Taklamakan Desert, etc., which usually need about 8~13 days. If you love landscape, don't miss out the Kanas Lake in northern Xinjiang.
☛ 6 Days Urumqi to Kashgar Dream Tour - Best Xinjiang Tour for the First-timers
☛ 8 Days Urumqi Turpan Kashgar Xinjiang Tour
☛ 13 Days Xinjiang Silk Road Adventure Tour
Kashgar and Xinjiang regions can also be connected to other Silk Road destinations easily, such as Dunhuang, Jiayuguan, Zhangye, Xian, etc. Qinghai, Tibet, Inner Mongolia are also some recommended extensions of Kashgar Xinjiang trip. Find recommended Silk Road tours here or contact us to tailor-make a trip of your own if you want to discover more destinations.
☛ 10 Days Classic Silk Road Tour from Xian
☛ 11 Days Wild In-depth Silk Road Adventure Tour
☛ 15 Days Classic Ancient China Silk Road Tour with Bullet Train Experience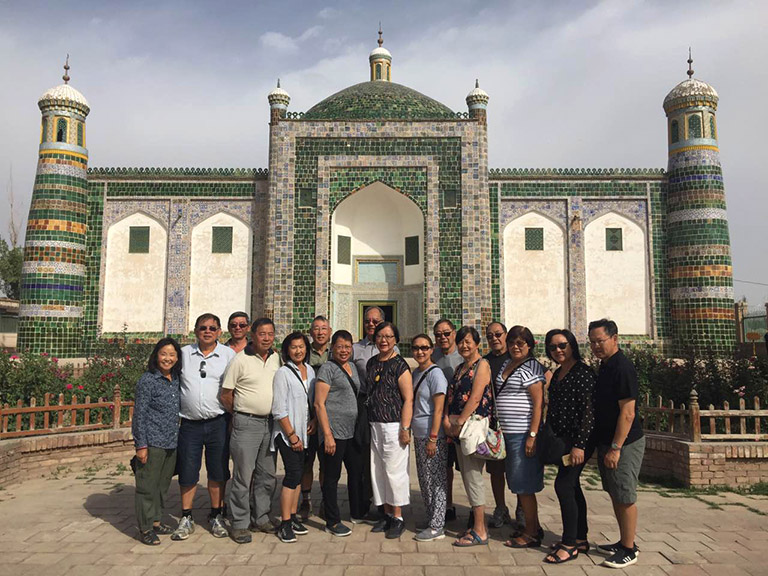 Our clients in Kashgar
Erin Family (USA) Visited Zhangye Danxia Geopark
Travel with China Discovery - Worry-Free Transfer
Want to enjoy a worry-free Kashgar tour? Just travel with China Discovery! China Discovery is a leading travel agency offering private China tour packages with great flexibility, comfort and personalized services for decades. We have got 3,110+ good reviews on TripAdvisor.com, and 1,520+ China travel reviews from the customers. Before your travel, our experienced travel expert will communicate with you one-to-one and organize everything (accommodation, transfer, itinerary…) well. In your trip, our local travel guide will accompany you all the way and introduce the highlights of every place to you. Private transfer service allows you to enjoy a comfortable and safe trip. All the experience can be tailor-made according to your group size, travel time, physical condition, personal interest, travel budget and other needs. >>Contact us now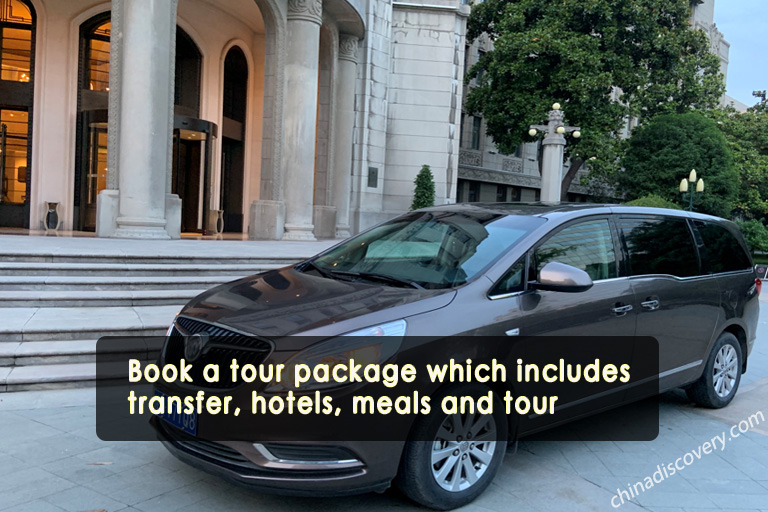 China Discovery Private Transfer
Keep Reading About Kashgar
Keep Reading About Xinjiang Tours & Travel Guide
Recommended Kashgar Tours
Top 3 Kashgar tours chosen by most customers to explore Kashgar in the best way. Check the detailed itinerary,or tailor your own trip now with us.
8 Days Classic Xinjiang Tour including Urumqi Turpan Kashgar Tashkurgan

Urumqi - Turpan - Kashgar - Tashkurgan
13 Days In-depth Xinjiang Silk Road Adventure Tour

Urumqi / Turpan / Korla / Kuqa / Taklimakan Desert / Minfeng / Hongtan / Kashgar / Tashkurgan
6 Days Urumqi to Kashgar Dream Tour - Best Xinjiang Tour for the First-timers

Urumqi / Kashgar / Karakul Lake / Tashikurgan / Kashgar