Brief Introduction of Yangshuo Moon Hill
Moon Hill is located at the southernmost end of the famous Ten-mile Gallery in Yangshuo, about 1 km south of the Big Banyan Tree. This 380-meter moon hill is mostly renowned for its natural-formed moon-like hole on its top. When you looking up the majestic karst hills at the right side of Ten-mile Gallery, you will find a wonderful "moon" embedded on the top of a mountain, and that is the moon hill. The length and width of the "moon-shaped hole" of the Moon Hill are measured for about 50 respectively. The "moon" is formed under the influence of yearly rain and wind. As you approach the Moon Hill, you will witness the moon changing from crescent moon, half-moon to a full moon gradually. And once you climb to the top of the hill, you will be welcomed with a broad view of Yangshuo County surrounded with verdant and exhilarating karst scenery.
Featured Activities of Visiting Moon Hill
Has long been amidst "one of the most visited attractions in Yangshuo", Moon Hill, somewhat the landmark of Yangshuo, really deserves a close and personal visit. So, how to visit this stunning place? What is the best way to appreciate the "moon"? There are top 3 ways recommended for you - hiking, climbing and snapping at Li Village. Hiking gives you a close chance to clearly appreciate the miraculous "moon". The adventurous rock climbing gives you breath-taking feeling of challenging yourself. And the freely walking and snapping at the Li Village on the opposite of Moon Hill offers a unique opportunity of enjoying the "changing moon". Which way do you prefer? Check more details about the top 3 ways at below and select you favorite activity according to your interest and physical power!
Recommended Hot Tours in Guilin & Yangshuo:
>> 3 Days Classic Guilin & Li River Cruise
>> 4 Days Highlights of Guilin, Yangshuo & Longji
Moon Hill Hiking
For the travelers who want a really close explore of the "moon", you can hike up along the marble-paved, winding, and sometimes steep "appreciating moon path" to the top. After about 1 hour or so, you will be under the arch of moon and you will find stalactites of various shapes. Some of them like fairy Chang'e, Jade Rabbit and woodcutter Wu Gang in traditional Chinese legends. Enjoy your leisure time with those charming legends and let the gentle breeze drive all you stress and bad mood away.
Moon Hill Photography
Walking along the flat path crossing the "moon" for about another 5 minutes, you will find a platform, from where you can have a great angle to snap the "moon" up close and have a panorama view of the stunning surrounding karst landscape and also the whole Yangshuo County. The jutting mountains with lush vegetation covered, a patchwork of field, bright rocks, snaking rivers and village houses stretching for miles, all of which make the platform a paradise for photography.
Li Village (历村) on the opposite of Moon Hill also gives you a great view of the "moon". For the travelers who are not interested in hiking up to the top and climbing on the dangerous cliff, snapping at Li Village must be your best choice. Besides, when you wandering in the village, you will encounter with a "dynamic moon", which appears as a full moon, half-moon or crescent moon from different angles.
Moon Hill Rock Climbing
Moon Hill is also the iconic spot for rock climbing in Yangshuo, and even in the whole China, with as many as 15 rock-climbing routes available. Its giant arch was one of the first pieces of stone to be bolted in Yangshuo. Thanks to the special shape of the arch, the area under the arch is seldom get wet, even in some rainy days, attracting innumerable amateur and professional climbers all year around. Check more about Top Places, Routes, Best Time & Tips of Yangshuo Climbing >>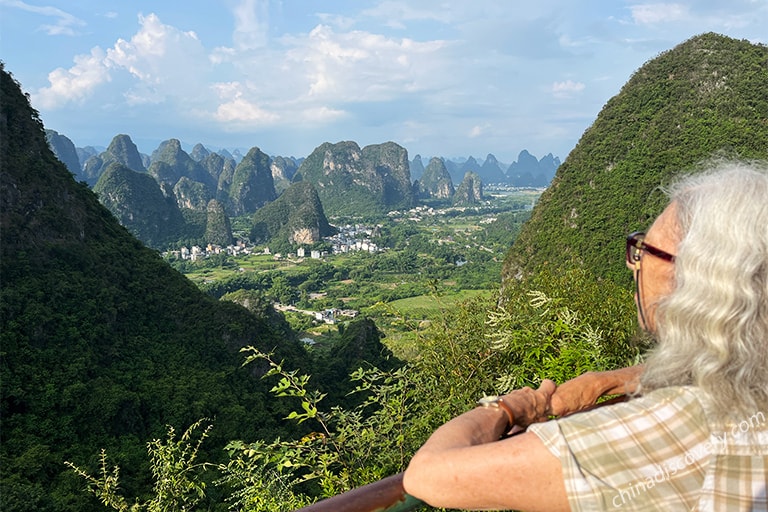 Part of Panorama View on Moon Hill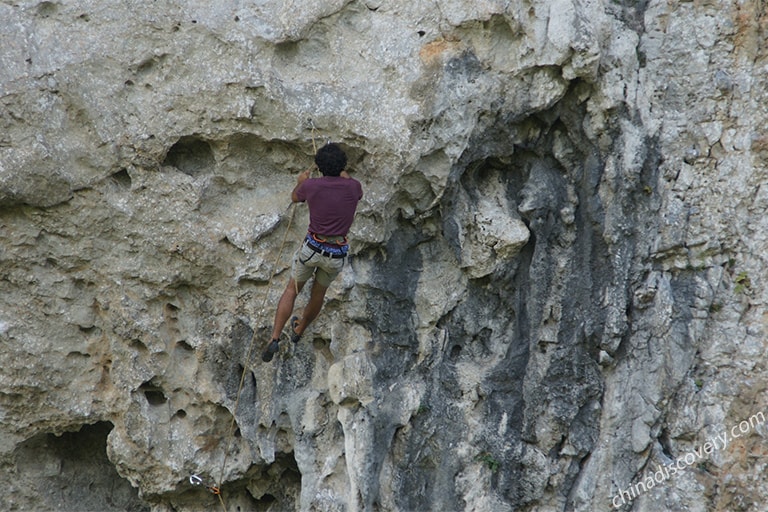 Moon Hill Climbing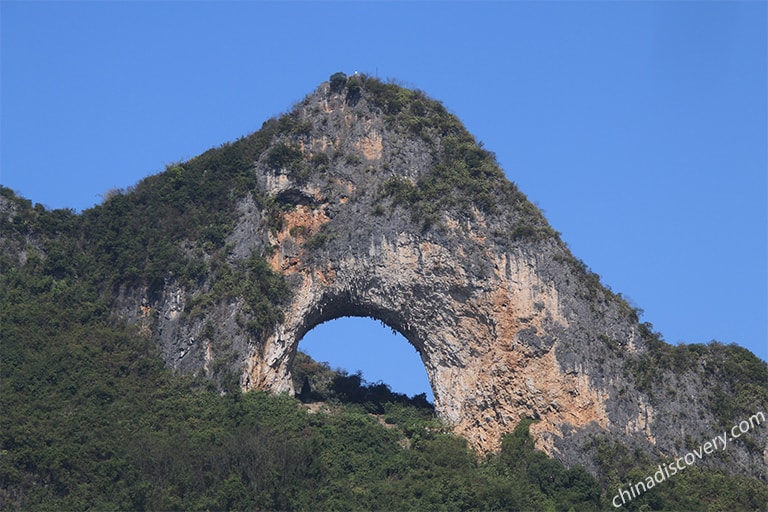 "Full Moon"
Best Time to Visit Moon Hill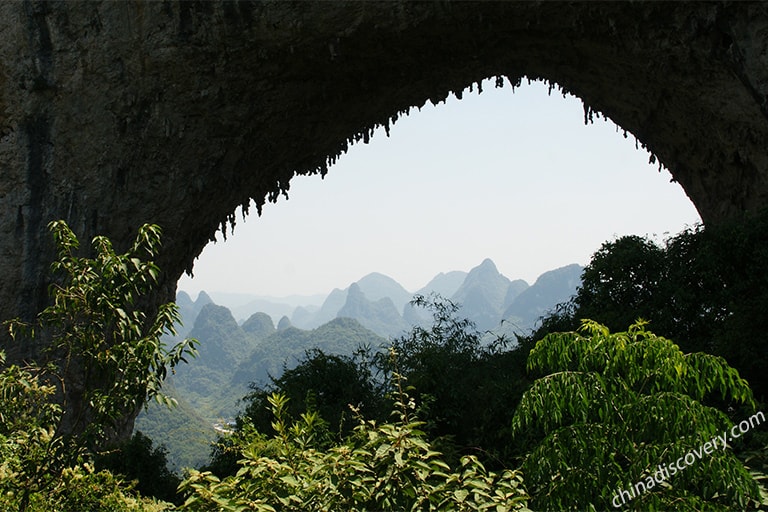 Yangshuo Moon Hill
How to get to Moon Hill from Yangshuo
Due to the traffic control of the whole Ten-mile Gallery Scenic Area (including Moon Hill), taxis, tourist buses and private cars are forbidden to enter into this area. So the best recommended and also the most popular way to visit Moon Hill is by riding a bicycle. Cycling from West Street in the downtown area of Yangshuo to the Moon Hill takes about 45 minutes (about 8.8 km). When you do cycling, you will find more attractions along the way, like the Big Banyan Tree, Butterfly Spring, etc.
There are also sightseeing buses that rides along the Ten-mile Gallery. The buses make stops at every sightseeing spot, so you can take the buses and get off at the bus station in front of the Moon Hill. There are two kinds of bus tickets available. The one-day ticket charges for about 20 RMB per person. The single-ticket charges for about 10 RMB per person. After book the one-day ticket, you can enjoy the bus service during the whole day (8:00 - 18:00), while the single-ticket can only be used once.
Check more about Yangshuo Transportation >>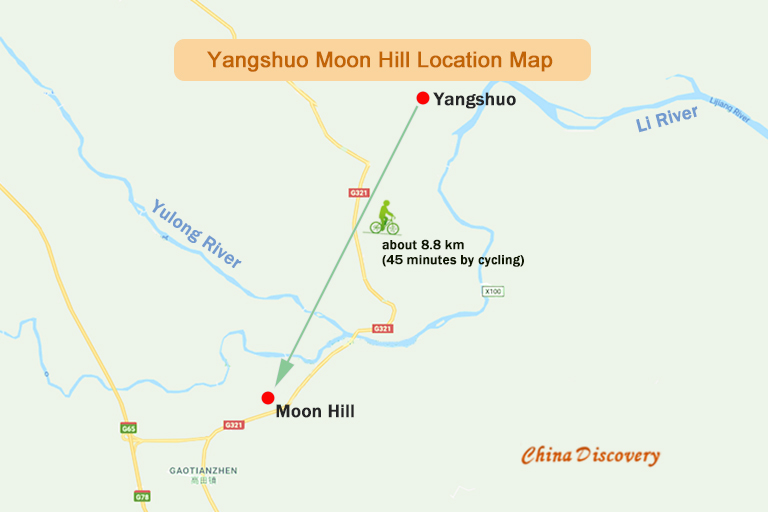 Moon Hill Location Map
Touring Yangshuo Moon Hill with China Discovery
Only the visit of Moon Hill may be far from enough. To enrich your journey, you can add more attractions along the Ten-mile gallery to your journey, such as the Big Banyan Tree, Butterfly Spring, Assembly Dragon Cave, etc. The whole visiting takes about 1.5-3 hours.
If you have your own special idea and interest of visiting Moon Hill and Yangshuo without tiring schedule arranging and vehicle changing, you can feel free to contact our professional travel consultant to help you! Travel with China Discovery, and our professional local tour guide and driver will escort you among your ideal tourist areas with comfortable private car. Therefore, you can focus all your passion on the beautiful scenery and charming legends along the way. Contact us and customize a personal and memorable journey right now!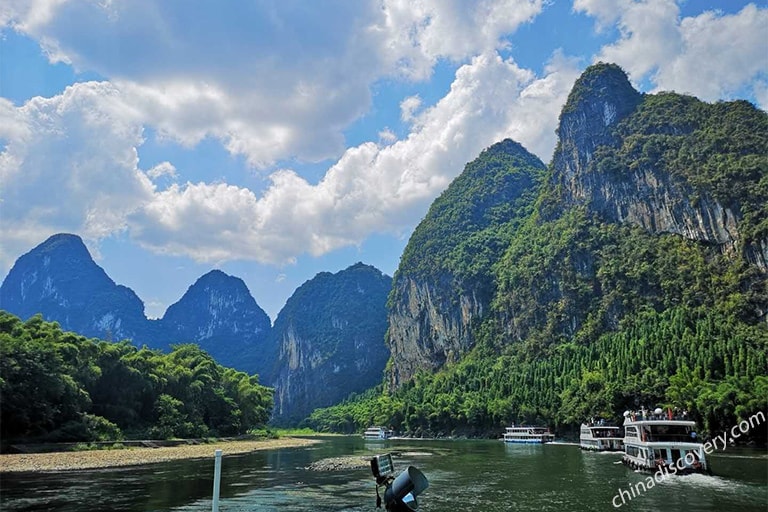 Guilin to Yangshuo Li River Cruise
Top Attractions in Guilin
Extending Readings for Guilin Travel Planning
Recommended Yangshuo Tours
Top 3 Yangshuo tours chosen by most customers to explore Yangshuo in the best way. Check the detailed itinerary, or tailor your own trip now with us.
4 Days Li River Cruise with Yangshuo Hiking Tour

Guilin / Yangshuo / Guilin
6 Days Guilin In-depth Photography Tour including Xianggong Mountain

Guilin / Longsheng / Guilin / Yangshuo / Guilin
Start planning your tailor-made holiday to China by contacting one of our specialists. Once inquired, you'll get a response within 0.5~23.5 hours.
Customize a Trip
Have a question? Get answers from our travel experts or guests
Your Question:

Your Name:

Your Email: