Zeva's 4 Days Qinghai In-Depth Natural & Ethnic Cultural Tour
Departure Date

2016-7-9

Travel Length

5 Day

Travel Theme

Nature, Culture, Food, Minority, Family

Group Size

6

Travel Route

Chengdu - Xining - Chengdu

Highlights

Xining City, Qinghai Lake, Rapeseed Flower Field in Mengyuan County, Qilian Prairie, Amidongsuo, Aruo Grand Temple, Atom Castle, Tare Temple, etc.

Story Tags

#Qinghai Tour#Qinghai Xining Tour#Visit Qinghai#Sightseeing#Photography#Culture#Nature#Minority Tour
That was during my summer vacation, a friend of us invited our whole family to visit Qinghai, the beautiful and vast northwest.
Day 1 Qinghai Arrival
Today we took the flight from Chengdu to Xining, the capital city of Qinghai. On arrival, our friend picked us up and treated us with the whole sheep feast, a formal tradition banquet to welcome guests from far away that each of the dish is made from sheep to highlight its nomadic culture.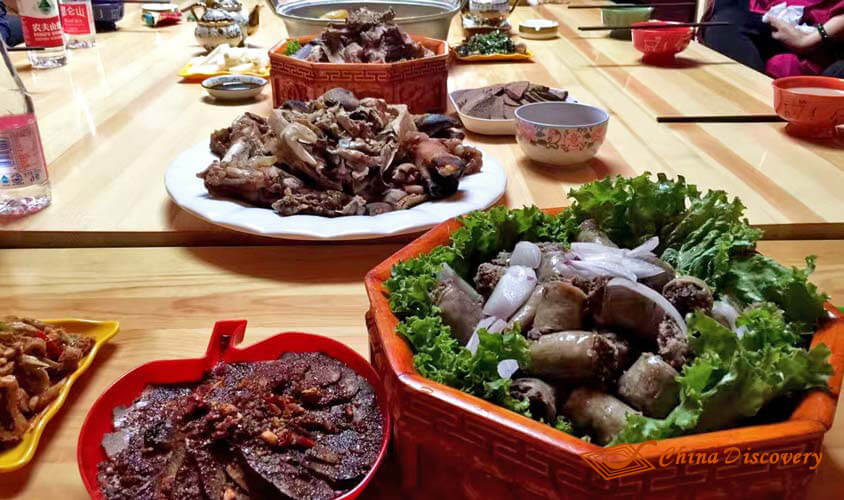 -Whole Sheep Feast-
Day 2 Menyuan Rapeseed Flower Field & Qilian Prairie
Today's first stop is Menyuan Autonomous County 150 kilometers away from Xining. Menyuan County is famed for its tens of kilometers of rapeseed flowers that bloom in July every year. It is also a major oil-producing region in the Northwest. The area of ​​rapeseed in Menyuan reaches 400,000 kilometers, and July is the best viewing period. Compared with the rapeseed in Jiangnan, another popular place, the view of Menyuan rapeseed flower field is magnificent. The fields are mostly inclined towards the river channel, standing on the bank of the river looks overwhelmingly golden, reflecting to the distant Qilian Mountains. Entering the rapeseed field, we were immediately overwhelmed by all these vibrant shinning flowers, they grow up incredibly into more than a meter high, and we were there like swim in a piece of sea of flowers.
Tips: The plateau area has strong ultraviolet rays throughout the year, especially in the summer, so before embracing the sea of flowers, be prepared for adequate sun protection.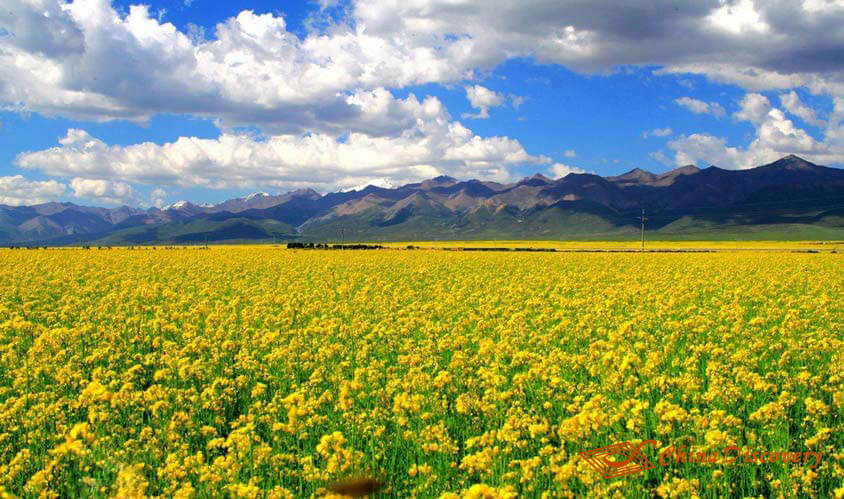 -Menyuan Rapeseed Flower Field-
After feasting our eyes, we continue to head northwest for 75 kilometers, reaching one of the most beautiful grasslands in China, the Qilian Prairie. We now entered the core area of Haibei Tibetan Autonomous Prefecture, where majority of the locals are origin from minorities groups such as Tibetan, Hui, Tu, Sala and Mongolian. It is the perfect place to embrace minority nomadic culture, trying horse riding, visiting Tibetan felt rooms, enjoying the unique qingke beer, roasted lamb and other specialties. In my childhood memories, Qilian is a mysterious and ancient place in the Wuxia world, where there are nomads living on horseback, migratory Jianghu swordsmen, as well as fantasy kung fu stories that full of loves and hatreds. By the time I finally reached there, watching the endless grasslands and in droves of sheep and cows, visiting local minority families and drink and eat with them, I fell the mood of peace and kind, the grateful of life itself. This place has that magic power to calm people down and embrace the essence of life. If life let me down, I imagined, I shall return here to purify my mind.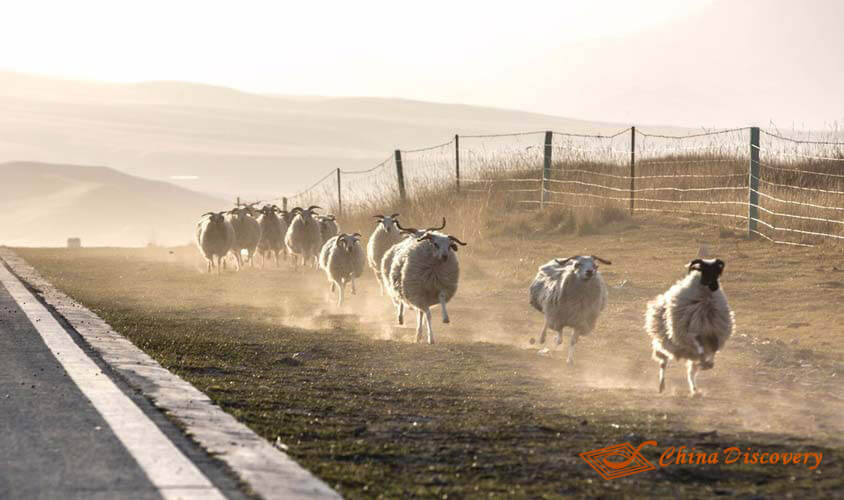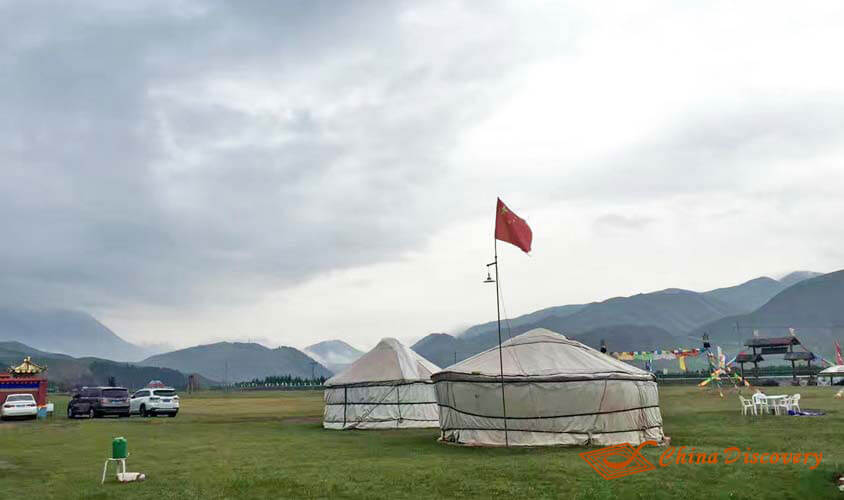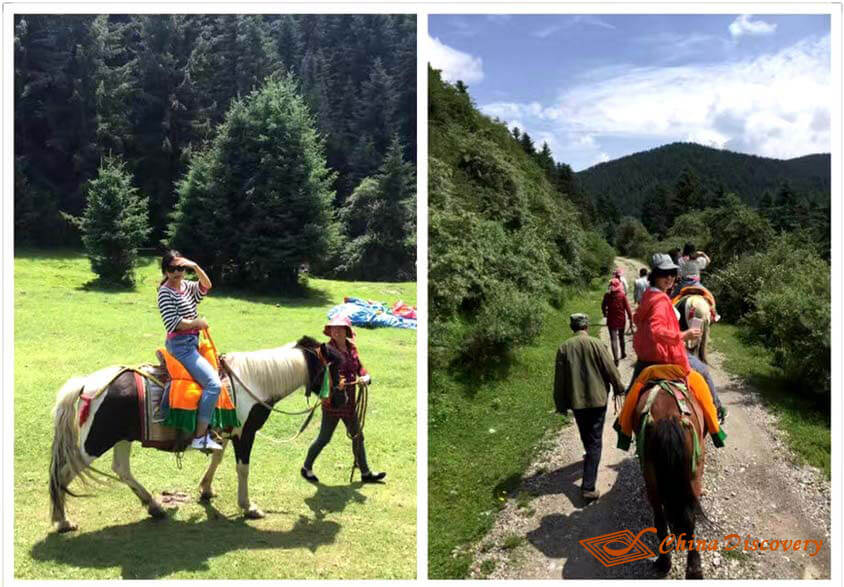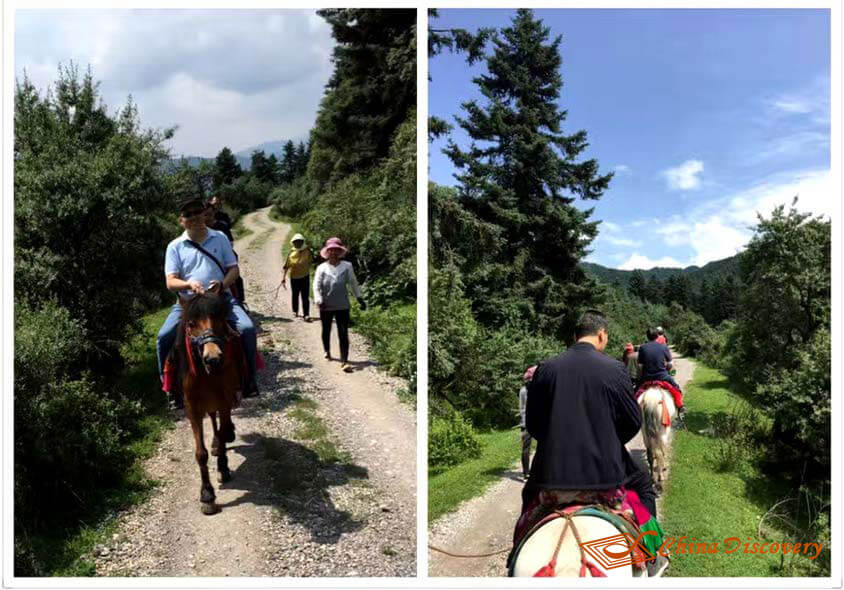 -Qilian Prairie-
Lastly, we reached Qilian County, a small county where used to be one of the cities along the southern route of the Silk Road. The name of "Qilian" comes from ancient Xiongnu language, meaning "Heaven Mountain". It has a wide range of landscapes, rich species, and beautiful natural scenery. Though the drive takes long, we enjoyed the best scenery along the road trip. Qilian is by far one of the most completely preserved areas of primitive ecology in the world. Tomorrow we will visit the famed mountain and glacier here in Qilian region, Niuxin Mountain and Bayi Glacier.
Day 3 Niuxin Mountain (Amidongsuo) & Arou Grand Temple
Amidongsuo is located 2 kilometers southeast of Qilian County, Haibei Tibetan Autonomous Prefecture, Qinghai Province, Tibetan means "God of Mountains". Because the shape of the peaks resembles the heart of a cow, people call it "Niuxin Mountain". We get up early today to catch the first-round to visit Niuxin Mountain. The average mountain range of Qilian Mountains is between 4000 meters and 5000 meters, and the long and wide glacial landforms formed by the snow in the mountains are magnificent and spectacular. We can still see snows on mountain peak, and temperature is relatively low when we reached observation deck. From Niuxin Mountain, we can see Drow Mountain in front of us, Drow Mountain is another beautiful snow mountain, and there are love legends about the two mountains from local nomads. However, bad weather reduced our experience. Gloomy weather with clouds and rains make the whole view fuzzy and dim, though climbing up to the observation deck took us long time, we didn't stay there for long.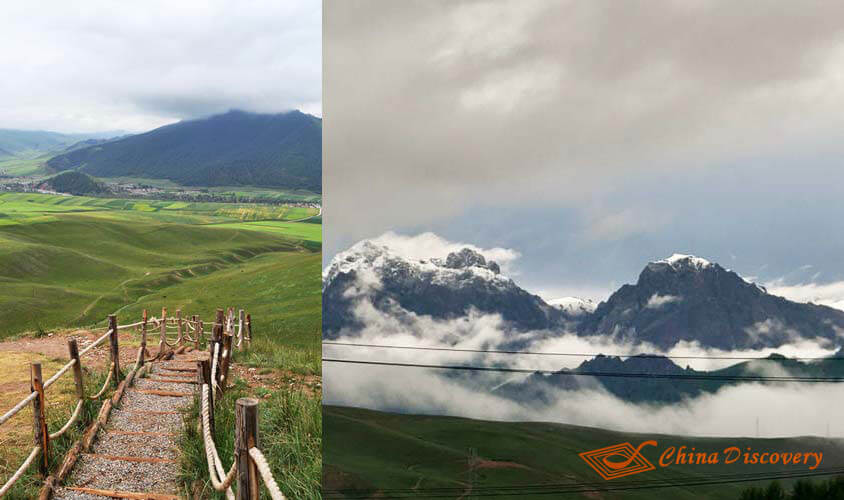 -Amidongsuo & Niuxin Mountain-
We didn't manage to visit the Bayi glacier too due to the weather condition. And since 2018, to protect the glacier environment, Bayi Glacier is no longer open to the public. It's a pity not to see the magnificent glacier and not sure whether I can get a second chance, nevertheless, I'm glad to see the progress in natural environment protection.
Tips: Niuxin Mountain is 4667 meters high; the mountain is faily cold even during summer time (0-15 degrees Celsius). Coats or thick jackets are necessary.
Arou Grand Temple is located on the hilly grassland, and the surrounding green grassland is rolling and beautiful. It is the largest Gelug monastery in Qilian County. By the time we reached, the sky got clear and the sun came out. The monastery has traditional Tibetan courtyard-style buildings with crimson and white background bringing strong visual impact, long and cramped and long halls with prayer wheels lined up in a neat row, golden pagodas standing firmly, passing corridors decorated by delicate Thangka mural and etc., looking from outside, it is gorgeous, divine and solemn. Standing inside the temple, I can see the snowy mountains in the distance. There are few tourists, I saw some puppies, which made me feel more serene and peace. There are a few places where the large prayer wheel is located. Perhaps in the Qinghai Plateau, people face more disasters and the harsh living environment, so they pray more faithful for their future. The prayer wheel represents people's longing for a better life. Differently, there is only one round prayer wheel here, while the other prayer wheels are all square. The monk in the temple told me to turn prayer wheels clockwise one by one with your right hand, recite the six-character mantra, and feel the power of faith in your heart.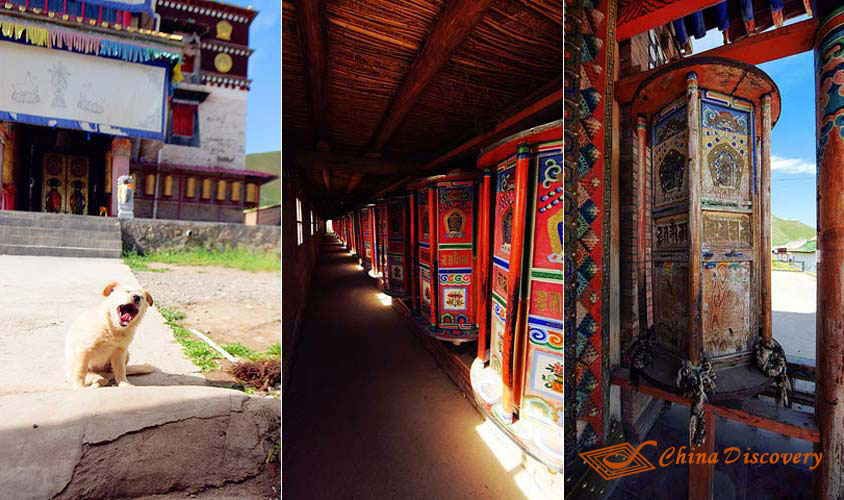 -Arou Grand Temple-
After a feast dinner, we watched the musical Heaven Qilian, adapted from a touching ancient love story of God of mountain Amidongsuo and his lover, which a musical combines Qilian's beautiful natural scenery and folklore. The performance reminded me of Amidongsuo and Drow Mountain. It is indeed telling the fairytale story of these mountains. The outstanding scenery and details of the work made it a successful musical.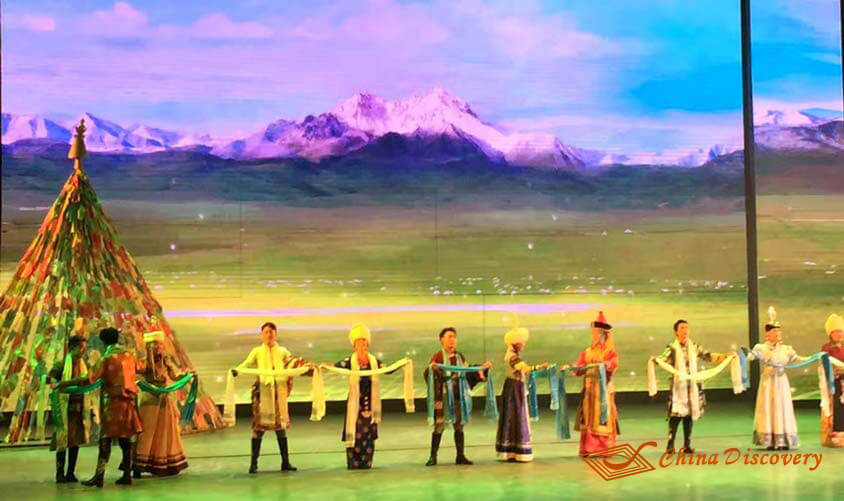 -The Musical Heaven Qilian Show-
Day 4 Atom Castle & Qinghai Lake
Today we left Qilian and head to Atomic City in Haiyan County, the place where China developed the first atomic bomb and hydrogen bomb. This place has special patriotic educational significance, faithfully recorded the efforts and dedication of Chinese ancestors for the development of motherland. The test equipment looks fairly simple and crude comparing to the technology nowadays, it's hard to imagine the first atomic bomb was made in this condition. How do scientific researchers perform tests under rudimentary conditions, and how are these sense-of-times instruments operated? It is also a great opportunity to figure out some interesting facts about these powerful weapons.
Later in afternoon, we drive to Qinghai Lake in Gangcha County. Gangcha county has a lot of interesting buildings and frescoes, you can find them once you arrived, the tower with a human-faced spire, a mural painted with blue fish scales on the entire mountain wall and etc., full of ethnic charm. We checked-in hotel and then drive to Qinghai Lake to appreciate its beautiful scenery. Qinghai Lake, also known as "Kukunoor", meaning "blue sea" in Mongolian. By the time we arrived, the sun is blocked by clouds, the color of lake is not clear blue, but a bit gray, like being covered by a veil. Above the water, there is a long wooden pathway connecting to the center of the lake, walking on the pathway, you can see part of the lake is covered by reeds, and there are birds in the middle of the reeds. Looking closer, you can also see tiny fish moving along with stream. It was a bit late that very few tourists are around, and temperature is comfortable.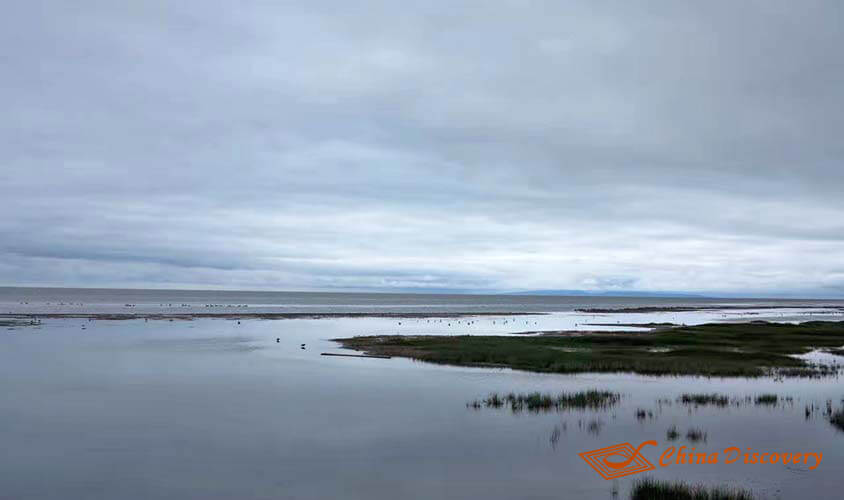 -Qinghai Lake-
Day 5 Tare Temple & Xining Departure
Today is a bright sunny day, we drive back to Xining and then head to Tare Temple. Tare Temple is like a larger-sized Arou Grand Temple with more tourists. The temple buildings are magnificent, rich in treasures, and crowded by faithful Buddhists and visitors. When you come here, you can immediately feel the rich religious atmosphere. Lifelike butter sculptures, colorful murals and colorful pile embroidery are known as the "three unique arts of Tare Temple". The most impressive stuff must be butter sculptures, also called the ghee flowers, a special form of sculpture made with ghee that mostly shaped as flowers. The original origin of butter sculpture is that people use ghee to form a variety of colored thread flower plates to replace the animals in the original religion that supposed to kill and sacrifice, reducing the killing. Through the inheritance from generation to generation, skilled craftsmen have made the making of ghee more delicate and meticulous, which become the butter sculpture we appreciate nowadays. Walking through the temples, there are a large number of Buddhist believers practicing in the temple, turning the prayer wheel, worshiping the Buddha, etc. Surrounded by people praying, it is a time deeply immersed in the atmosphere of building a connection between you and your faith.
Tips: 1) Tare Temple is very popular among tourists, try to get there early to avoid the crowd. 2) Butter sculptures enshrined in the temple are forbidden to shot, however, you can take photos from Butter Sculpture Museum.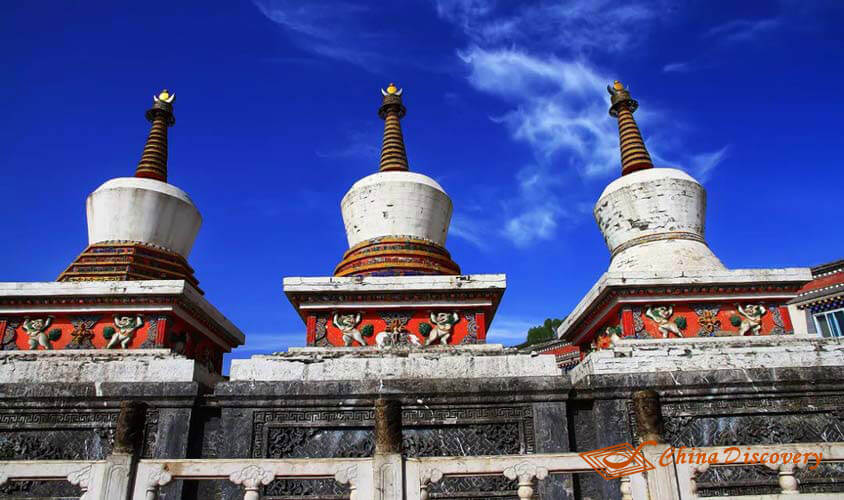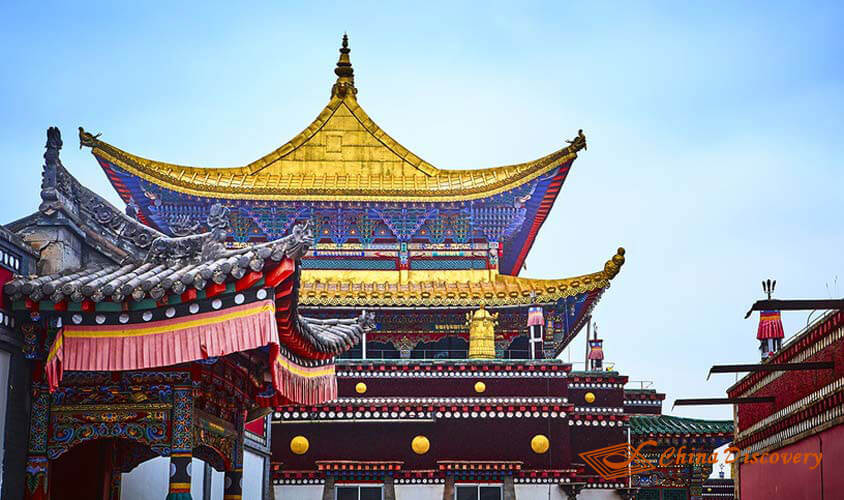 -Tare Temple-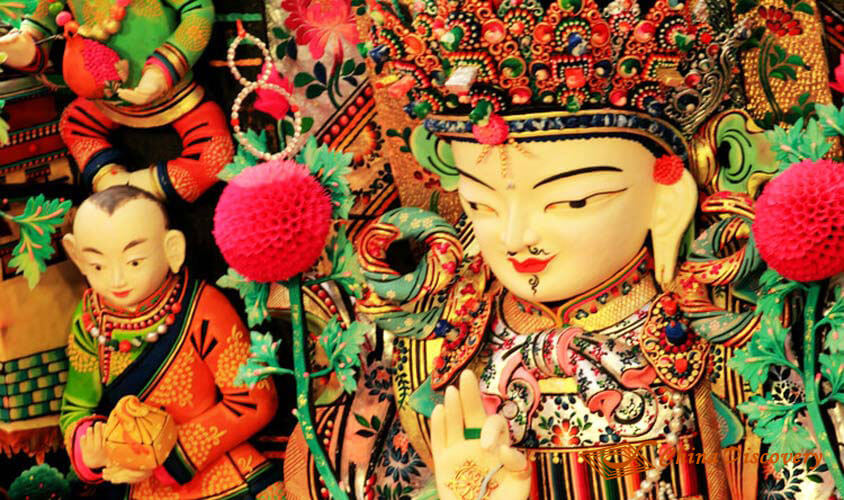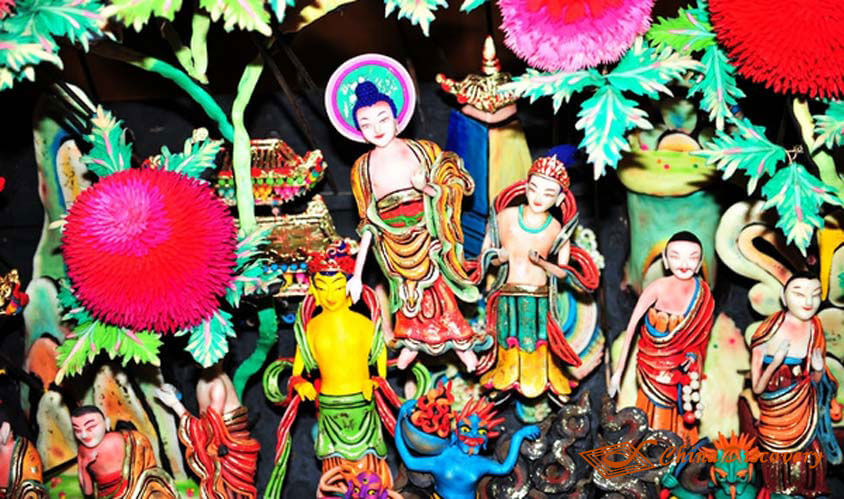 -Butter Sculptures-
Tour Ends.
Travel with Me
Hi, I'm Zeva. Are you interested in my 5 Days In-Depth Natural & Ethnic Cultural Qinghai Tour? Feel free to contact me, and I will be glad to tell you more stunning stories about the places I have visited. Or, if you want to customize a tour on your own, I'm always ready to help at any time. With my passion, knowledge and understanding of the essence of travel, I promise I will try my best to make the tour memorable and meaningful for you.
Zeva

Travel Consultant
More Travel Stories of Our Experts
More Travel Stories of Our Customers
Recommended Tours
Top 3 tours chosen by most customers to explore in the best way. Check the detailed itinerary, or tailor your own trip now with us.
3 Days Xining Short Stay Tour including Qinghai Lake

Xining / Qinghai Lake
6 Days Xining to Tibet Lhasa Train Tour by Qinghai Tibet Railway

Xining - Qinghai Lake - Lhasa
5 Days Amdo Tibetan Culture Experience Tour

Xining - Tongren - Xiahe - Linxia
Have a question? Get answers from our travel experts or guests
Your Question:

Your Name:

Your Email: