Zeva's 4 Days Hong Kong City Tour
Departure Date

2017-3-18

Travel Length

4 Day

Travel Theme

City, Culture, Food, Friend

Group Size

3

Travel Route

Shanghai - Hong Kong - Shanghai

Highlights

Hong Kong, St. Francis Street, Mid-Levels Escalator, Victoria Peak, Victoria Bay, Repulse Bay, Nathan Road, Temple Street Night Market, Star Ferry Boat, Ding Ding Tram, etc.

Story Tags

#Hong Kong Tour#Hong Kong Leisure Tour#Visit Hong Kong#Sightseeing#Photography#Culture#City Tour
That was back in the days when I studied in Shanghai, me and two of my friends had planned an in-depth Hong Kong tour in a short four days on March. It's a well-planned tour and we know exactly what we are expecting since we've been arranging the tour ahead for long. So, everything was prepared, the round tickets, airport pick up, hotels, travel routes, restaurants, etc. Just can't wait to go for it.
Day 1 Hong Kong Arrival
We took a direct flight from Shanghai to Hong Kong. On arrival, the driver was already waiting at the arrival hall to welcome us. The driver is a talkative young Hong Kong man, we gained a rough image of splendid and bustling Hong Kong from his words. After a smooth drive, we arrived our hotel located in Wan Chai, Hong Kong Island. In general, the hotels in Hong Kong are expensive compared to mainland, and rooms are relatively small. But amenities are nicely prepared and net. In the evening, we hanged out around the nearby streets and chilled out. The night in Wan Chai area is quiet, few pedestrians along the streets, some roads have steep slopes, and convenience stores were still opened. We walked through some blocks and admire the freshness.
Day 2 Sun/Moon/Star Street –Ding Ding Tram - Mid-level Escalator - Victoria Peak – Star Ferry (Victoria Bay)
Because of the blending of Chinese and Western history here, Hong Kong's street names and MTR stations' names are very interesting. For example, the English translation of "太子"is Prince Edward, and the nearby street is called "太子道", Prince Edward Road. The Sun/Moon/Star Street, whose name is full of poetic idealism, is located between Admiralty and Wan Chai. Arriving in this area is completely slow-paced. Unlike other busy and bustling downtown areas such as Tsim Sha Tsui and Causeway Bay, the atmosphere here is very Hong Kong style and peaceful. We chose it as our first stop.
Turning from the bustling Queen's Road to St. Francis Street, the ears immediately calmed down. There was a long slope in front of us, many small but unique collection shops on the slope. Some shopkeepers placed a high chair at the entrance of the shop. When they were interested, they sang and sang their songs, and the artistic temperament immediately became rich. We wander aimlessly along these three parallel streets, visited some collection shops, encountered a clustered flower market and an old grocery market, and took some nice photos.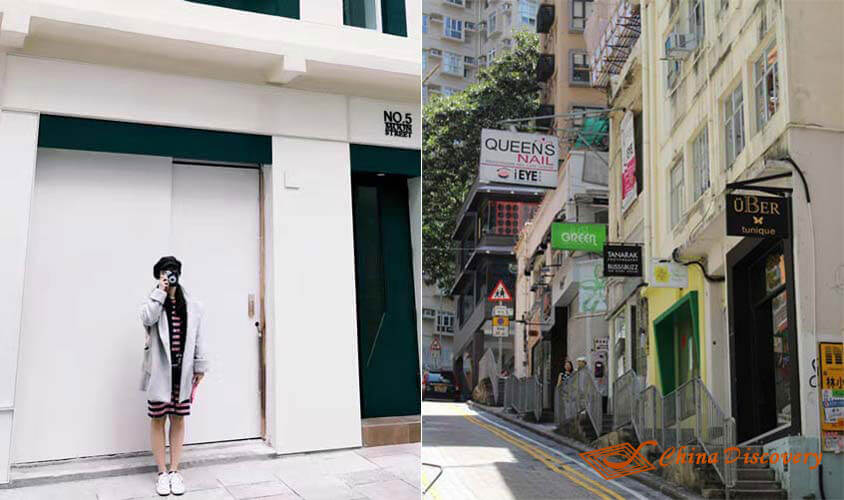 -Zeva is Taking Pictures at St. Francis Street-
"Ding Ding Tram", also known as double-decker tram, is an ancient method of transport just like the Star Ferry. The travel route will pass the most prosperous commercial center on Hong Kong Island, passing through Western, Sheung Wan, Central, Wan Chai, Taikoo, Shau Kei Wan and the coast of Victoria Harbour. This kind of transport has a hundred years of history, when the tram stopped at stations, it would issue the sounds "ding ding, ding ding", so people call it "ding ding tram". We took Ding Ding Tram to our next stop, Mid-Levels Escalator in Central.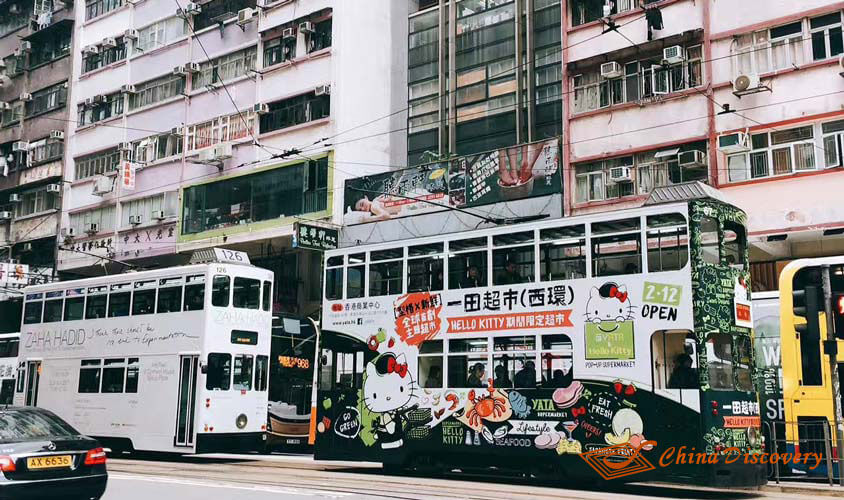 -Ding Ding Tram in Hong Kong-
Tips:
When you get on the bus, pay attention to the eastbound and westbound stop signs, and the sign at the front of the tram (if your mobile phone can be connected to the Internet, you can also use Google Map for instant search).
Hong Kong trams get off at the front door and get on at the rear door.
The fare is the same no matter where you get on and off (adult 2.3 HKD, child 1.2 HKD, elder 1.1 HKD), you only need to swipe the Octopus card or self just pay for the fare.
The Mid-Levels Escalator in the middle of the mountain is widely known for the movie "Chongqing Forest". The entire escalator is very long and leads directly up to the mountain. It is divided into sections and can be hopped on and off. There are various shops and bars next to the escalator, as well as graffiti on the exterior. We took the escalator, when saw the store we interested, we went down, and later returned to the elevator. Stop and go, and finally came out at the intersection of Queen's Road Central. Followed the map instruction, after passing the Queen's Road, we found our lunch place for today, the Kau Kee Food Café. It must be the most famed beef noodle restaurant in Hong Kong, though the dining area is cramped and tiny, and people need to queue for at least an hour, numerous of diners still come here every day to just have a bite. Queue for an hour seems to be long, but when you finally sit down and taste the dish, the food itself is worthy of waiting.
Tips: Old Hong Kong restaurants such as the Kau Kee Food Café accept cash only, and minimum consumption is required.
Later in afternoon, we went to visit Victoria Peak, the best spot to appreciate Hong Kong landscape. Take the vintage red cable tram to the top of the mountain is one of the must dos in Hong Kong. It has the oldest cable tram system in Asia since 1888, and till today in operation. Before that, we first visited Peak Tram Historical Gallery, a private museum next to cable station displays early tram ticket, letter from the British engineer responsible for building the cable car in 1888, and green old cable tram operating mechanism and so on. Like a glimpse of the corner of 19 centuries. To the mountain top only takes around 8 minutes, we sat on the right side and enjoyed a clear view of how the full picture of this city gradually show up in front of us. Going up to the peak tower, observation deck is already overcrowded. Luckily, we found a corner with less tourists, and managed to record the beautiful sunset.
Tips:
Victoria peak is one of the hottest attractions, travelers can choose to visit in early morning or late evening to avoid the crowd.
There is also path for visitors to trek up to mountain top (4km), that can be seen as an alternative.
After dinner, we arrived our last stop of today, the Victoria Bay. Most classic way to apricate the night view here is to take the Star Ferry Boat. The Star Ferry Boat painted in green and white is very retro, and the wooden benches, iron fans and mottled green paint in the cabin are full of feelings. Sitting inside blowing the sea breeze, listening to the waves, looking at Victoria Harbor and the shining buildings along both sides in the distance, though the boat is full of passengers and noisy, we enjoyed this moment. At night, there are sea breezes in Victoria Harbor most of the time, and the Star Ferry can be relatively bumpy. Although it is only about ten minutes ride, people who are prone to seasickness are advised to take medicine in advance.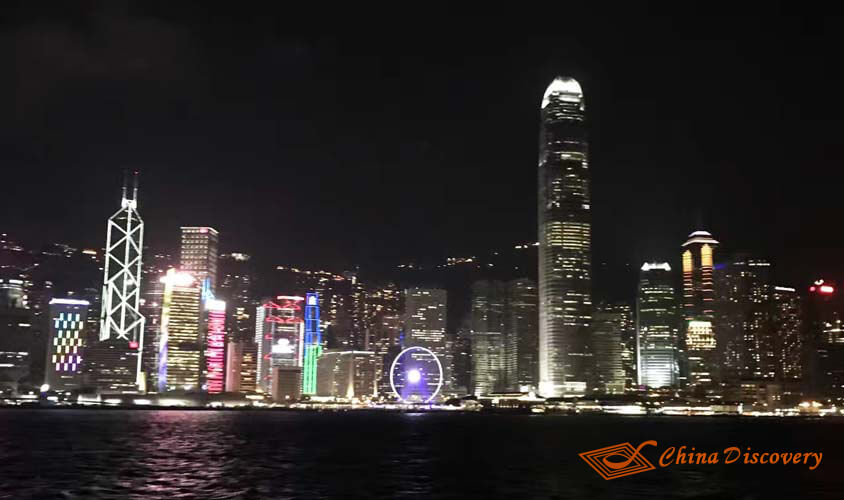 -Victoria Bay-
Day 3 Repulse Bay – Nathan Road - Tsim Sha Tsui - Temple Street
This morning, after a rich breakfast in a local cafe, we headed to Repulse Bay by double-decker sightseeing bus. Sitting in the first row on the second floor, the bus trip is fun as roads are narrow with large slopes, and along two sides there're dense tall buildings, like we were riding a slow-paced roller coaster inside the city. The first sight of Repulse Bay is tidy and clear, though weather is a bit cloudy, we are excited about the excellent beach view. And the unique of the place is that after visiting a lot of overcrowded attractions, here we can ease our mind and enjoy a quiet moment. Stanley market is not far from here, but with limited time schedule, we decide to leave it for next visit.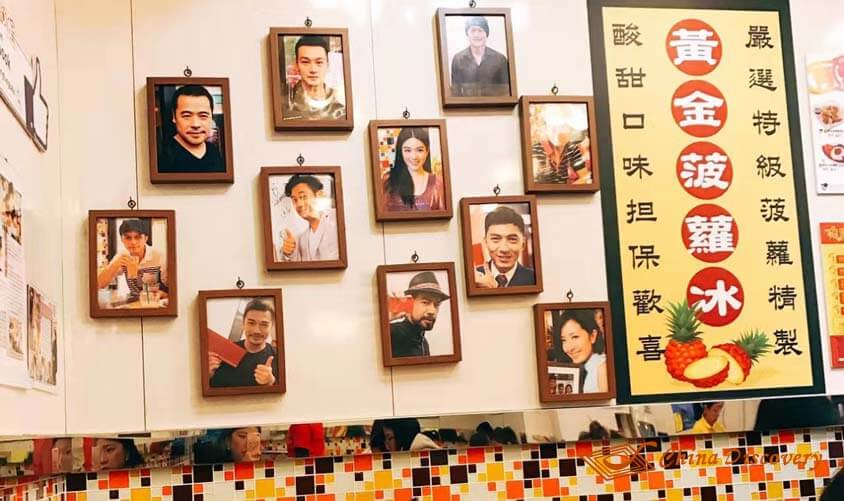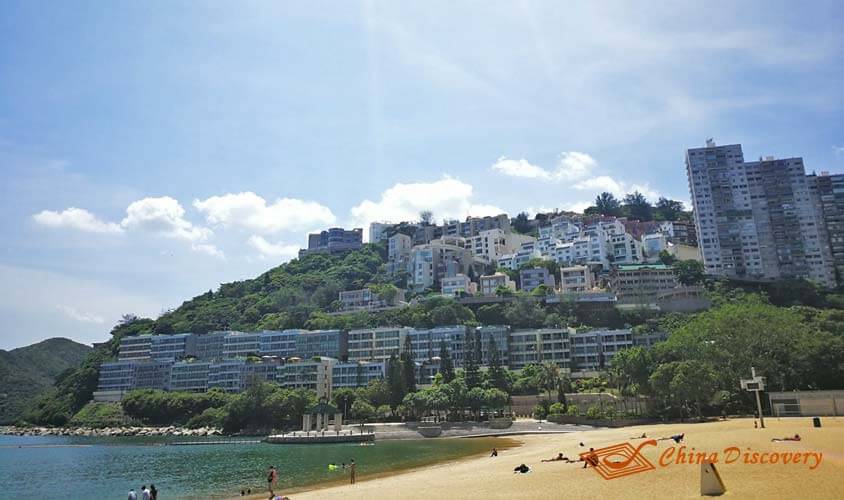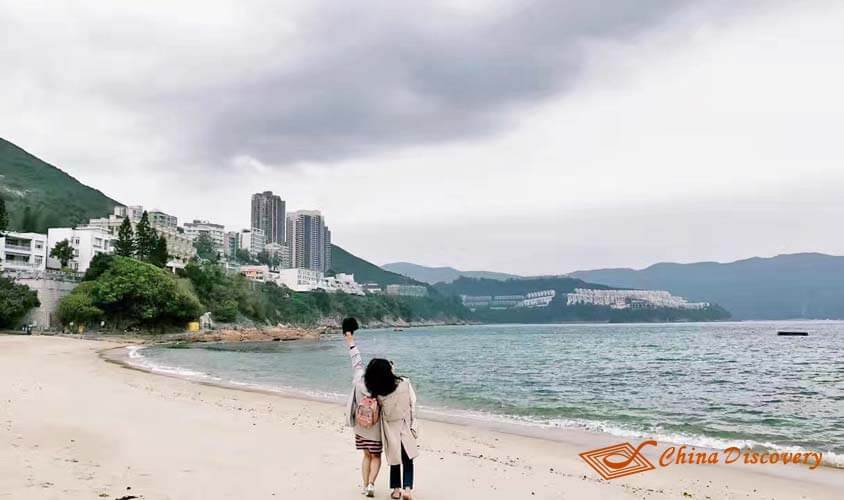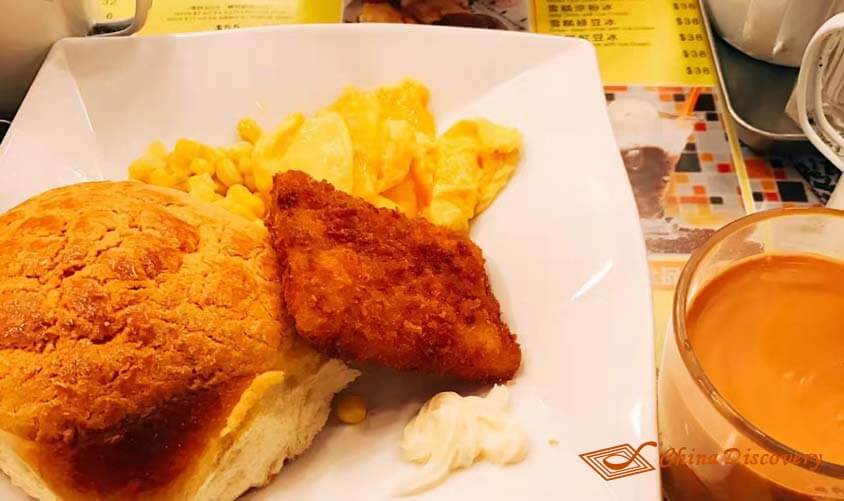 -Repulse Bay-
Mong Kok, located in the west of Kowloon in Hong Kong, is lined with old and new buildings. Shops and restaurants are densely packed together and the traffic is 24-hours busy. And it is our next stop. The famous Nathan Road is often worn by the flow of people hanging around, and so it is when we reached there afternoon. Nathan Road is one of the most well-known streets in Hong Kong, with a total length of about 3.6 kilometers, almost running through the entire central area of Kowloon. We spent hours wandering nearby, following the trends of people, and catch pictures from any sight. It is the best place to know how local live here, Nathan Road is more than we imagined. Not only for the shops and street views, there is a Hong Kong cultural atmosphere you can touch when walking through the streets full of artists who play musical instruments, sing songs, paint and do cosplay and other live performance. Later, we took the subway to Tsim Sha Tsui, a bustling shopping paradise, sit in the south corner of Kowloon. Makeups, clothes, bags, jewelries, fancy shoes, here you can find anything you want.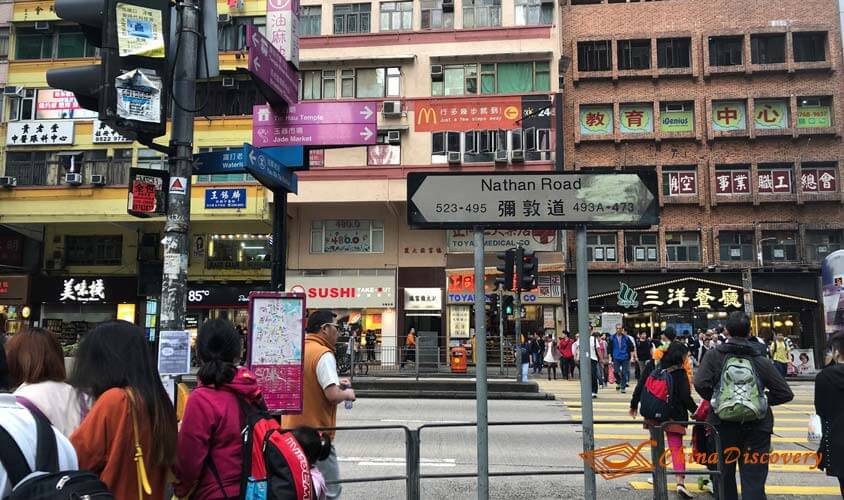 -Nathan Road-
When the night falls, we moved to Temple Street Night Market in Yau Ma Tei for further exploration. Here, nostalgia and modern magically blend together. Walking around, maybe you can see the nostalgic style of the 90s' building, and at the next intersection, you will encounter buildings full of modernization. Temple Street really contains authentic Hong Kong feeling that Dozens of great movies were shot here. The thick Hong Kong style makes people infinitely recall those movies full of love and hatred that I have seen. Meanwhile, it's also a place for people to look for nice goods. The items sold at the stalls are very diverse, including men's clothing, handicrafts, tea sets, jade, antiques, and even cheap electronic products. We had a great time here recalling the Hong Kong in our memories from childhood.
Day 4 Hong Kong Departure
Today is the last day, our flight is at noon time. In the last few hours, we foodies tried the most authentic Cantonese morning tea. Cantonese morning tea is an indispensable part of Hong Kong people's daily life. In the cafe, you can experience how locals start their day. Phoenix claws, barbecued pork buns, lotus paste buns, shrimp dumplings, glutinous rice chicken, Carrot cake, crispy chicken, gravy dumplings, ancient falafel, lettuce mud ball and steamed fruit, there's a la carte menu with all kinds of dishes on that you can order directly, and also, you can pick up these delicate dishes on the dining car when waitress pushed it walking around. The café is crowded since early morning, we sat there nearly two hours, witnessing the lively scene: there were elder people came early and having breakfast with tea and newspaper, office workers rush here and grab a quick breakfast, big family all came together and suddenly the café get crowded, noisy and kids laughing and playing around… the business is so good that all the tables are occupied, as soon as one table released, new customers will join.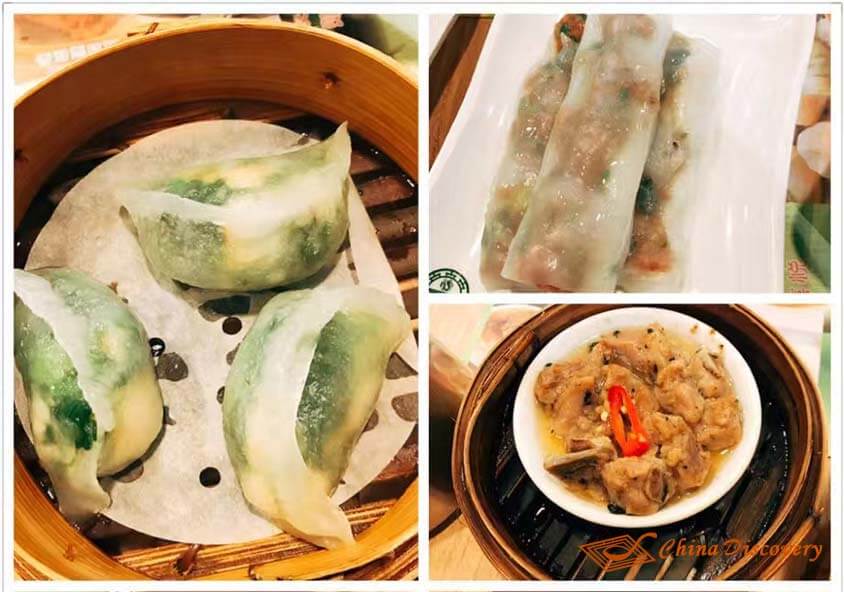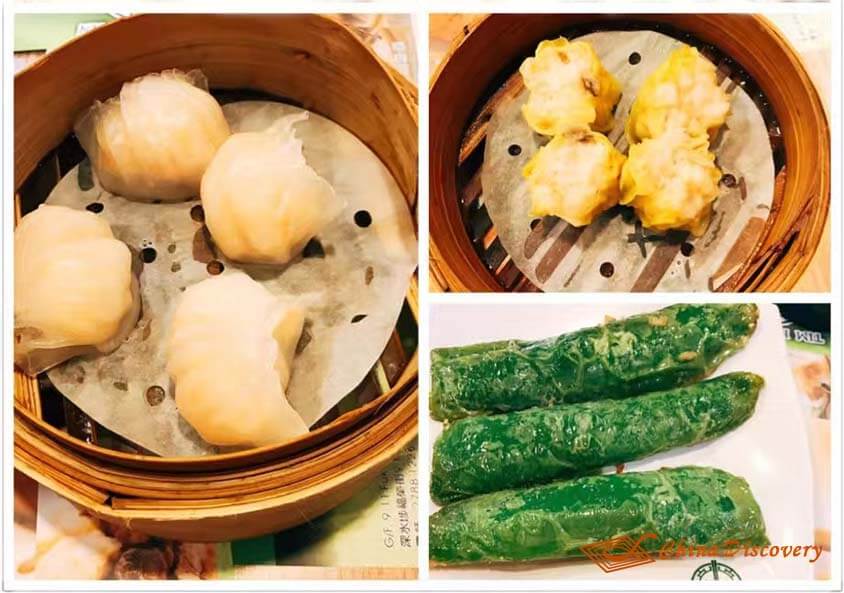 -Cantonese Morning Tea-
After the longest breakfast I've ever had, we checked out and left downtown with contented and happiness. Bey Hong Kong, will see you next time.
Travel with Me
Hi, I'm Zeva. Are you interested in my 4 Days Hong Kong City Tour? Feel free to contact me, and I will be glad to tell you more stunning stories about the places I have visited. Or, if you want to customize a tour on your own, I'm always ready to help at any time. With my passion, knowledge and understanding of the essence of travel, I promise I will try my best to make the tour memorable and meaningful for you.
Zeva

Travel Consultant
More Travel Stories of Our Experts
More Travel Stories of Our Customers
Recommended Tours
Top 3 tours chosen by most customers to explore in the best way. Check the detailed itinerary, or tailor your own trip now with us.
1 Day Classic Hong Kong Tour

Hong Kong
2 Days Hong Kong & Macau Highlights Tour (by Ferry)

Hong Kong / Macau / Hong Kong
Have a question? Get answers from our travel experts or guests
Your Question:

Your Name:

Your Email: