Zeva's 4 Days Chengdu & Mount Emei Essence Leisure Tour: Meet Emei and its Cloud Sea
Departure Date

2019-12-30

Travel Length

4 Days

Travel Theme

City, Food, Culture, Friend

Group Size

2

Travel Route

Chengdu - Mount Emei - Chengdu

Highlights

Chengdu, Mount Emei, Kuan Zhai Alley, Chengdu Research Base of Giant Panda Breeding, Chengdu Museum, Jinli Old Street, Wild Monkeys, Cloud Sea, the Golden Summit etc.

Story Tags

#Chengdu Tour#Mount Emei Tour#Visit Mount Emei#Sightseeing#Photography#Nature Tour#Food Tour#Hiking
In the New Year of 2020, my good friend came to visit me in Chengdu. It was her first visit, so my task is to be a perfect guide to ensure she can experience the most essence Chengdu highlights and see how's the life here, as Chengdu is famed as a city you don't wanna leave. Apart from introducing my home-city Chengdu to her, we also decided to spend some time exploring the winter look of Mount Emei.
Day 1 Chengdu Arrival, Kuan Zhai Alley, Sichuan Hot Pot
Early afternoon, after picking up my friend at Shuangliu International Airport, we left the luggage at my house and head to experience the icon of Chengdu, Kuan Zhai Alley. Here you can see not only buildings from the late Qing Dynasty to the early Republic of China, but also early western-style buildings, Kuan Zhan Alley gathers the most complete old buildings in the whole block. Make up of Kuan Alley, Zhai Alley and Jing Alley, we experienced the fascinating brick culture wall, Chengdu specialty snacks and folk stuff, and took some nice photos.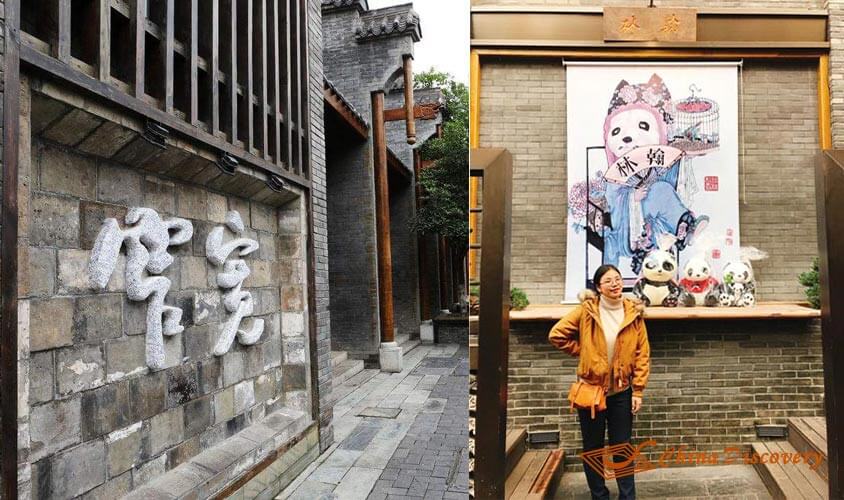 -Zeva in Kuan Zhai Alley-
The welcome dinner is typical Sichuan cuisine, the Sichuan Hot Pot. Use green pepper to make red soup base, sesame oil, garlic and oil to make a dipping dish, here we have the most traditional hot pot style. Hot pot was kinda spicy for my friend, but with a bowl of cool ice powder, she can handle the after rhyme of spicy.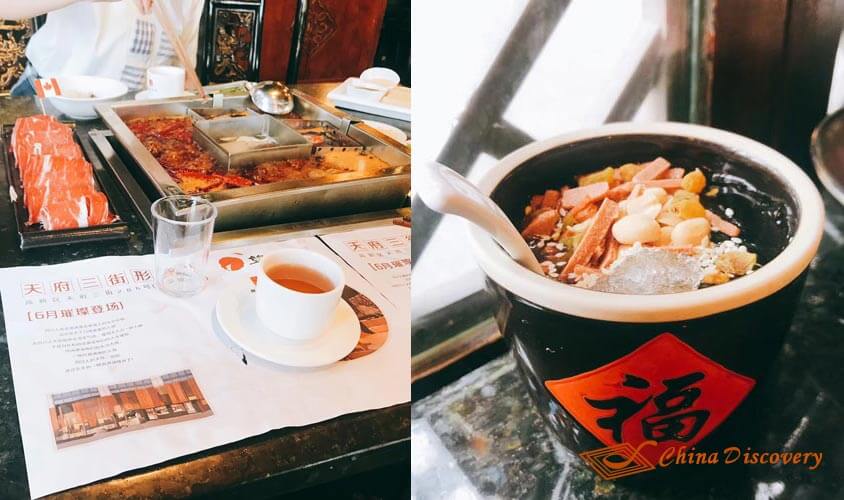 -Sichuan cuisine - Hot Pot-
Day 2 Chengdu Panda Base, Chengdu Museum, Jinli Old Street
Chengdu Research Base of Giant Panda Breeding is our first stop for today. In the early morning, adorable pandas are just waking up and active lively. Once entered, we took the eco-bus to go directly to the Sunshine Delivery House and Moon Delivery House to see the newborns, then move to Giant Panda Cub Enclosure, after seeing the cubs, move on to Sub-adult Giant Panda Enclosure, and then Adult Giant Panda Enclosure. We luckily saw cubs bask in the cradle outdoor, sub-adult giant pandas playful and practice fighting with each other or sit aside quietly eating fresh bamboo, and lastly, we visited red pandas, as delicate as cat and cute as giant panda, they hide in the bamboo forest and not easy to capture their figure, only a sleeping red panda is cooperative enough to leave a photo.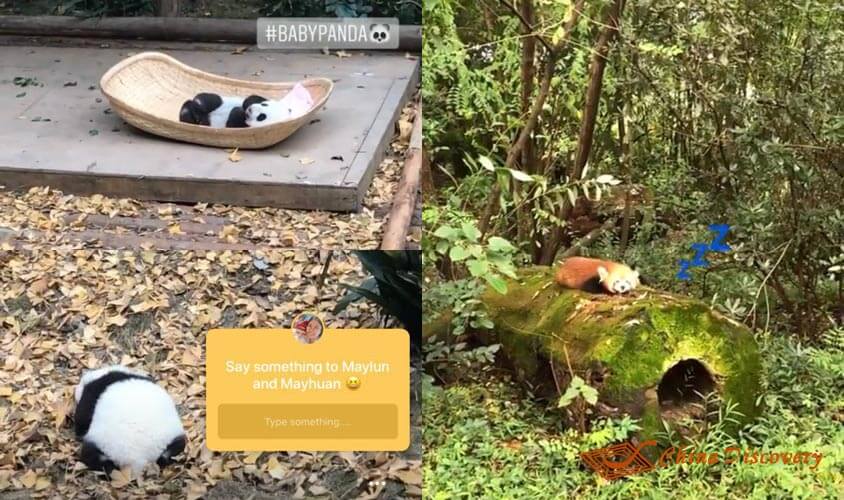 -Cute Pandas in Chengdu Panda Base-
After the unforgettable visit in Panda Base, we took the Chengdu downtown sightseeing bus to Chunxi Road, Chengdu's most prosperous city center. You can find all kinds of food, from Chengdu traditional snacks to Italian food, we had a good lunch here. Near Chunxi Road, Chengdu Museum is just by 10 minutes walking distance. The museum made a very detailed display of the historical and cultural display of Chengdu, the time span of exhibits ranges from the ancient Stone Age to the period of the Republic of China, you can explore the marvelous origin and development of Chengdu folk culture, literature, ancient silk wave technology, Sichuan cuisine and etc. After visiting the ancient and modern exhibition halls, the exhibitions of Chengdu Folklore and local shadow puppet shows continue in sequence, which are also worth a visit.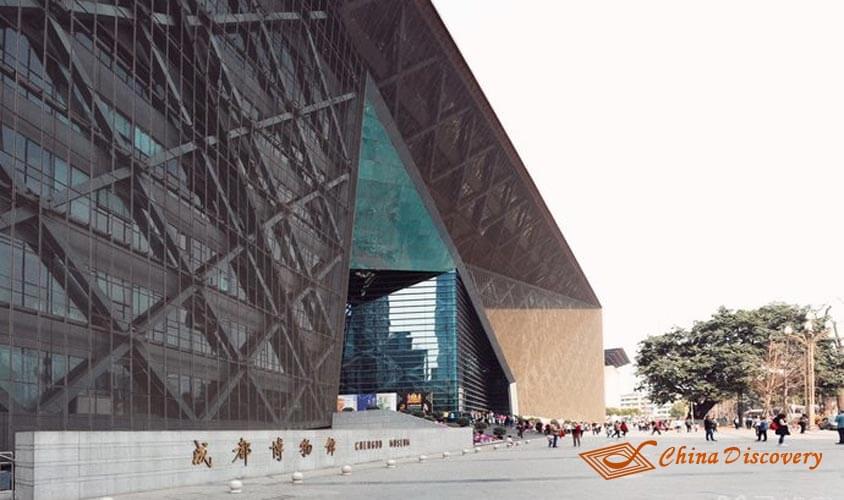 -Chengdu Museum-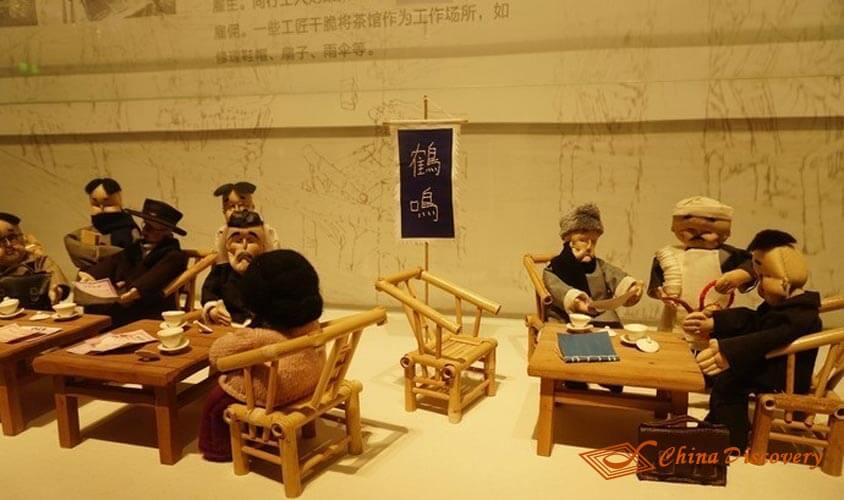 -Exhibitions of Chengdu Folklore-
Lastly, we went to Jinli Old Street in the evening, red lanterns light up on the streets and music bars, outdoor tea house, drama stage, shadow puppet shows, street snacks are all around, we enjoyed the lively atmosphere and beautiful night view.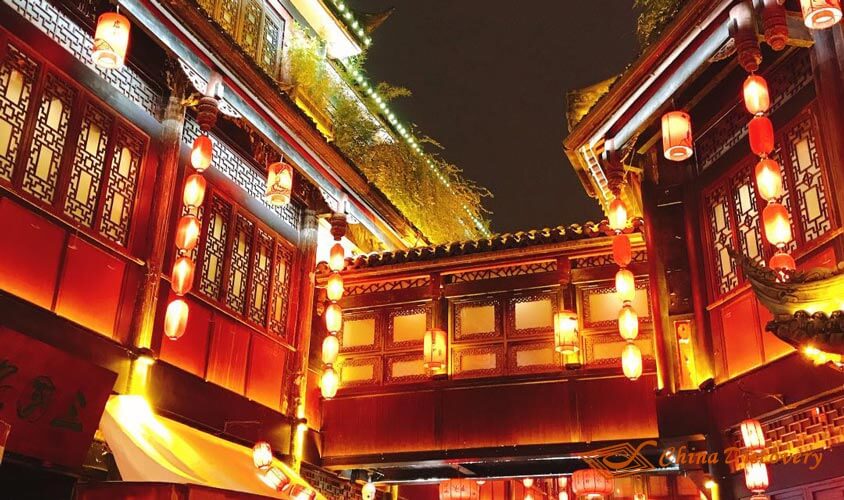 -Jinli Old Street-
Day 3 Emei Arrival, Local Cuisine, Mountain Hot Spring
Taking high-speed train from Chengdu, we reached Emei in around an hour. Emei is a small city, the hotel we booked is just near the railway station, Emei downtown and Mount Emei. After check-in, we head to Specialty Food Village in downtown area. At lunch time, the aroma of food permeates the whole street that pushed us to pick up the nearest one to have a try. We ordered steamed pork ribs with glutinous rice, stir-fried eggplant and carob, pot steamed corn bunds and veg soup. Ordinary Emei home cooking dishes, but delicious. Emei dishes are typical Sichuan flavor, with both spicy and light taste harmonized.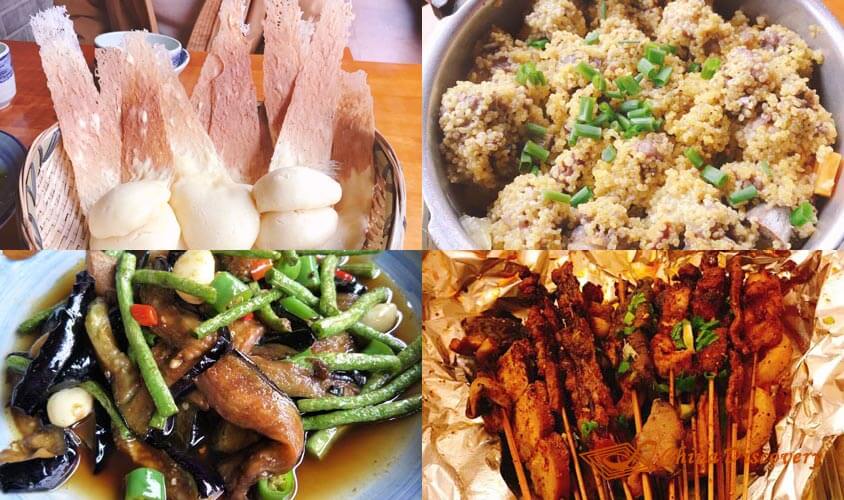 -Specialty Food Village in Emei-
Afternoon time is for Forest Hot Spring. Originates from the confined radon hot spring circulating at a depth of 3000 meters underground in the mountainous area of Emei, Hongzhushan Forest Hot Spring has 19 forest hot spring pools, 6 indoor hot spring pools and 1 heated swimming pool. Above all, it is most renowned for the 19 private forest hot spring pools that built along the mountain. We reserved one of the private hot spring pools to enjoy a quiet and relaxed moment, the air is fresh in the forest, and hot spring just easy our stress. Snacks and hot tea are a great match, we had our 'afternoon tea' in forest hot spring.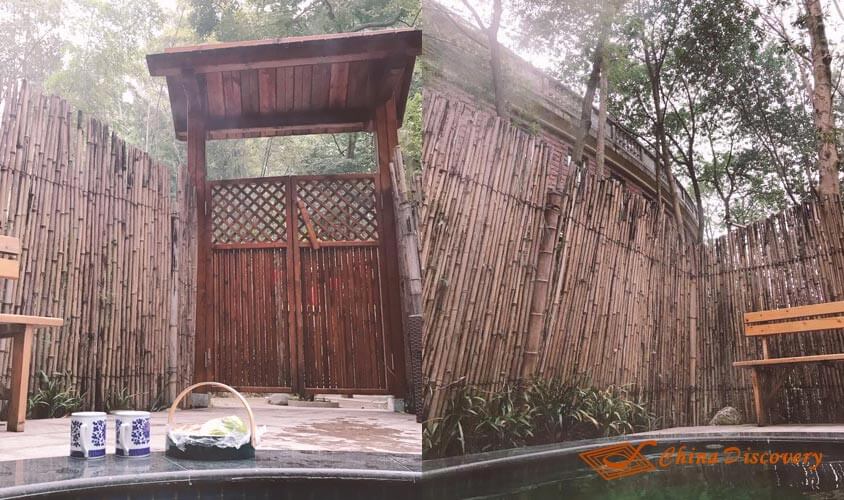 -Hongzhushan Forest Hot Spring-
Day 4 Emei Trekking, Golden Summit, Cloud Sea, Snow Scene and Rime, Wild Monkeys, Emei Departure
Early morning, the weather is cold, rainy and gloomy, but still we stick to our plan to visit mountain top, the golden summit.
From Emei Tourist Passenger Transport Center, we took the eco-bus up to Leidongping, the nearest station to Golden Summit, and hiked for nearly an hour to take the cable car going up.
The path is not precipitous, but on rainy day it's slippery and muddy. We trekked slowly, and enjoy the wonderful rime landscape along the way. With more than 2,300 species living in this holy land, wild monkeys (scientific name: Macaca thibetana) are the superstar who attracts visitor's attention. They live here in Emei for ages and built a huge community: you can find them easily on the way of trekking. Young macacas might look cute, but be careful, these naughty creatures can be fierce when they are trying to rob something from you. Take care of your personal belongings such as cameras, cell phones and glasses, and try to avoid colorful dress or holding plastic bags that might rise their attention.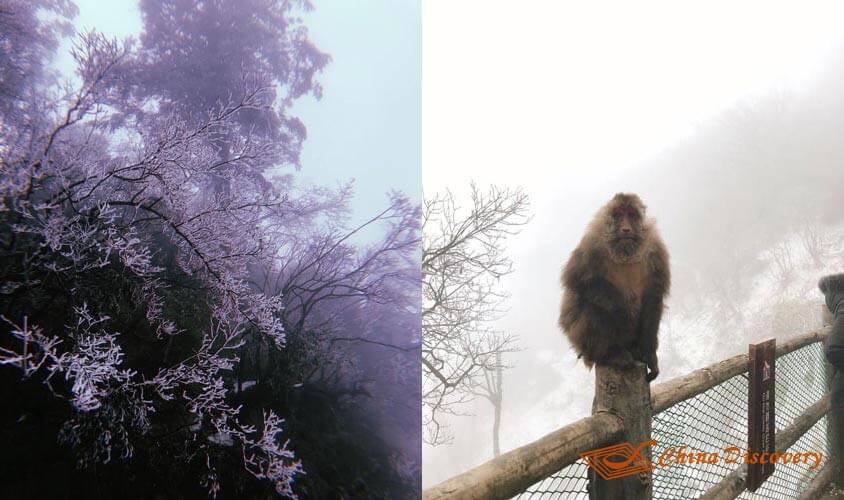 -Wild monkeys in Mount Emei-
Looking up from the mountain foot, everything is surrounded by fog, but with the cable car lifts upwards, breaking through the clouds, we saw the tremendous view of wavy cloud sea covered the whole sky, and on the mountain top, it's cloudless and sunny, completely different weather and scenery from the mountain foot. Turns out that on the rainy day, the clouds accumulate on the mountainside, forming a sea of clouds just below the Golden Summit. We appreciated this magnificent view, it's really a matter of luck to see them.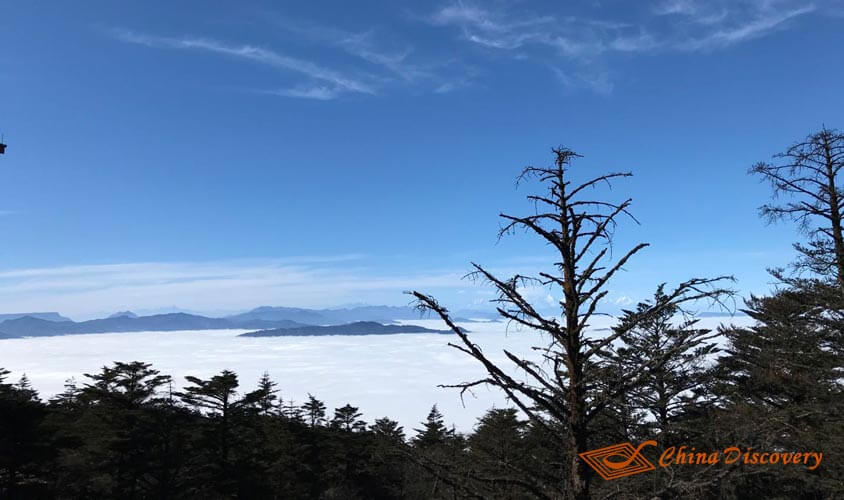 -Cloud Sea-
On the Golden Summit, the weather is so good that we can see the Golden Buddha, a 48-meters high statue sit on the peak, shinning and looking at the visitor with his compassionate eyes.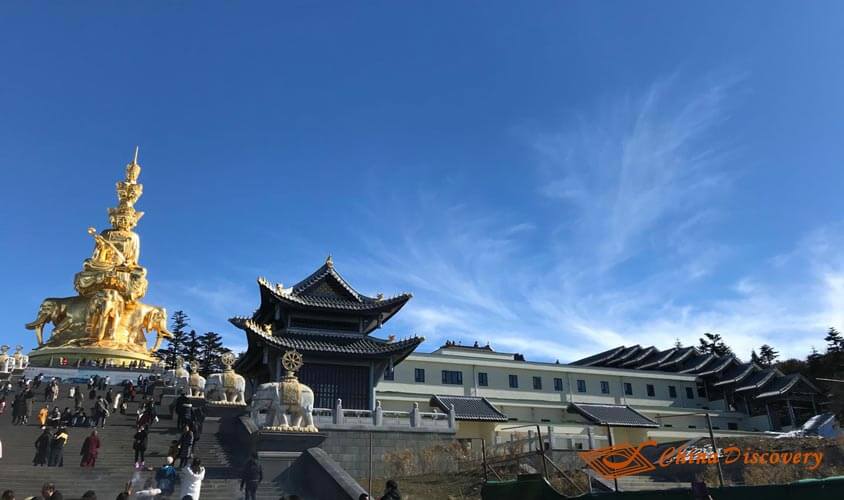 -The Golden Summit-
Our tour in Emei ends here. Returned by the same way, this visit is out of our expectation and ended in joy.
Travel Tips:
Winter is cold in Mount Emei, you can prepare hat, gloves, warm heaters and down jackets, also, to prevent slipping on icy mountain roads, non-slip shoes and trekking pole can be prepared.
The eco-bus going up and down the mountain is relatively bumpy, people who are prone to motion sickness need to prepare motion sickness medicine in advance.
Travel with Me
Hi, I'm Zeva. Are you interested in my 4 Days Chengdu & Mount Emei Essence Leisure Tour? Feel free to contact me, and I will be glad to tell you more stunning stories about the places I have visited. Or, if you want to customize a tour on your own, I'm always ready to help at any time. With my passion, knowledge and understanding of the essence of travel, I promise I will try my best to make the tour memorable and meaningful for you.
Zeva

Travel Consultant
Recommended Tours
Top 3 tours chosen by most customers to explore in the best way. Check the detailed itinerary, or tailor your own trip now with us.
4 Days Classic Leshan Buddha & Mount Emei Tour from Chengdu

Chengdu / Leshan / Mt. Emei / Chengdu
6 Days Leshan, Mount Emei & Panda Volunteer Tour

Chengdu / Leshan / Emei / Chengdu / Dujiangyan / Chengdu
5 Days Chengdu, Leshan & Mount Emei Tour

Chengdu / Leshan / Mt. Emei / Chengdu
Have a question? Get answers from our travel experts or guests
Your Question:

Your Name:

Your Email: