Travel with Yanny: 3 Days Jiuzhai Huanglong Tour with Dujiangyan Panda Visit
Departure Date

2020-5-15

Travel Length

3 Days

Travel Theme

Nature, UNESCO World Heritage

Group Size

1

Travel Route

Chengdu - Dujiangyan - Jiuzhaigou - Huanglong - Chengdu

Highlights

Dujiangyan Panda Base, Jiuzhaigou Valley, Huanglong National Park

Story Tags

#Panda#DDujiangyan Panda Base#Jiuzhaigou#Jiuzhaigou Valley#Huanglong#Huanglong National Park
As epidemic risks are subdued in China, most of the tourist destinations including museums and parks across the country have reopened, such as Jiuzhai Valley and Huanlong National Park. Finally, The pent-up demands of tourists and supportive government policies are rebooting the country's tourism market. I am raring to travel!
I chose Jiuzhai Valley and Huanglong this time, and that was my first time to Jiuzhai Valley after its reopening in 2019. Also it was my first travel outside Chengdu after the novel Coronavirus disease epidemic broke out. what am I waiting for? Let's start it right away.
Jiuzhai Valley and Huanglong National Park - What You Need to Know
Jiuzhai Valley literally means "Nine Village Valley" and is named after the nine Tibetan villages scattered throughout the park. It is a national park located in the Min Shan mountain range, Northern Sichuan in Southwestern China. Huanglong National Park is merely 110 KM alway from Jiuzhai Valley. You can easily visit Huanglong as well when you travel to Jiuzhai Valley. They have been declared as a UNESCO World Heritage Site in 1992. And they are becoming more prevalent to all the tourist around the world after it reopened.
The elevation of the Jiuzhai Valley National Park ranges from 1,990 m (6,529 ft) at the entrance to 4,764 m (15,630 ft) at the peak, while Huanglong National Park is from 1,700 m (5,577 ft) to 5,588 m (18,333 ft). Although High Altitude Sickness was rare to me, I still carefully avoided strenuous exercises.
About the weather, 80% of the rain falls between May and October as the monsoon moves up in the valley, giving mild, cloudy, moderately humid summers. Snow falls vary but usually falls between October and April of the next year with December to February receiving the heaviest falls. Widly recognized, Autumn is the most breathtaking time of the year with different trees and plants changing different colours at the same time, creating a circus of colour which reflect perfectly in the bright blue and green lakes.
Jiuzhaigou and Huanglong Parks Location Map
My Exploration of Jiuzhai Valley and Huanglong
Located in the northern Sichuan Province, it is easily accessible by buses and flights from Chengdu. Due to limited days in Jiuzhai with 3 days, I chose to join in a group to visit Jiuzhai by bus.
Day 1 Chengdu-Dujiangyan-Jiuzhai Valley (7:00 AM-9:30 PM)
Generally, it took over 8 hrs by bus. To squeeze out more time to enjoy sightseeing, we got up early and started forward to Dujiangyan at around 7:00 AM from Chengdu. After taking a nap, we arrived in Dujiangyan at 8:30 AM where we would take our first stop to watch Giant Pandas. Dujiangyan Panda Base, is not only open to tourists who watch pandas only, but also provides Panda volunteer program in which you will be a keeper, a feeder to take care of our lovely giant pandas.
I once be there as a volunteer and had a more deep trip to this panda base. So I just wandered the garden and saw those cuddly pandas again. They are always such lazy pandas, but extremely cute, are't they? It happened to be there at their breakfast time, most of them were eating their breakfast.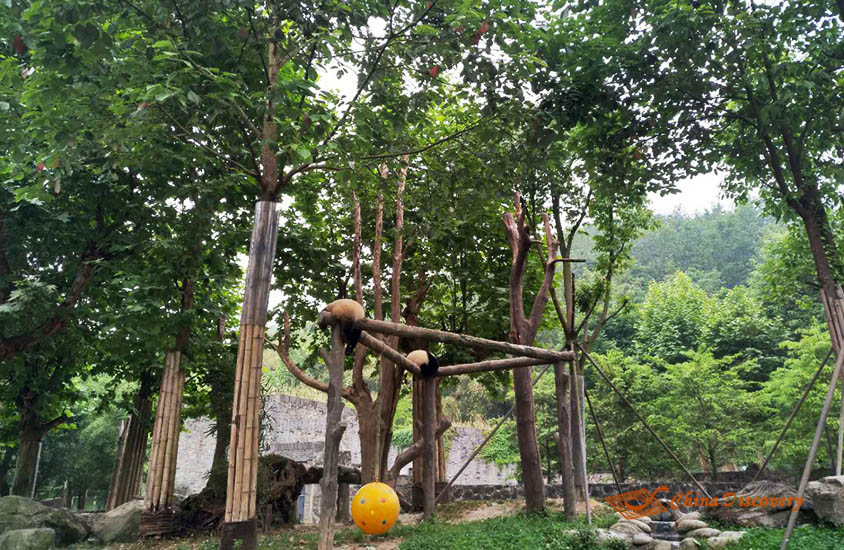 Cute Pandas in Dujiangyan Panda Base
Stopping there about 1 hr, we started forward to Songpan along the Min Jiang River. We spent almost one whole day in bus and arrived in Songpan Ancient Town at 5:00 PM in the afternoon.
Songpan Ancient Town, also called Songzhou, was known as strategic pivot because of its advantageous situation geographically, also functioned as a military base. It was rainy and cloudy on the road, but we were greeted by bule sky with white clouds upon arrival Songpan Ancient Town, making it a great time to visit. Don't miss the statues of King Songtsan Gampo and Princess Wencheng in the front of Gate of Songpan Ancient Town.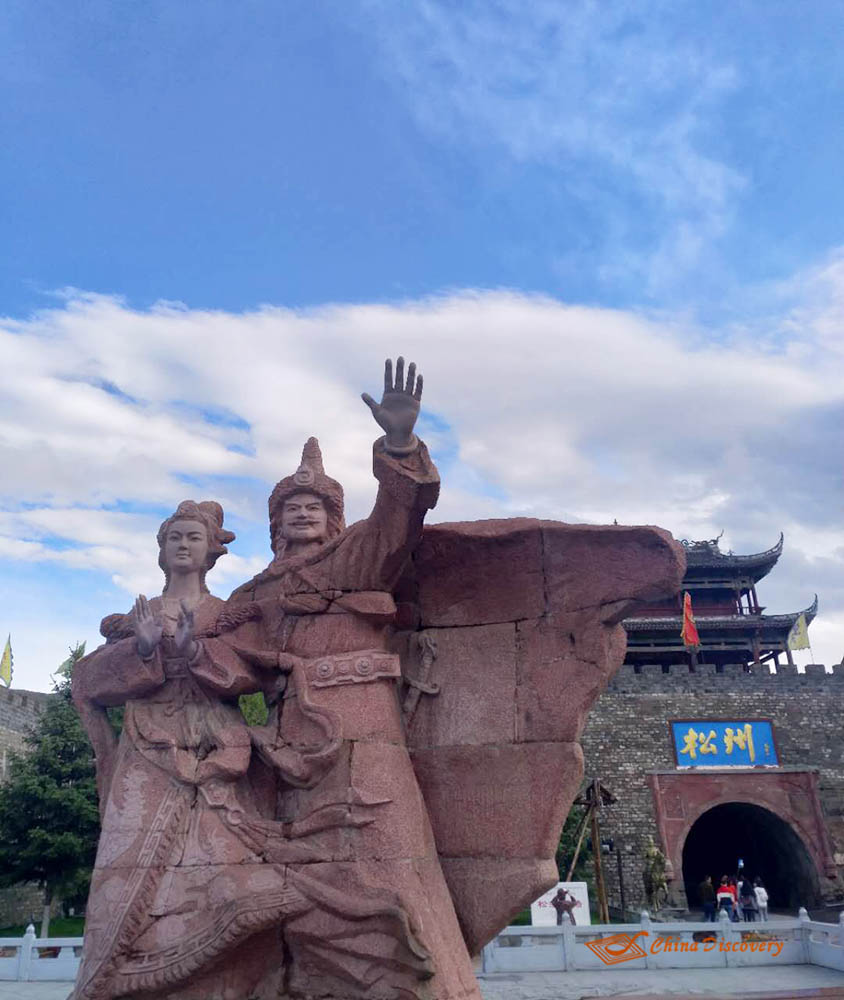 Statues of King Songtsan Gampo and His Wife Princess Wencheng
We arrived at our hotel near the entrance of Jiuzhai Valley at around 9:30 PM. Although it is only 2,000 m and high altitude sickness is rare, it is not advised to take a show at the first day upon arrival at Jiuzhai. I went to sleep immediately and slept soundly all night. I was so excited for my next trip to Jiuzhai Valley which is the dream land and highlight of my trip.
Day 2 Jiuzhai Valley (8:30 PM-5:00 PM)
After breakfast at our hotel, we gathered at the entrance of Jiuzhai Valley at 8:00 AM. Due to the COVID-19, We entered the park after temperature check and wearing masks all the time. Showing our ID and health code, it was easy to find the bus stops.
Jiuzhai Valley has 3 main valleys, Zechawa Valley, Rize Valley and Shuzheng Valley, arranged in "Y" shape, spanning over about 60 KM.
As you can see on the Jiuzhaigou Tourist Map below, we entered Jiuzhai Valley from the park entrance, and took bus along Shuzheng Valley, driving straight forward to Rize Valley.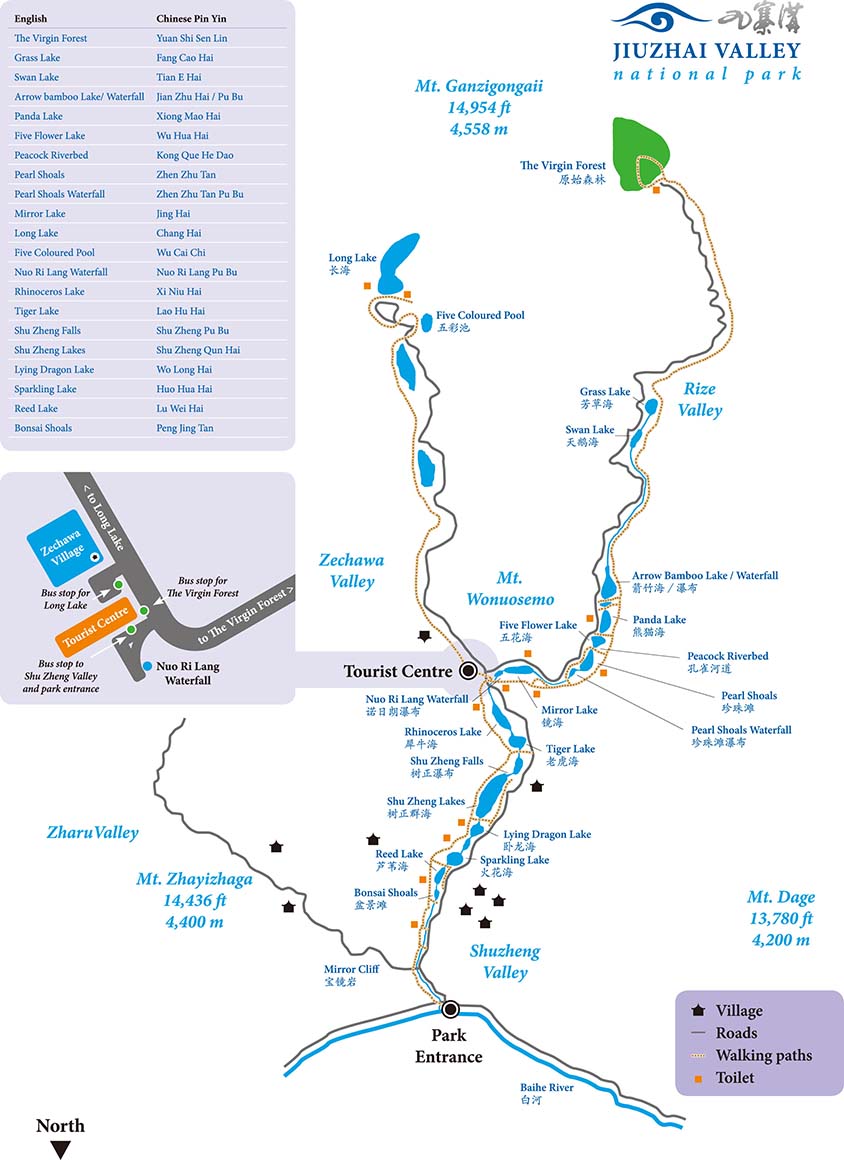 Jiuzhaigou Valley Tourist Attraction Map
Today, we planed to embrace the stunning beauty of such sceneries in consecutive order from the start of Rize, Zechawa and end of Shuzheng. There was one guide in each bus who will introduce attractions and help you with your stops. We are greeted by a friendly guide and advised a sightseeing routes by her. So we drove directly to Five Flower Lake in Rize Valley. When we came into Jiuzhai Valley, it seemed that we have left real world and entered a fairyland. We watched many sites on the bus, so excited and amazed with the breathtaking scenery.
Finally, we got off at Five Flower Lake. Speechless and shocked, I coundn't even find a word to describe it. I always knew that water is the spirit of Jiuzhai Valley, but when I saw it, I was still shocked and moved by it. These fabled blue, green and turquoise-coloured lakes, how can be such superb lakes created? A well known Chinese saying states "once you have seen Jiuzhai Valley, there is no need to see any other water". I understood it today after I saw it with my own eyes. According to our guide, there are 114 individual lakes in the park. and it is said that lakes were formed when a goddess breaks the mirror and 114 pieces fall to the earth, then "the Fairyland of Earth" was created. Of course, only Goddess does create this kind of stunning fairyland.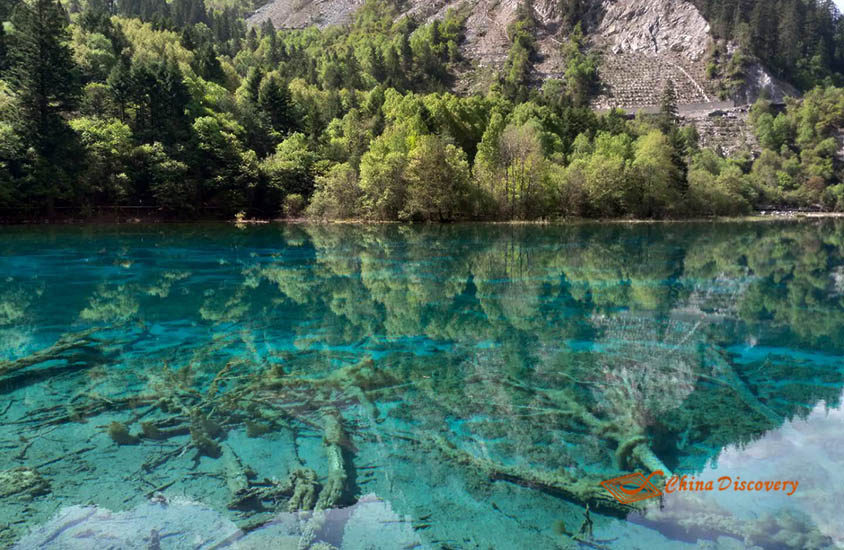 Crystal-clear Blue Lake in Jiuzhaigou Valley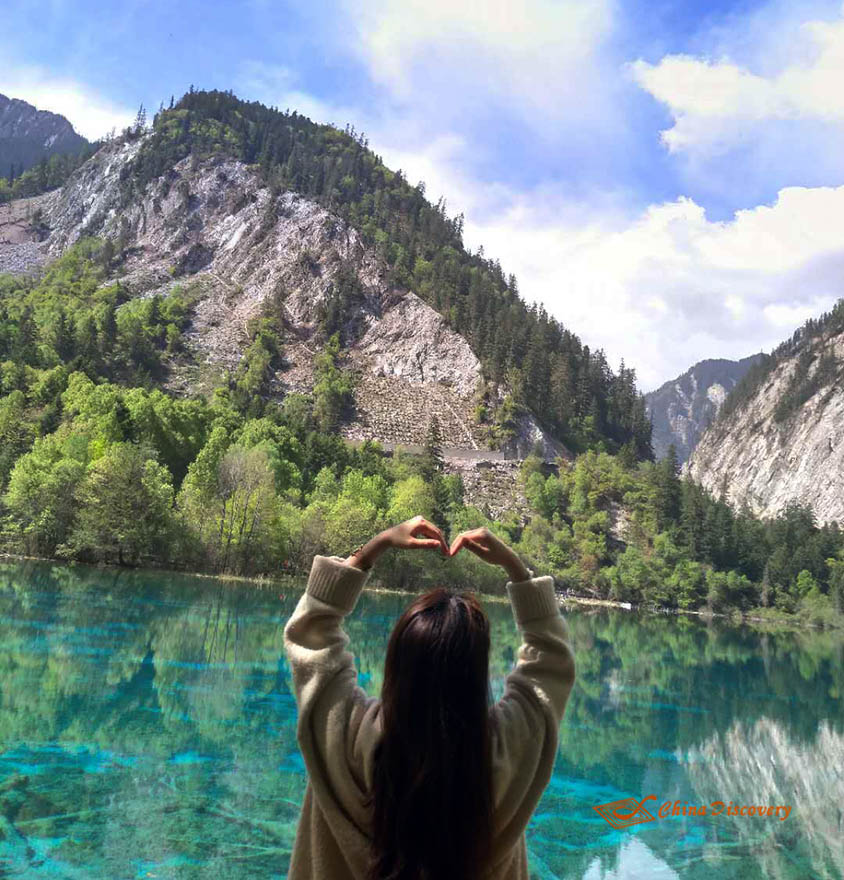 I was Happy to Take Photo with the Colorful Lake
Reluctantly left Five Flower Lake, we hiked to Pearl Shoals and desired to see Pearl Shoals Waterfall. Jiuzhai Valley is famous for Six wonders, covering lakes, waterfalls, forests, fozen waterfalls, Tibetan culture and snow-capped peaks. Followed by lakes, we came to the first one waterfall, Pearl Shoals Waterfall, where is the location for our TV series, The Journey to the West, The Monkey King and his masters lead their horse and waded.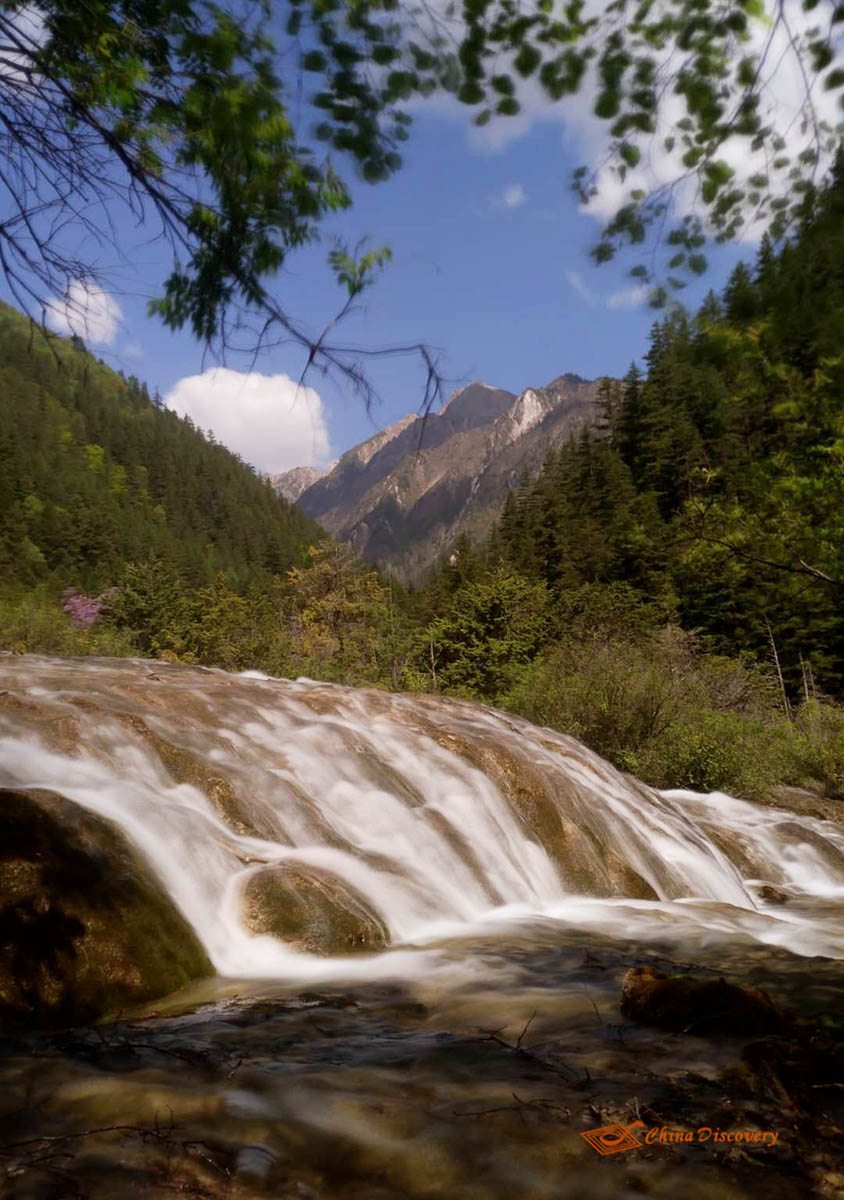 Powerful Pearl Shoals Waterfall
After that, we took bus straightly forward to Mirror Lake, also call Jing Hai, which is named because of still surface of the water. "Jing" in Chinese means serene or tranquil, which tells the derivation of its name. also the superb setting inspired, Zhangyimou filmed scenes for Crouching Tiger Hidden Dragon here.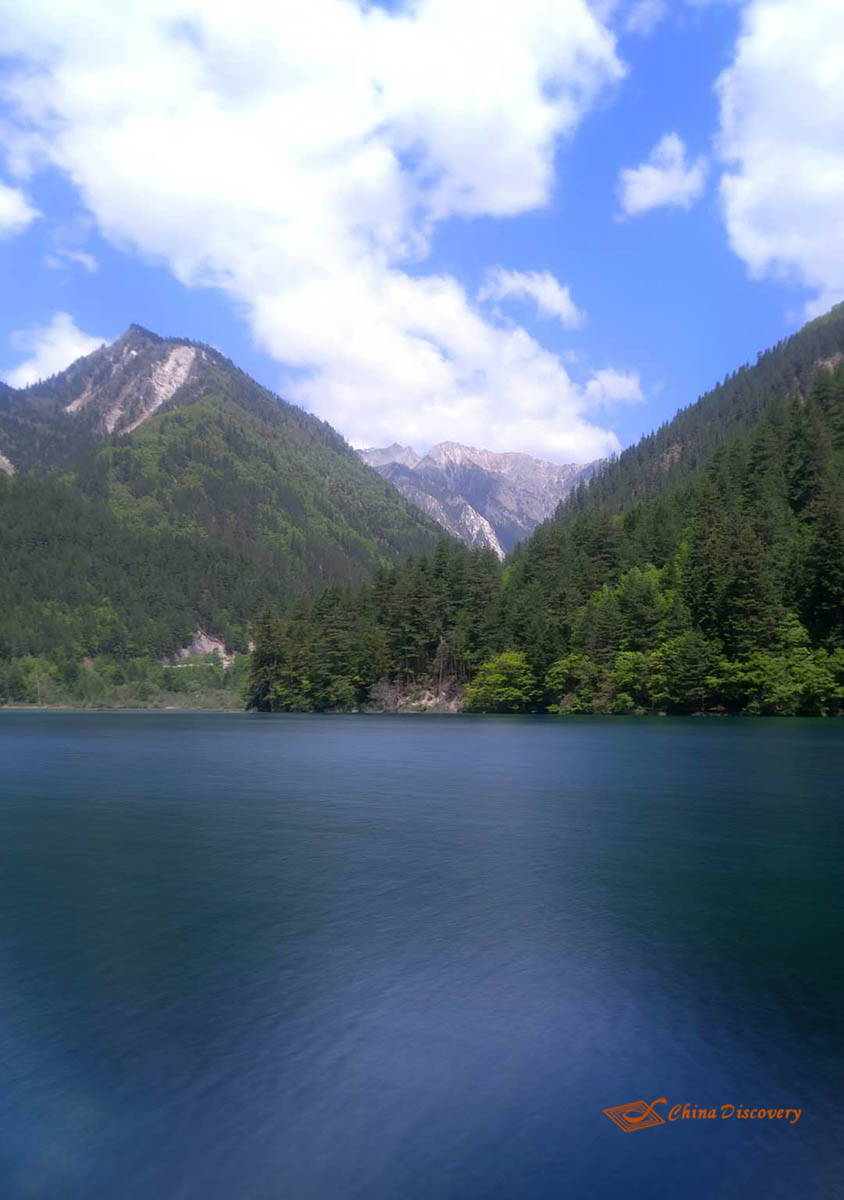 Peaceful Mirror Lake and Surrounding Peaks
I easily forgot the time in Jiuzhai Valley. The rest of the morning passed so easily and without notice. We got back to Tourist Center where you can have lunch and take a break a little bit. It was a tired hiking at such a high altitude. We ended our Rize valley trip.
After lunch, we started our trip to Zechawa Valley in which we firstly took bus to Long Lake. Long Lake (Chang Hai) has the widest surface area of all Jiuzhai Valley's lakes and is located at the end of Zechawa Valley. Meanwhile, Long Lake is the highest point visitors can reach in the park. It would be more tired when you hike there.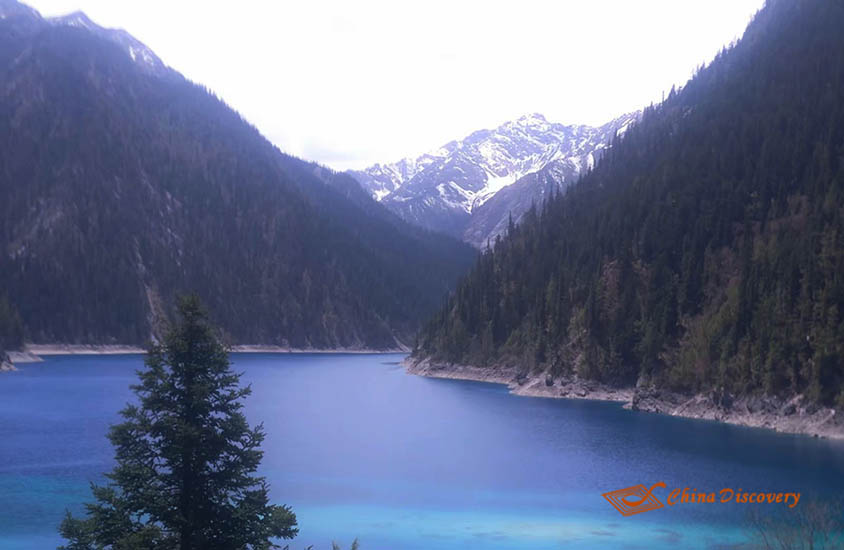 Beautiful Long Lake and Snow-capped Mountain in the Distance
After seeing the Long Lake, I took bus from there to watch Five Colored Pond. It is said that, the Five Colored Pond is the smallest but most impressive lake in Jiuzhai Valley. In May, it was the dry season, but I was still impressed by its color.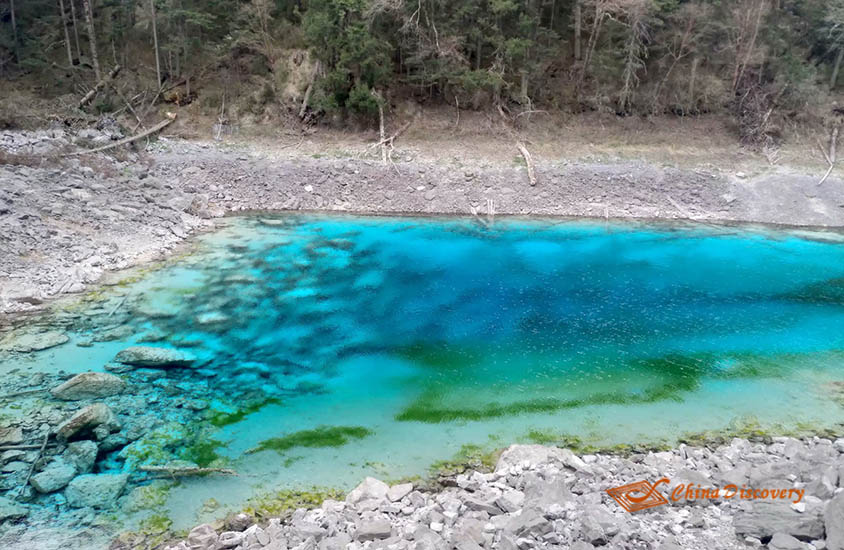 Amazing Five Colored Pond
Ending our Zechawa Valley trip, we came back to Tourist Center to start our last valley trip to Shuzheng. We came to Nuorilang Waterfall firstly. There are 5 major waterfalls and numerous smaller waterfalls throughout the park. The Nuo Ri Lang Waterfall is the widest travertine topped waterfall in the world.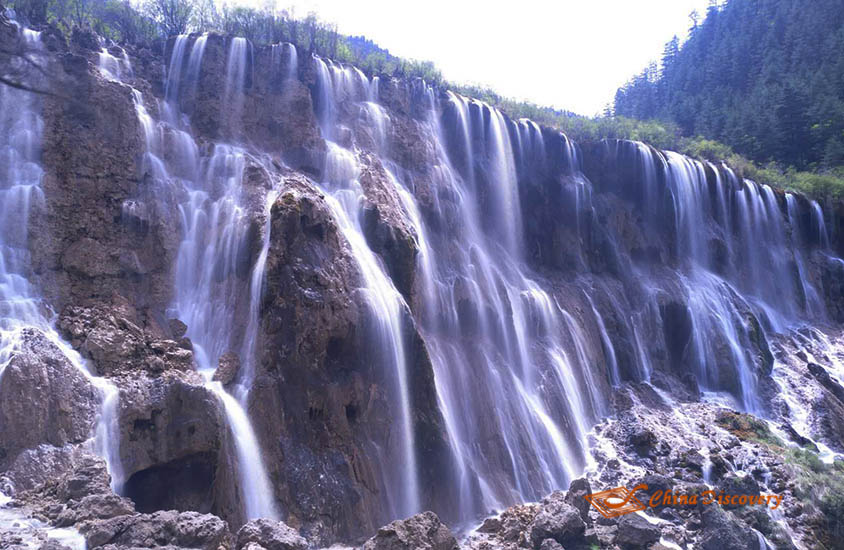 Imposing Nuorilang Waterfall
We have been tired after hiking serval hrs, but still desired to see more sites. We met another waterfall, which is even more splendid than Nuorilang Waterfall, I thought. It was a round multi-level waterfall with thousands of water streams running through the stems and trunks of the plant life that grows from it.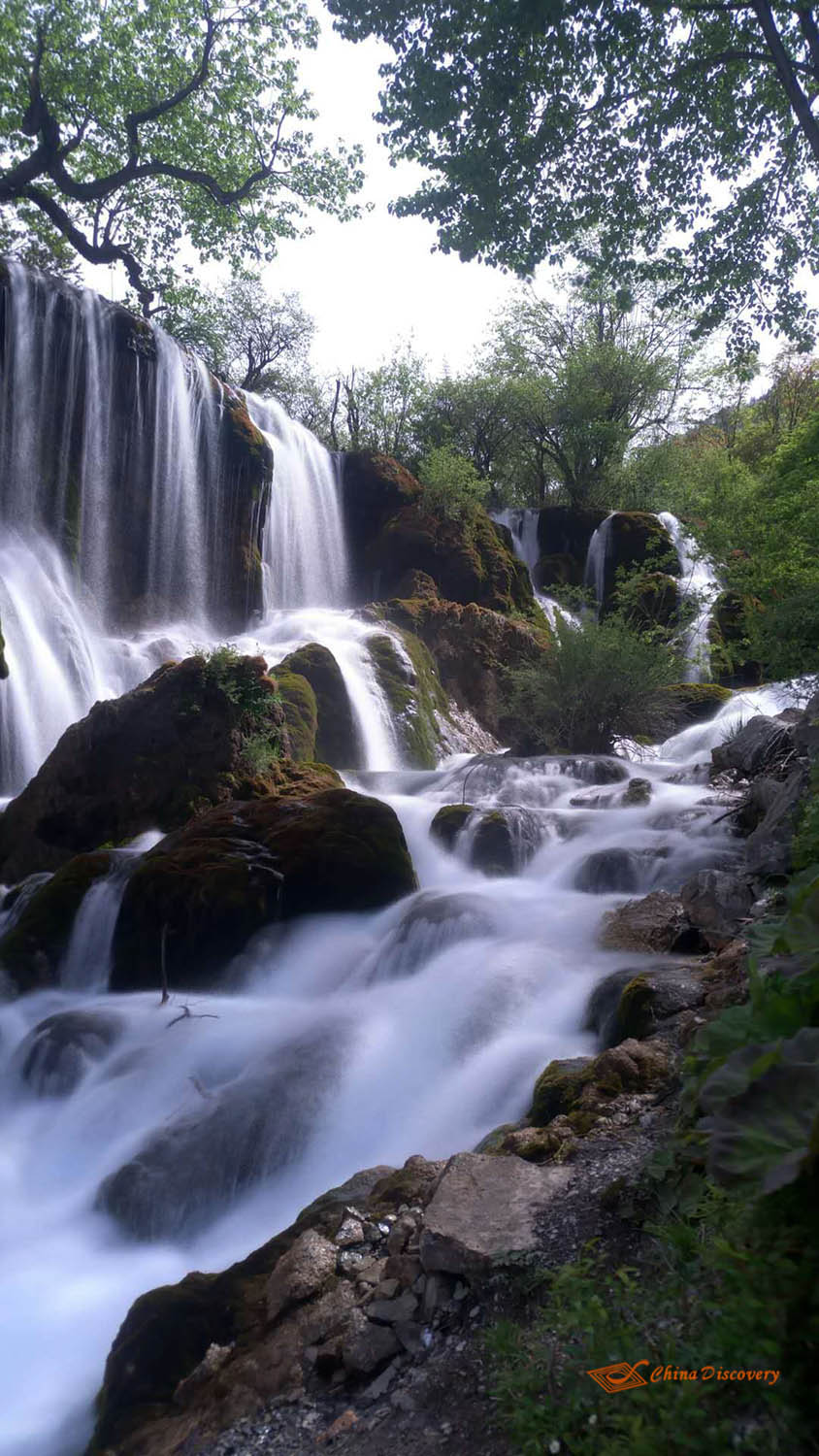 Another Magnificent Waterfall in Jiuzhai Valley
As it was tired after hiking so long time, we chose to take bus to the entrance and also it was time to end our trip.
On the way back, we also saw Tiger Lake and other wonderful lakes. I was so impressed by its fable blue and green lakes, spectacular waterfalls. I believed it would be more spectacular in autumn, in which the colors of the deciduous species change the face of Jiuzhai Valley, the red and green leaves reflected on the water surface. I can easily imagine what a wonderful land it will be! It must be a photographer's heaven and a painter's inspiration.
It was too short to spend only one day in Jiuzhai Valley. It is worth visit thousands of times in all year around. I just saw highlights of Jiuzhai valley due to limited time.
Day 3 Huanglong National Park-Chengdu (7:00 AM-9:30 PM)
On the last day, we got up early to save time to watch Huanglong National Park. As planned, we departed from Jiuzhai Valley, a mere 1 hr's drive away from Jiuzhai where our hotel is located. Due to theCOVID-19, there were a few tourists in this park. Just the same as Jiuzhai, it required our health code and ID. We entered the park at around 9:00 AM and took a cable car directly up to the peaks, followed by 2.5 KM hiking in the forests. No worries, there were wooden roads, making it a more relaxed hihking.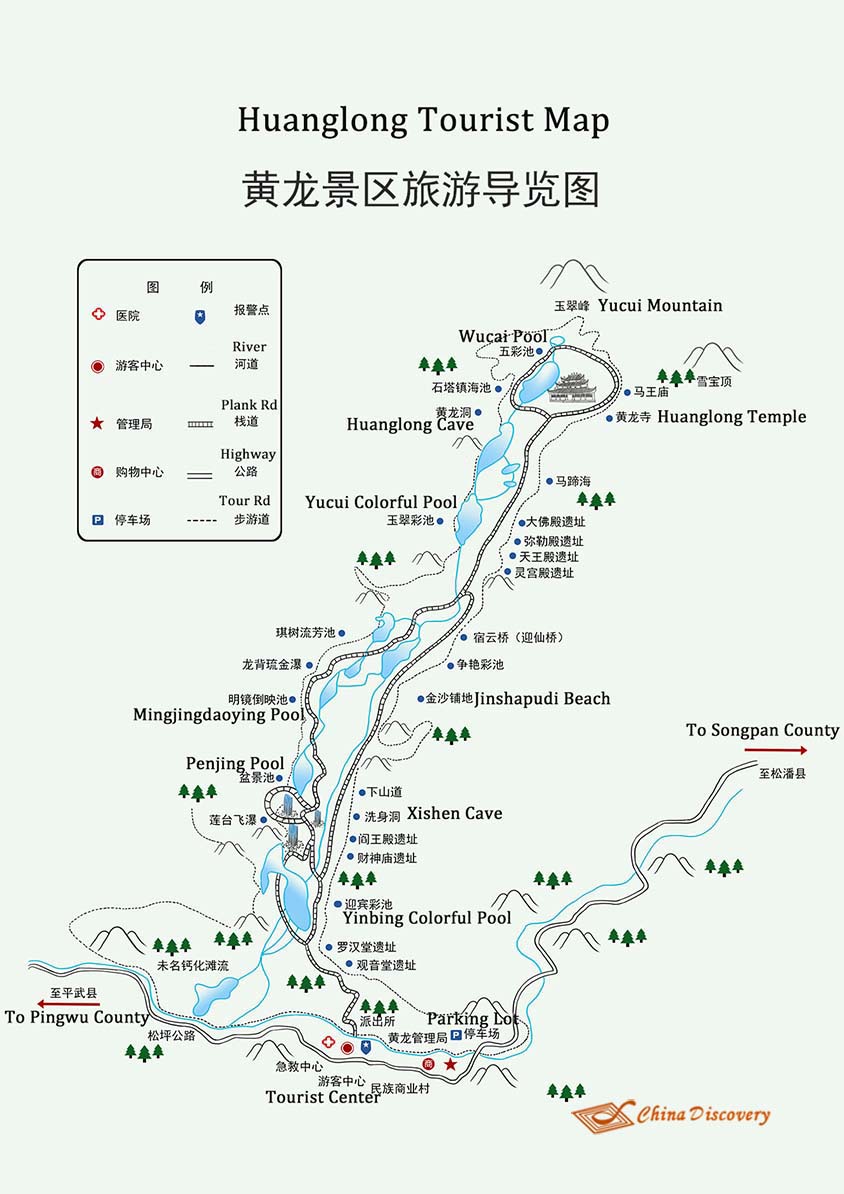 Detailed Huanglong National Park Tourist Map
Wucai Pool, located at the top, would be the first "wonder" of Huanglong National park. Huanglong Wucai Pool became prevalent throughout China, because every Chinese student will learn it in our primary school textbook. You can image how important and what a beautiful pool it is.
Surrounded by snow-capped mountains, Wucai Pool lies quietly under the mountains for over thousand years. After Jiuzhai Valley, Huanglong is one of the most surreal places I have visited. It is with no doubt that it is worthy of a title of "Wonder of the World".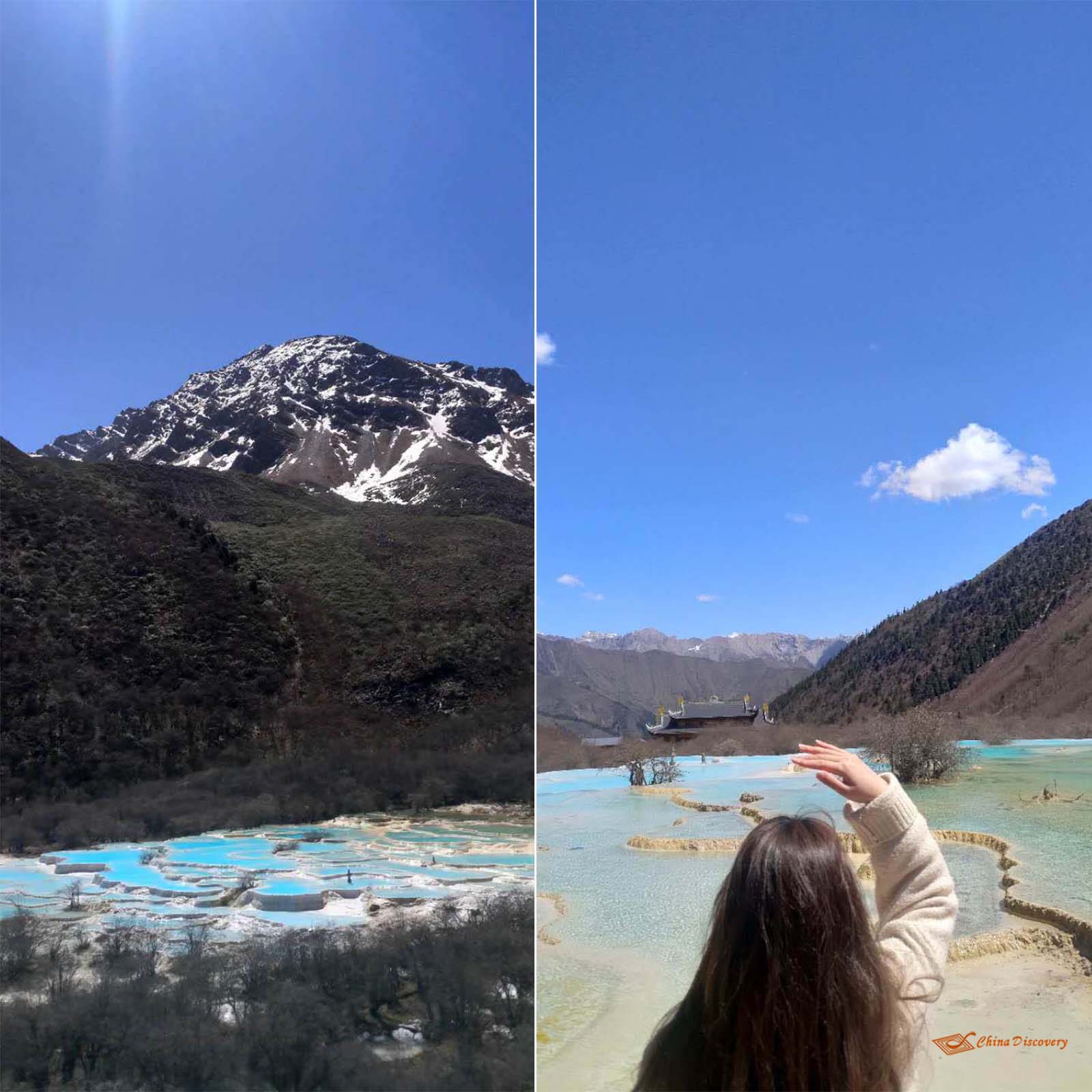 Terraced Colorful Wucai Pool in Huanglong National Park
Eace pool has been uniquely formed at 3,500 m above sea level. Hiking down the mountain, you will see many pool along the wooden path. Although it was the dry season, you can still gain a hint of those colorful pearls, mounted in the forests, was reputed Jade pool in the heaven.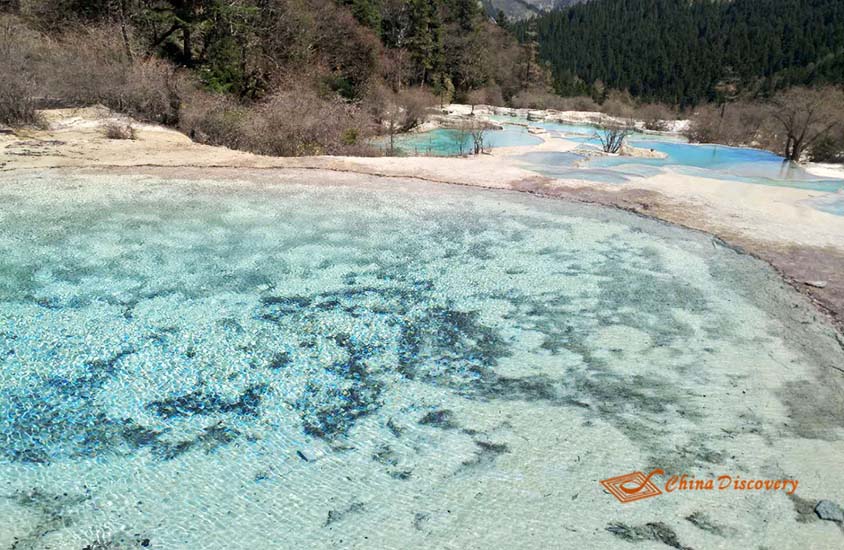 A Calcified Small Pond in Huanglong Wucai Pool in May
Huanglong National park was the last stop of my trip. In the afternoon, we drove back to Chengdu, arriving at around 9:30 PM.
It was a long drive from Chengdu to Jiuzhai Valley. But I promise you won't be regretful to visit this Heaven on the Earth. The picturesque landscape of Jiuzhai and Huanglong helped me to confirm why I love travel. They create my memories which will last in all my life.
Travel with Me
Hello, I am Yanny. If you are interested in Jiuzhaigou tour from Chengdu, no matter you want to combine them together or choose only one to visit, you can feel free to contact me. I am very familiar with the highlights of each site, transportation plan and details about volunteering work and requirements. Local based in Chengdu, the hometown of giant pandas, I and my team will try the best to make sure every panda fan to fulfill their panda dream!
Yanny

Travel Consultant
Recommended Tours
Top 3 tours chosen by most customers to explore in the best way. Check the detailed itinerary, or tailor your own trip now with us.
3 Days Classic Jiuzhaigou Tour (Flight Arrival)

Chengdu / Huanglong / Jiuzhaigou
7 Days Sichuan Discovery Tour

Chengdu / Leshan / Emei / Chengdu / Jiuzhaigou
4 Days Jiuzhaigou Huanglong Highlights Tour from Chengdu by Private Car

Chengdu / Huanglong / Jiuzhaigou / Chengdu
Have a question? Get answers from our travel experts or guests
Your Question:

Your Name:

Your Email: