Travel with Yanny: 2 Days Snowy Mt. Emei Tour with Sunrise
Departure Date

2020-1-11

Travel Length

2 Days

Travel Theme

Nature, Culture, UNESCO World Heritage

Group Size

1

Travel Route

Chengdu - Mount Emei - Chengdu

Highlights

Leidongping, Golden Summit, Sunrise, Sunset, Cloud Sea

Story Tags

#Mount Emei#Mount Emei Tour#Sunrise of Mount Emei#Emeishan#Emei Mountain
After my guests shared their photo to Mt. Emei in Dec, I was thinking of hiking Mt. Emei in winter. They told me what a beautiful snowy path on the summit descent and how shocked they were. I shall make an admission that I could hardly sit still and itched to have a go. No more waiting, I checked the weather forecast it happened to be sunny at the weekend. I immediately booked my hotel and train tickets. it is super convenient to travel Mt. Emei from Chengdu.
What to know about Mt. Emei?
Mt. Emei is located in the southwest of Sichuan province, about 150km away from Chengdu, which makes it easily accessible by 2hrs driving and trains from Chengdu. More than spectacular landscape, Mount Emei (Emeishan) is an area of exceptional cultural significance as it is the place where Buddhism first became established on Chinese territory and from where it spread widely through the East. In 1996, Mount Emei Scenic Area, including Leshan Giant Buddha Scenic Area is declared a UNESCO World Cultural and Natural Heritage Site.
There is a saying that Mount Emei boasts its incomparable beauty in the world. As one of the "Four Great Buddhist Mountains" in China, Mount Emei attracts to its numerous sightseers from all parts of the world. Meanwhile, Mount Emei is the Buddhist venue of Puxian, and there are over 25 temples and monasteries, such as Baoguo Temple at the foot of Mt. Emei and Huazang Temple on the top of it.
Emei Shan rises 3099 meters, famous for its Four Wonders. The purpose of my trip this time is to embrace the striking snowy landscape and breathtaking sunrise and sunset.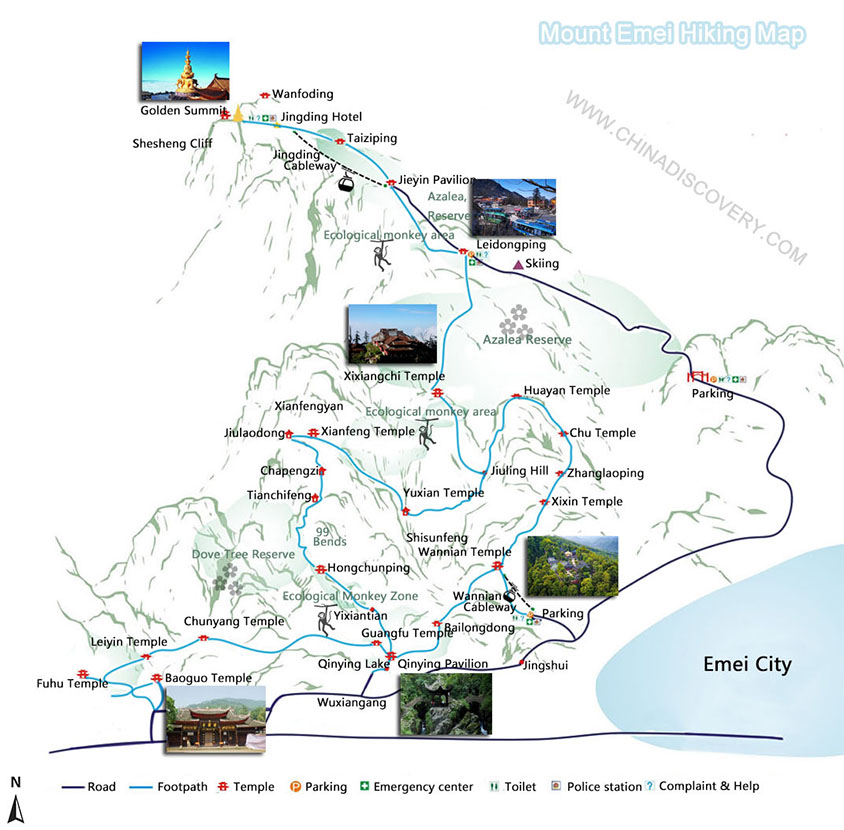 Mount Emei Hiking Map
Day 1. Jan.11, Chengdu – Mt. Emei
I set my alarm for 7:30 AM, packed my luggage because I will stay one night on the top of the mountain to watch sunset and sunrise. I booked my high-speed train, departing at 8:57 AM, arriving at 10:11, taking over 1.5hr. There are 2 Emei train stations, do not make it wrong and get off too easily if you would visit Mount Emei only. Upon arrival, I took buses to the foot of Mt. Emei. Please remember to carry some cash, you will thank me when you take the buses. 
You can easily buy the tickets and Eco-bus tickets with your phone and show your Code when you check in the gate. I choose Baoguo Temple as my first stop. Baoguo Temple was originally called Huizong Hall when it was built during the Ming Dynasty (1368 to 1644) and was later renamed Baoguo Temple by Kangxi Emperor in the Qing Dynasty (1644 to 1912). When I came to Mt. Emei, the tranquility turned all my excitement into a peacefulness. I wandered Baoguo Temple and imaging what would be like in the past. Did they feel such peacefulness all the time?
Leaving Baoguo Temple, I choose to have lunch at a restaurant near the Temple. They don't get many tourists at this offseason in Jan.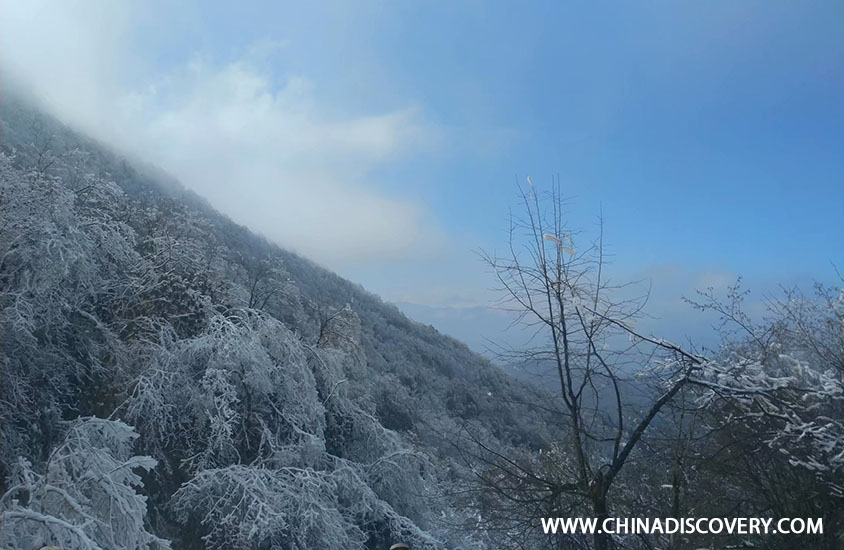 On the Way to Leidongping
After lunch, I go to take Eco-bus directly to Leidongping, which spending about 1.5hrs. Climbing the mountain road, I gradually saw snow. With the increase of altitude height, a higher place afforded a better view of the car. Against a clear blue sky, I saw the whole mountain covered by snow and Icicles hang from tree branches. I was so excited to get off to embrace its landscape.  
Finally, after about 1.5hrs, I arrived at Leidongping. I planned to hike from Leidongping to the summit.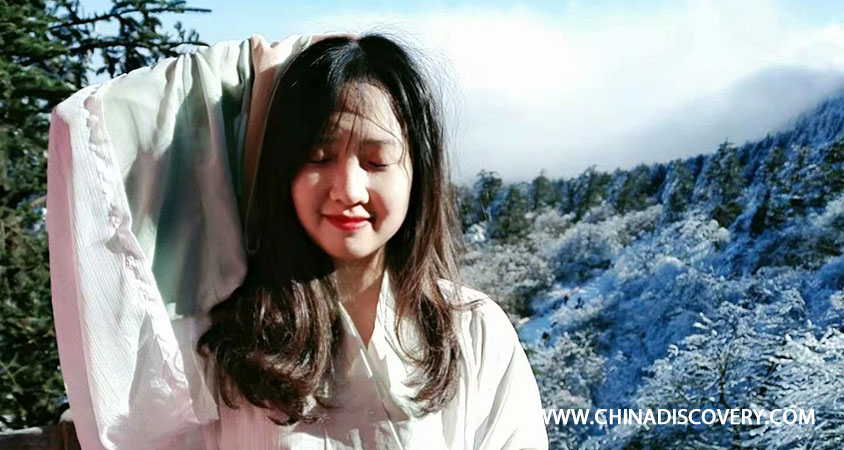 Selfie on My Way
Upon arrival, I was shocked by the snowy Mount Emei. It seemed that I have entered a fairy wonderland. The temperature is lower but not cold as I was bathed in the warm sunshine. It was still slippery to climb up to reach Golden Summit due to snow so that I have to buy a crampon tied to my shoes. the highest accessible point at 3077 meters, it is expected to take 3hrs to the summit. Perfectly it is the time for sunset.
The whole mountain is covered with a silver snow quilt, like all tree girls wearing white wedding dresses. I hiked along the wooden road while holding my camera and shot. What a beautiful wonderland it is! I tried my best to capture it and record it with my camera, but it is such a limit. With the increase of the altitude, I got more tied and hard with less oxygen because of higher altitude.  
You know that moment when I raised my head and saw this tranquil and white world, there is an illusion that I have entered the ice and snow world described in Frozen. I can feel the magic and the whole world goes quiet just for a second.
Snow-Capped Mountain and Trees
At the back of the snow-capped mountains and trees, sunshine was pouring the world. With such a fine day, and crisp sunlight was shining through trees. Being trapped in this breathtaking scenery, I was amazed by the tranquil mountain landscape, they create a peaceful, cleansing Buddhist atmosphere.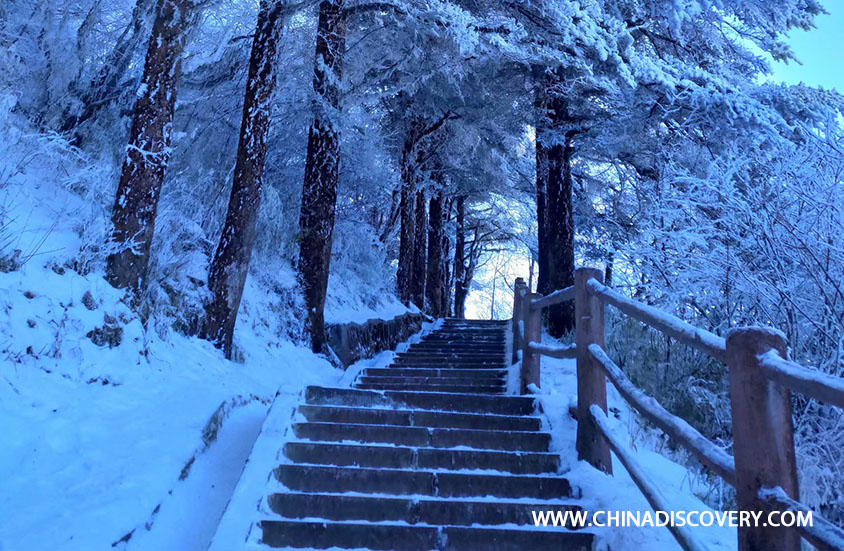 Trekking Path on Mount Emei
After approx. 3hr, I arrived at the Golden Summit. Firstly, I checked in my hotel and left my luggage. I climbed up to Golden Summit, waiting for Sunset. It became windy and cold. As the sunset, it got colder.
When I climbed to the top of the mountain, I had a more extraordinary sight of unbroken cloud plains that stretch for miles before me. The sea of clouds had a fairy take beauty. The Sun was already in the west but it was still shining. Gradually, the light became a bit yellow. After a short while, it was completely golden, then orange. The Sun nearly set. It was like an orange. At last, it disappeared behind the sea of clouds.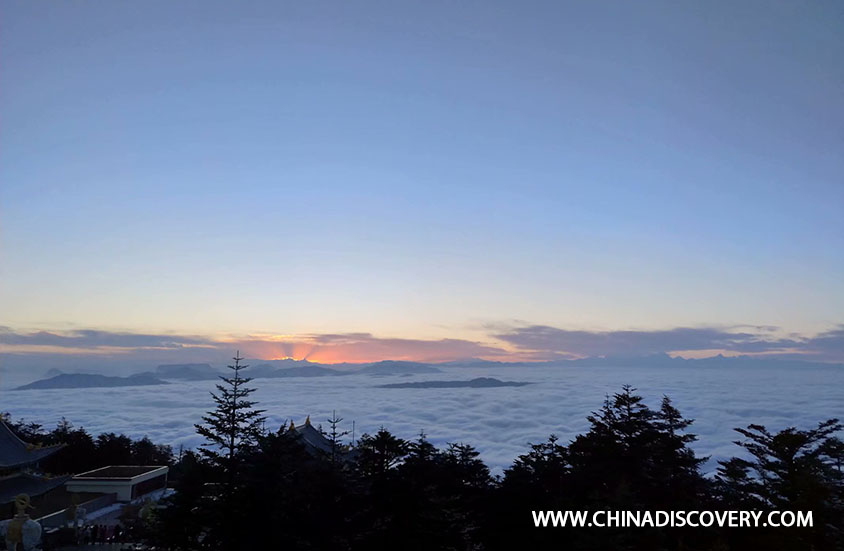 Sunrise from Clouds Sea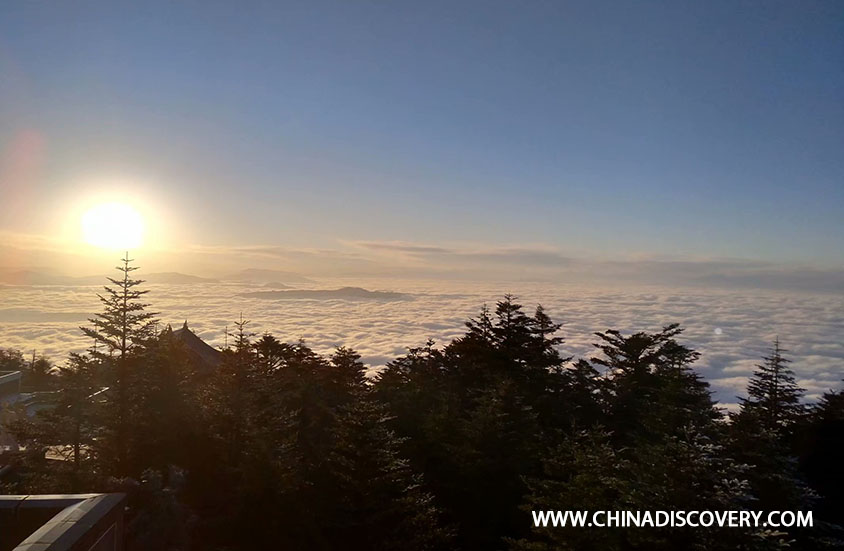 Stunning Sunrise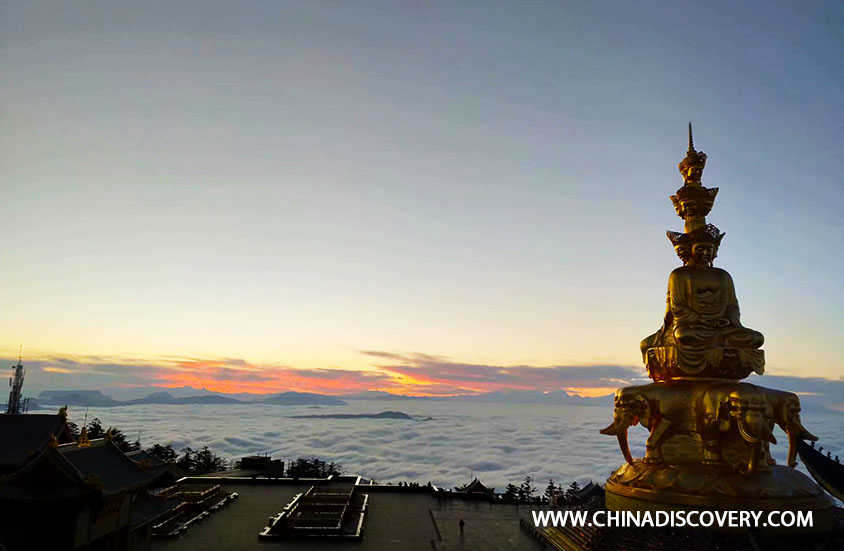 Golden Summit
Finally, it got very cold and I had to get back to my hotel to have dinner.
The hotel is simple but clean. After the hiking tour, I fell asleep fast. I have checked with the staff. The sunrise will start from 7:00 AM in winter. I have set my alarm.
Day 2. Jan, 12 Sunrise at Mt. Emei – Chengdu
I set my alarm for 6 am, slept late until 6.20 am, and rocked up to the Summit at 6.55 am. Many tourists already were waiting for the sunrise with their camera in a good location. I was lucky to get a place to wait for the sunrise. Gradually, the horizon is the east becoming reddish. The red extended continuously and was becoming thicker and thicker. The crowd used to be quiet suddenly turns into a noisy when they saw the Sun. At last, the sun showed its face a little. Slowly, saw a red ball hanging above the sea of clouds, like a round flame shining in the sky finally. It seemed that everyone holds their breath and tried to capture this extraordinary sunrise with their eyes and cameras.
As the sun came up, the earth was lit by the sunlight and became bright. The clouds rolled like a real sea. I can describe how splendid it is with my poor words. I have never seen a sunrise like this.
I got back to my hotel to enjoy my breakfast. I decided to take Jingding cableway to descend the mountains and get back to the Leidongping by cable car.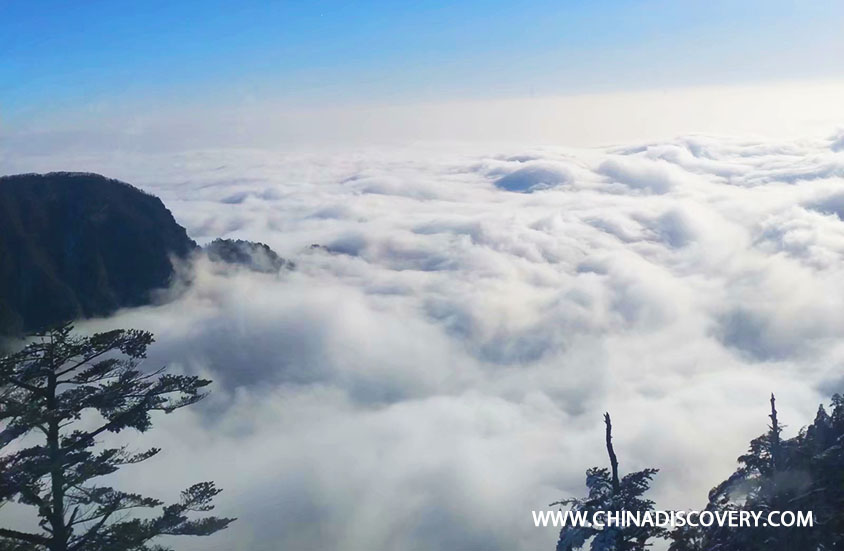 Cloud Sea Seen From Cable Car
I took the bus back to the Wannian parking lot and take Wannian cable car to Wannian Temple, and start to another hiking from there to the entrance of Mount Emei. I gave up Xixiangchi Temple due to limited energy and time. I hiked from Wannian Temple, passed through Bailong Dong, Qinying Pavilion, and end my trip at Wuxiangang. There is no snow at the foot of the mountain instead of green forests and gurgling streams. If you are lucky, you will saw monkeys along the roads. Be careful, we all know the monkeys at Mt. Emei are dangerous and naughty. Try to get away from them.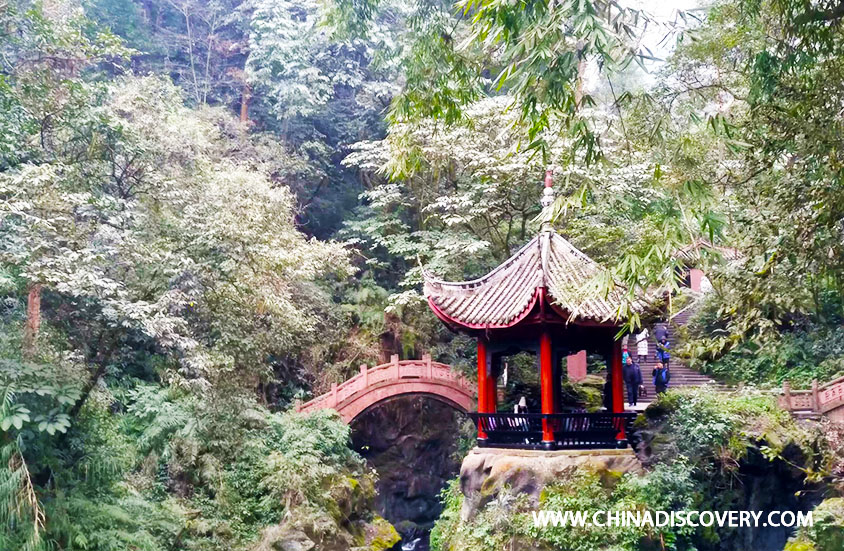 Qinying Pavilion
I finally end my breathtaking trip to Mount Emei, I took a bus at the entrance to get back to the train station. Departing at 16:50, I arrived in Chengdu after 1hr.
Travel gains my passion for my life and the world, as well it creates my memories. I appreciate that I am alive in this world and I have chances to see a bigger more colorful world.
Travel with Me
Hi, I'm Yanny. Are you interested in my two days' Mt. Emei Tour? Feel free to contact me, and I will be glad to tell you more stunning stories about the places I have visited. Or, if you want to customize a tour on your own, I'm always ready to help at any time. With my passion, knowledge and understanding of the essence of travel, I promise I will try my best to make the tour memorable and meaningful for you.
Yanny

Travel Consultant
Recommended Tours
Top 3 tours chosen by most customers to explore in the best way. Check the detailed itinerary, or tailor your own trip now with us.
2 Days Mount Emei Highlights Tour with Sunrise and Sunset

Chengdu / Mount Emei / Leshan Giant Buddha / Chengdu
Have a question? Get answers from our travel experts or guests
Your Question:

Your Name:

Your Email: