Travel with Yanny: 2 Days Leshan Food Discovery and Giant Buddha Trip
Departure Date

2020-04-20

Travel Length

2 Days

Travel Theme

Food, Nature, Culture

Group Size

3

Travel Route

Chengdu - Leshan - Chengdu

Highlights

Leshan Giant Buddha, Leshan Food

Story Tags

#Leshan Giant Buddha#Leshan Food#Leshan
Seated in the Southwest of Sichuang Province, approx. 160km from Chengdu the capital city of Sichuan province, Leshan enjoys magnificent cultural scenery, Giant Buddha, as well as various tempting goodies. My friends and I decided to choose a weekend to re-discover Leshan again.
Booked a train tickets departing at 9:05 on Apr. 20th, we arrived at Leshan at around 10:00. It is rain when we arrived. Waiting for a while at train station, we took a taxi to our hotel. After check in our hotel in the afternoon, we set off to explore snacks in Leshan at the rest of day.
Branch of Sichuan Cuisine – Leshan Snacks
Sichuan cuisine, one of the eight major schools of China's culinary art, is attractive and famous throughout whole China, also enjoys international reputation for being spicy and flavorful. In facts, Sichuan cuisine boasts a variety of flavors and different methods of cooking, featuring the taste of hot, sweet, sour etc. As a branch of Sichuan Cuisine, Leshan food and snacks are influenced by its surrounding cities, such as Chengdu. The reason why Sichuan cuisine is spicy is because Sichuan has high humidity and many rainy days, nevertheless hot pepper helps reduce internal dampness, so it was used frequently in dishes.
I made a list of Leshan food and snacks which I desire to have a try. Now, it is the time!
We came to the first restaurants at Zhanggongqiao which is a famous snack street of Leshan. Qiaojiao Beef is the first attempt. Boiled with Chinese medicinal herbs, it is said that Qiaojiao beef is not only so delicious, but also prevent and cure diseases that attracts excessive locals to taste it. Due to limit and devoid of seats, eaters have to waited with their legs crossed, which is the derivation of its name, Qiaojiao which means legs crossed in Chinese. The main raw materials of Qiaojiao beef are cattle's organs. It boasts both aroma and taste.
Qiaojiao beef is not spicy at all if you can't eat any spicy food, it is the best for you. it don't matter if chillies are adored by you, it is equipped with a plate of chili powder.
√ 2 Days Best Chengdu Leshan Giant Buddha Tour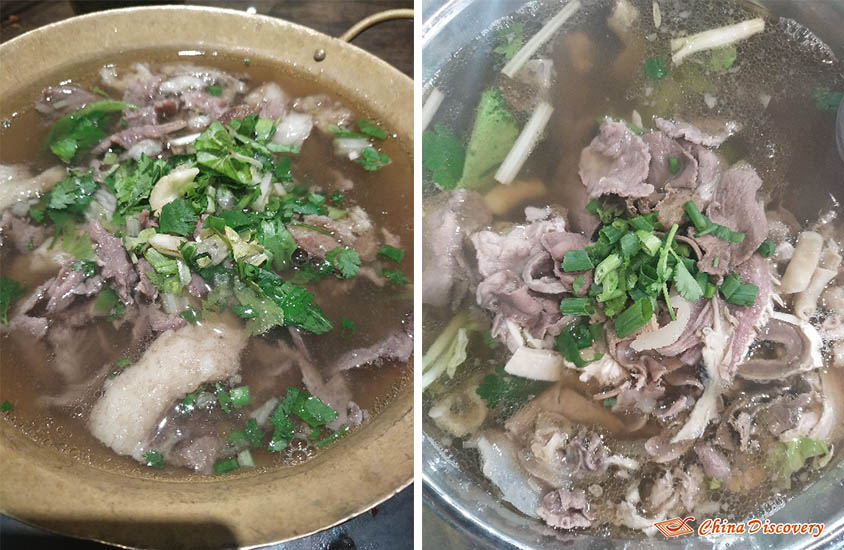 Qiaojiao Beef
You won't want to miss Bobo chicken when you come to Leshan. Bobo chicken is a typical snack of Sichuan Cuisine, dating back to Qing Dynasty. With pottery pot, abundant and various ingredients, such as chicken and enriching with pork ribs, shrimps, lotus root, potatoes, dried Tofu etc. strung on the bamboo sticks to cook in the broth.
Leshan Tofu Jelly is another popular snack in Leshan, which differs from Kaifeng tofu Jelly. Leshan Tofu Jelly is not mainly made from bean Jelly, instead of soup with thickening results, then adding various ingredients, for example, beef, peanut etc. Besides, fired Tofu is very popular in Sichuan, which actually is Yunnan Cuisine, as well as in vogue in Sichuan. With fish mint whose is extremely opposite. People who adore it think it is the best ingredients, while people who hate it think they can never bear its smell. Most of people in Sichuan, Yunnan and Guizhou dig it.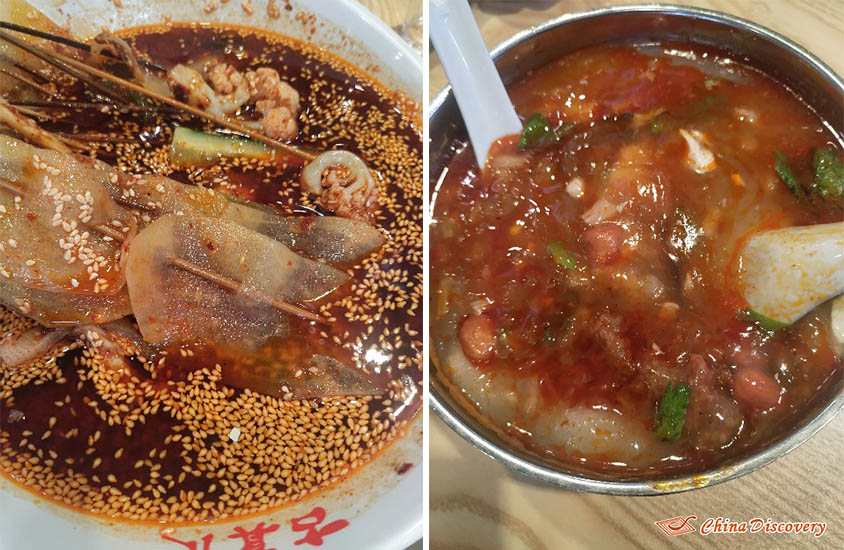 Bobo Chicken and Leshan Tofu Jelly
On day 1, we visited many famous restaurants and there are 2 restaurants I would like to recommend.
First one is GuShiXiang Qiaojiao Beef Restaurant (No.85, Guihua Road, Shizhong District, Leshan City, Sichuan Province), which is far away from downtown, you'd better take a taxi. Gushixiang, an intangible cultural heritage restaurant, whose looks quite distinctive, you can easily find almost all famous snacks there.
Duck Blood with Chili Sauce, Guotie (Pan-Fried Dumplings), etc. are worthy to taste.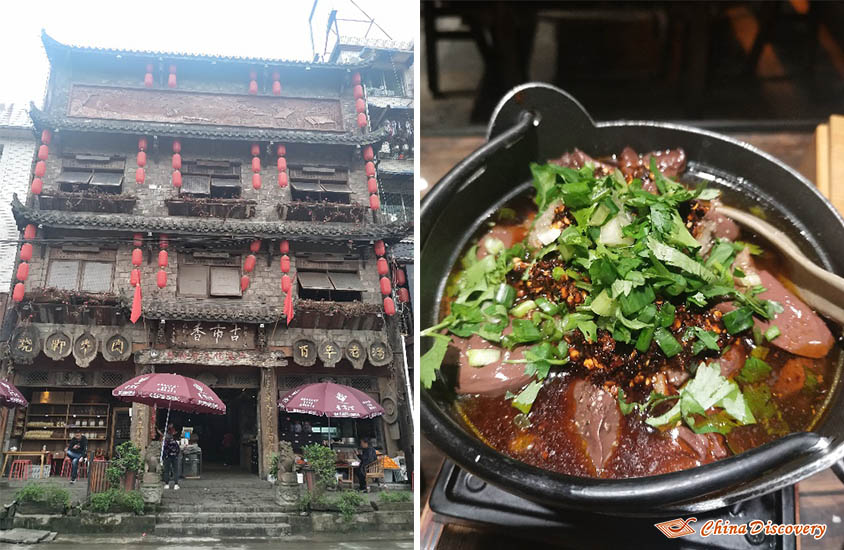 GuShiXiang Qiaojiao Beef Restaurant and Duck Blood with Chili Sauce
Another one is Youji pork intestine restaurant (NO.161 Xiangxiang Street, Shizhong District, Leshan City), famous for its pork intestine. Its meat is melt-in-your mouth tender. It locates at the opposite of Giant Buddha, as well as an intangible cultural heritage restaurant, reported by newspaper and TV station.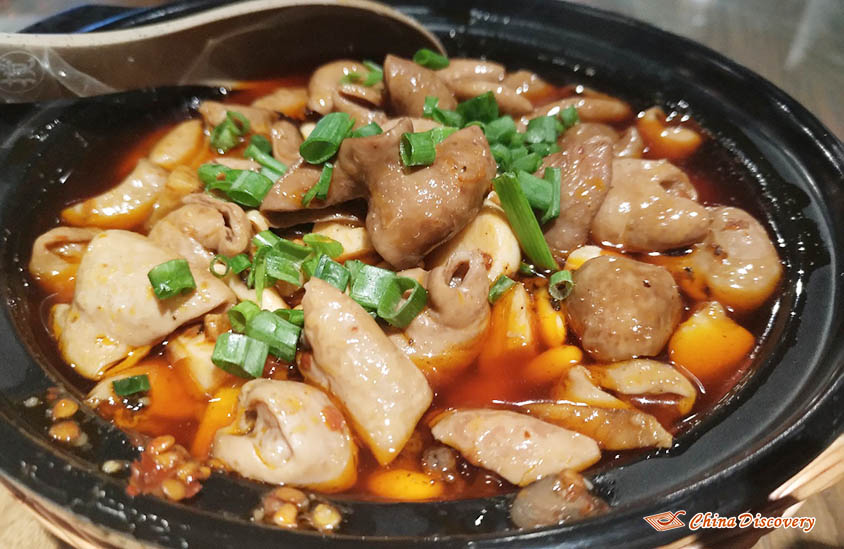 Tasty Pork Intestine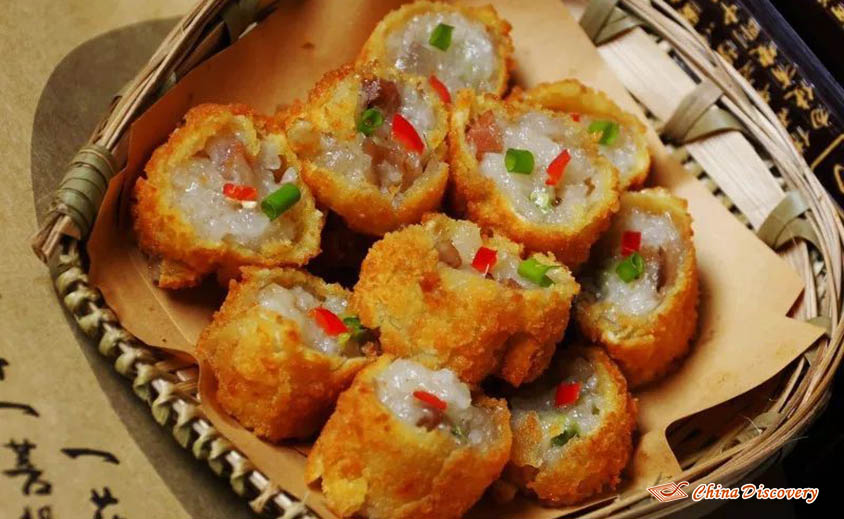 Snack in Youji Pork Intestine Restaurant
If I can choose only one snack to recommend, that would be sweet-skinned roast duck ("Leshan tianpi ya"). Tianpi Ya, pot-stewed with abundant spices, will firstly come to our mind when we talk about Leshan snacks, whose crispy and sweet outside and tender inside makes people adored and crazy for it. Even there are many restaurants sells Tianpi Ya, you can still see people standing in a long queue in the front of restaurants. It cannot be said that one who does not experience Tianpi Ya ever reaches Leshan.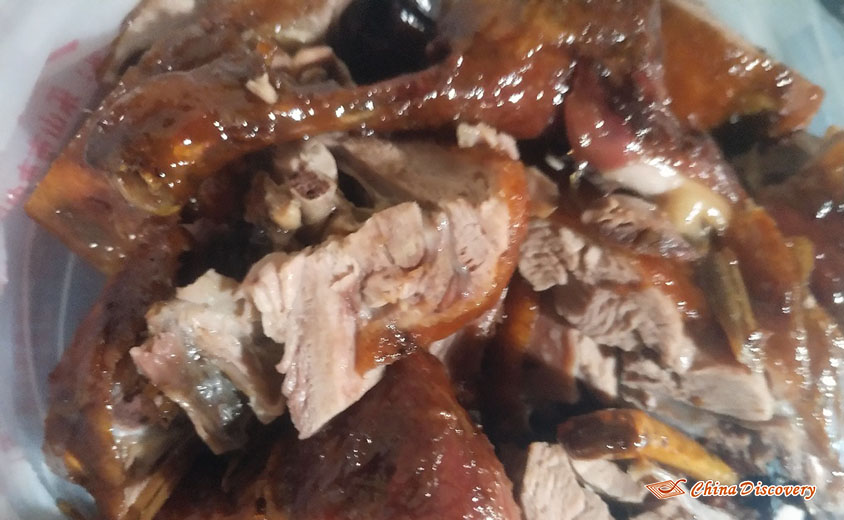 Leshan Sweet-skinned Roast Duck
Shaomai, seaweed soup and a bowel of noodles with chicken are the best for breakfast. Fragrant soup and refreshing noodles provide another bland taste in Leshan instead of always spicy and greasy.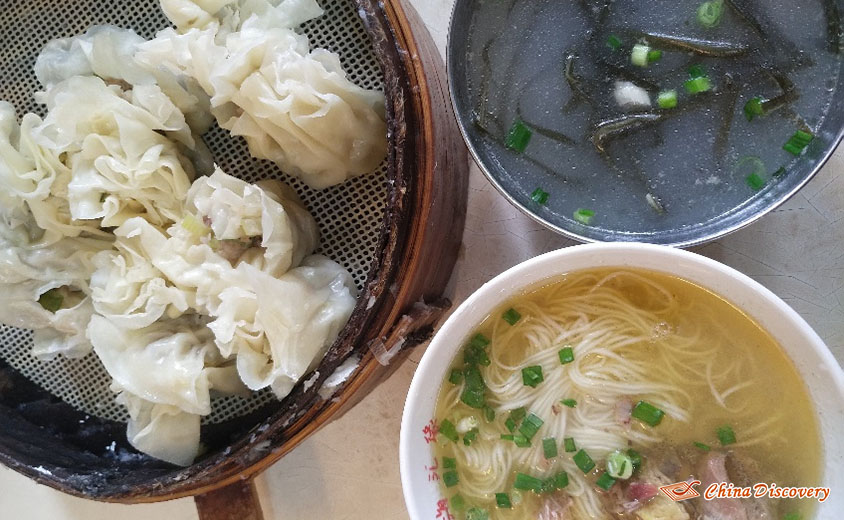 Breakfast with Shaomai, Soup and Noodles
In addition, there are many other snacks and restaurant in Leshan which makes my mouth water. It is worthy to visit to experience its food for a thousands times.
UNESCO World Heritage Site - Leshan Giant Buddha
Facts about Gaint Buddha
As the largest stone Buddha and the largest Budhha sculpture in the world with a height of 71 meters, an ear length of 7 meters, a nose length of 5.6 meters, an eye length of 3.3 meter, and a foot width of 8.5 meters on which can sit more than 100 perople, Leshan Giant Buddha attracts thousands of visitors annually. The Leshan Giant Buddha was chiseled on the cliff where the Min River, The Qingyi River and the Dadu River flow together. About 140km from Chengdu, Leshan is easily accessible from Chengdu by trains and cars. Together with Mt. Emei, it was listed as a UNESCO World Heritage Site together in 1996. Carved from 713AD and completed until 803AD, lasting 90 years and costing an unprededented amount of manpower and material resources. 1021 individual strands of hair were carved in its head.
What makes me impressed is about its outstanding drainage system. A cleverly designed system behind the head and between his two ears makes it the important reason why the Buddha has not eroded despite having existed for thousands of years.
Two methods to watch Leshan Giant Buddha
On foot
To embrace Giant Buddha closely, you can choose on foot or by boat accordingly. You can climb up to the mountain and see the Buddha from the square around its head. On sides of the Buddha are respectively the Lingyun Trestle Road and the Jiuqu Trestle Road, carved on the cliff, which allows you walk down to the bottom. Generally, you need to line up and it is so narrow that only allowing one-way walking. Due to its popularity, there are many tourists usually so that you need to line up for a while. To make your tour more comfortable and reasonable, I will suggest you try to avoid our holiday such as our National Day in Oct. May Day holiday in May, etc.
Because we have limited time and we don't want to spend too much time on line-up, we watch the Buddha at the square on the top area instead of walking down the stair.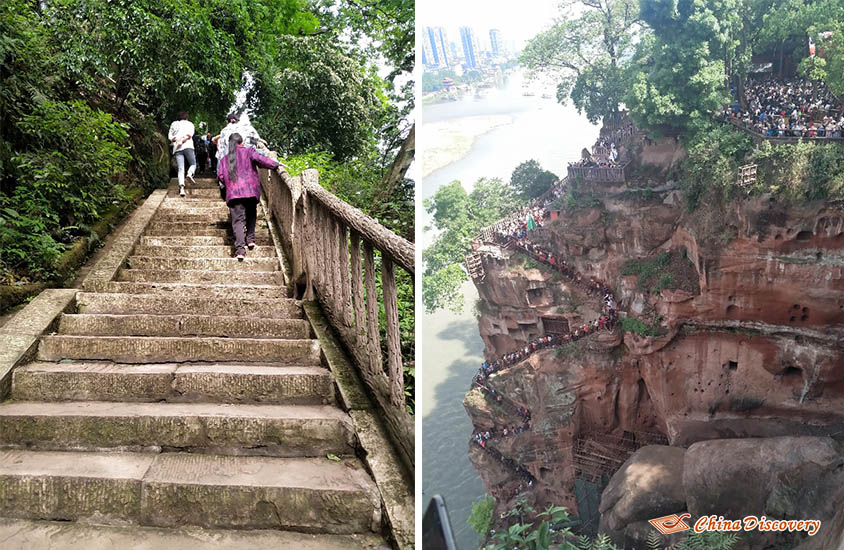 Watch Leshan Giant Buddha on Foot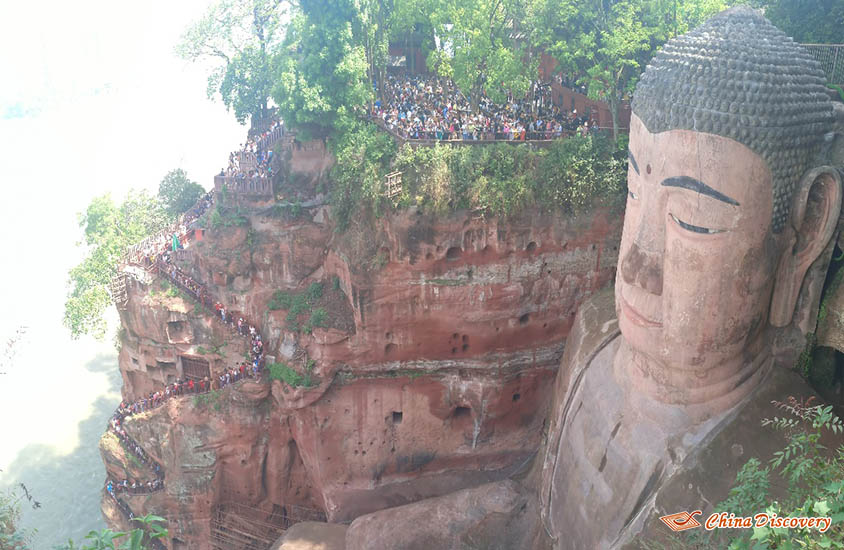 Leshan Giant Buddha
By boat
Then we wandered to the port prepare to take the boat. If you want to save your energy and prefer an easier tour instead of climbing. Boat is highly recommended. It cost 80CNY per person. Departing from pier, the boat take us in the front of the Buddha, stop for a while to allow guests to take photos with Giant Buddha. After about 20mins, you will be transferred back the pier.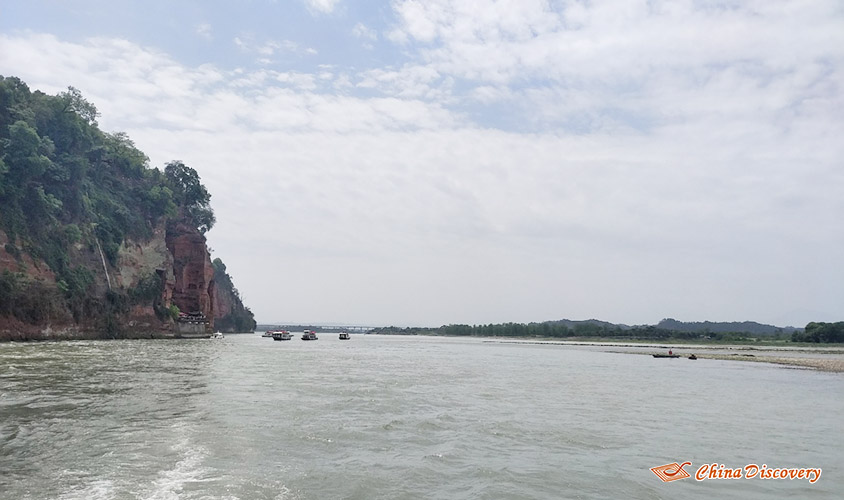 Ready to Take a Boat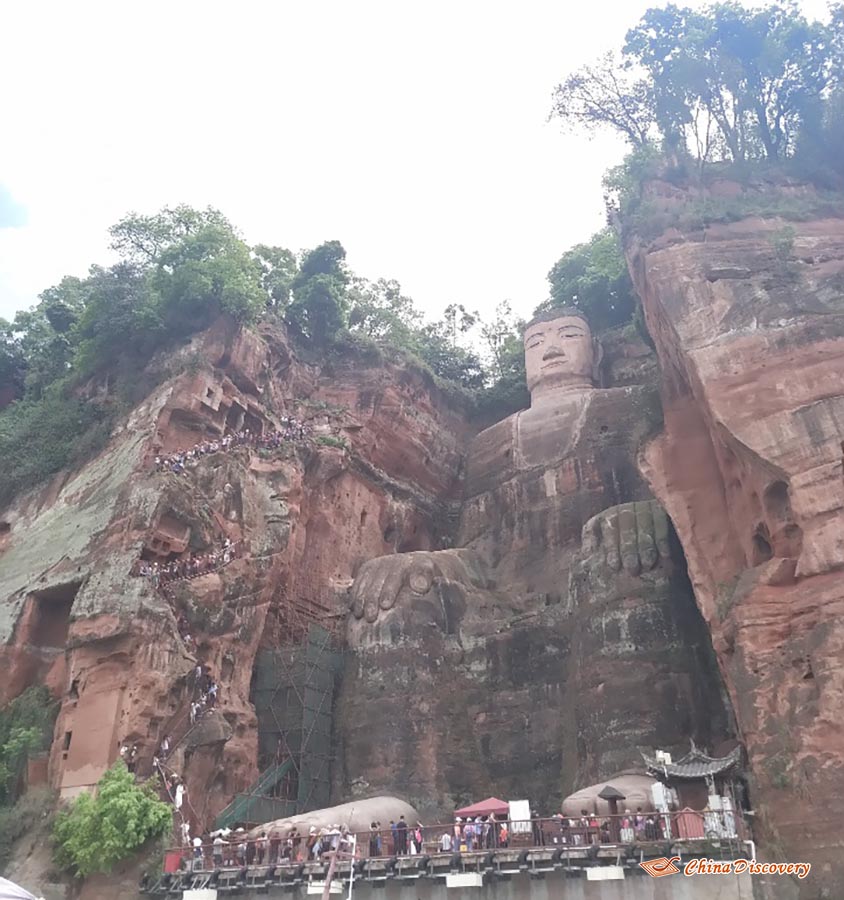 Leshan Giant Buddha Seen from the Boat
Ending our trip in the afternoon, we bought many food back to Chengdu to share with our friends. Departing at 17:00 from Leshan, we finished our Leshan snacks and Giant Buddha tour reluctantly.
Travel with Me
Hi, I'm Yanny. Are you interested in my 2 Days Leshan food discovery and Giant Buddha tour? Feel free to contact me, and I will be glad to tell you more stunning stories about the places I have visited. Or, if you want to customize a tour on your own, I'm always ready to help at any time. With my passion, knowledge and understanding of the essence of travel, I promise I will try my best to make the tour memorable and meaningful for you.
Yanny

Travel Consultant
Recommended Tours
Top 3 tours chosen by most customers to explore in the best way. Check the detailed itinerary, or tailor your own trip now with us.
2 Days Best Chengdu Leshan Giant Buddha Tour

Chengdu / Leshan Giant Buddha / Chengdu
4 Days Classic Leshan Buddha & Mount Emei Tour from Chengdu

Chengdu / Leshan / Mt. Emei / Chengdu
1 Day Panda Visit & Leshan Giant Buddha Tour

Chengdu / Leshan Giant Buddha / Chengdu
Have a question? Get answers from our travel experts or guests
Your Question:

Your Name:

Your Email: