Travel with Yanny: 1 Day Dujiangyan & Mt. Qingcheng Trip by Car
Departure Date

2019-08-11

Travel Length

1 Day

Travel Theme

Nature, Culture, Hiking

Group Size

3

Travel Route

Chengdu - Dujiangyan - Mount Qingcheng - Chengdu

Highlights

Dujiangyan Irrigation System, Mount Qingcheng

Story Tags

#Dujiangyan#Mount Qingcheng
In Aug, one of my friends came to Chengdu for tourism, I would very much like to introduce my hometown to him. I arranged several days' tour for him among which we spend one whole day in Dujiangyan and Mt. Qingcheng.
Day 1 Chengdu-Dujiangyan Irrigation System-Mt. Qingcheng-Chengdu
To make a worry-free tour, we choose to join in a group departing from Chengdu. The driver picked us up in the early morning. To avoid traffic jam, we'd better leave Chengdu downtown more early because of crowded weekend. If you would like to visit Chengdu, trying to avoid our holiday, such as National Day holiday is highly recommended. Taking about 1.5hrs, we arrived at Dujiangyan at around 9:30. Our guide booked entrance tickets for us and provide useful suggestions that we firstly came to the back gate, thus we avoid climbing from the front gate. It is more energy-saving from back gate.
√ 1 Day Dujiangyan & Mount Qingcheng World Heritage Tour
What you need to know about Dujiangyan Irrigation System
First built in the Warring States Period under the direction of Li Bing, Dujiangyan Irrigation System has a history of more than two thousand years. In 2000, it is listed as World Heritage Site by UNESCO. In Ancient China, Sichuan, Chengdu suffered from floods frequently. Li Bing, as the governor of Chengdu, are designated to control floods. Since then he and his follows started to build Dujiangyan Irrigation System, which is regarded as the reason why Chengdu has become the "Land of Abundance" in today. Lasting over two thousand years, it still works and benefits Chengdu plain, turned a pearl in the water works construction of ancient China.
Dujiangyan Irrigation System is unique, not only with a scientific marvel, but also China Philosophy reflects. There are three main parts: a fish-mouth-like water-dividing dyke, two spillways for discharging flood waters and silt, and a channel cut through Yulei Mountain as a water inlet. Those three parts acts together, in this case, scientifically solving the problems of discharging floods and flushing sediment.etc.
Firstly, Yuzui divided the river into two, Outer River and Inner River, providing irrigation when dry season and controlling floods when rainy season.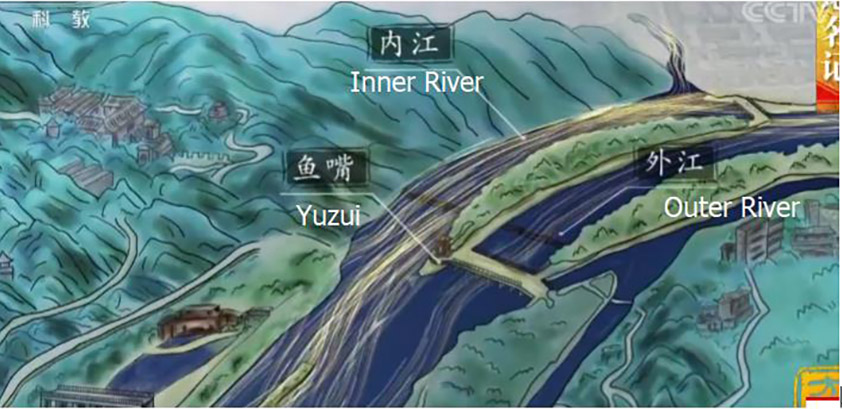 Yuzui Divides the River into Outer River and Inner River
Second one is Feishayan Spillway, which is a multi-functional spillway, both flushing sediment and adjusting water volume. What makes its impressive is its ingenious application of centrifugal force.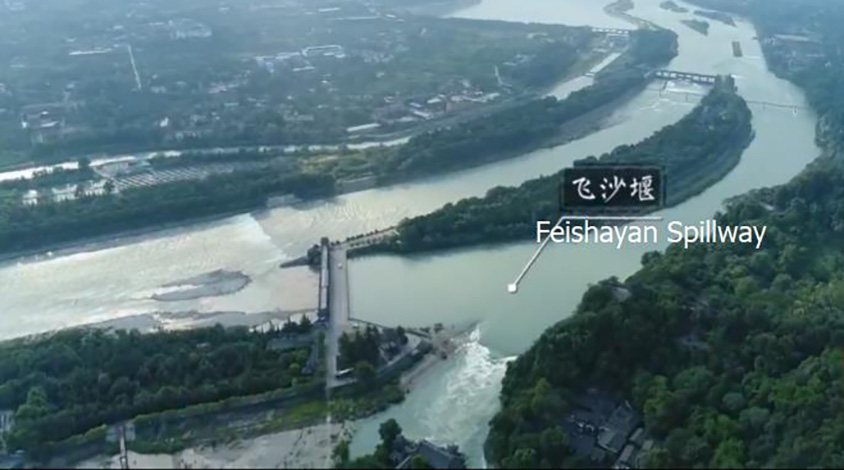 Feishayan Spillway
The third part is Baopingkou water inlet. Flowing through Feishayan Spillway, Inner River start from there to Chengdu plain and provide benefits to people there. It is said that Li Bing firstly burned rocks of Yulei mountain making it heated, and then watered the red-hot rocks. That how he broke Yulei mountain within short years.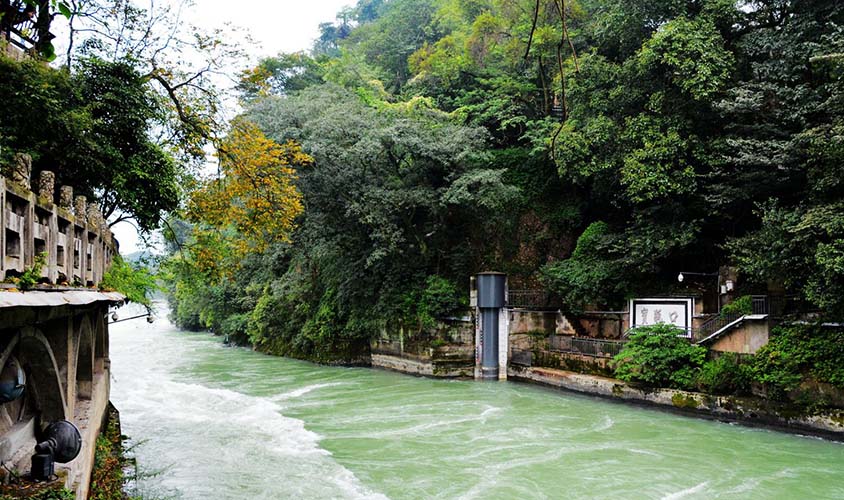 Baopingkou Water Inlet
Dujiangyan Irrigation System contains ancient oriental philosophy and wisdom, attracting thousands of both domestic and overseas tourists. In Chinese philosophy, people are always in pursuit of the harmony in man and nature. Dujiangyan Irrigation System perfectly make full advantages of mountains, water and law of nature to solve problems and benefits people.
Besides, Dujiangyan has a beautiful landscape and many cultural relics and historical sites, including Erwang Temple and the trail bridge.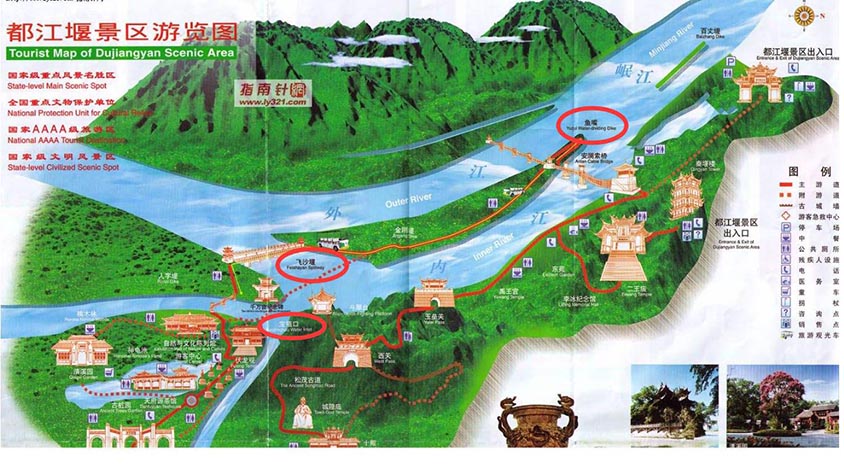 Dujiangyan Irrigation System Tourist Map
Highlights in Mt.Qingcheng and Taoism
After Dujiangyan Irrigation System, we had lunch with others. At around 13:30, we came to Mt. Qingcheng which is located at Dujiangyan city as well, about 22km far from Dujiangyan Irrigation System. Mt.Qingcheng, famous as the one of the most tranquil place in the world.
We have been to Mt. Qingcheng for several times, but I am still not bored of it. As the saying goes, go to Dujiangyan to appreciate the water and go to the Mt. Qingcheng to worship the Taoism. Together with Dujiangyan Irrigation System, Mount Qingcheng is listed as World Heritage Site by UNESCO, and it is one of the four famous Taoist mountains in China.
This time, we climbed the Front Mountain as most of relics are located at the Front Mountain. Mt. Qingcheng is covered by verdant forests, making its best choice in summer to avoid hot weather in rushed cities. Meanwhile, as one of the places where Taoism came into being, Mt. Qingcheng has many historical relics, such as Jianfu Palace and Tianshi Celestival Cave.
The central concept of Taoism is non-action, which means that an individual should work with nature, not fight against it. According to the theory of 'wu wei', the most harmonious way to live our life is to act like the water in a river by following the natural and predetermined route. Taoists believe that the universe is originally full of chaos and turmoil, but the perfect balance of yin and yang created calmness. Harmony with nature and in pursuit of balance between man and nature, it happens to coincides with concepts of Dujiangyan Irrigation System, and this concept affects the building of temple as well as architecture in China. Build on the hill and adjusted themselves to the mountain, Taoism reflects everywhere. On the tourism road of Mt.Qingcheng stand over a hundred pavilions. Their array and shape integrate Taoism ideas of "syncretism between heaven and man" "learning from the nature" and "the three begetting all things of the world" to a great extent.
Along the stairs to the hill, you will see many temples. Look at it closely, you will find many delicate decoration and carving closely related to Taoism.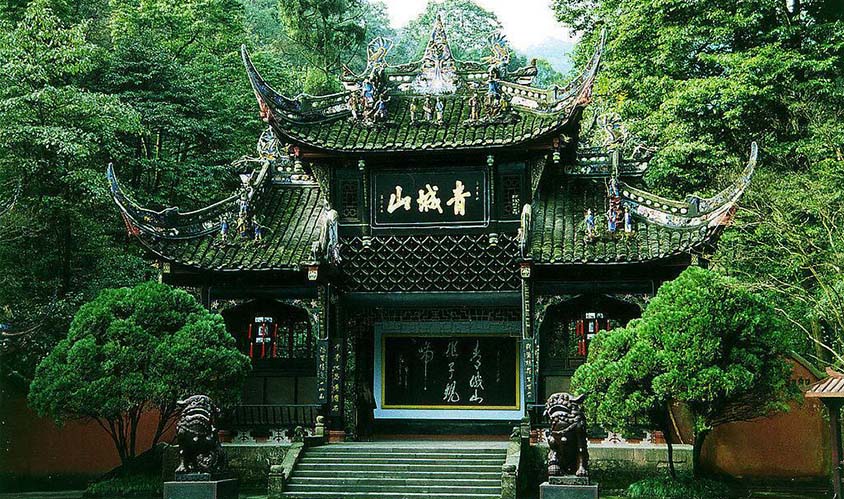 Mount Qingcheng
Travel with Me
Hi, I'm Yanny. Are you interested in my 1 Day Dujiangyan & Mount Qingcheng Tour? Feel free to contact me, and I will be glad to tell you more stunning stories about the places I have visited. Or, if you want to customize a tour on your own, I'm always ready to help at any time. With my passion, knowledge and understanding of the essence of travel, I promise I will try my best to make the tour memorable and meaningful for you.
Yanny

Travel Consultant
Recommended Tours
Top 3 tours chosen by most customers to explore in the best way. Check the detailed itinerary, or tailor your own trip now with us.
1 Day Dujiangyan & Mount Qingcheng World Heritage Tour

Chengdu / Dujiangyan / Chengdu
4 Days Chengdu & Dujiangyan All Bests with Panda Volunteer Tour

Chengdu / Dujiangyan / Chengdu
3 Days Chengdu, Mount Qingcheng & Dujiangyan Tour

Chengdu / Dujiangyan / Chengdu
Have a question? Get answers from our travel experts or guests
Your Question:

Your Name:

Your Email: