Yanny's One Day Trip with Cute Pandas in Chengdu Panda Base
Departure Date

2019-11-03

Travel Length

1 Day

Travel Theme

Nature

Group Size

2

Travel Route

Chengdu - Chengdu Panda Base - Chengdu

Highlights

Chengdu Panda Base

Story Tags

#Chengdu Panda Base#Panda
Do you still remember those photos? A baby panda fell from the stage, which was named as one of the 50 astonishing images of 2016 by Times magezine. Or the video in which a baby panda stopped Nanny's work with hugging his legs all the time. They all come from a panda base in Chengdu, Sichuan province.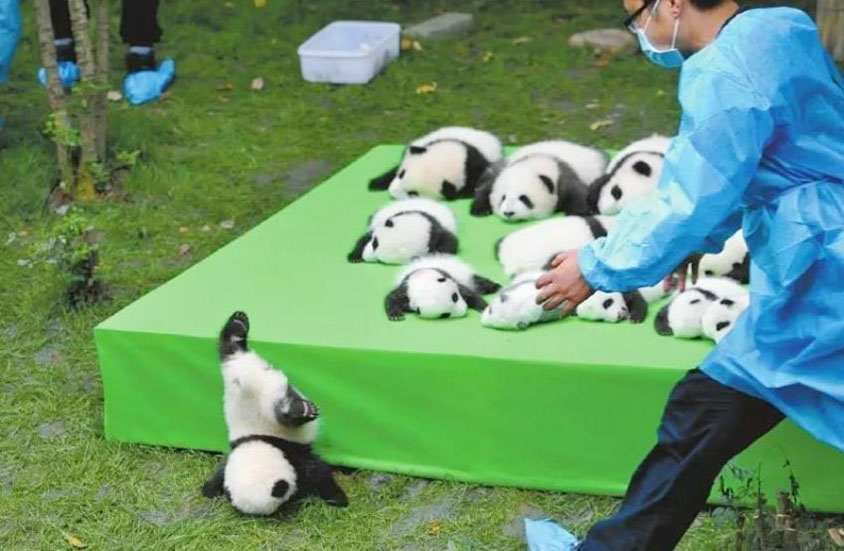 A Baby Panda Fell off the Stage
Pandas, as the most famous travel card of Chengdu, remain the main reason why they travel in Chengdu, attracting domestic and overseas tourists all year. Chengdu Research Base of Giant Panda Breeding, as the closest panda base to Chengdu, becomes the most popular one. Meanwhile, there are over 120 pandas, having many well-known panda stars, and most importantly, you are able to see baby pandas there. Chengdu Research Base of Giant Panda Breeding will be the best choice for one day Chengdu panda tour.
Be invited by my friends, I visited Panda base again in Nov. I would like to share with my detailed tour. I hope it will be helpful.
√ 1 Day Chengdu Relaxing Panda Highlights Tour
Suggested visiting time: Generally, our pandas have breakfast from 9:00, which is regarded as the best time to visit pandas as they are active at breakfast time. After that, you will see them sleeping all the time. Meanwhile, So that, visiting them in the morning will be recommended. And generally, Giant pandas live in the dense and cloudy forests at an altitude of 2,600 to 3,500m, where the air is thin and the temperature is below 20℃ all year round. So they are less active in hot weather.
Opening hours: 07:30am – 18:00 pm throughout the year.
Location and Transportation: Chengdu Research Base of Giant Panda Breeding located at Chengdu, about 10km far from Chengdu downtown. It is easy accessible by metro, bus, taxi and private car. Because we live in Chengdu, we choose metro with which we arrived at Panda Avenue station. At there, we are guided with staff to book entrance tickets and take bus to Panda base. In the buses, there is one guide to give us some brief introduction about panda base. After 10 mins driving, we arrived at Chengdu Research Base of Giant Panda Breeding.
Tickets: Full price: RMB 58 per person.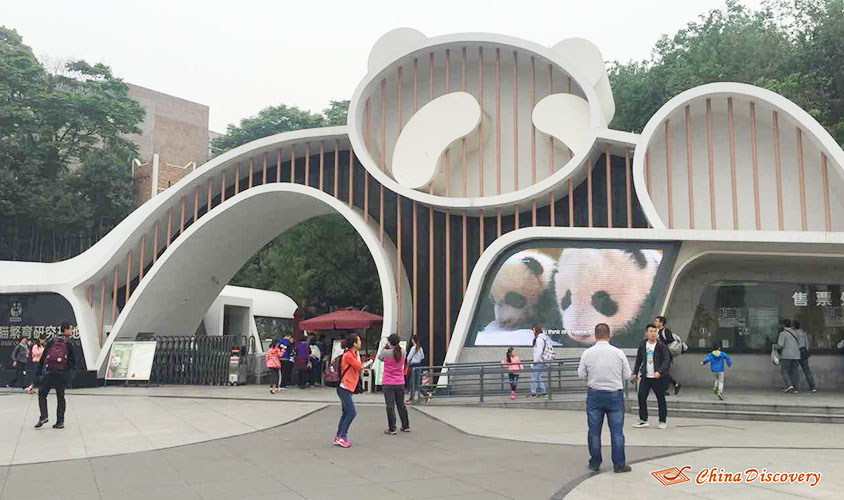 Entrance of Chengdu Panda Base
After self-service entry with our ID card, we give up the sightseeing bus, but choose to hiking whole day. If you have limited time, you can choose sightseeing bus provided by the Base. Only with 1.5hr, you can see all the highlights of this Base.
We prepared to hiking, finally it turns out we spend 3.5 hr to visit all highlights.
It is important to choose a proper route to enjoy your Panda tour in the Based. After the main entrance, we firstly came to the Swan Lake where you can black swans, etc.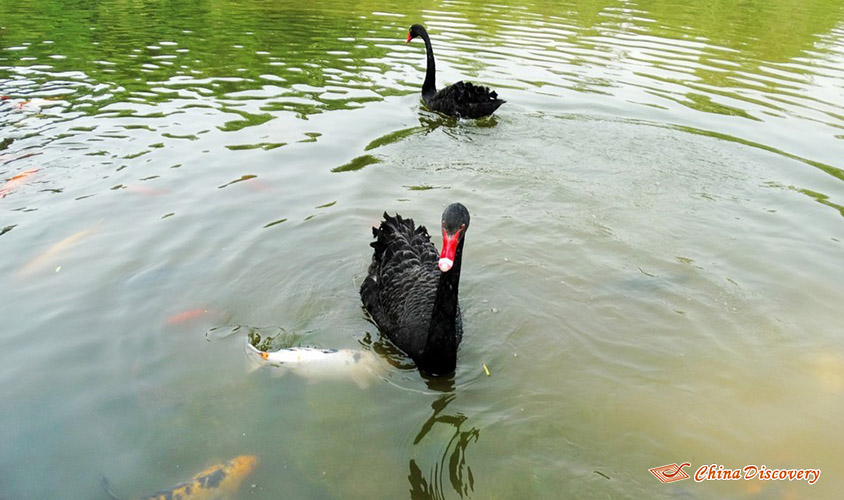 Swan Lake in Chengdu Panda Base
With the rest of the day, we heartily enjoy our panda time as we saw many pandas in various enclosure. They are supper lazy even they are eating. The giant panda's diet is over 99% bamboo which consists of 12 genera and over 60 species. In addition, giant pandas in the wild will occasionally eat animal carcasses or other plants. All giant panda food must follow a strict set of criterion and are required to take safety and nutrition tests before use. Only those meeting the requirements can be provided to giant pandas. Do not feed them during your visiting. And although they are famous for the most adorable animal with round face, chubby body, but they are also dangerous, having paws as sharp as scalpel.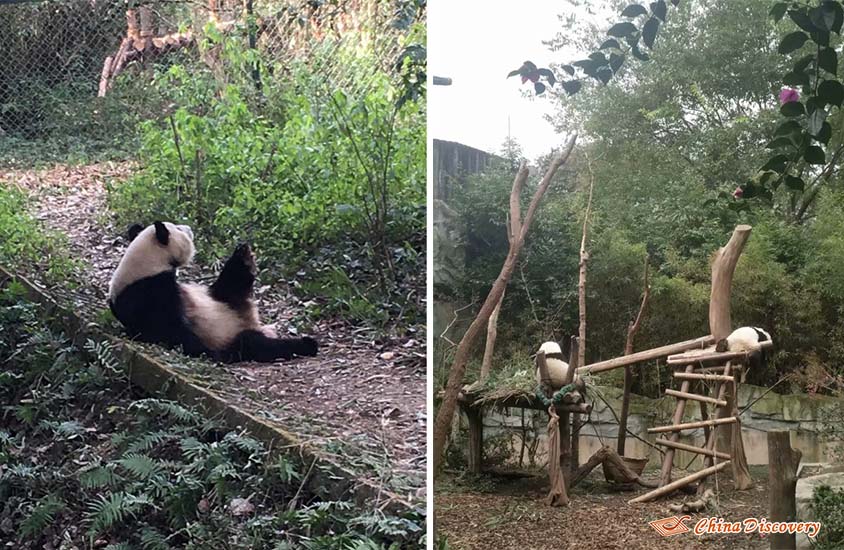 Pandas in Chengdu Panda Base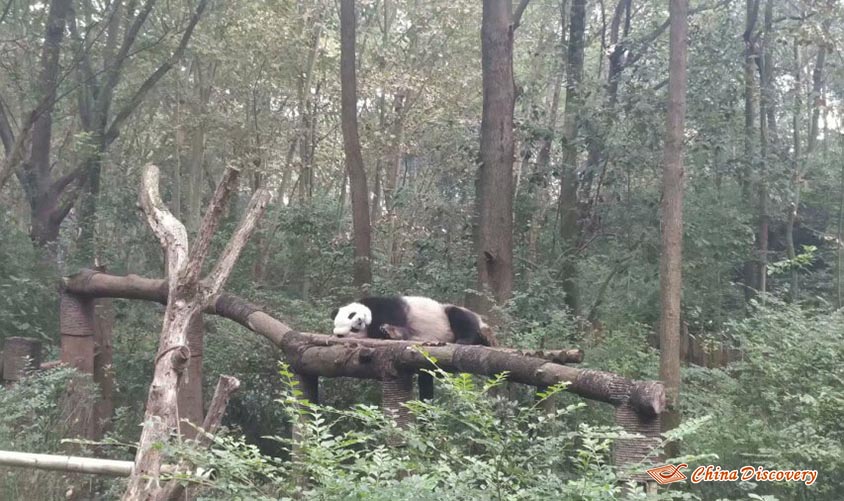 Panda Lying on the Outdoor Bed
After visiting some Sub-adult Panda Enclosure, we came to Giant Panda Cub Enclosure, Sunshine Nursery House for Giant Panda and Moonlight Nursery House for Giant Panda. What makes me most excited and impressive is that we saw baby pandas in Moonlight Nursery House for Giant Panda. You may unable to see baby pandas in other Panda base, let alone zoos. If you are a big fan of pandas, don't miss Moonlight Nursery House.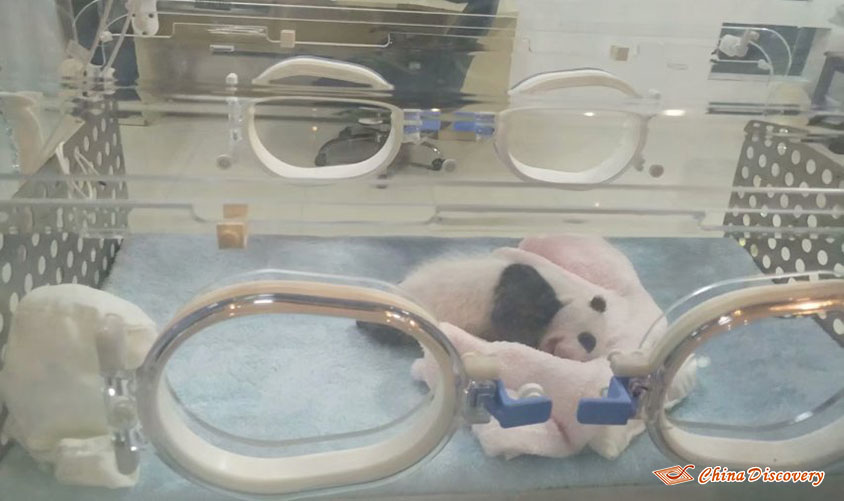 Baby Panda in Incubator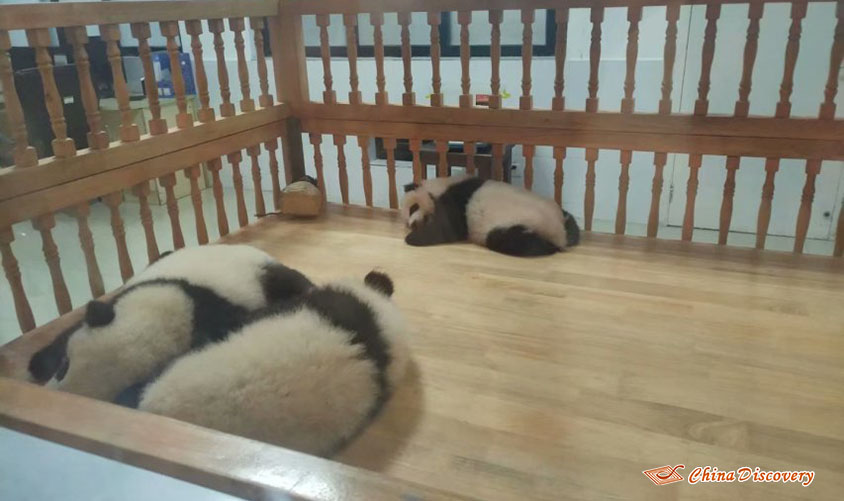 Baby Pandas Grow up a Little
Apart from Pandas, you will know more about them, such as their foods, feeding, behavioral characteristics. etc.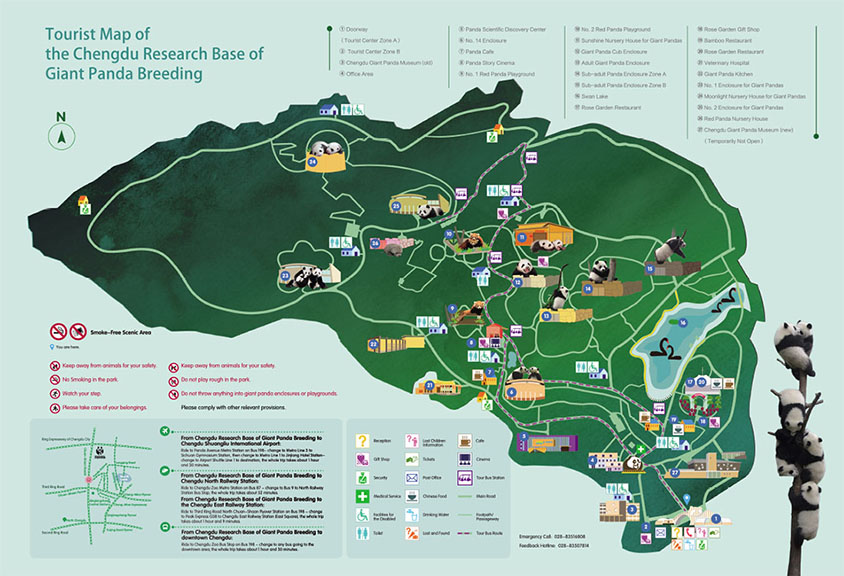 Chengdu Panda Base Tourist Map
Here is the recommended route (3h tour)
(1) Main Entrance → (14) (15) Swan Lake (Rose Garden) (12) Sub-adult Panda Enclosure → (11) Giant Panda Cub Enclosure → (10) Sunshine Nursery House for Giant Panda ( 20) No.2 Enclosure for Giant Panda→ (19) Moonlight Nursery House for Giant Panda (18) No.1 Enclosure for Giant Panda → (17) Giant Panda Kitchen → (16) Panda Hospital → (5) Panda Scientific Discovery Center → (3) Giant Panda Museum → (1) Main Entrance
After your panda tour, you completely are able to visit other downtown sites such as People's Park and Jinli Old Street. It will enrich your tour and you will never be regretful.
Travel with Me
Hi, I'm Yanny. Are you interested in my 1 Day Chengdu Panda Base Tour? Feel free to contact me, and I will be glad to tell you more stunning stories about the places I have visited. Or, if you want to customize a tour on your own, I'm always ready to help at any time. With my passion, knowledge and understanding of the essence of travel, I promise I will try my best to make the tour memorable and meaningful for you.
Yanny

Travel Consultant
Recommended Tours
Top 3 tours chosen by most customers to explore in the best way. Check the detailed itinerary, or tailor your own trip now with us.
1 Day Chengdu Relaxing Panda Highlights Tour

Chengdu (Chengdu Banda Base, People's Park, Jinli Old Street)
2 Days Leisure Chengdu Private Tour with Panda Visit

Chengdu: Jinli Street, Giant Panda Base, Wenshu Temple
3 Days Chengdu Highlights Tour plus Leshan Giant Buddha

Chengdu: Chengdu Panda Base, Leshan Giant Buddha, Jinli Street
Have a question? Get answers from our travel experts or guests
Your Question:

Your Name:

Your Email: