Travel with Riley: 2 Days Great Summer Holiday in Heavenly Mount Jiuding
Departure Date

2020-06-27

Travel Length

2 Days

Travel Theme

Nature, Friends

Group Size

2

Travel Route

Chengdu- Mt. Jiuding -Chengdu

Highlights

Mt. Jiuding, Black Dragon Pool, Sunrise

Story Tags

#Sichuan Tour#Mt. Jiuding#Summer Resort#Nature Tour
Living in Chengdu, you'll never be short of places to spend weekends. There are so many famous attractions, Panda Base, Mt. Leshan, Leshan Buddha, and so forth. But now I am talking about this place you may never have heard of Mt. Jiuding. In my 8th year living in Chengdu, I took the 3rd trip to Mt. Jiuding last month and I am planning on a 4th trip now, you can imagine how attractive this place is.
Mt. Jiuding is a paradise for some people and hell for others. You can never see its real face unless hiking 3-4 hours up to the top, and we are talking about hiking at an altitude of over 3000m! The weather matters a lot, if you got bad luck, you may see nothing but fog on the mountain top. If it rains, oh even worse, the mud would be deep and make every move super difficult.
Let's go with some basic information about this mountain first. Jiuding Mountain is located in the southern part of Maoxian County, Aba Prefecture, a 4-hour ride away from Chengdu downtown. The most attractive thing here is the "100,000 mus (16473.7 acres) of flowers" which are all in full bloom in summer. Late May-Late July 10,000 mus (1647.4 acres) of azalea can be viewed here. It's also possible to see a starry sky, sunset, and sunrise, sea of clouds.
If you are lucky enough, you can see all of those marvelous sights at one time!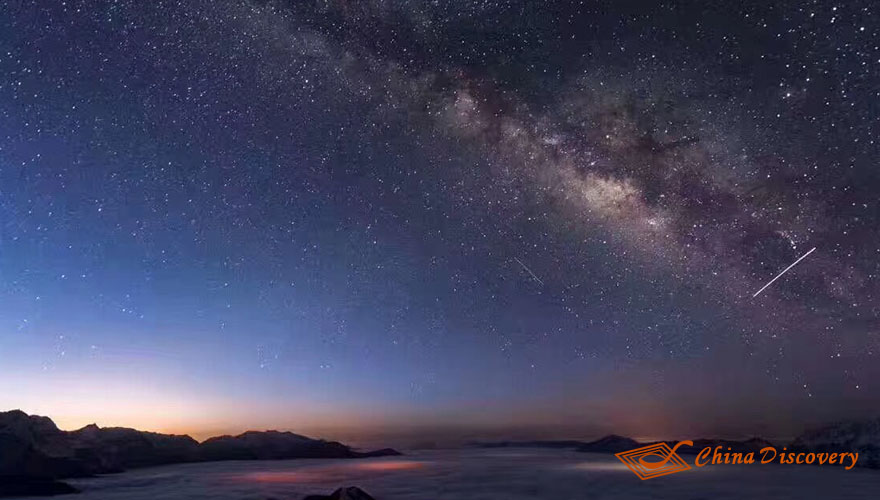 Starry Sky & Sea of clouds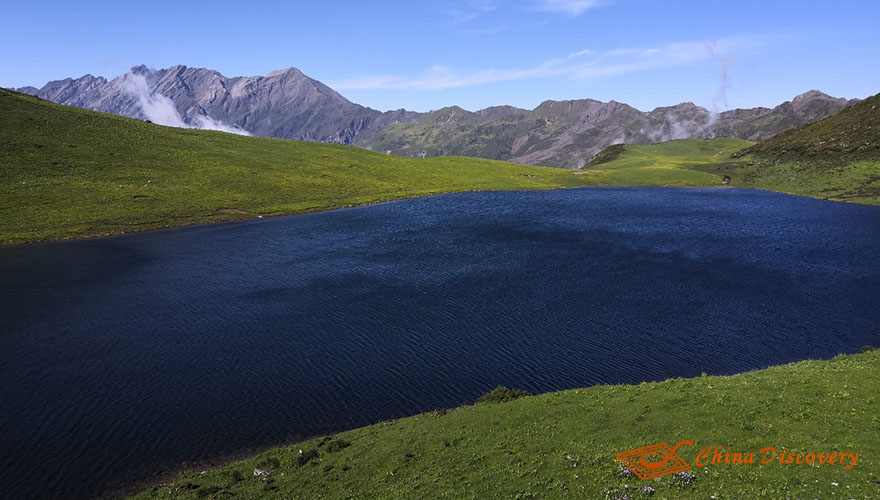 Black Dragon Pool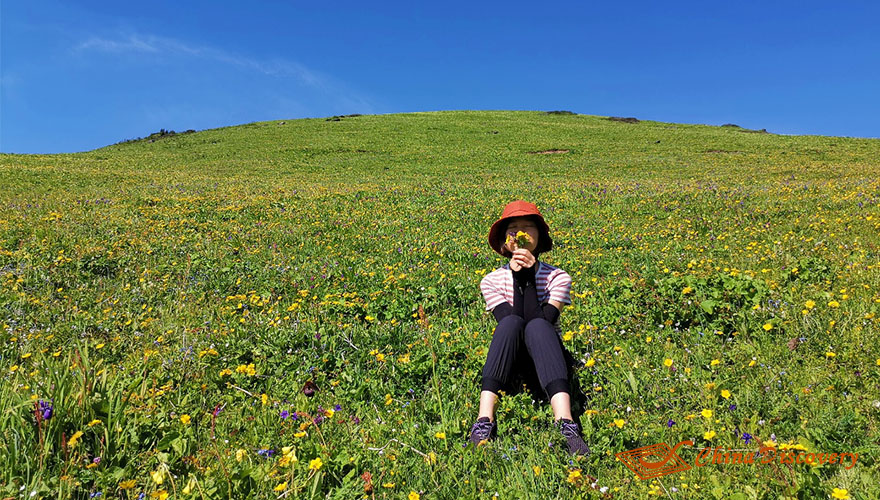 Flowers in full bloom
Day1: Chengdu- Mt. Jiuding
To avoid traffic jams, we hit the road in the very early morning like 6 am. 3.5hours late, we reached the parking lot at the foot of Mt. Jiuding. The parking lot is actually a 40-minute walking distance from the real entry of the mountain, you could either walk to the entry or take a minivan. As the picture below shows, there is only one muddy path leads to the top.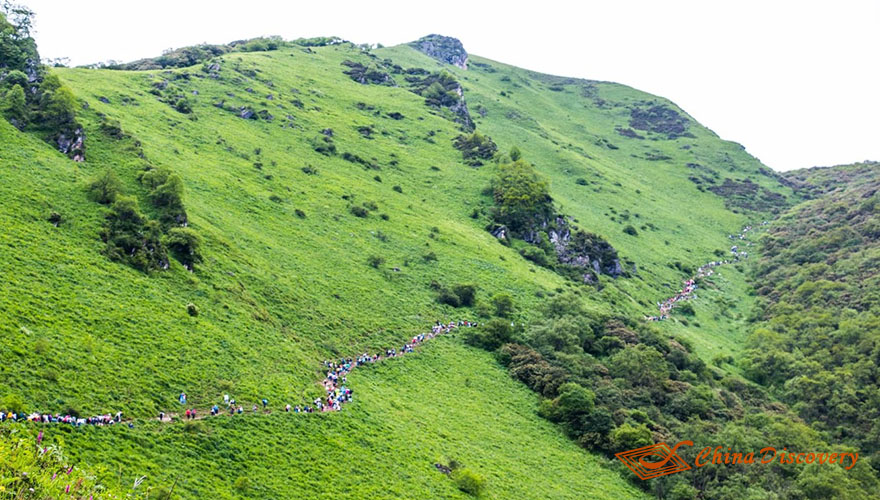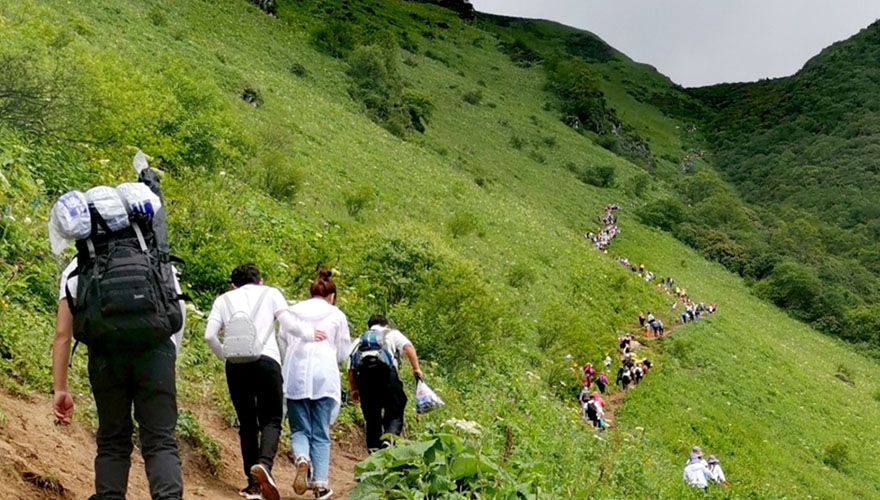 Hiking Route to Mt Jiuding
There is this small stall just right at the entrance where you could buy some water and quick food, then no shops all along the way up. Ok then, take a deep breath, let's get the hiking started!
The first hour was easy, the altitude is around 2500m and I felt good. With the altitude rising, I began to lose my breath, not because of physiological fatigue, my legs are not even sore, just hypoxia. Anyway, I still felt ok. Halfway to go, the gradients were getting steeper and I literally started to feel tired, my knees are sore, the road was uneven, we trudged forward more slowly and painfully than we had done yet, I stopped to catch my breath every 10 minutes. Fortunately, the view along the way was spectacular, whenever I looked around, it was as beautiful as a painting. Colorful flowers in full bloom all over the mountain, the sky is bluer than ever, white smoke swirling around the mountain peak. If you dare to look down, it's thrilling and breathtaking.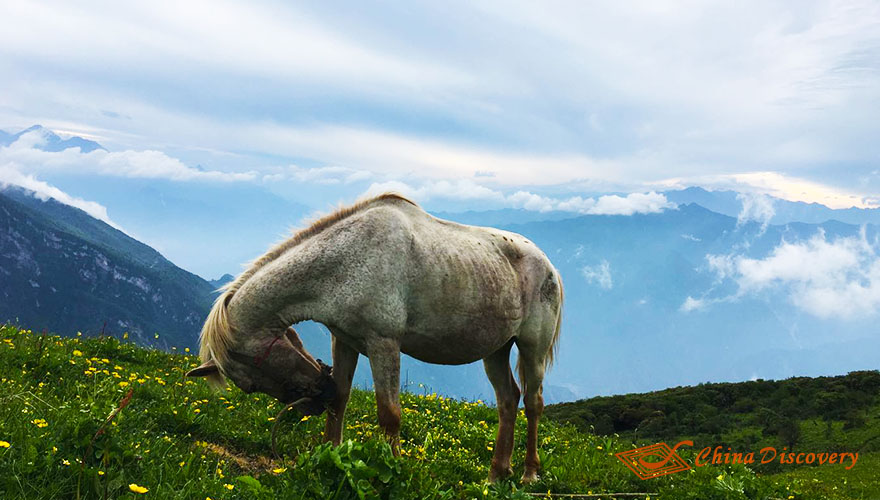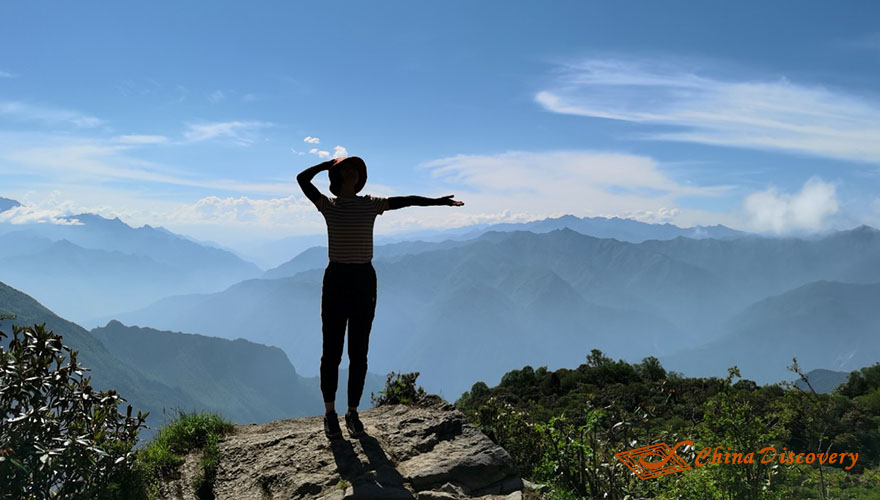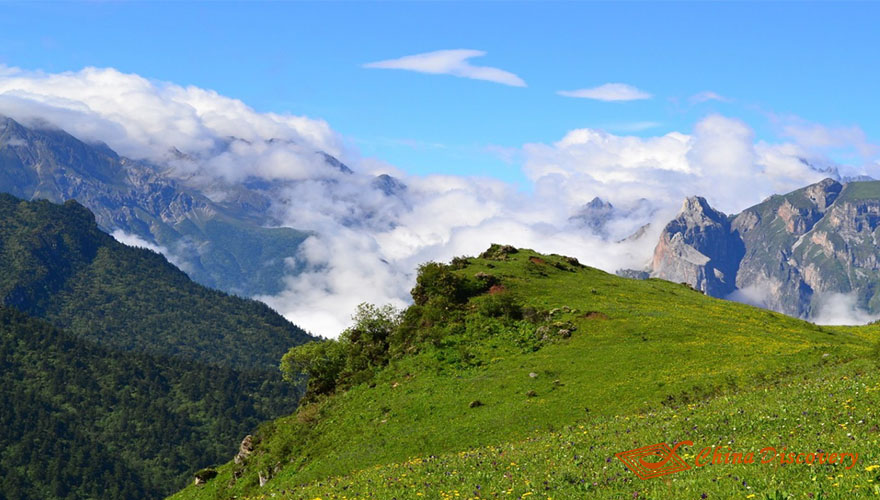 View along the way
With the gain in altitude, we all displayed some typical side effects such as elevated heart rate and bluish lips due to less oxygen. As a result, each step forward was more challenging than the one before. But finally, we were getting more and more closer to the top.As the proverb says, There is no peak that is higher than the knee pits, which means that man can scale any mountain!
There is this tent base on the mountain top, so people don't need to carry on their own tents which will make hiking much harder.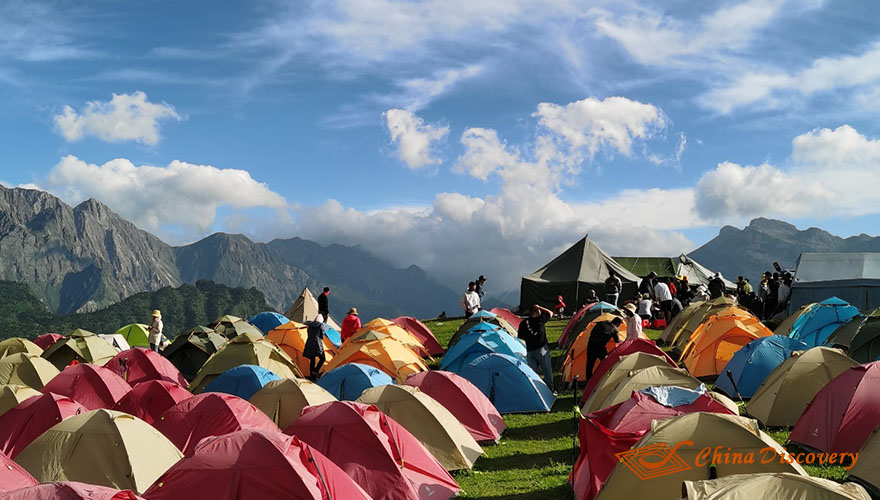 The tent base
Some locals live here to serve travelers dinners and breakfasts during peak season. The water and food are carried up by horses, so food choice and living conditions are limited, no running water, no shower, no toilet, we were literally camping. Hot pot is the regular dinner at the tent base.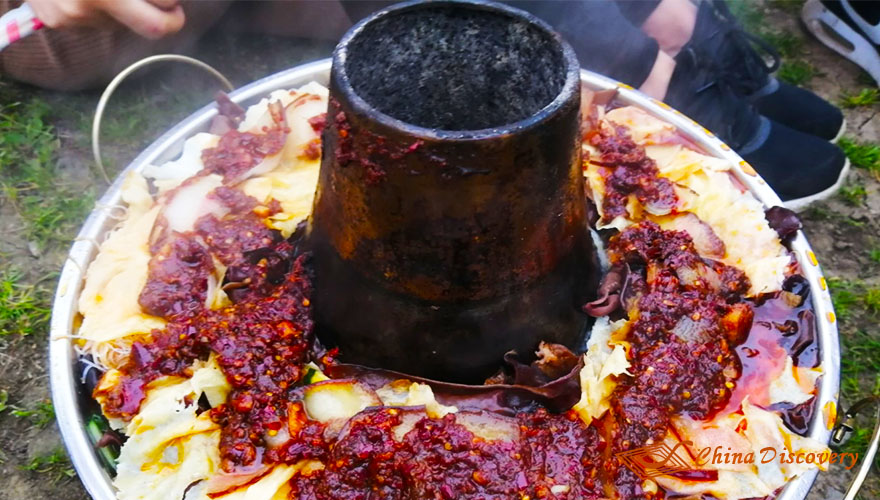 Hot Pot dinner
The breathtaking scenery on the mountain top could take away all my fatigue and pressures from work and life, the gentle breeze blew off, made me feel at ease and relaxed. Standing on the grassy slope beside the tent base, you don't even need to find a specific spot to get good great pictures, because you are standing right in the middle of the beautiful painting!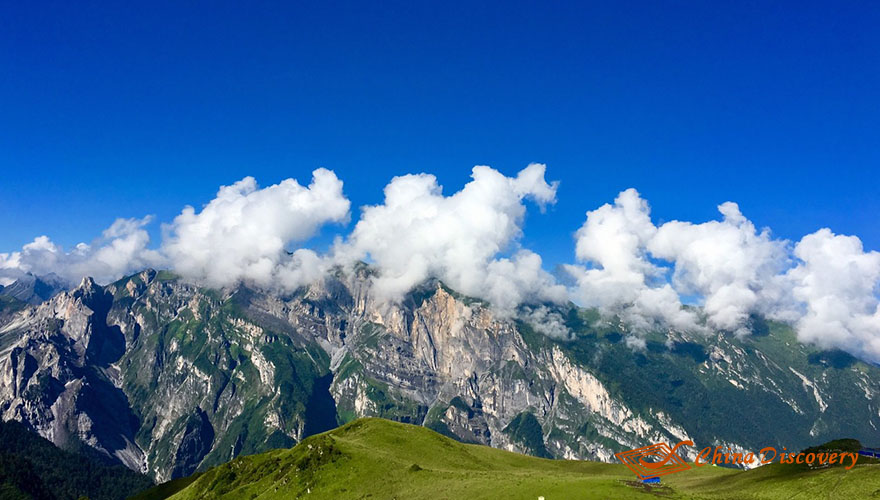 Breathtaking scenery
The evening is extremely cold even in the mid-summer. We had to gather in the kitchen to warm up by the fire.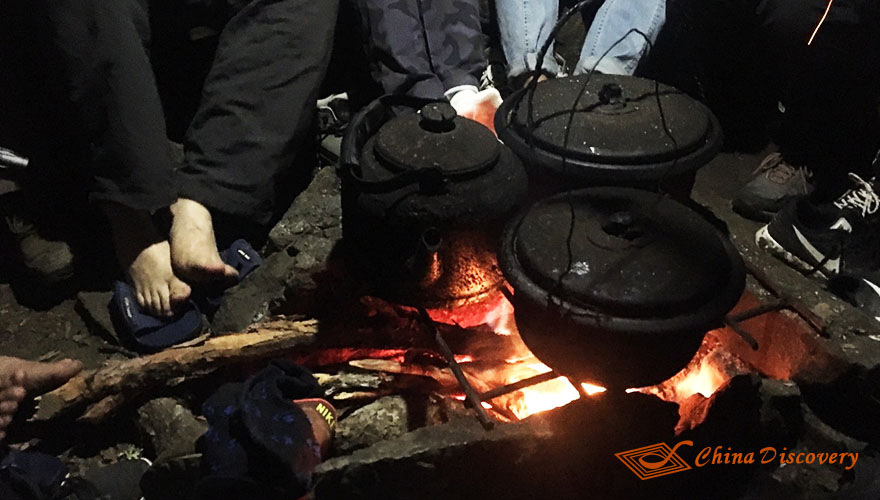 warm up by the fire
We'd been praying till midnight hope the wind could blow off the thick cloud to give us the starry sky. Finally, the starry sky showed up at around 1 am, we even saw shooting stars, how lucky!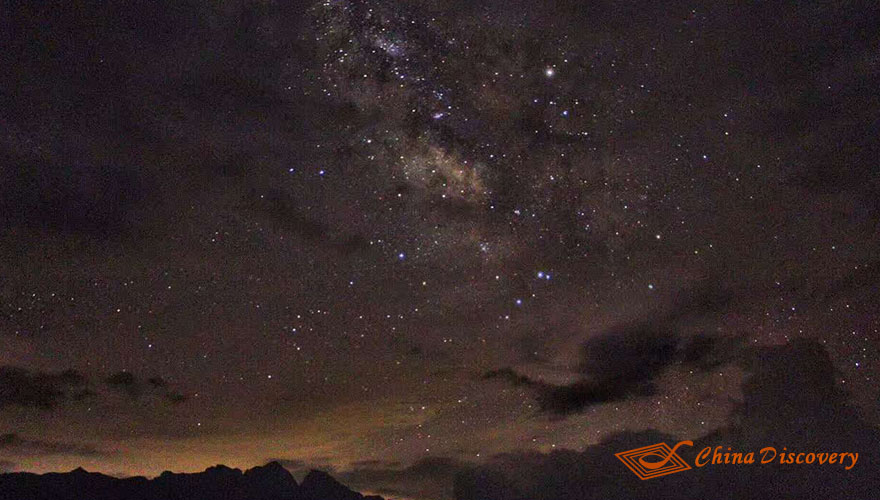 Starry night
Day2: Mt. Jiuding-Chengdu
The tour is never about relaxing or leisure! We only slept for around 4 hours when we got up at around 5 am to see the sunrise. Hard work paid off, we saw a spectacular sunrise and a sea of clouds!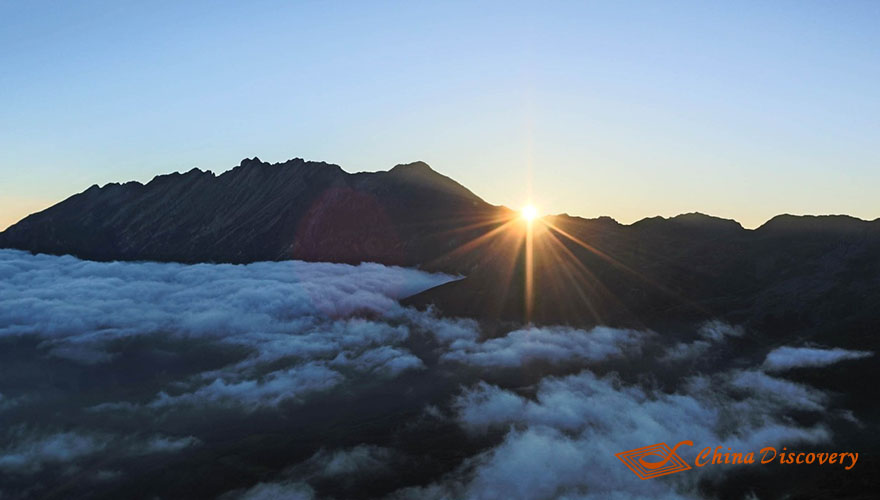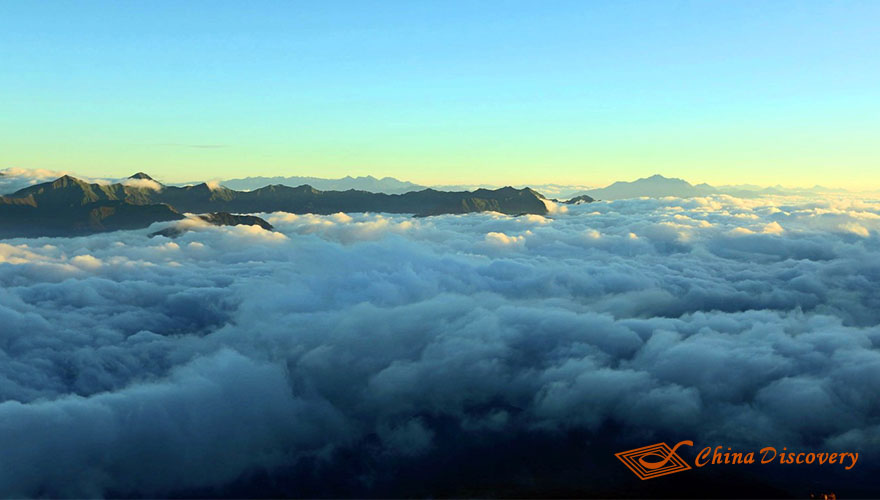 Spectacular sunrise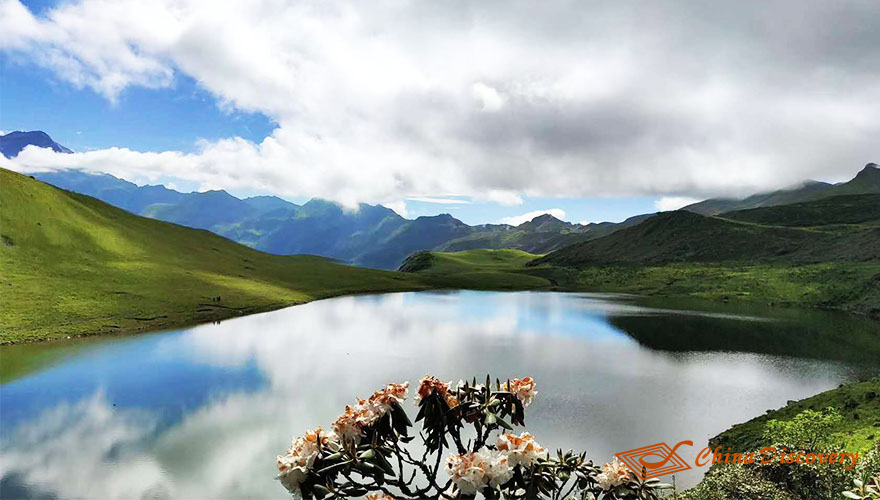 Black Dragon Pool in the morning
Till now, we've got all we wanted to see for this trip! Packed up and ready to go back.We went down the same way up the mountain. Some people would choose the other route from the back of the mountain to get down which has a better condition but takes a longer time. We were eager to go back home to take a shower, we didn't mind making extra effort to save us some time.
It took us around 2.5hours down the mountain, 3.5 more hours to get back to Chengdu. We didn't fresh up until taking a long and nice bath.
The trip was tiring and exhausting but in a good way! Or I can say, in a sense, it relaxed me than any other trip!
Here I have some tips for you if you are planning a similar hiking tour.
1. Wear a hat, sunglasses, apply sunscreen, do whatever you could to protect yourself from the sunburn.
2. Be sure you have enough drinking water.
3. Bring some warm clothes and wear non-slip shoes.
4. Bring some food in case you don't like to food served by the tent base.
5. Be prepared that you are going to have a very tiring trip, no fancy hotels, no tasty food, no bath, and even no toilet!
Travel with Me
Hi, I'm Riley. Are you interested in my 2 Days Mt. Jiuding tour? Feel free to contact me, and I will be glad to tell you more stunning stories about the places I have visited. Or, if you want to customize a tour on your own, I'm always ready to help at any time. With my passion, knowledge and understanding of the essence of travel, I promise I will try my best to make the tour memorable and meaningful for you.
Riley

Travel Consultant
Recommended Tours
Top 3 tours chosen by most customers to explore in the best way. Check the detailed itinerary, or tailor your own trip now with us.
1 Day Dujiangyan & Mount Qingcheng World Heritage Tour

Chengdu / Dujiangyan / Chengdu
4 Days Chengdu & Dujiangyan All Bests with Panda Volunteer Tour

Chengdu / Dujiangyan / Chengdu
5 Days Jiuzhaigou Huanglong Dujiangyan Tour by Private Car

Chengdu / Chuanzhusi / Huanglong / Jiuzhaigou / Dujiangyan / Chengdu
Have a question? Get answers from our travel experts or guests
Your Question:

Your Name:

Your Email: