Travel with Mark: One Day Du Fu Thatched Cottage Trip Story
Departure Date

2020-4-22

Travel Length

One Day

Travel Theme

Culture, Park, Gallery

Group Size

1

Travel Route

Du Fu Thatched Cottage

Highlights

Du Fu Thatched Cottage, Poems' Gallery

Story Tags

#Dufu#Du Fu in Chengdu#Du Fu Thatched Cottage
About Du Fu: One of China's greatest poets also the most-famed realism poet, born in the notable and rich Du family clan in 712, Du Fu lived thru the violent fall of China's magnificent Tang Dynasty. At that era in the west, there is Dante, there is Shakespeare, and there is Du Fu in the east. The majority of his poetry is about the bitter life of ordinary people (Including himself) living in warfare ages of the late Tang Dynasty and his aggressive ambition to achieve something marvelous to the country but failed by harsh reality. His poems strongly express desires to be dedicated to the country even though being unfairly treated. Moreover, that genuine narration in the poems of what kind of hard days people were suffering and how they struggled to survive offers historians useful contrasts with high values in related research. Highlighted by the featured characteristics of documenting history in poems, Du Fu has been praised as Poet-Historian by descendants as well.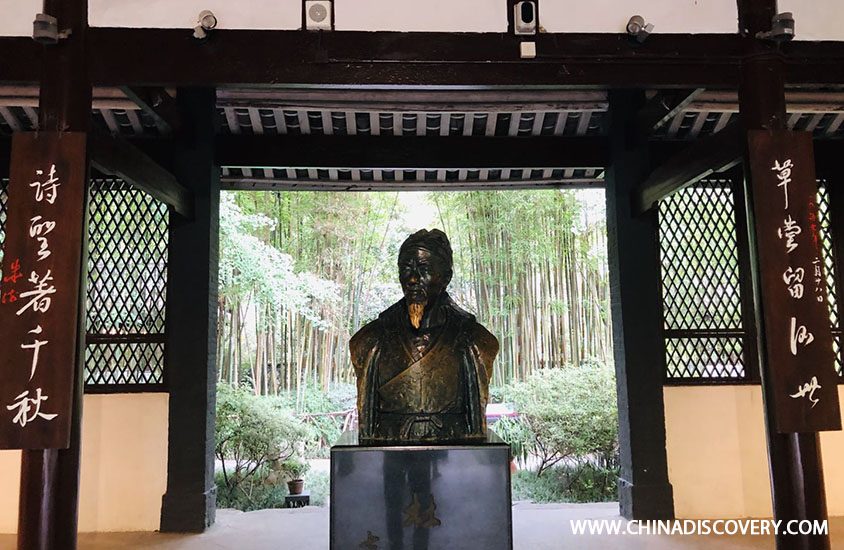 Statue of Du Fu
In April of 2020, a special documentary published by BBC specifically about Du-Fu truly brings him to the eyes of the west audience. In the East, he is one of the immortals, his name and works had a profound impact on the development of Chinese history and art, and it will continue to do so. For those who doesn't aware of many cultures of the oriental, his name has been barely heard of. Du Fu: China's Greatest Poet offers the public a brand-new perspective to reveal the great poet and those unknown stories behind him. Du-Fu Thatched Cottage in the west suburb of Chengdu was the former residence of great poet Du Fu in Tang Dynasty, where he spent around 4 years living there (actually escaping from the warfare with family), down and out, but with around 200 famous poetries vividly describing the real history and life in that troubled times, and now around 10 of them handed down. I've been to this site for once with just glances and picture-taking. Out of my curiosity about his inner spirit and the underlying culture, I decided to pay a thorough visit to this history-contained place again this time.
Unlike other landmarks in Chengdu, the Cottage is less crowded as most things to see there are relevant to history & culture, with architectures of ancient style and tranquil atmosphere. A brilliant place to have cultural exploration for Chinese history lovers! The primitive Du Fu's Cottage had been ruined after his departure and the current one was rebuilt and repaired in Ming and Qing Dynasty by celebrities admiring Du-Fu. The layouts, and most importantly the Thatched Cottage is well preserved now. The complex of Du Fu Thatched Cottage consists of 5 main parts: Front Gate, Grand Lobby, Hall of Historic Poetry, Chai Gate, and Gongbu Shrine.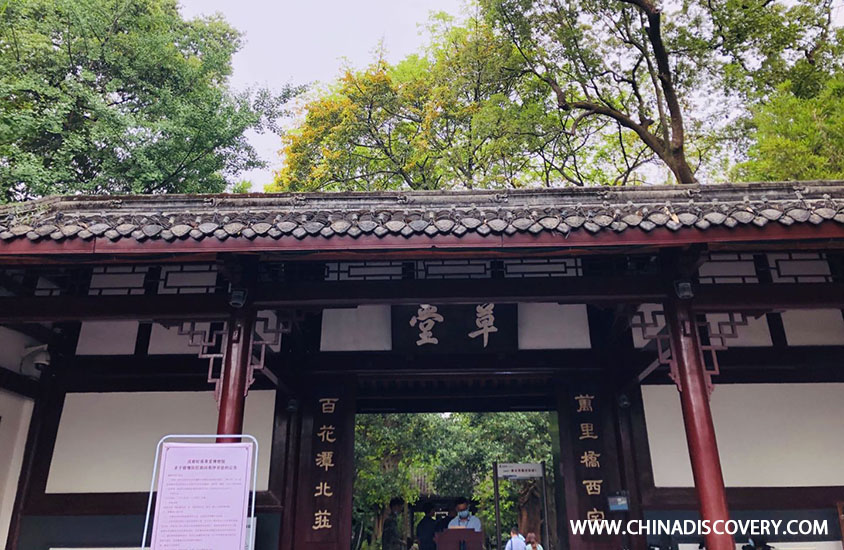 Front Gate of Du Fu Thatched Cottage
This meaningful journey started around 10 am from the Front Gate and was to appreciate the main sites on the axis.
Front Gate (正门): At the front gate, this sort of ancient air struck me very much. Trees with hundred years, corridors and pavilions with Chinese garden styles, inscriptions everywhere noting poems praising Du-fu by descendant poets… My eyesight penetrated the front door, the gates, gardens, trees, couplets, and sculptures attracted me from the distance. Just with a simple glance, I thought I was at the door of poetry heaven…
Grand Lobby (大廨): Few steps ahead, Grand Lobby was closely connected behind the gate. History still could be found there even though this site was no longer the exact one where Du Fu implements his daily work but a symbolic relic.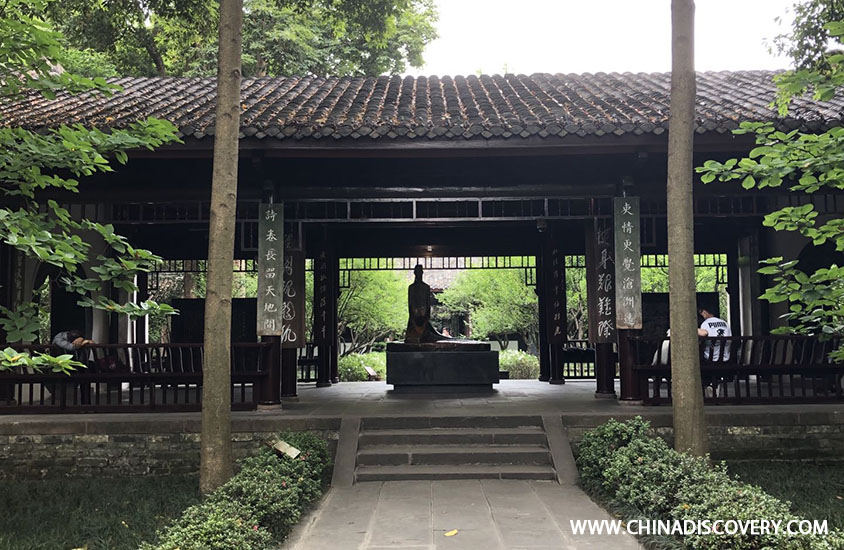 Grand Lobby
During his escape from warfare to Chengdu, Du-Fu had been as important policy-advisor until his friend died four years later. In his poems, it is easy to find that Du had great ambitions to achieve something great but failed by unfair reality. However, some critics said Du in fact was quite susceptible to fate and enjoyed the leisure life in Sichuan. He wrote in A Quatrain: "Two golden Orioles sing on the green willow; a flock of white egrets flies into the blue sky. My window frames the snow-crowned western mountain scene; My door oft says to eastward-going ships "Goodbye!". What a serene picturesque view! It's barely able to witness the Xiling Mountain (Wester Snow Mountain) from Chengdu city nowadays but it's common in his era. I think this is also why people never get tired of reading Du's poems, to find the beautiful scenery depicted in poems besides his intention for dedication to his country.
Hall of the Historic Poetry (诗史堂): Looking through his poems, Du had left most of them as a brief documentary of Chinese history especially the late Tang Dynasty, fall of the great empire. The main narration was about ordinary people living a very hard life, a dazzling contrast to the luxury life the rich and the powerful had. He wrote: "Behind the red lacquered gates, wine is left to sour, meat to rot; Outside the gates lie the bones of the frozen and the starved." On his way of being a refugee, those poems vividly outlined people's bitterness. Even the oldest man in remote villages would be forced to join the army, now that his sons had already died on the battlefield.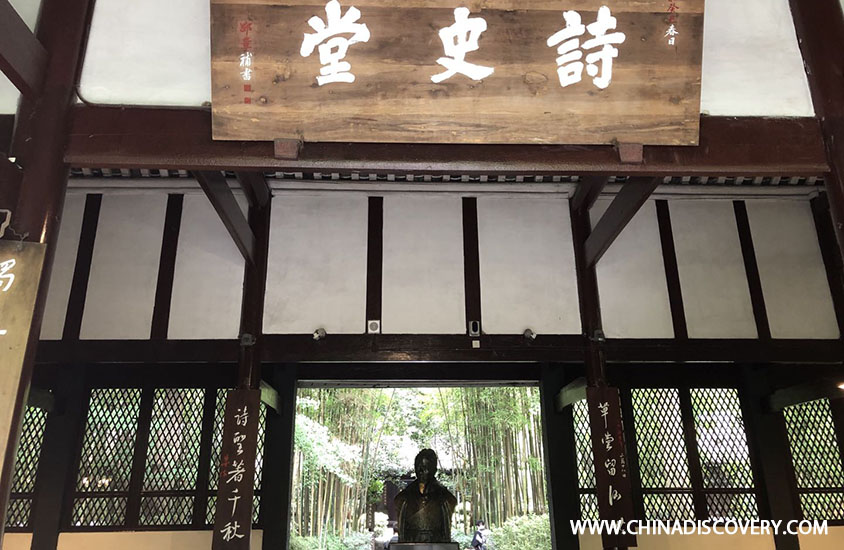 Hall of the Historic Poetry
It's interesting that Li Bai and Du Fu, the two greatest poets in Chinese history lived in the times and they were good friends with similar encounters. Li's poets are romantic while Du's ones are more realistic. Li's older than Du and he influenced Du greatly in poetry composition, and Du wrote a lot missing Li, for example: "You've been in my dreams as if you know how much I miss you."
On the two sides of the hall, couplets written by a celebrity was delicately carved on the plaque. In ancient China, ambition for the country and loyalty for the emperor was an essential quality for a literati. Du happened to be the most outstanding one to present this kind spirit, I think which is why his fame has been keeping complimented and his poems showed the very value that poetry is judged now.
Gongbu Shrine (工部祠): Before entering Gongbu Shrine, there is a gate we called Chai Gate (Chaimen), which refers to the former front gate of Du Fu's thatched cottage. Imagine the scenario: "Hearing the bark at the Chai Gate, Household came back from the wind and snow." The original gate definitely is unable to find but a similar atmosphere remains.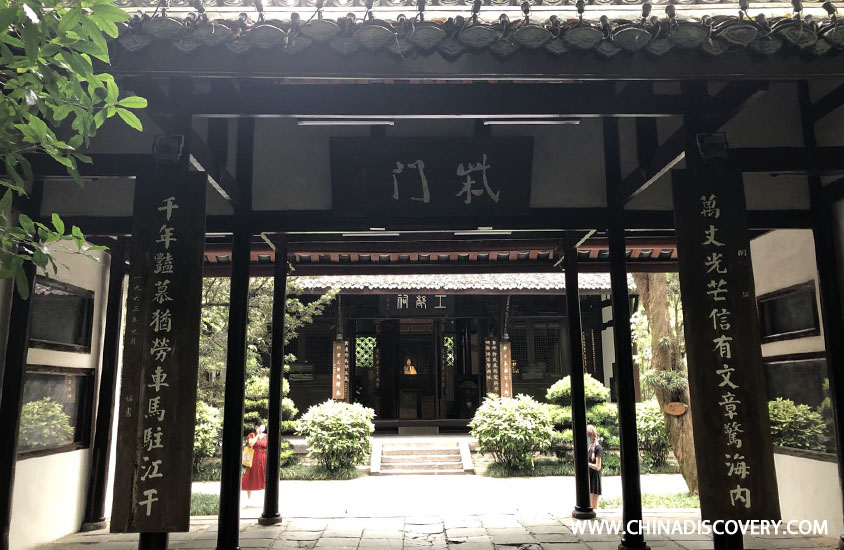 Chai Gate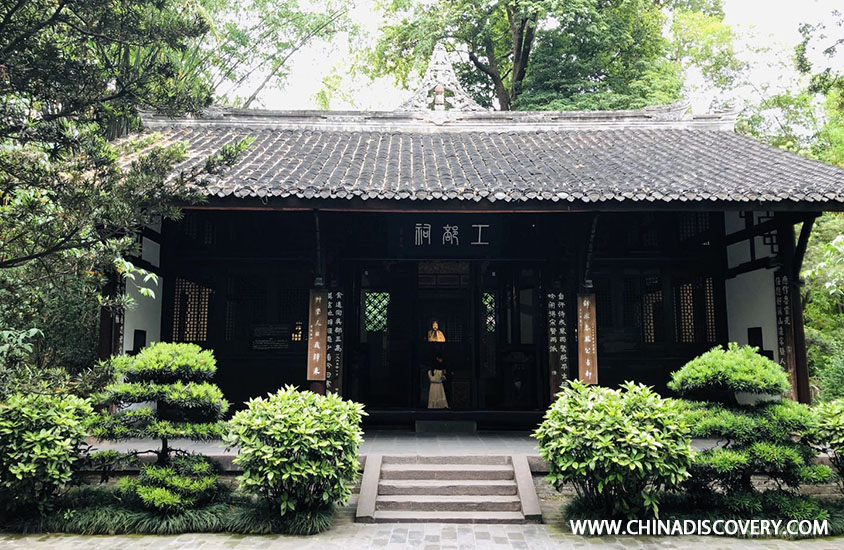 Gongbu Shrine
The last one along the axis is Gongbu Shrine, to commemorate Du for his stay in Chengdu acted as an advisor in Gongbu (Civil apartment). Besides the shrine for Du Fu, you can also find a shrine for Lu-You and Huang Ting-Jian (Both are well-known patriotic poets) equipped with oblation. Therefore, Gongbu Shrine is also called Three Sages Hall.
Outside the Shrine is the prominent stony Shaolin Tablet Pavilion, wrote by Prince Guo when he passed by Chengdu to visit Du's Cottage. 
The Thatched Cottage (草屋): In his My Cottage Unroofed by Autumn Gales, Du said, "Could I get mansions covering ten thousand miles, I'd house all poor scholars and make them beam with smiles." Perhaps, never will I be able to imagine how could he hold such generous and kind wishes for all those scholars living in poor condition. The first time I read it on textbooks in middle school, I was stunned at his ambition and his sense of responsibility for the society, which is also the first time I felt the power of literature and got charmed with it.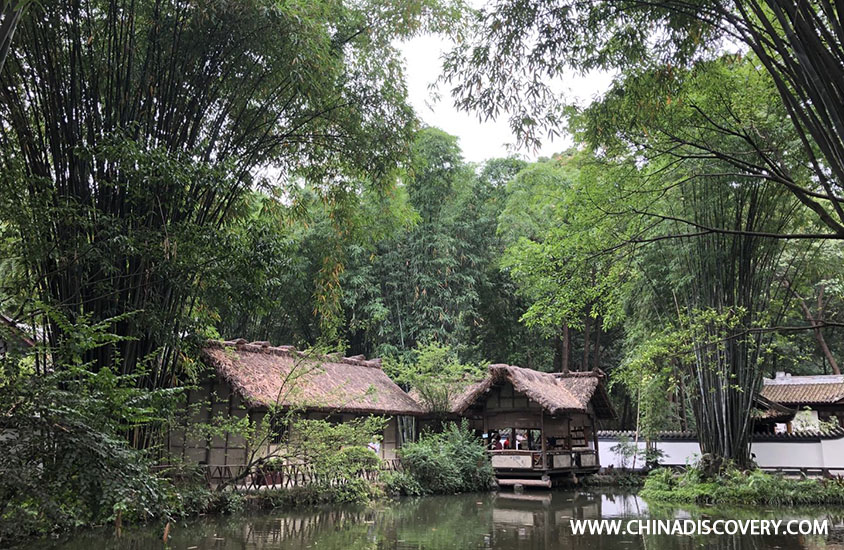 The Thatched Cottage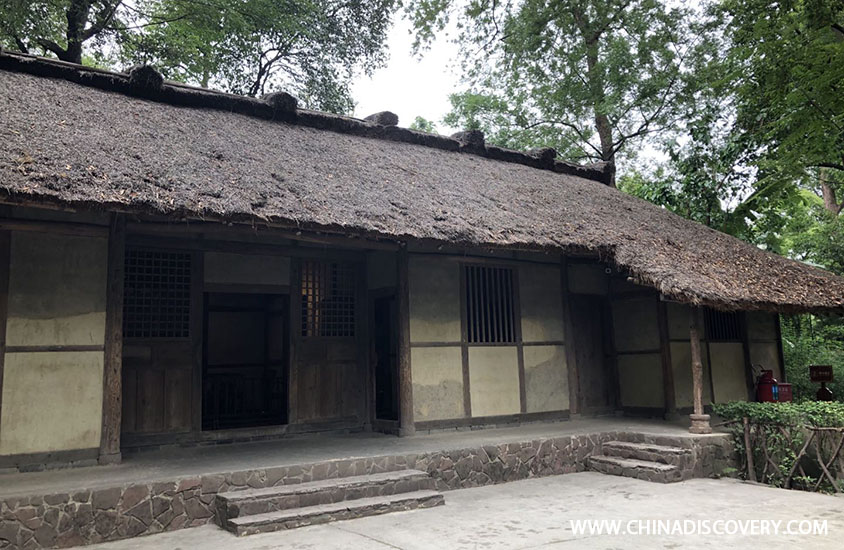 The Thatched Cottage
It could be hard to find the very original part of the cottage but culture-rich history and those stories behind the ancient classic architecture attracts people to have a "poetry-pilgrim" Wandering around, the "Elegance" of this place makes me soaked in and the atmosphere of serenity appeals me the most. The poor thatched roofs and shabby walls are never that miserable, making the pilgrimage place divine instead!
Corridor for Carvings of Du's Poetry (杜诗石刻走廊): This corridor could be of great fun and you'll catch this chance to appreciate those terrific carved calligraphies made by so many famous celebrities in history who admire Du so much. Once upon a time, making calligraphy based on Du's poetry had been a fashion. So obvious was Du's impact on the poetry culture, at least from this viewpoint on the relics of the real inscriptions. Never miss this site if you're a poetry history & culture lover!
Hall of Odes (大雅堂): The most common seen in publicity picture, with the Du Fu statues erect in the front, Hall of Odes must be the best profile for the propaganda of the Thatched Cottage. In fact, the hall collects works and arts from other poets in the Tang Dynasty. For instance, Bai Ju-yi, Huang Ting-Jian, Li Shang-Yin, etc. The status and sculptures and brilliant calligraphy by the contemporary calligrapher.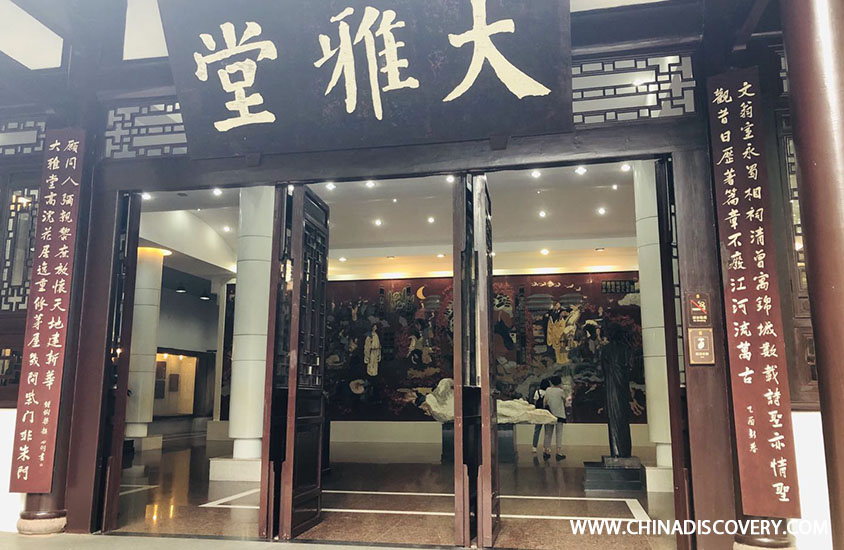 Hall of Odes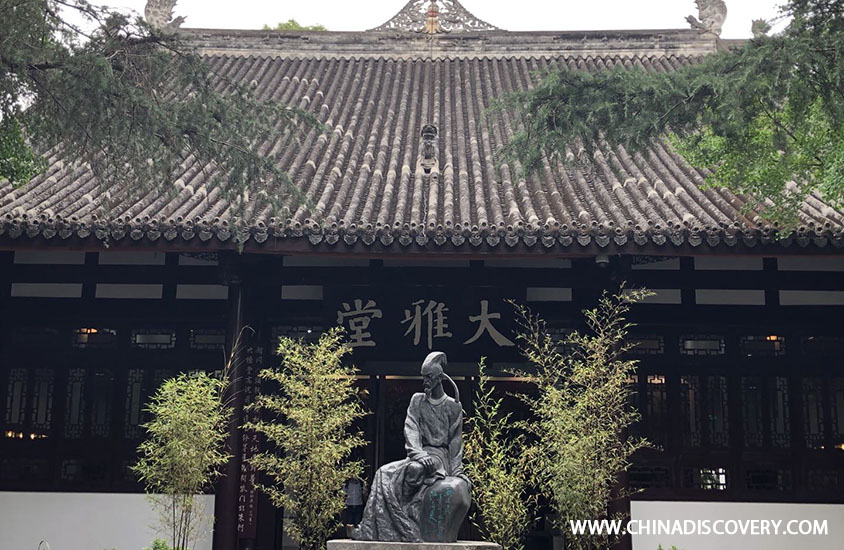 Hall of Odes
Chengdu, also known as Jin-Guan City to people, it is another interesting thing related to Du Fu and Chengdu. It seemed that Du was very fond of the weather of Chengdu, the "smart rain" for special during his stay. In Rain in Spring Night, Du wrote," The good rain knows its season when spring arrives; … Dawn sees this place now red and wet, the flowers in Chengdu are heavy with rain." From that moment on, a city had been closely tightened with a name and it continued till today and even much longer in time.
For the Chinese, Du Fu is "more than a poet. For generations, he has been the guardian of the moral conscience of the nation." I guess this is the reason why he gained such a great reputation for past history, the conscience needs to be held! For the past, for today and for the future.
Departure from Hall of Odes, my poetry exploration ended at the north gate around 14:30 pm.
Tips for visit
1. Recommended visit route: Front Gate-Grand Lobby-Hall of Historic Poetry-Chai Gate-Gongbu Shrine-Thatched Cottage- Corridor for Carvings of Du's Poetry-The Flowery Path-Hall of Odes.
2. Free walk to appreciate the garden views is highly suggested as well. Besides the complex along the axis, the side gardens with trees and flowers and a small hall worth a visit as well. 
3. It's never a bad idea to companioned by a tour guide because the professional guidance shall absolutely deepen your understanding and comprehension of these poetry landmarks.
Travel with Me
Hi, I'm Mark. Are you interested in my Du Fu Thatched Cottage Tour? Feel free to contact me, and I will be glad to tell you more stunning stories about the places I have visited. Or, if you want to customize a tour on your own, I'm always ready to help at any time. With my passion, knowledge and understanding of the essence of travel, I promise I will try my best to make the tour memorable and meaningful for you.
Mark

Travel Consultant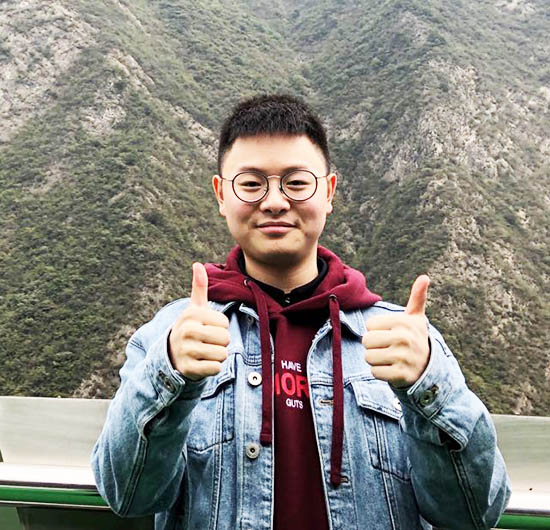 More Travel Stories of Our Experts
More Travel Stories of Our Customers
Recommended Tours
Top 3 tours chosen by most customers to explore in the best way. Check the detailed itinerary, or tailor your own trip now with us.
1 Day Chengdu Relaxing Panda Highlights Tour

Chengdu (Chengdu Banda Base, People's Park, Jinli Old Street)
3 Days Chengdu Highlights Tour plus Leshan Giant Buddha

Chengdu: Chengdu Panda Base, Leshan Giant Buddha, Jinli Street
2 Days Chengdu & Lifetime Panda Volunteer Tour

Chengdu / Dujiangyan Panda Base / Chengdu
Have a question? Get answers from our travel experts or guests
Your Question:

Your Name:

Your Email: