Travel with Lyn: 2 Days Trip to Chongqing from Chengdu
Departure Date

2016-10

Travel Length

2 Days

Travel Theme

Cityscape, Culture, Ancient Town

Group Size

1

Travel Route

Chengdu - Chongqing - Chengdu

Highlights

Beaitiful Cityscape, Jiefangbei Square, Hongya Cave, Ciqikou Ancient Town

Story Tags

#Chongqing#Jiefangbei Square#Hongya Cave #Ciqikou Ancient Town
Three years ago, when I was planning a short trip for the weekend, Chongqing jumped into my mind, so my friend and I decided to visit Chongqing to spend the weekend.
Chongqing is known as the Mountain City for its mountainous landform, while the other nickname "8D magic city" has made Chongqing even more popular in recent years. Besides its marvelous landform and multi-layered urban system, no one will ever miss the delicious food in Chongqing. Hotpot and Chongqing spicy noodles are must-try for all travelers.
Chongqing Cityscape
It's quite convenient to visit Chongqing from Chengdu. The high-speed train only takes about 90 mins, and it's also quite easy to take a taxi or bus on arrival to get to the downtown area. We booked a hostel close to a bus station in the city center. Most travelers will choose hotels that are close to tourist attractions or shopping streets, especially Jiefangbei CBD. I didn't stay at the Jiefangbei area to avoid unnecessary noises at night and also high costs.
My friend and I arrived in Chongqing in midday, and it was just about lunchtime, so we directly headed to a hotpot restaurant after check-in. Though I've lived in Chengdu for a few years where people also love spicy food deadly, the first meal in Chongqing didn't seem to be very friendly to me. The hotpot tasted good but made me feel sick afterward. Since my companion was still in good condition, we concluded that it was because I didn't eat much spicy food for a long time, and my stomach couldn't bear the stimulation given by hotpot. Well, I was a little upset at that time, but it apparently couldn't stop me from exploring the city. So after a short break, we headed to Jiefangbei Square.
Speaking of shopping in Chongqing, I think most people will say the name of Jiefangbei. Jiefangbei is located right in the center of downtown Chongqing, the landmark of Chongqing People's Liberation Monument stands in the center of Jiefangbei. The monument is a clock tower built to celebrate the Communists' liberation of the city from seventy years of colonial and right-wing occupation. There are thousands of stores around the square and attracted lots of shopaholics. For me and my friend, we were not that keen on shopping, but various local snacks were quite appealing. After took some pictures of the Monument, we visited one of the food streets, and my friend tried sour and spicy noodles, I had a bowl of yogurt. We then walked to the next destination, Hongya Cave.
Chongqing Jiefangbei Square
Maybe it was because we didn't choose the best route, it took us about 20mins to finally reach Hongya Cave. Hongya Cave was definitely the most important part of our whole plan. I've seen pictures of it online, and those night pictures recreated scenes in my favorite animated film "Spirited Away". Since Hongya Cave would show its true beauty after sunset, we spent some time inside the cave. Hongya Cave has 11 floors, and there were many restaurants and boutique stores selling local food and souvenirs. After that, my friend and I found a nice spot across the street to appreciate the night view of Hongya Cave. We waited for a while, and finally, the night fell and lights on. It was marvelous! Hongya Cave was like a shining castle under warm lights, and it brought me back into the movie scene. There were many tourists busy shooting the amazing night view, and we were two of them.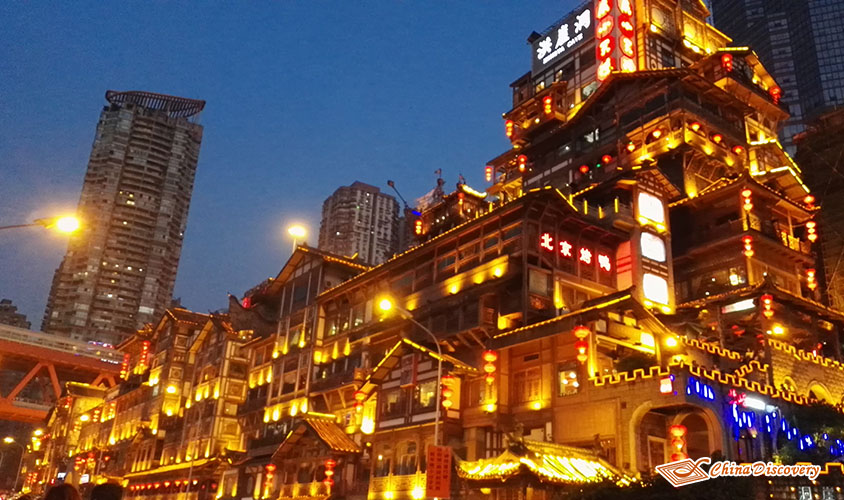 Chongqing Hongya Cave at Night
We only had one destination for the next day, Ciqikou Ancient Town. Ciqikou is an ancient cultural town in the suburbs of Chongqing. Tourists came to this place not only for experiencing the traditional culture but also to try local famous snacks and food. Among different snacks, a fried dough twist(麻花) is the most famous one. It has several flavors, and tourists can choose their preferred flavors. Though Ciqikou retains the essential features of the old mountain city, just like other ancient towns, it has been over-commercialized. Having been to Jinli Old Street in Chengdu, Ciqikou wasn't that attractive to me, so we didn't spend much time visiting the town but found a nice place for drinks before the departure train time. For those who haven't been to similar ancient towns before, it would be nice for them to pay a visit to Ciqikou. But avoid weekends and public holidays is highly recommended.
Overall, it was a nice short trip on the weekend. Because of the convenient transportation between Chengdu and Chongqing, having a day trip to Chongqing is also feasible. And for foodies, Chongqing is definitely a must-visit city! There are also other attractions close to Chongqing that we didn't have time to visit last time, like Wulong Karst National Geological Park and Dazu Rock Carvings. I have added them to my wish list!
>>Check to get inspired by more Popular Chongqing Tours!
Travel with Me
Hi, I'm Lyn. Are you interested in my 2 days trip to Chongqing? Feel free to contact me, and I will be glad to tell you more stunning stories about the places I have visited. Or, if you want to customize a tour on your own, I'm always ready to help at any time. With my passion, knowledge and understanding of the essence of travel, I promise I will try my best to make the tour memorable and meaningful for you.
Lyn

Travel Consultant
Recommended Tours
Top 3 tours chosen by most customers to explore in the best way. Check the detailed itinerary, or tailor your own trip now with us.
4 Days Chongqing Essence Tour with Yangtze River Cruise

Chongqing / Yangtze Cruise / Yichang
3 Days Chongqing & Wulong Karst Landscape Exploration Tour

Chongqing / Wulong / Chongqing
2 Days Chongqing City Tour with Dazu Rock Carvings

Chongqing/Dazu
Have a question? Get answers from our travel experts or guests
Your Question:

Your Name:

Your Email: