Travel with Lyn: 1 Day Trip to Watch Fantastic Sichuan Opera Show
Departure Date

2019-12

Travel Length

1 Day

Travel Theme

Nightlife, Opera, Culture

Group Size

1

Travel Route

Chengdu - Shufeng Yayun Sichuan Opera Theater - Chengdu

Highlights

Erhu Performance, Face Changing, Fire Spitting

Story Tags

#Sichuan Opera#Shufeng Yayun#Chengdu Tour
Last winter, a Singaporean family visited Sichuan and Xian for holiday and I had the honor to help with their tour arrangement. During their 9-day trip, I arranged Chengdu, Leshan, Mt. Emei, and Xian. Since our office is based in Chengdu, I took this opportunity to meet this happy family in Chengdu and accompanied them to watch the Sichuan Opera. It was also my first time watching the show, so I was quite excited before going.
Shufeng Yayun, located inside Chengdu Culture Park on Qintai Road, is the most famous place to watch Sichuan Opera. The evening show usually starts at 20:00 pm and lasts for about 90mins. I met the family at their hotel, and it just took about 15mins to drive to Shufeng Yayun from their hotel in the city center. On arrival, we walked inside the park and entered the theater. The theater is big, and I booked VIP tickets, so our seats were in the first row, close enough to catch subtle expressions of performers. Besides the best location, VIP seat audiences were also served with free tea and snacks, massage, or ear cleaning experience (choose one). I chose to experience massage which took about 5-10mins. There was a massage area under the stage, and audiences could get relaxed while enjoying the show. It wasn't the peak season, but the theater was full by the time the show began, and I saw the show attracted many foreigners, like my customers.
Speaking of Sichuan Opera, I guess face changing will jump into most people's minds. Surely face changing could be the highlight of Sichuan Opera, but Sichuan Opera is far more than that. Besides face changing, erhu performance (a kind of Chinese musical instrument), shadow puppetry, comedy, hand shadows, opera, acrobatics, singing are also interesting and marvelous. Personally, erhu performance and face changing were my favorite parts. As a classical Chinese musical instrument, erhu has gradually faded away from people's sight. Young people are more interested in Western instruments or Chinese instruments that look more elegant. Honestly, I wasn't that into erhu either, but the show completely changed my thoughts on the erhu. The performance was so grand and magnificent and full of passion. It's indeed a national art essence, which should be generated and developed. As for face-changing performance, I believe no one can escape from its mysterious charm. As I mentioned, our seats were very close to the stage. During the performance, one performer even walked down the stage and changed face right in front of our seats, but I just couldn't figure out how the performers changed their faces in seconds and how they hid so many masks. I guess no one could, it was like magic. By the way, can you imagine spider man was also one of their faces? It was surprising to see Western elements were added into this traditional art, and it made the show even more interesting.
Useful Links:
★ 2 Days Leisure Chengdu Private Tour with Panda Visit
★ 3 Days Chengdu Family Tour with Sichuan Opera Show
★ 3 Days Chengdu Highlights Tour plus Leshan Giant Buddha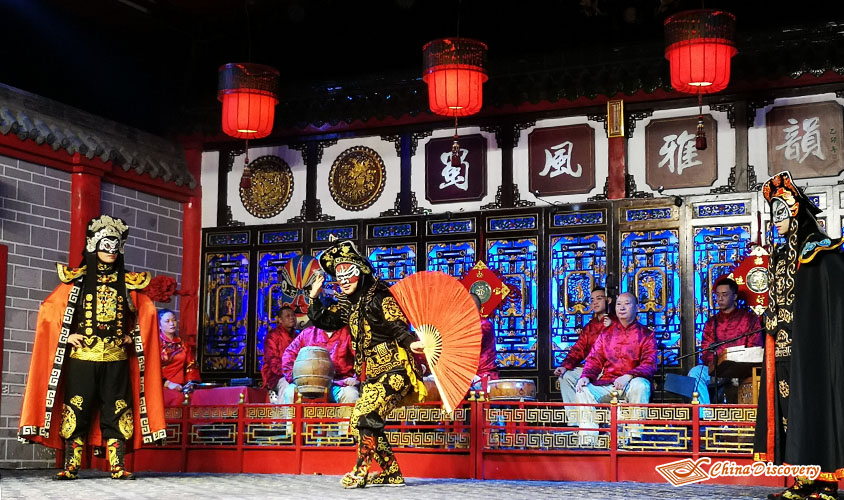 Sichuan Opera Show
In conclusion, the show was far beyond my expectation. I knew it would be nice, but I didn't expect it could be a show that makes me concentrated and never feel bored from the beginning to the end. I asked the little girl in the family whether she enjoyed the show afterward, and she said yes. So not just for adults, Sichuan Opera is attractive to children as well. I now understand why Sichuan Opera or Shufeng Yayun particularly is always so popular among foreigners. It is one of the best ways to learn the essence of Sichuan's local culture and tradition, and it's a brilliant choice to spend the night watching such an amazing show!
>> Check to get inspired by more Popular Chengdu Tours!
Travel with Me
Hi, I'm Lyn. Are you interested in my Chengdu trip to watch the fantastic Sichuan Opera Show? Feel free to contact me, and I will be glad to tell you more stunning stories about the places I have visited. Or, if you want to customize a tour on your own, I'm always ready to help at any time. With my passion, knowledge and understanding of the essence of travel, I promise I will try my best to make the tour memorable and meaningful for you.
Lyn

Travel Consultant
Recommended Tours
Top 3 tours chosen by most customers to explore in the best way. Check the detailed itinerary, or tailor your own trip now with us.
2 Days Leisure Chengdu Private Tour with Panda Visit

Chengdu: Jinli Street, Giant Panda Base, Wenshu Temple
3 Days Chengdu Highlights Tour plus Leshan Giant Buddha

Chengdu: Chengdu Panda Base, Leshan Giant Buddha, Jinli Street
3 Days Chengdu Family Tour with Sichuan Opera Show

Chengdu / Pixian / Chengdu
Have a question? Get answers from our travel experts or guests
Your Question:

Your Name:

Your Email: