Lyn's 1 Day Visit to Chengdu Research Base of Giant Panda Breeding
Departure Date

2016-10

Travel Length

1 Day

Travel Theme

Nature, Culture

Group Size

2

Travel Route

Chengdu - Chengdu Panda Base - Chengdu

Highlights

Chengdu Panda Base

Story Tags

#Chengdu Panda Base#Panda #Chengdu
It is well known that panda is a national treasure of China, and Chengdu City, the provincial capital of Sichuan, is known as the hometown of Giant Pandas. As a resident in Chengdu, how can I possibly miss the chance to meet those adorable pandas? Located about 10 km northeast of the city center, the Chengdu Research Base of Giant Panda Breeding (also known as the Chengdu Panda Base) is the closest giant panda facility to downtown Chengdu and it is reputed as the "Cradle of Giant Pandas" where visitors can see lots of pandas in different ages. Since the panda base is located in the city suburb, I set out in the early morning in order to catch the most active moments of pandas. Besides taking a taxi, visitors can also reach the panda base by metro+bus or direct buses depart from certain points.
Since Chengdu panda base is quite big, sightseeing bus is available. I didn't take the sightseeing bus and it took me about 3 hours inside the panda base. For senior visitors or those who want to save some time and energy, sightseeing bus is recommended. Once I entered the panda base, the first place I reached was the Swan Lake. There were white swans as well as black swans. Some swans were gliding gracefully on the lake, and some were strutting along the lakeside. They seemed to be quite familiar with being surrounded by lots of visitors while having their own leisure time. The next spot I reached was Sub-adult Panda Enclosure where I luckily saw several sub-adult pandas lying on their stomachs and enjoying the sunshine. They were too young to turn over without the help of keepers. They were unbelievably cute and reminded me of soft glutinous rice balls. I guess it was also the reason why pandas were given the nickname of "Gun Gun". I wished to hug them in my arms! After that, I head to Adult Giant Panda Enclosure. Unlike sub-adult Pandas, adult pandas were more like the host of the garden. Some of them were strolling at leisure through the garden, and some lying on their back and looking at blue sky and white clouds while holding fresh bamboo in their paws. People always say that they wish to be a panda in their next life. I cannot agree more with that after I saw the leisure and carefree life of pandas. Passing through Adult Giant Panda Enclosure, I got to Sunshine Nursery House to see newborn panda cubs. Those panda cubs were too small and scarcely furnished yet with fur, so they were pink and kind of like little mice (cute version). To protect panda cubs, visitors were required to queue up to visit the enclosure, and couldn't stay a long time to avoid traffic jam. Besides giant pandas, I also saw many red pandas jumping and frolicking in the trees, and they were also very cute.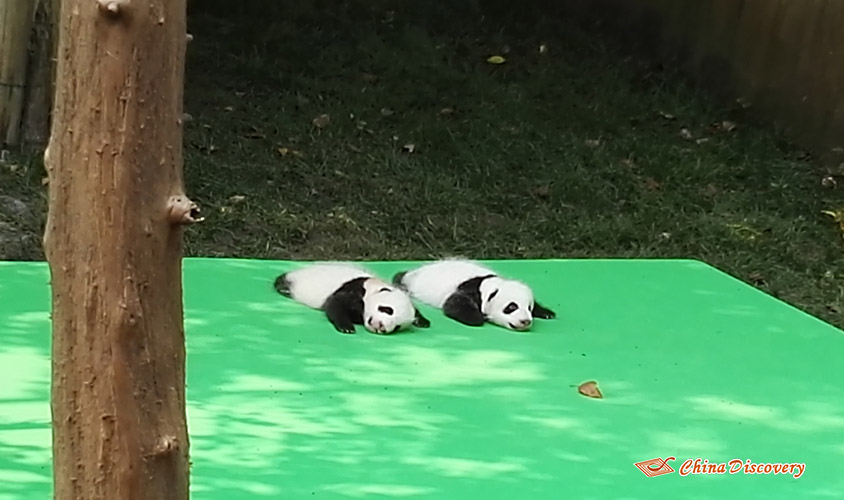 Baby Pandas in Chengdu Panda Base
I must say I was very lucky to see so many pandas of different ages. According to my experience, the pandas are fed in the morning and are most active at that time of day. After morning, the pandas tend to get sleepy, especially in hot weathers, and the panda base will also become crowded. All that being said, it's recommended to visit the base as early as possible in the morning, and avoid weekends and holidays if possible. Anyway, it is definitely a site that panda fans cannot miss, but I believe no one can escape from pandas' cuteness once you see them!
Travel with Me
Hi, I'm Lyn. Are you interested in my 1 Day Chengdu Panda Base Tour? Feel free to contact me, and I will be glad to tell you more stunning stories about the places I have visited. Or, if you want to customize a tour on your own, I'm always ready to help at any time. With my passion, knowledge and understanding of the essence of travel, I promise I will try my best to make the tour memorable and meaningful for you.
Lyn

Travel Consultant
Recommended Tours
Top 3 tours chosen by most customers to explore in the best way. Check the detailed itinerary, or tailor your own trip now with us.
1 Day Chengdu Relaxing Panda Highlights Tour

Chengdu (Chengdu Banda Base, People's Park, Jinli Old Street)
2 Days Leisure Chengdu Private Tour with Panda Visit

Chengdu: Jinli Street, Giant Panda Base, Wenshu Temple
3 Days Chengdu Highlights Tour plus Leshan Giant Buddha

Chengdu: Chengdu Panda Base, Leshan Giant Buddha, Jinli Street
Have a question? Get answers from our travel experts or guests
Your Question:

Your Name:

Your Email: