5 Days Yangtze River Cruise Trip in Spring
Departure Date

2019-3-6

Travel Length

5 Days

Travel Theme

Nature, Cruise, Culture

Group Size

1

Travel Route

Chengdu - Yichang - Chongqing - Chengdu

Highlights

Yangtze River Cruise, Jade Emperor Scenic Spot, White Emperor City, Qutang Gorge, Goddess Stream, Wu Gorge, Three Gorges Dam

Story Tags

#Yangtze River Cruise#Chongqing#Yichang#Three Gorges Dam#White Emperor City#Goddess Stream
In winter my boss asked me whether I would like to take a cruise alongThree Gorges in March. Wow, cruise along Three Gores in early spring! That would be wonderful. I like this idea of traveling in spring.
I took Gold 8, the newest cruise in the Gold line. Servicemen are kind and helpful. They were willing to talk and share. We were lucky and saw many stars at night when sailing through gorges. Cabin was comfortable and enough for two persons sharing. I was lucky again to have a good roommate as well. We talked about traveling stories. Most of all, I enjoyed the scenery along the whole journey.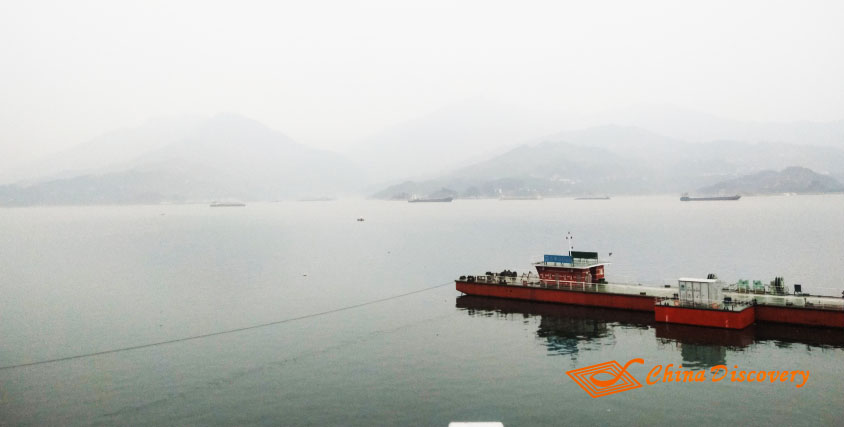 Gold 8 Boarding Pier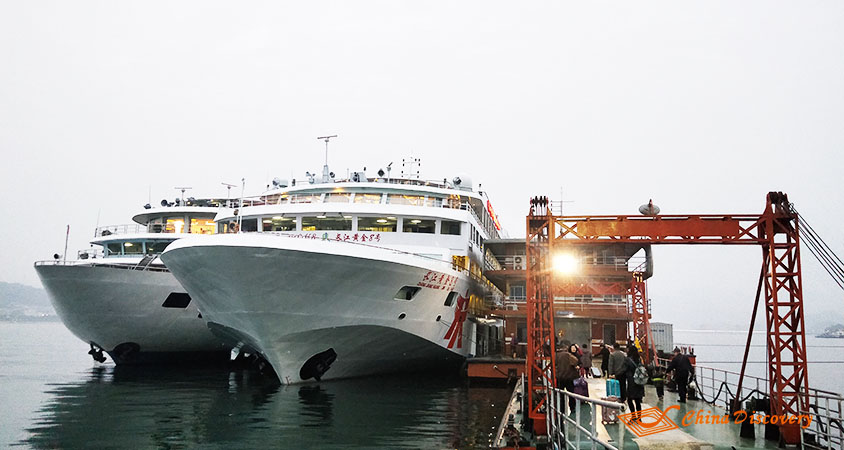 Gold 8 Cruise Ship
Day 1 - Mar. 6th
It got warm in earlier spring. I took the high-speed train to Yichang for Three Gorge Cruise. On the whole way, I saw yellow rapeseed flowers with clear water in the fields. Sun fell when I boarded cruise, and mountains were hidden behind mist, like traditional Chinese painting.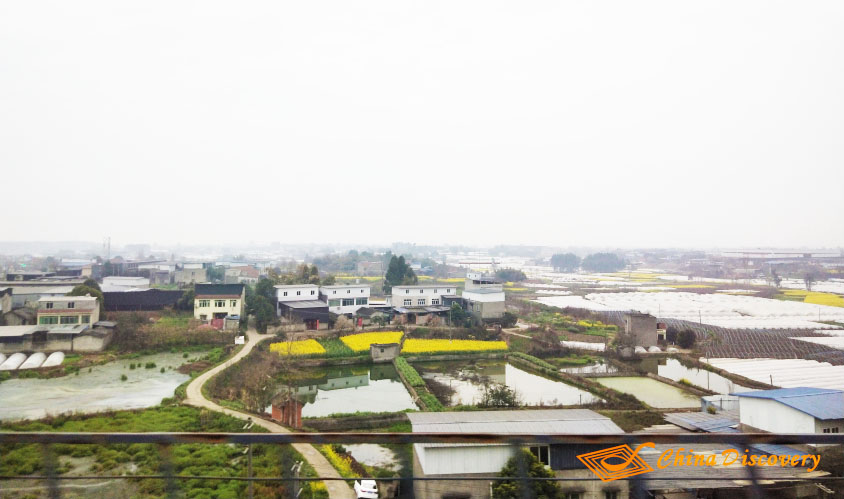 Yellow Rapeseed Flower Fields
Day 2 - Mar. 7th
This morning, I chose the Tribe of Three Gorges. It is a delicate small gorge. Plants gathered strength in the whole winter and now tender leaves were dancing in the earlier spring cold wind. All was full of hope. It was a refreshing and relaxing walk in this gorge.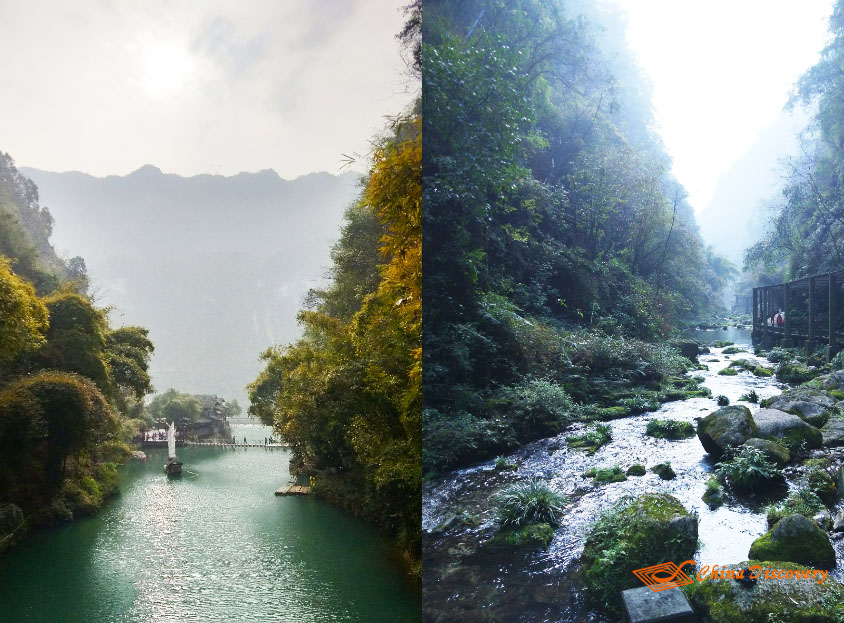 Beautiful Gorges on My Way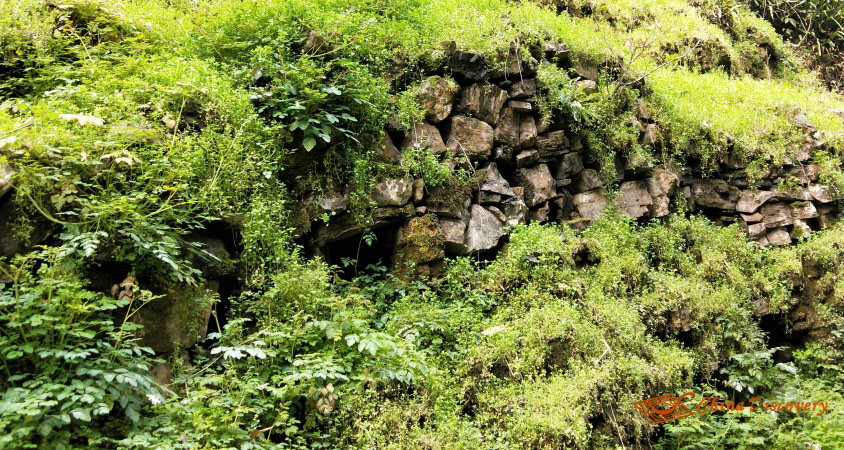 Grassy Field in Spring
This afternoon I went with other passengers to Three Gorges Dam Site, the largest hydropower station in the world. Traveling experience was much better with the guidance of our tour guide, though personally, I was not interested in any artificial instruction. Behind the dam was the hard-working and wisdom of thousands of workers. The Dam performs very well on power generation and flood control.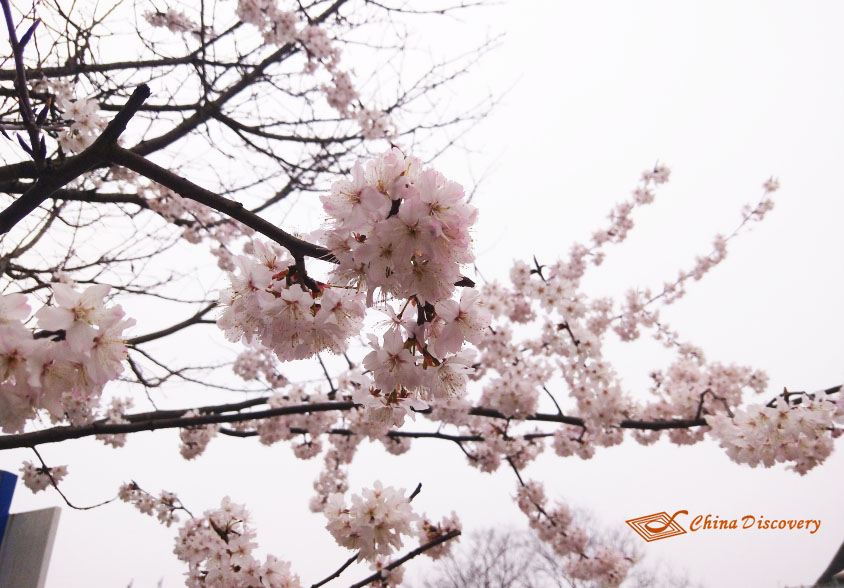 Peach Flowers in Spring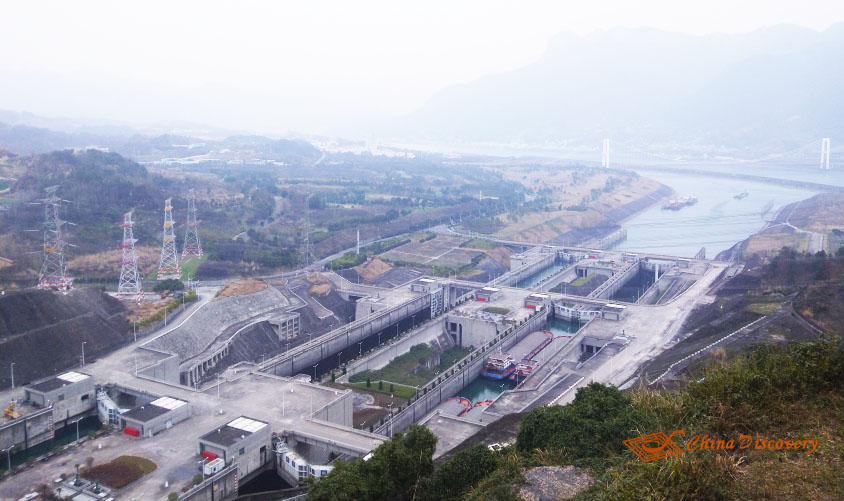 Three Gorges Dam - Overall View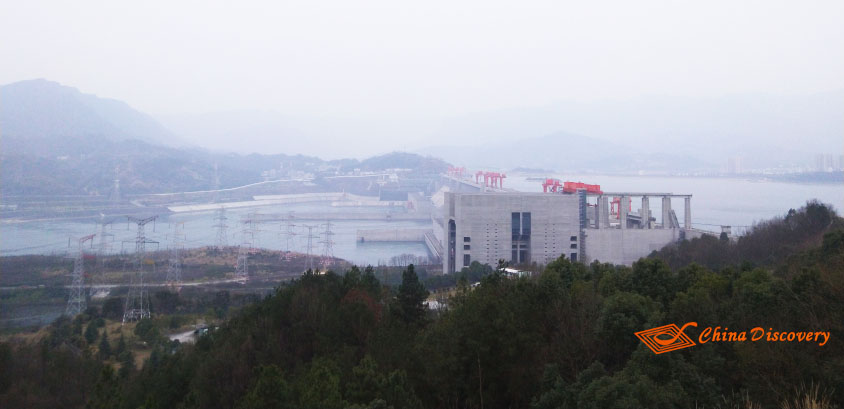 Three Gorges Dam - Side View
Day 3 - Mar. 8th
It was a cloudy day as well. Earlier this morning, I woke up and got to the Sun Deck to see Wu Gorge. To be honest, I did not know whether I found the right Wu Mountain. Anyway, it was nice to travel through gorges behind mist, feel chill early spring air's touch and fancy into the ancient time.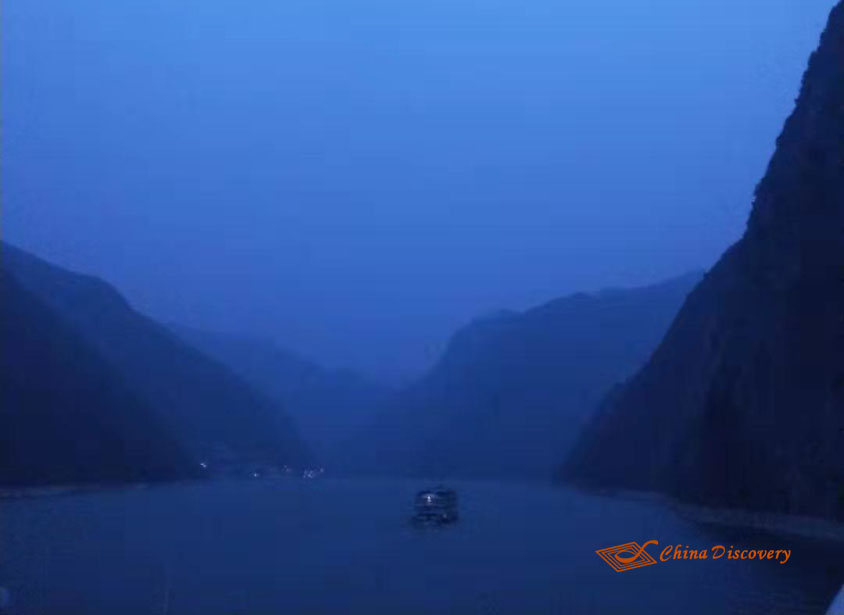 Wu Gorge in the Morning Mist
After breakfast, the whole boat passengers went to Lesser Three Gorges. We were divided into small groups and took several small boats into Lesser Three Gorges. Tour guide pointed different hills and questioned, does it look like a Buddha. Chinese always preferred to make stories on lifeless stones. Groups of elder passengers were excited to take photos with a red flag on the end of the small boat. Everyone found his/her pleasure on the small boat. I was lazy and lying on the second floor perfectly suited me.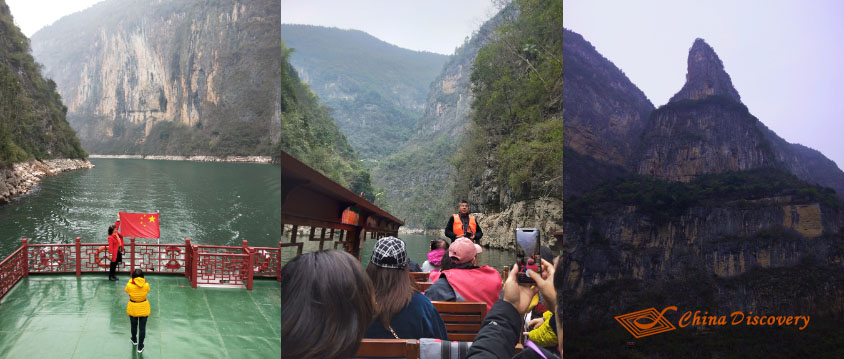 Leisure Time on the Small Boat
Later I continued my trip to optional Mini Three Gorges and took a smaller boat in a narrower course. Several locals stand on hill aside and a man sang a ballad.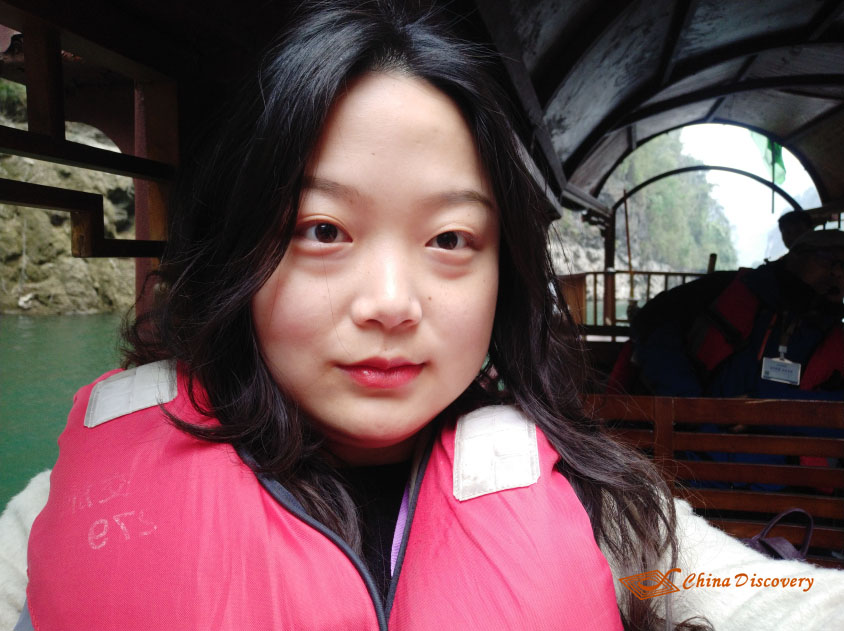 Me on a Life Jacket
It was a busy day and I went to White Emperor City this afternoon. I chose this site because it is always mentioned in Chinese poem and I am a poem lover. Standing on the highest point, I saw the gorgeous Kuimen Gate, the starting of three gorges and important crucial port to enter Sichuan Province in ancient times.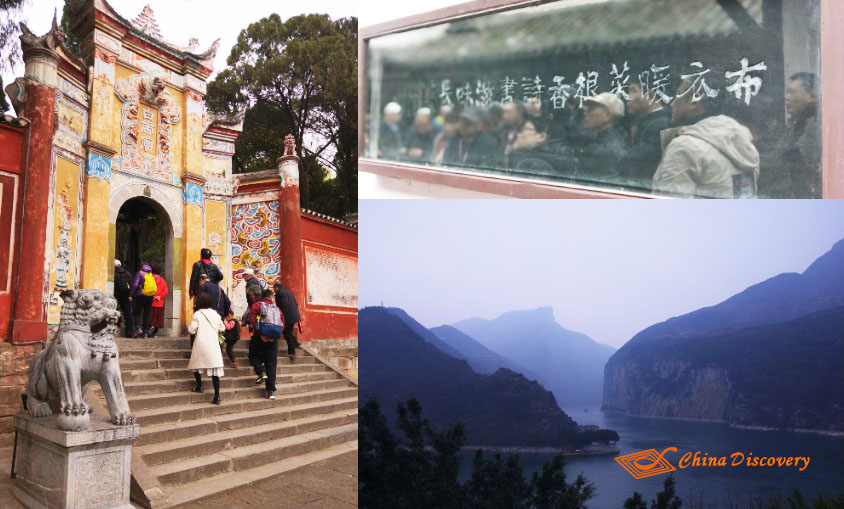 Visiting White Emperor City and Kuimen Gate
Day 4 - Mar. 9th
It was a peaceful and relaxing morning. I was allowed to enter Captain's Operating Room after choosing three optional activities. It was a pity that some persons were noisy.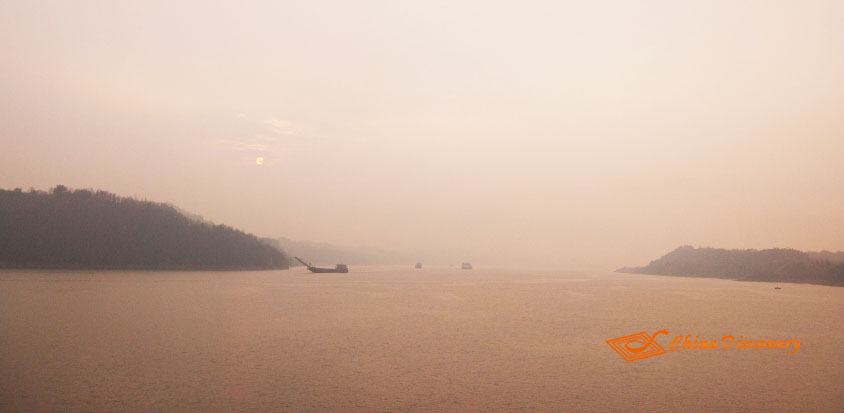 Sunrise Seen from the Cruise Ship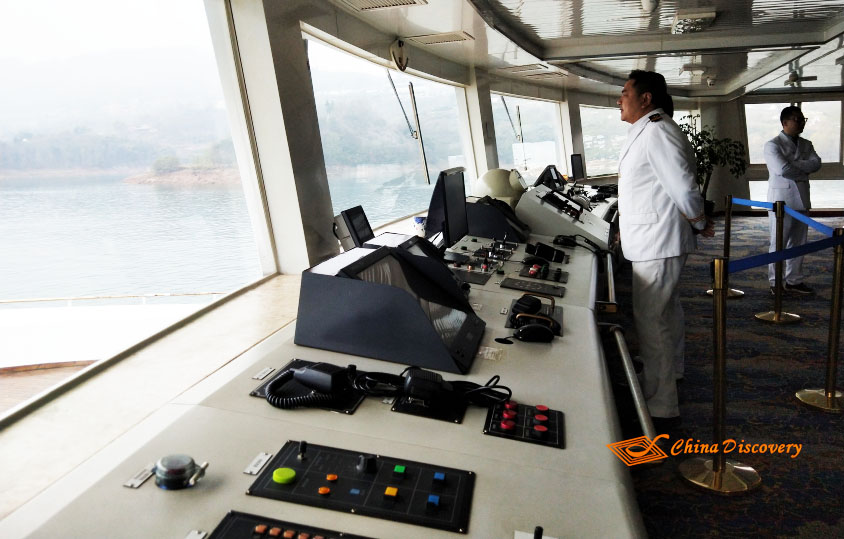 Visiting Captain's Operating Room
Fengdu Ghost City in this afternoon was the last destination. Outside the site is a small square, where locals ride a bike and take a gentle walk. The whole building inside was beautiful with serene atmosphere, beyond my expectation. I was obsessed with the shade and color on the wall, light through the green leaves.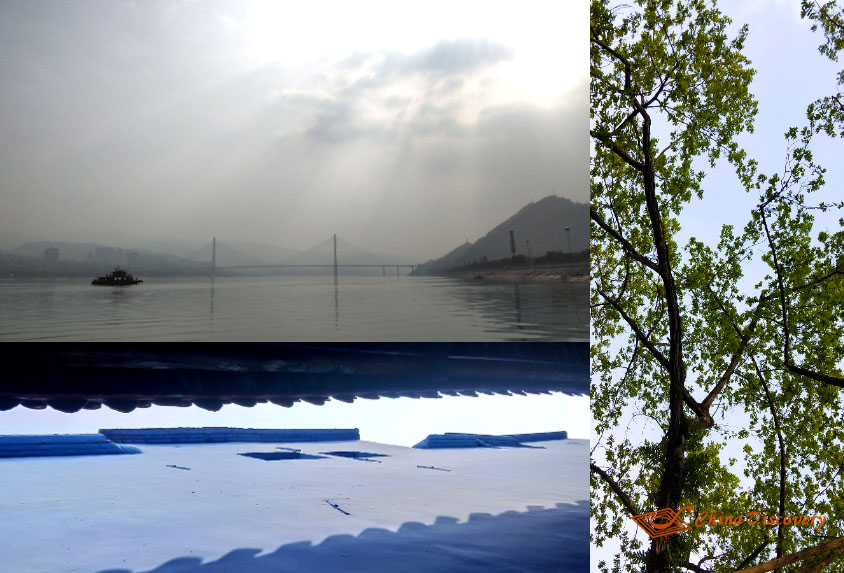 Enchanted Moments at Fengdu Ghost City
Cruise sailed the whole night. And in late night, I stood on Sun Deck and saw higher buildings. We were near to the City.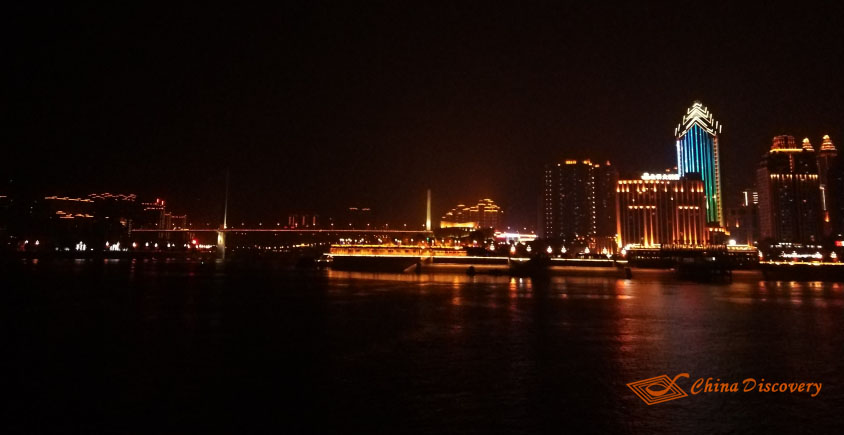 Nightscape of Chongqing City
Day 5 - Mar. 10th
It was the final day and the cruise will end in Chongqing Chaotianmen Port. Gold 8 arrived at port very earlier and my roommate chose an earlier train back home. I was alone in the cabin now.
Finishing breakfast, I packed my baggage to leave the ship. Once I stepped on the land, the remote memory become alive again. I spent 4 years in this city and have not gone for about 2 years, though only about 1.5-hour high-speed train driving. This city looks the same as my memory. On narrow streets, noisy and hardworking people were busy with their jobs now. Same that I finish my holiday and back work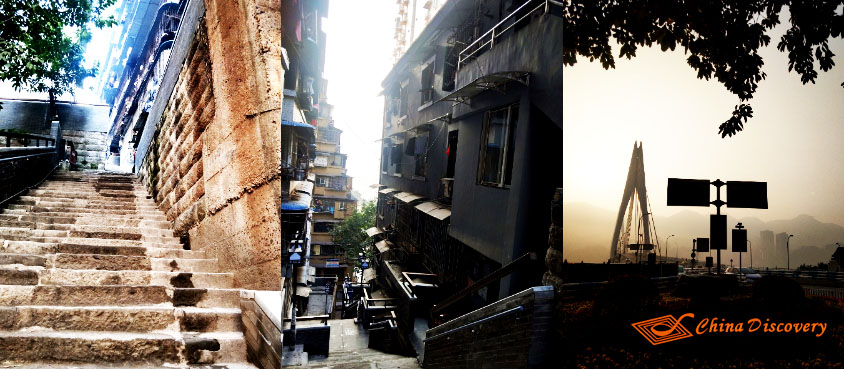 Moments in Chongqing City
Travel with Me
Hi, I'm Lily. Are you interested in my Five Days Yangtze River Cruise? Feel free to contact me, and I will be glad to tell you more stunning stories about the places I have visited. Or, if you want to customize a tour on your own, I'm always ready to help at any time. With my passion, knowledge and understanding of the essence of travel, I promise I will try my best to make the tour memorable and meaningful for you.
Lily

Travel Consultant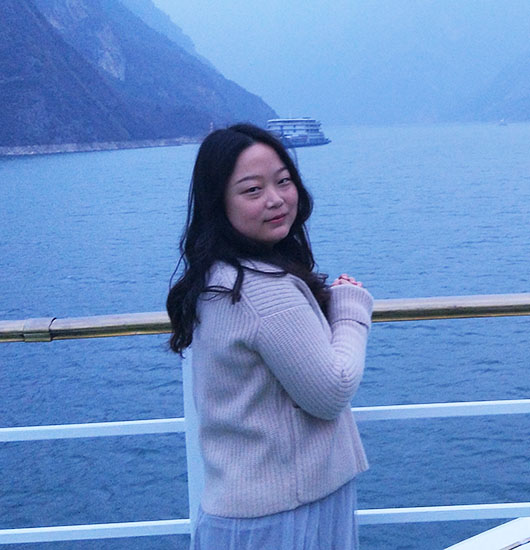 Recommended Tours
Top 3 tours chosen by most customers to explore in the best way. Check the detailed itinerary, or tailor your own trip now with us.
5 Days Relaxing Yangtze River Cruise Tour (Yichang - Chongqing)

Yichang / Yangtze Cruise / Chongqing
12 Days Classic China Tour with Yangtze Cruise

Shanghai / Yichang / Yangtze Cruise / Chongqing / Xian / Beijing
15 Days China Best Treasure Tour with Yangtze Cruise & Zhangjiajie Landscape

Beijing / Xian / Chengdu / Yangtze Cruise / Zhangjiajie / Shanghai
Have a question? Get answers from our travel experts or guests
Your Question:

Your Name:

Your Email: