Travel with Lily: Unforgettable Travelling in 2020 Spring Festival
Departure Date

2020-1-24

Travel Length

5 Days

Travel Theme

Nature, Culture

Group Size

2

Travel Route

Lhasa - Yamdrok Lake - Karola Glacier - Tashilhunpo Monastery - Lhasa - Potala Palace - Barkhor Street - Jokhang Temple

Highlights

Yamdrok Lake, Karola Glacier, Tashilhunpo Monastery, Potala Palace, Barkhor Street , Jokhang Temple

Story Tags

#Tibet#Tibet Trip Story#Potala Palace#Lhasa#Yamdrok Lake#White Karola Glacier#Tashilhunpo Monastery
February should be the busiest period for us, but now turned out to be the quietest time in my career. I sought this chance to reflect the passing year and upcoming time, and also write my traveling in Tibet in this spring festival.
On Jan. 24 flight arrived at Lhasa as scheduled. We went through a body temperature check point and took a public bus to downtown. It was sunny with clear sky, which made me forget the stress caused by the virus. No wonder Lhasa is also called as Sunshine City. A long queue was still waiting outside of Potala Palace.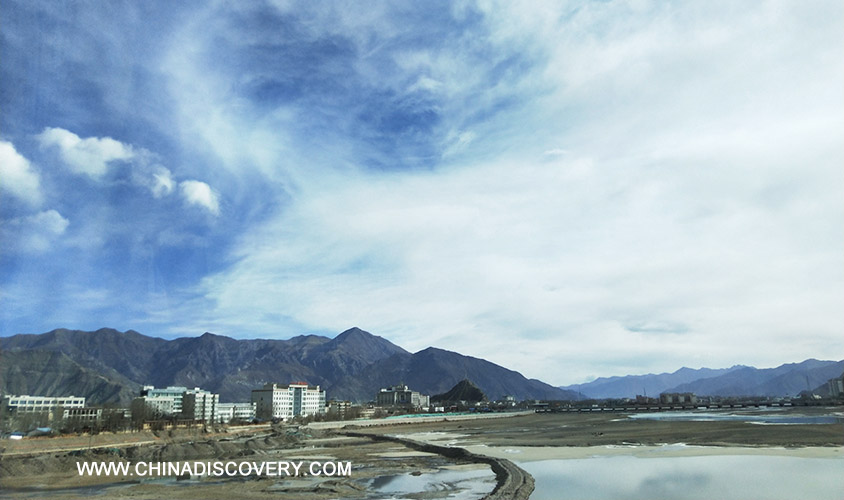 On My Way to Lhasa
Arriving at the hotel, my friend and I both suffered high altitude sickness. Late-night my friend still kept awake and vomited at midnight, which made me worried and even planned cancel bookings. I felt a little depressed when the firework was set outside at the beginning of the Spring Festival.
Luckily on the morning of Jan. 25, my friend revived her spirits and asked to continue the tour. At this stage, no one predicts that my poor friend almost slept the whole tour in a car.
The first day was a disaster. We joined a group tour online and wasted almost one day to get our border pass, because of bad arrangement. After discussing, the final result was refund for one day reduced, taking off Mt. Everest and starting tour immediately.
Finishing dealing with my clients' tour, I was confused about why other members agreed to start the tour immediately. It was not safe driving in dark. Anyway, all was solved, no matter my tour or my clients' tour. Later I could ask the driver to be careful. I felt so relaxed, watching peaceful Yarlung Tsangpo River outside with remote mountains on a clear sunny day.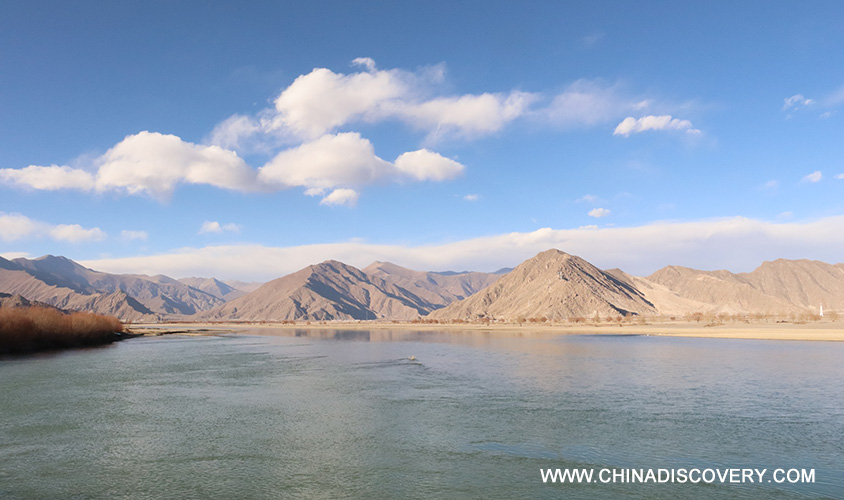 Yarlung Tsangpo River
An unexpected luck today was that we saw the sunset at Yamdrok Lake. The whole lake was almost frozen, except a small area, which was lit by bright light still remaining in the sky. Behind us were swirling pink and blue clouds, which gave a romantic sense to majestic mountains. It was a true relief in the two bad days that all unlucky were got paid. Cold heavy winds blowing, I was unwilling to get in car soon, though my hands felt frozen.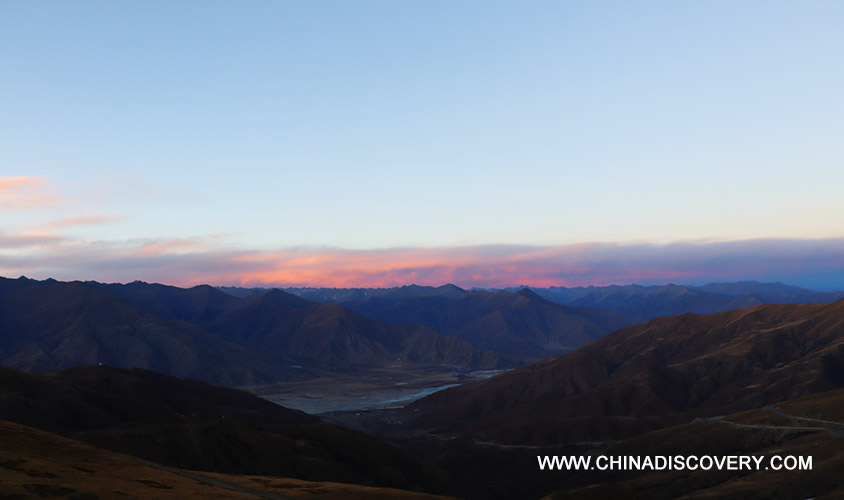 Sunset at Yamdrok Lake
Soon clouds behind turned purple, gray, and finally all sank into darkness. Only were distant mountains outlined by the glow of setting sun, which seemed unwilling to leave, scattering its flame over.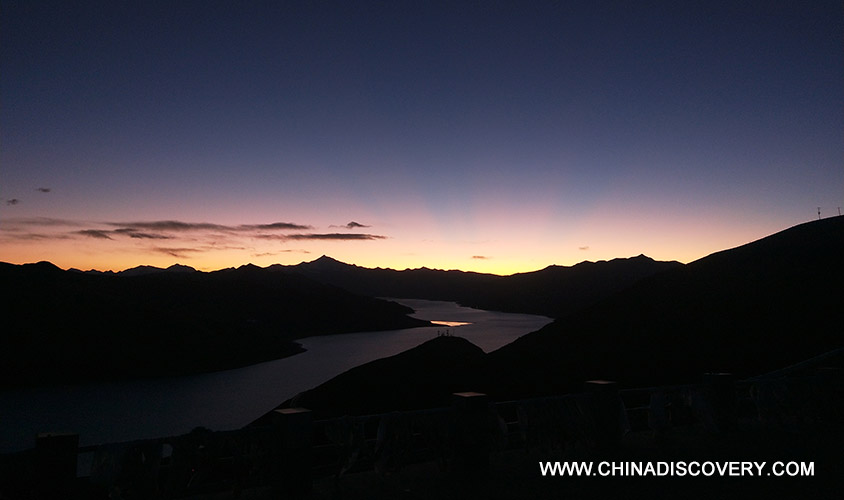 Yamdrok Lake in the Dusk
We continued our tour to a remote suburb when night fell. Above the huge peaceful lake showed several bright stars, and later more and more of them. It was the first time that I realized a starry night was like lots of bright bead curtains hanging from the sky, instead of beads scattering around. I asked the driver to drive slowly and occasionally talked to him, in case he would get sleepy, or knock horse walking silently on road at night.
Safely arriving at the guesthouse, I was too tired to see the beautiful sky outside. it was a restless night suffering headache at an altitude of more than 5000m. At 5 am I sized a chance to see the sky above, when walking slowly to the washroom outside. Ah, it was so beautiful that I felt happy to see them again, even in a short stay.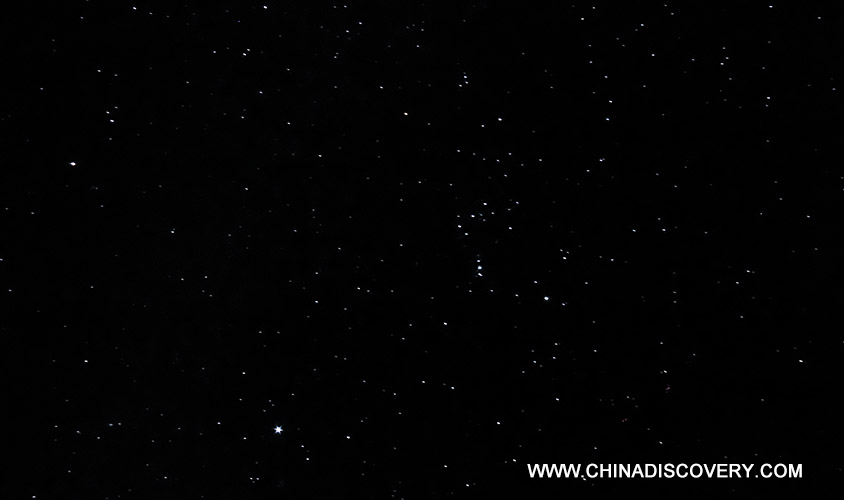 Beautiful Starry Sky
Finally, the morning came. Looked from window, distant mountains hid the true horizon. Above the mountains were morning pink and yellow clouds, which was like a blushing bride behind her veil. Caught by the beauty, I walked slowly downwards hill to the frozen lake, and at times stopped to take a deep breath. The walking took a long time even the lake was not far. Now sky had turned light and sun cleared the top of distant mountains with snow cap. Ice reflecting sunshine, I could not stare where the sun rose. But it is still bitterly cold, and I could not feel my toes.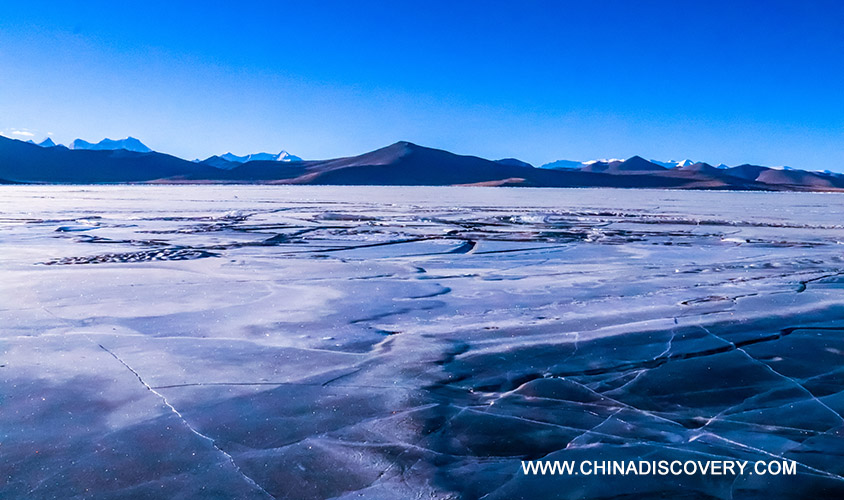 Frozen Lake
Behind me came several women from the local village nearby. Each of them carried a bucket, walked on to the iced lake, and bailed water with a large cup from a hole on the lake. I stepped carefully towards them and curiously see how thick the ice was. One woman, raising her head, talked me in Tibetan, but soon realized I could not understand. She shook her head and pointed the other direction with her jaw, while keeping bailing water. The other women whispered and squinted during their busy labor. I felt a little embarrassed.
Back to our group, we started today's visit. On the way to Shigatse, the scenery was so beautiful that I was totally attracted by the colorful landscape. White steam rose from silver ice on the peak of the mountain, which I could not tell the boundaries of clouds and steam. Red mountains afar seemed to be haunted by white haze, which made me fancy more about remote areas. Floating smooth ices hove on shimmering emerald-like river, playing a harmonious rhythm with heavy winds though mountain. Hundreds of little birds assembled together, sweeping over the river like a huge dark cloud, when we left a reservoir for the city.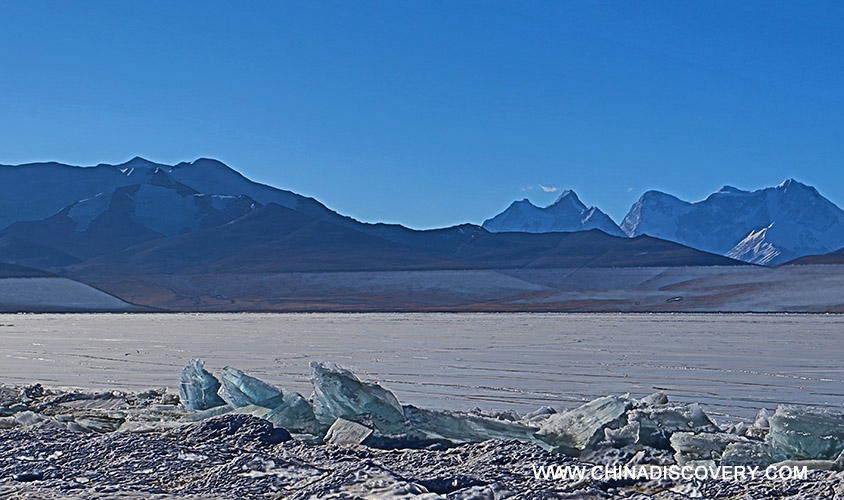 Ice on the River Bank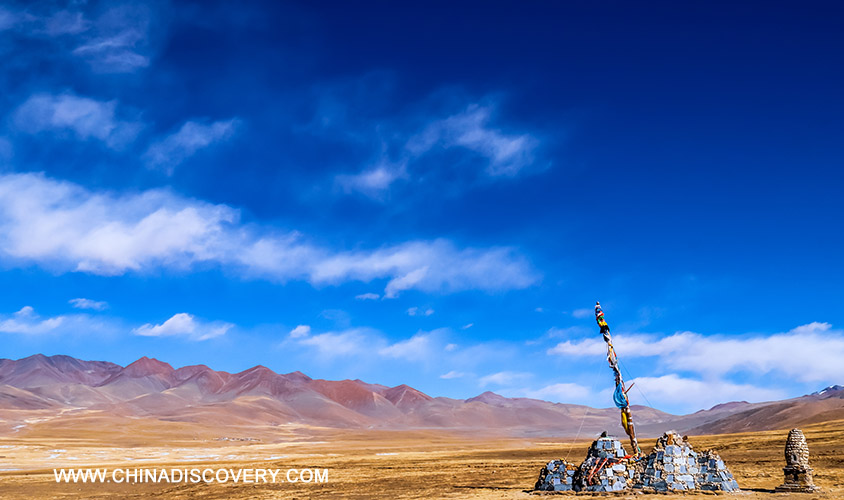 Beautiful Landscape Along the Way to Shigatse
When approaching Karola Glacier, I saw more and more mountains on the peak of which were covered with ice as well. They were gorgeous, even compared with Karola Glacier. So instead of feeling thrilled about Karola Glacier, I was caught by the shade, light, and color of mountains with glacier under the sun. It was like a beautiful oil painting.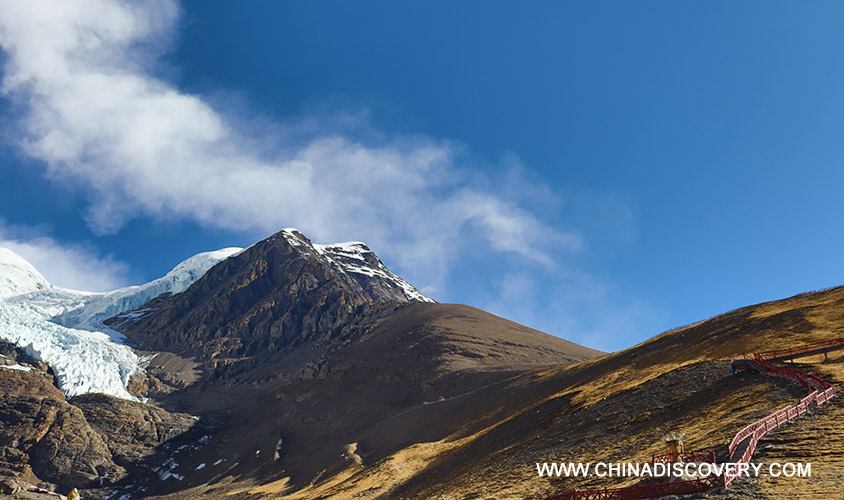 Karola Glacier
On the way, we dropped by at Gyantse Dzong Fortress and took a walk in the park under the fortress. It was a relaxing and colorful day, with nice road conditions, sunny days and beautiful landscapes.
Arriving at Shigatse, my friend and I asked another group member to eat a better meal together. In the past two days, we had noodles every day. When we heard the sound of fireworks, we realized firework was allowed in Shigatse city, which was prohibited in other inner cities for years to protect the environment. In the hotel yard, I had the most spring festival day.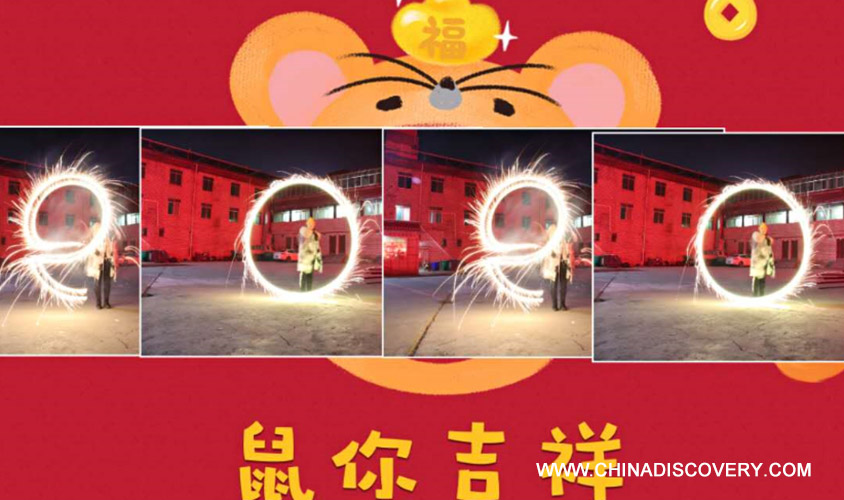 Play with Fireworks
Today the most memorable was to visit Tashilhunpo Monastery. We planned to go inside yesterday afternoon, but the lama at the gate suggested we go the next day as the main buildings were already closed at 5: 30 pm. At first impression, the monastery was smaller than I thought, but still delicate, with gold lines shining under the sun. The road where it stands was very smooth, where the sunshine shed like water. Perhaps this road was polished by thousands of prayers.
Most tourists and worshippers, I guessed from their appearance, were Tibetans from other provinces such as Sichuan, Qinghai, and Gansu. I had been to Silk Road and got impressed that religion has been playing a very important role in ancient times till now. Silk Road was to connect nations to fight enemies together, but it led to the prosperity of business and Buddhism. I was a little surprised when coming across a group of South Koreans.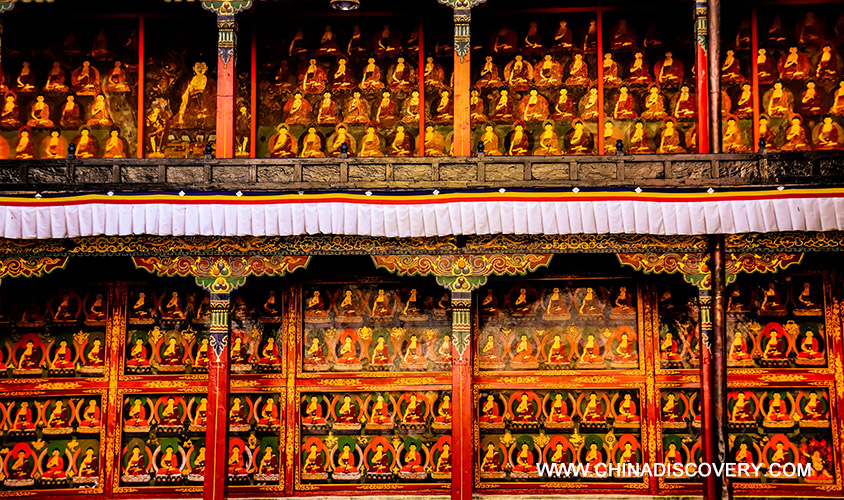 Colorful Decor in the Courtyard
We visited four main red buildings and one white building. These halls inside were very gorgeous, with the decoration of gold, silver, diamond, pearl, amber and lots of treasures, the typical Tibetan big monastery. In the biggest hall, I saw a long queue, waiting to be touched by one person in a small house. I enjoyed the bustling praying scene in the hall. No matter a vulgar or a great person, he had his limits and had something to look forward to. Those wishes made me feel I was living.
Leaving those red buildings, we stopped in the courtyard of the white building. Curtain outside window fluttering, the wind carried lama's song to heaven. I could sit in this serene yard for one day.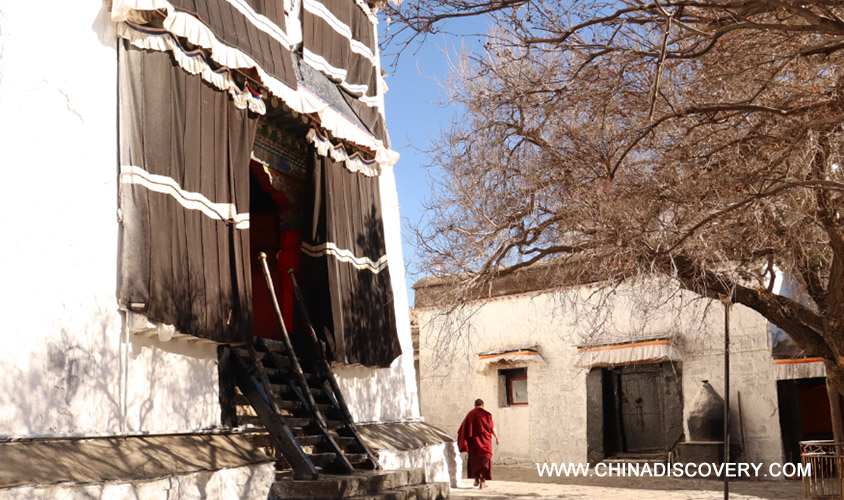 Encounter with a Lama Monk
On-road back Lhasa, we met traffic jams and went through about 5 times body temperature checking in total. Finally, we were back to the city. It was comfortable that we booked a delicate Tibetan guesthouse with a small pond inside. Standing on the terrace, I could see the beautiful Potala Palace.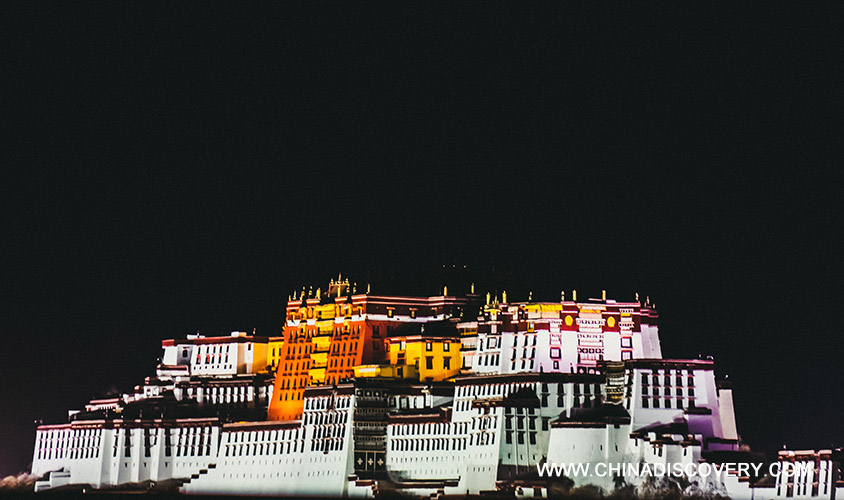 Potala Palace at Night
We three persons again decided to hunt the best food on Barkhor Street. I enjoyed Tibetan dishes and salty buttered tea, but my friends did not get used. Outside the window, I saw local people walk around Jokhang Temple as a daily tradition of pilgrimage. Young girls were taking photos in local Tibetan clothes. A harmonious mixture of the old and the young! I truly hoped local guys could make a better life while keeping their original lifestyle.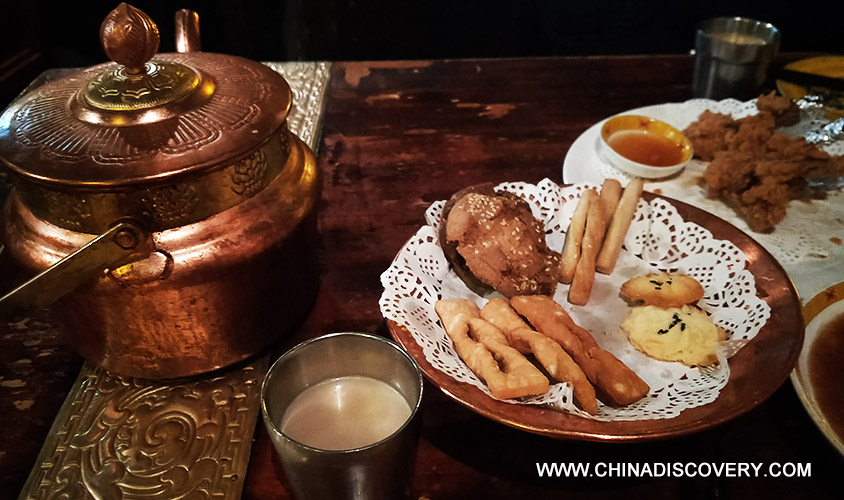 Tibetan Dishes
Jan. 28 was the last day we stayed in Lhasa. Yesterday late evening, a change interrupted our leisure time. All hotels and tourists sites in Lhasa were closed today, because one person from Wuhan was suspected to get infected (has recovered in February, 2020). We rebooked one flight in today's afternoon. No visiting could be done in the morning and we decided to take photos in local clothes, as the end of the tour.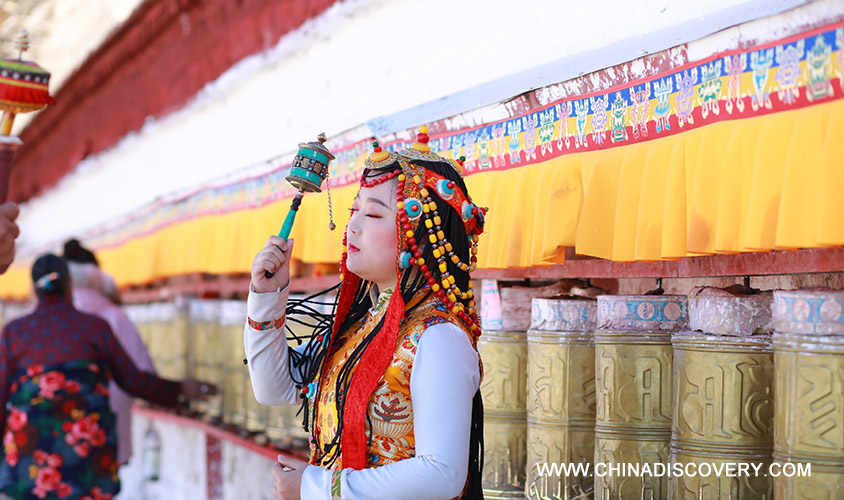 My Photo in Local Tibetan Clothes
I stayed alone for 14 days at home after back home, considering from possibility of infection. Till now, I started work at home and had dealt with lots of cancellations as my colleagues. It was not an easy period for us and our company. But I still believe spring will come soon. It was the end of February and the situation got much better now.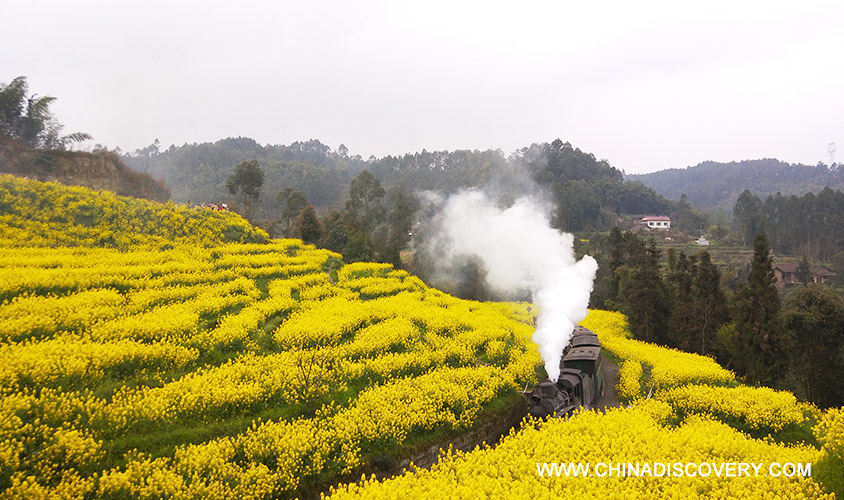 Prayers and Hopes for the Coming Spring
Travel with Me
Hi, I'm Lily. Are you interested in my Five Days Tibet Trip Story? Feel free to contact me, and I will be glad to tell you more stunning stories about the places I have visited. Or, if you want to customize a tour on your own, I'm always ready to help at any time. With my passion, knowledge and understanding of the essence of travel, I promise I will try my best to make the tour memorable and meaningful for you.
Lily

Travel Consultant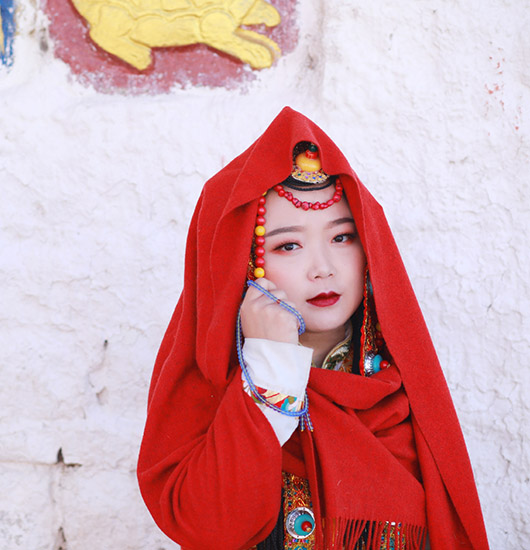 Recommended Tours
Top 3 tours chosen by most customers to explore in the best way. Check the detailed itinerary, or tailor your own trip now with us.
4 Days Lhasa Essence Tour

Lhasa City & Suburb
Have a question? Get answers from our travel experts or guests
Your Question:

Your Name:

Your Email: