Lily's 5 Days Memorable Daocheng Yading Tour from Chengdu
Departure Date

2020-5-1

Travel Length

5 Days

Travel Theme

Nature, Hiking, Friends

Group Size

2

Travel Route

Chengdu - Xinduqiao - Daocheng Yading - Chengdu

Highlights

Xinduqiao, Daocheng Yading Nature Reserve...

Story Tags

#Xinduqiao#Daocheng #Daocheng Yading#Daocheng Yading Nature Reserve#Daocheng Yading Nature Reserve HikingDaocheng Yading Nature Reserve Trekking
My First Impression of Daocheng Yading!
When I was a kid, I heard Daocheng Yading, which is named as the Last Shangri-La, the Last Pure Land on Earth and the "Holy Land in the Sun. It is located in Garze Tibetan Autonomous Prefecture, about 683 kilometers away from Chengdu, with an average altitude over 4000 meters. The worry about suffering high altitude sickness keeps me from exploring its beauty for years. My visit to Tibet encourages me to do the trip in May, 2020 eventually.
Day 1 Road Trip from Chengdu to Xinduqiao
On May 1, I got up earlier to assemble with other group member in Chengdu. Everything went smooth and the road trip began! Our group met a terrible traffic jam, as it was the first day of May Day Holiday. I slept for half a day in car and got refreshed after lunch. At this moment I had already left Chengdu. May was the beginning of spring for mountainous southwest Sichuan Province, while I received message it was up to 37 degree Celsius in Chengdu.
Tonight we would stay overnight in Xinduqiao, a beautiful small Tibetan town. It was a long way and we stopped to pay a visit to Muya Shengdi for a rest. Heavy Snow came when we just arrived at half way in scenic area so our visiting halted at the first viewing platform. It was very cold now and I should take one thick down coat.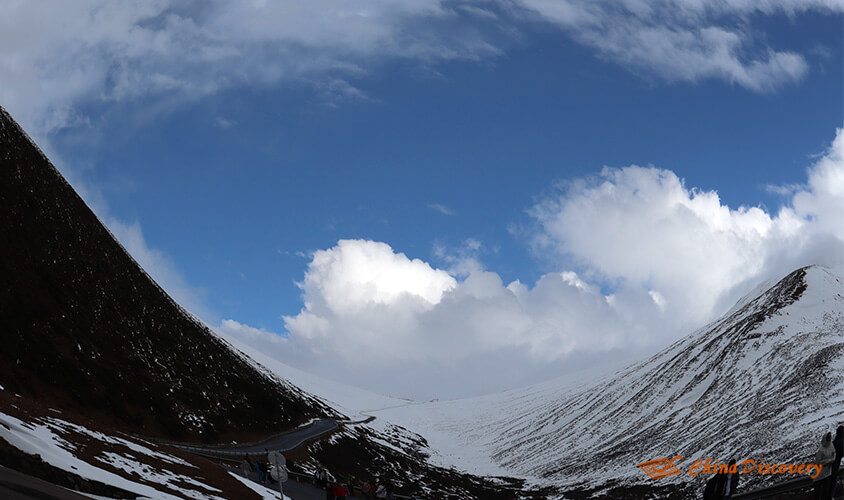 On the Way to Xinduqiao
At night someone lit bonfire nearby hotel. It gave me some warmth, as the small town was suddenly out of power.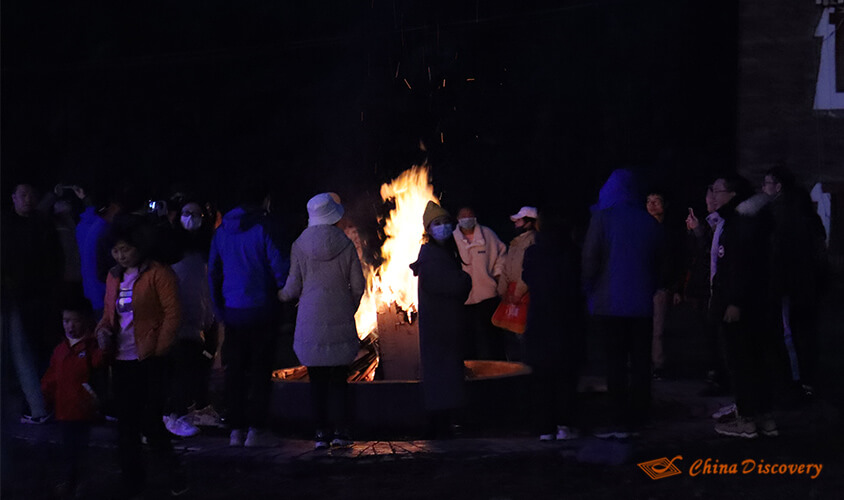 Bonfire Party
Day 2 Road Trip from Xinduqiao to Daocheng County
It was May 2. A long journey was waiting that day and I had to get up earlier. At the beginning I stayed excited to look outside of the car window. Along the two sides of road were huge mountains and the dull scenery kept the same for about two hours when our car was crawling between mountains. I could not resist my sleepiness and fell asleep.
The driver had a short rest before finishing winding in huge mountains. The happiness of getting rid of trapping in mountains was so overwhelming that I made up my spirits and walked nearby to take some pictures.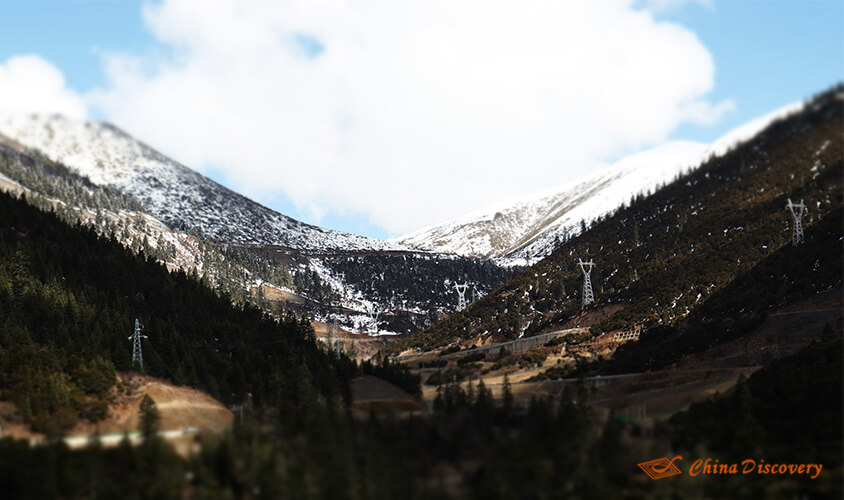 On the Way to Daocheng Yading Nature Reserve
Followed was a relaxing driving on a flat wide road on mountain top. Outside of car window were boundless mountain tops and I felt I was roaming in sky. It was the most beautiful road scenery during the whole tour. Snow on remote mountains was shimmering. Sun came through clouds and left patches of light pattern on green forest. When cloud drifted away, shadow on mountain drifted too. The whole world was lit up, with a sense of serenity.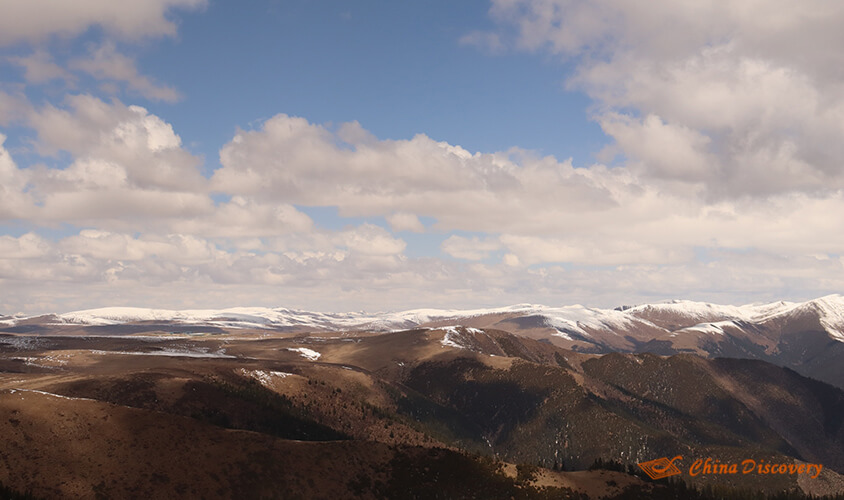 On the Way to Daocheng Yading Nature Reserve
Passed by snow world, our group unexpectedly entered into a stone world. Huge dark stones scattered around on mud. I felt I was like an alien, who suddenly broke into the lonely world.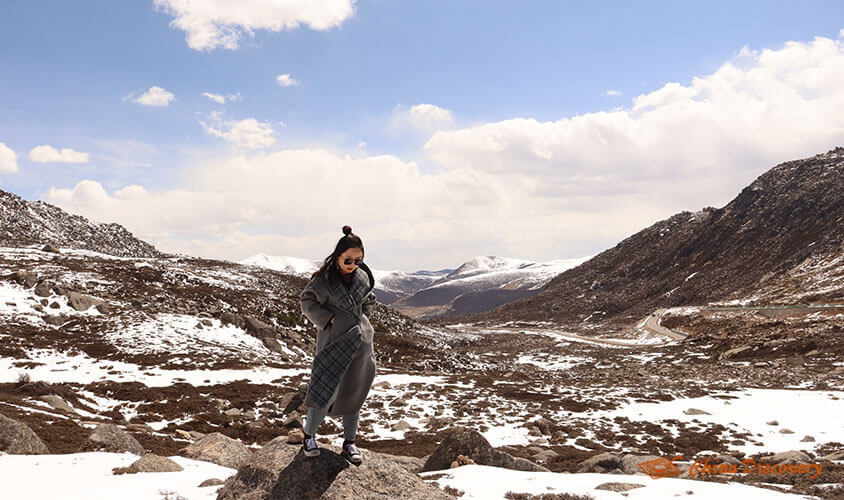 On the Way to Daocheng Yading Nature Reserve
Tonight our group stayed at a comfortable hotel in Daocheng County. That night three members of our group suffered serious high altitude sickness and would take a flight back Chengdu next morning.
Day 3 Daocheng Yading Tour
May 3, the day to Yading Scenic Area, came eventually. It would take about 7 hours hiking upward to Milk Lake and Five Color Lake. It was the third day of holiday and lots of tourists gathered earlier at the entrance. Queuing for sightseeing bus, eco-car and checking in at hostel, half day had passed when our group arrived at Luorong Pasture, where hiking started.
The upward hiking was extremely hard. What made the hiking hard was not the hiking length, but the high altitude increased challenge. Walking at a snail's pace, I spent about 4 hours to climb to Milk Lake and Five Color Lake. At the first half way, I did not stop to admire the beauty, in order to save some energy and time. When hiking at the end, I had to stop to have a rest after several steps. Steep stairs made my legs trembling and no courage to look up to the final destination.
Luck did not come when I finished the climbing stairs. It was plat planks to Milk Lake though. Snow mixed with ice swirled and heavily dropped on my clothes. I was worried whether I would get cold, walking in heavy wind and ice. My sunglasses were put in my pocket now, after working a while at the beginning of hiking.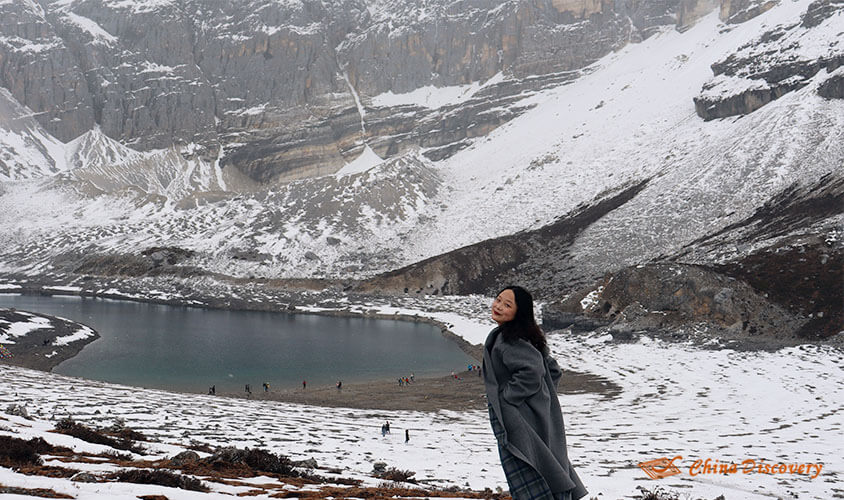 Milk Lake
Milk Lake was still beautiful in a misty weather, deep blue with white trim and surrounded by holy mountains. Five Color Lake looked kind of similar. Snow was carried by wind from mountain. When wind heavier, I could not face the lake. Only one idea swirled in my mind: I finally arrived at the destination.
The hiking became much easier when I went back. I walked faster at that moment, because I did not suffer any high altitude sickness before. When I walked on stairs, my mind flashed. It was acknowledged that beauty always hides in remote area. But I suspected whether the hard pursing added its beauty or charm. For example, I was now quite relaxed and thought all my see was the most beautiful.
Withered leaves were still lingering on trees. Those yellow and red leaves reminded me of its best scene in autumn on the advertisement. Green pines stood still and added more color into the landscape. In May one stream started to running as weather got warmer. It went through lush forest, passed yellow grassland and stretched to the foot of remote mountains, which are still with white snow. If you were careful, you would notice it is blue ice on mountain top.
When I approached grassland, I saw the shadow of majestic mountains was cast into clear peaceful lake. Locals were busy with fixing the roof of their small special stone house. Evening came at that moment and sun scattered its light to one side of mountains. I felt warmth and my clothes became dry.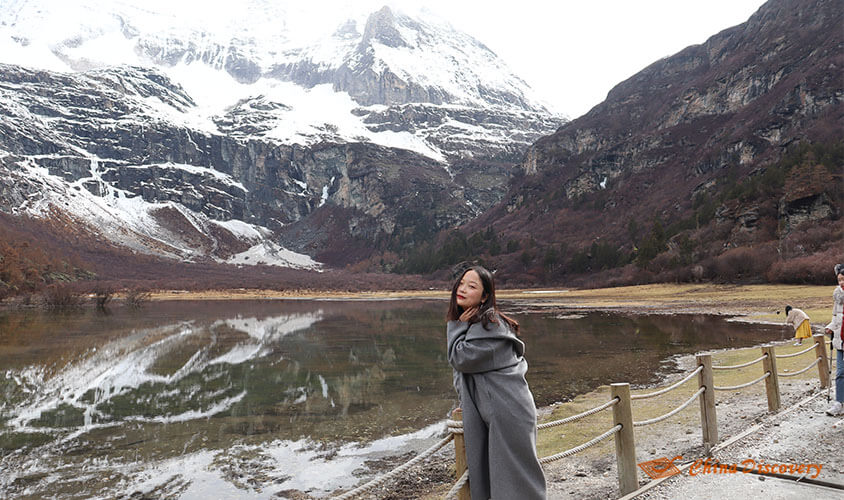 Daocheng Yading Nature Reserve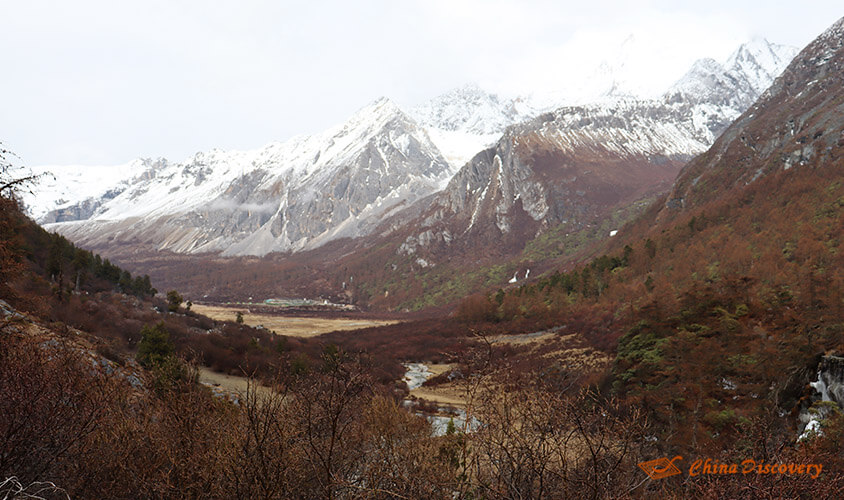 Daocheng Yading Nature Reserve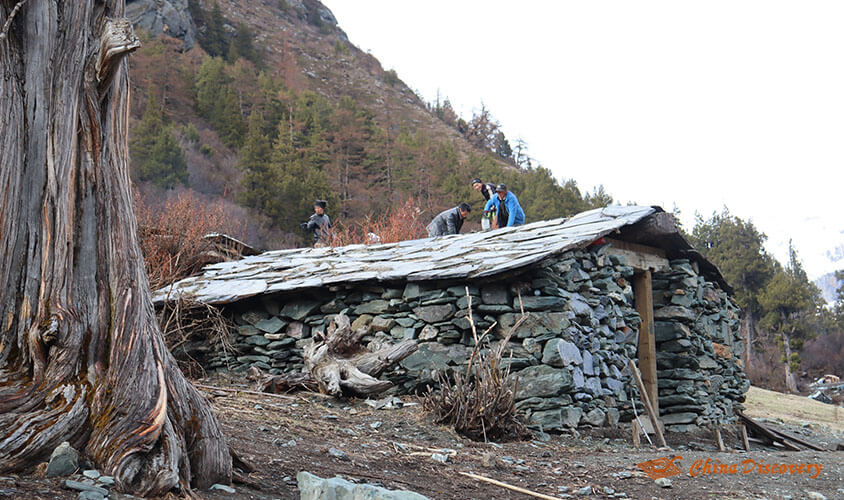 Daocheng Yading Nature Reserve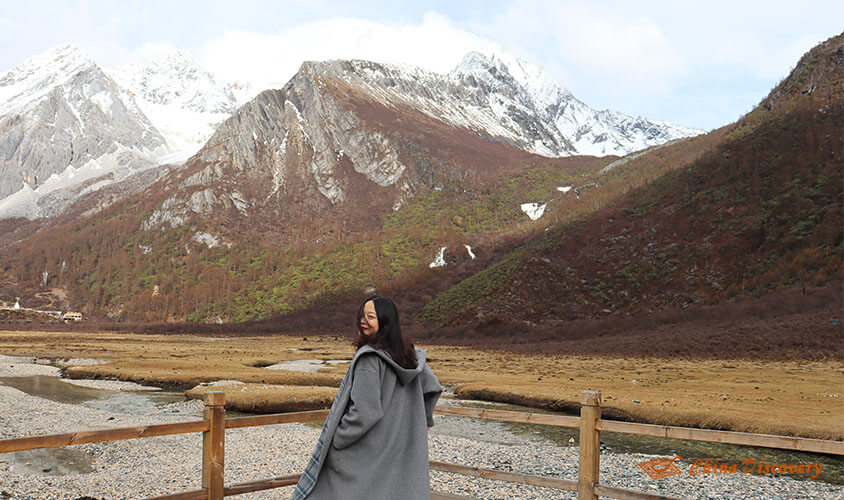 Daocheng Yading Nature Reserve
When waiting for the sightseeing bus, I still felt relaxed when saw horses afar wandered around at the foot of Snow Mountains, though I had run out of my energy
Day 4 Daocheng Yading Tour
I woke up earlier in the morning of May 4. Bad weather at the night before made it impossible to see starry sky. Today was sunny but we gave up to another shorter hiking to Pearl Lake. I enjoyed some leisure time on terrace of hostel. Morning orange light had appeared in sky, though the sun was still behind mountain. In front of me was Chonggu Monastery. Without much light, the whole scenery appeared in a darker color than yesterday. It was so quiet. No one came to the terrace. I totally enjoyed my little own world.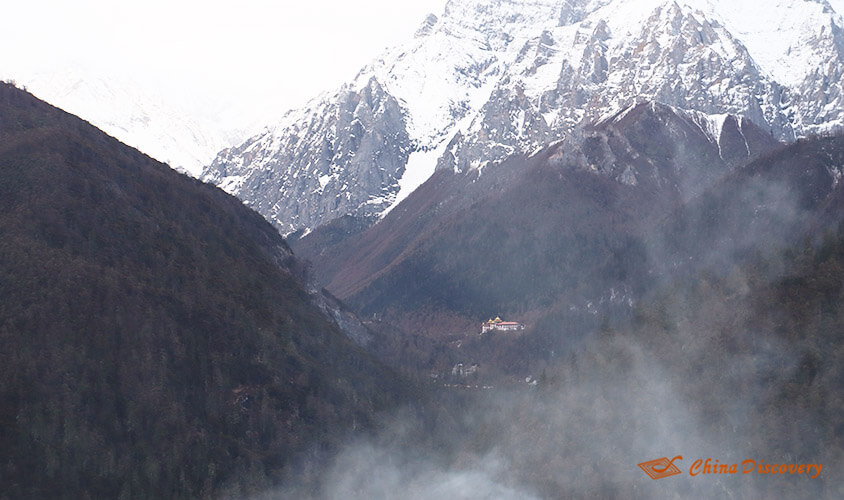 Chonggu Monastery Hidden in the Forest
I met other group members later and took sightseeing bus out of scenic area. Our driver was waiting at mountain foot. We took the same way back Xinduqiao. I was sleepy the whole day, because of tiredness after hiking and spinning during long-time travelling on road. If one had more time, he could make a different way via Seda to Chengdu. Experience should be much better with more different scenery to explore.
A long day was spent in car that day, so at night our group decided to walk around together. I bought two small bottles of honey when passed a shop, because my grandma loves drinking honey and told me to buy it if possible. The local beekeepers fed bees in wild and made honey by their own. I read words on wall and knew they are also sold online. Local government also supports them behind to help local farmers to earn more money and get better life. I finished the task my grandma gave. It was a satisfactory ending for the tour.
Day 5 Daocheng Yading Tour & Drive Back to Chengdu
On May 5, I was very happy to come back home, as my stomach was missing hometown's delicious food. The whole 5-day tour totally met all my expectations about Daocheng Yading. Great happiness was got when I finally reached the top. Additionally the long journey on road gave me much more unexpected surprise.
Travel with Me
Hi, I'm Lily. Are you interested in my 5 Days Daocheng Yading Tour from Chengdu? Feel free to contact me, and I will be glad to tell you more stunning stories about the places I have visited. Or, if you want to customize a tour on your own, I'm always ready to help at any time. With my passion, knowledge and understanding of the essence of travel, I promise I will try my best to make the tour memorable and meaningful for you.
Lily

Travel Consultant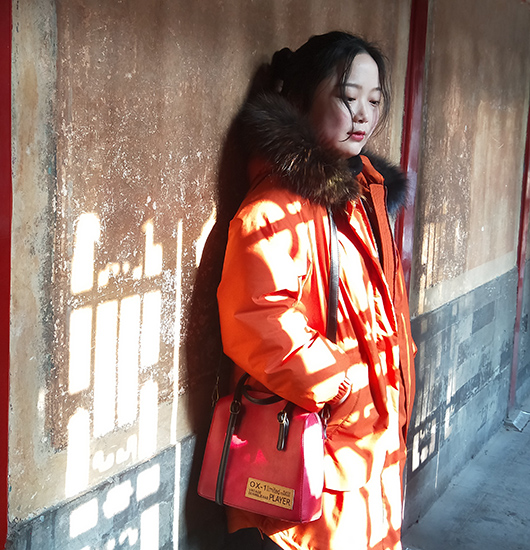 Recommended Tours
Top 3 tours chosen by most customers to explore in the best way. Check the detailed itinerary, or tailor your own trip now with us.
4 Days Daocheng Yading Classic Hiking Tour from Chengdu (by Flight)

Chengdu / Daocheng / Yading
4 Days Daocheng Yading In-depth Hiking Tour

Chengdu / Daocheng / Yading
4 Days Daocheng Yading Photography Tour

Chengdu / Daocheng
Have a question? Get answers from our travel experts or guests
Your Question:

Your Name:

Your Email: