Lily's 3 Days Yibin Tour with Tasty Food and Must-sees
Departure Date

2019-10-01

Travel Length

3 Days

Travel Theme

Nature, Hiking, Friends

Group Size

2

Travel Route

Chengdu - Lizhuang Ancient Town - Shunan Bamboo Sea - Chengdu

Highlights

Lizhuang Ancient Town, Shunan Bamboo Sea...

Story Tags

#Lizhuang Ancient Town#Shunan Bamboo Sea #Yibin#Yibin Tour#Yibin Shunan Bamboo SeaYibin TripYibin Tour from ChengduYibin Trip StoryYibin Travel Story
In National Day Holiday, 2019, I went to visit my friend in Yibin, a city which takes about 90 minutes to reach on a high speed train from Chengdu. I was looking forward to a leisurely holiday with fewer crowds.
Day 1 Bullet Train from Chengdu to Yibin & Lizhuang Ancient Town Tour
Yibin is famous as it is the beginning of Yangtze River, Liquor City and Bamboo City. It was my first time visiting this city. Upon my arrival, I realized that liquor plays an important role in the city. Buses run on street with advertisement for liquor. The whole city is haunted with the smell of liquor. I wondered whether each person in this city drinks a lot.
Our only destination that day was Lizhuang Ancient Town. One famous specialty in this town is called Lizhuang Pain Pork with Chili Dip. Half fatty and half lean pork was sliced as thin as paper and locals eat it with some garlic or chili sauce. It is so famous that one person can easily to find it even on streets in Chengdu, but I hadn't tried it before. Because I thought a simple sauce could not cover the smell of greasy pork. My friend insisted I try some in this old town and I had to try a bit. In a small dim restaurant, I thought I found the greatest way to eat pork--spin the thin large piece of pork and put it into garlic and chili dip. The fatty half almost melted and lean half needs to be chewed with the sour spicy favor. I did not feel that it was greasy or smelly. Thinking about this experience makes my mouth water again.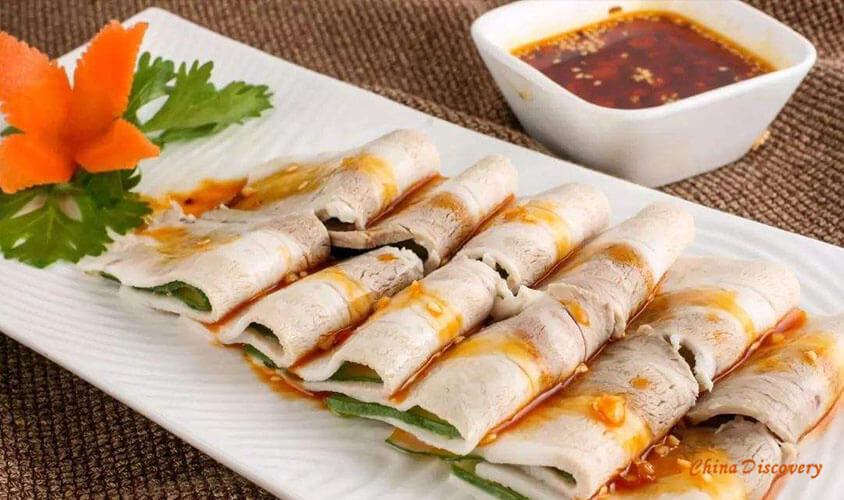 Lizhuang Pain Pork with Chili Dip
After the good lunch satisfied my stomach, I was in a good mood to admire the small town. It is an old town along a river where boats still work to connect it with the other riverbank, instead of making a detour via a newly-built bridge.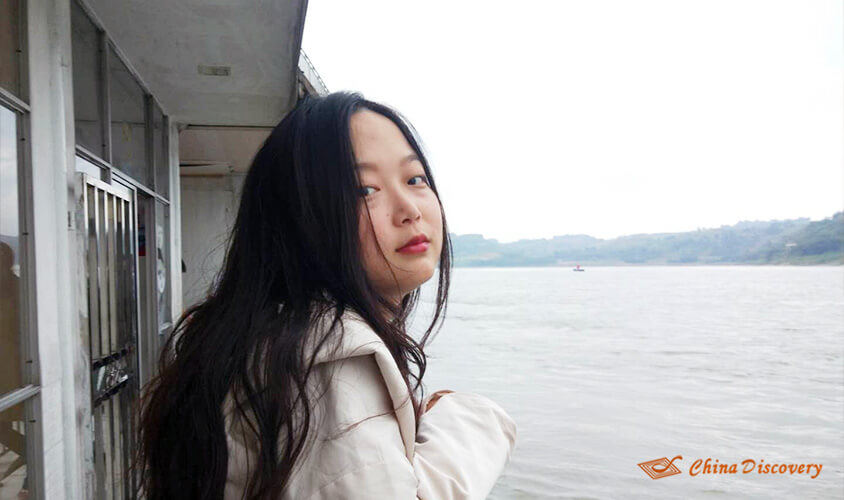 Lizhuang Ancient Town Small Boat Tour
At the edge of town was a paved, wide road alongside the river. Inside the town are narrow flagstones. They are clean but not easy to walk on during rainy days. We gave up walking around as it started to rain. The best way to explore an old town, I think, is to find a delicate antique teahouse for a nap, with soft, relaxing music in the afternoon. It is much better to have tea or a drink after a feast. Light came through wooden window and I had a good sleep in the little teahouse.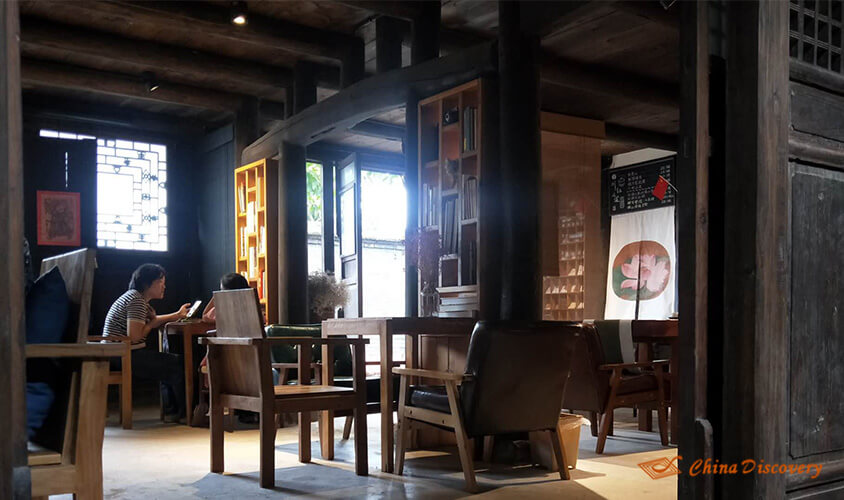 Tea House at Lizhuang Ancient Town
When we left this town, I found some chefs were slicing pork at the entrance of restaurant to show their good skill and attract diners. It was interesting to watch their performance. Holding a cup of tea, they only used one hand to slice one large complete piece of pork as thin as paper. It was worth visiting even if you only come for the delicious meal!
Day 2 Shunan Bamboo Sea Tour
The next morning we took buses to Shunan Bamboo Sea. The high speed train to Changning was still under construction. Buses were the only public transportation we could use. It took about 90 minutes to get the destination. I woke up sometimes and felt the bus would almost drive into locals' house, then it made a turn and make its way safely.
Finally we approached the bamboo sea, so much bamboo along the roadside! It was a sunny day and the sunshine went through the forest. I felt warm and relaxed. We checked in at a local guesthouse and changed onto a sightseeing bus headed into scenic area. After a meal of bamboo shoots, I felt sleepy again because last night I and my friend sat beside river until very late. The peaceful atmosphere and soft breeze was incredibly relaxing.
That day, our first destination was a viewing platform to see thousands of turtle-like green hills. Chinese culture says that turtles can bring good luck, wealth and well-being to the people. Below the viewing platform are thousands of green hills scattered on a light green plain. White houses are situated at the foot of hill. Above was a clear sky with floating white clouds. It was like a land of peace and joy from a fairy tale.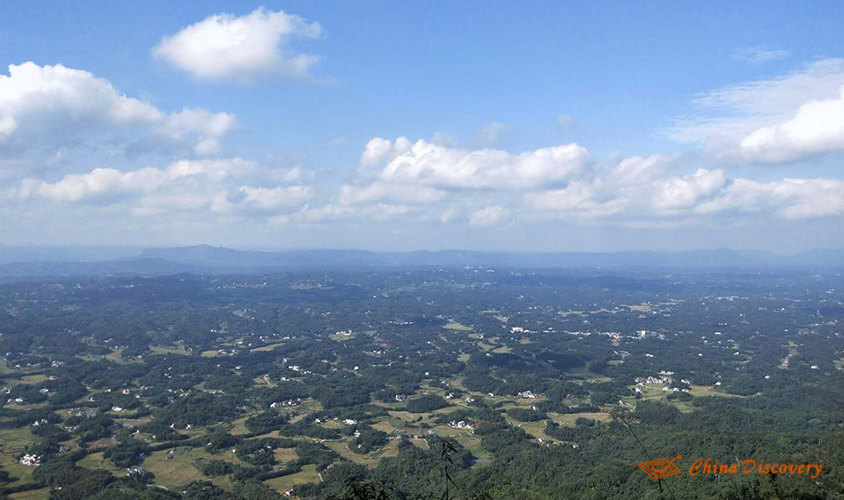 View from the Viewing Platform of Shunan Bamboo Sea
Our next two destinations were a small fall and a huge lake. The lake was beautiful with sunshine shimmering on water. Families with kids were excited to take a boat into the depths of Bamboo Forest. We had a leisurely cruise time the day before so did not take another boat.
On this sunny day I wished I could go to a higher place to get a panoramic view. We took the sightseeing bus again and walked down some hills to get through a small gorge by cable car. The whole journey was shorter than I expected. The main sightseeing was kind of like the first viewing platform I visited. It was a bit late and we had no time for another 30-minute cable car to the other side of hill. I wished for more sunny weather the next day.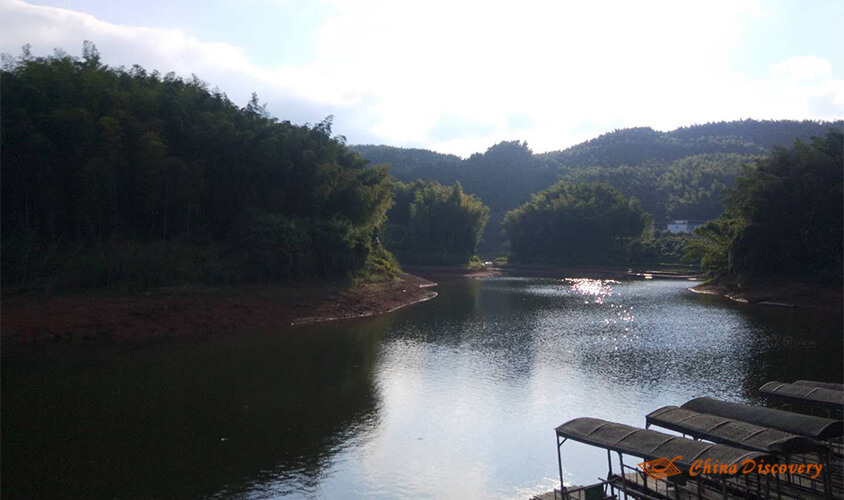 Tranquil Lake at Shunan Bamboo Sea
Now the sightseeing buses were getting fewer. We decided to walk along a flat road when waiting. Sightseeing is always best in evening, I think, without much strong light. When I sat at the small stop, night started to fall and mosquito came, which was annoying in the summer.
My Friend Took a Photo for me at Shunan Bamboo Sea
Day 3 Shunan Bamboo Sea & Bullet Train Back to Chengdu
Unfortunately, the next morning was rainy and foggy. I should have guessed this the night before. The moon hid behind clouds after a short appearance. Breakfast was noodles with bamboo shoots. The locals are very good at making all kinds of food with bamboo.
I made up my mind and set off for today's highlight. The 30-minute cable car travelling totally met my expectations of the Bamboo Sea. I felt like I was travelling in a green sea.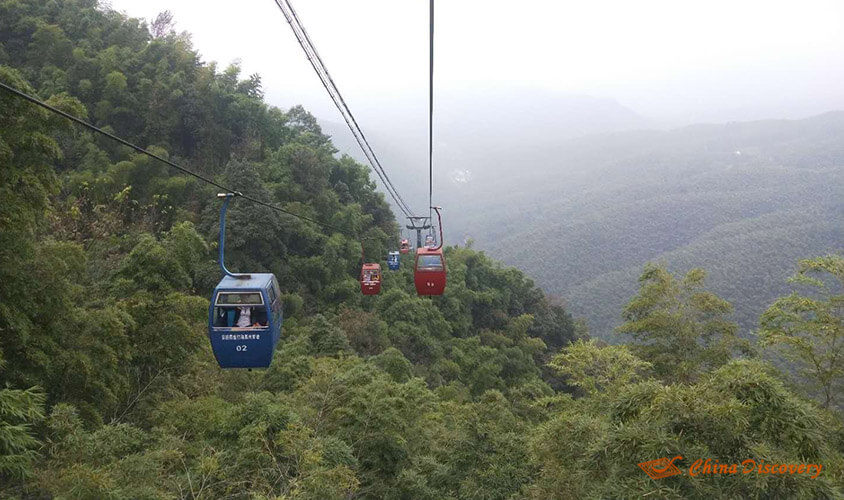 Cable Car at Shunan Bamboo Sea
As foggy weather affected the visibility, we changed our plans and went to climb hill to pass time. Exercise always helps me relax, though the steep stairs made me wonder whether I had made a bad decision.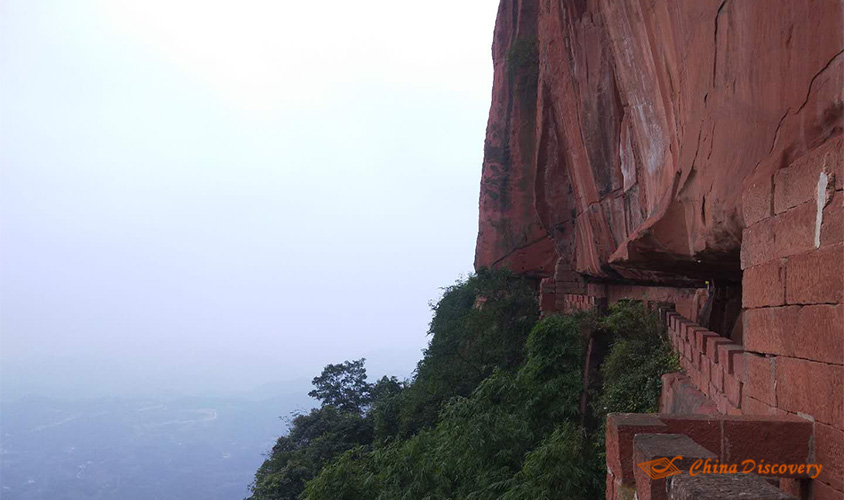 Shunan Bamboo Sea Hiking
As foggy weather affected the visibility, we changed our plans and went to climb hill to pass time. Exercise always helps me relax, though the steep stairs made me wonder whether I had made a bad decision.
Travel with Me
Hi, I'm Lily. Are you interested in my 3 Days Yibin Tour from Chengdu? Feel free to contact me, and I will be glad to tell you more stunning stories about the places I have visited. Or, if you want to customize a tour on your own, I'm always ready to help at any time. With my passion, knowledge and understanding of the essence of travel, I promise I will try my best to make the tour memorable and meaningful for you.
Lily

Travel Consultant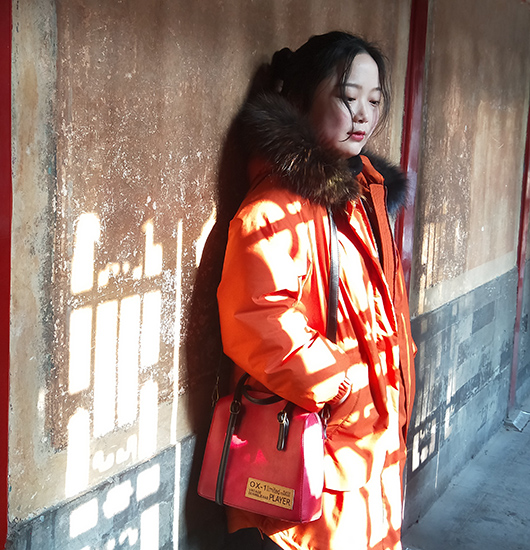 Recommended Tours
Top 3 tours chosen by most customers to explore in the best way. Check the detailed itinerary, or tailor your own trip now with us.
4 Days Classic Leshan Buddha & Mount Emei Tour from Chengdu

Chengdu / Leshan / Mt. Emei / Chengdu
4 Days Chengdu Essence with Shunan Bamboo Forest Summer Vacation

Chengdu / Shunan Bamboo Forest
5 Days Chengdu Jiuzhaigou Comfortable Tour

Chengdu / Huanglong / Jiuzhaigou
Have a question? Get answers from our travel experts or guests
Your Question:

Your Name:

Your Email: