Panda Fun Seeking in Chengdu Research Base of Giant Panda Breeding
Departure Date

2020-5-17

Travel Length

1 Day

Travel Theme

Nature & Sightseeing

Group Size

1

Travel Route

Chengdu Panda Base

Highlights

Chengdu Panda Base

Story Tags

#chengdu#Chengdu Panda Base#Panda Tour
Are you always attracted by numerous videos featured in pandas' daily life with different ages in the era of short video wide spreading? I have to admit that I was totally captured by the panda's charmingly naïve and cuteness so that I decide to go to Chengdu Research Base of Giant Panda Breeding for the 2nd time.
To avoid big crowds, I got up very early in the morning and took the metro line 7 and transfer line 3 to Panda Avenue Station, there was shuttle bus from Exit D to the Panda Base which takes about 10 minutes driving. It was a hot sunny day, but it didn't blunt visitors' enthusiasm for pandas at all, the queue outside the entrance lasts about hundreds meters at 9:00am.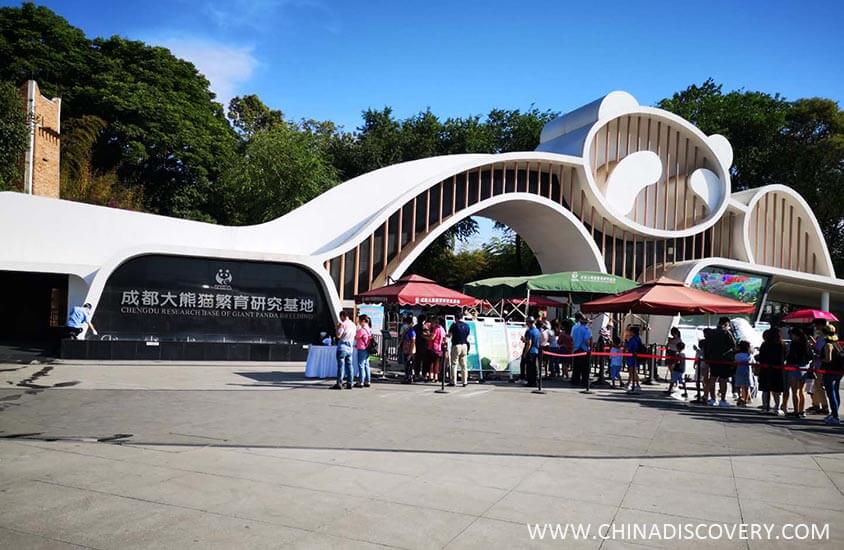 People Waiting in Line to Enter Chengdu Panda Base
After about 10 minutes' waiting, I got into the base finally and started the panda seeking. There is sightseeing bus (RMB10/person/way) for visitors' option if you want to save time and energy. But I would like to enjoy the natural scenery when walking through the bamboo framed paths.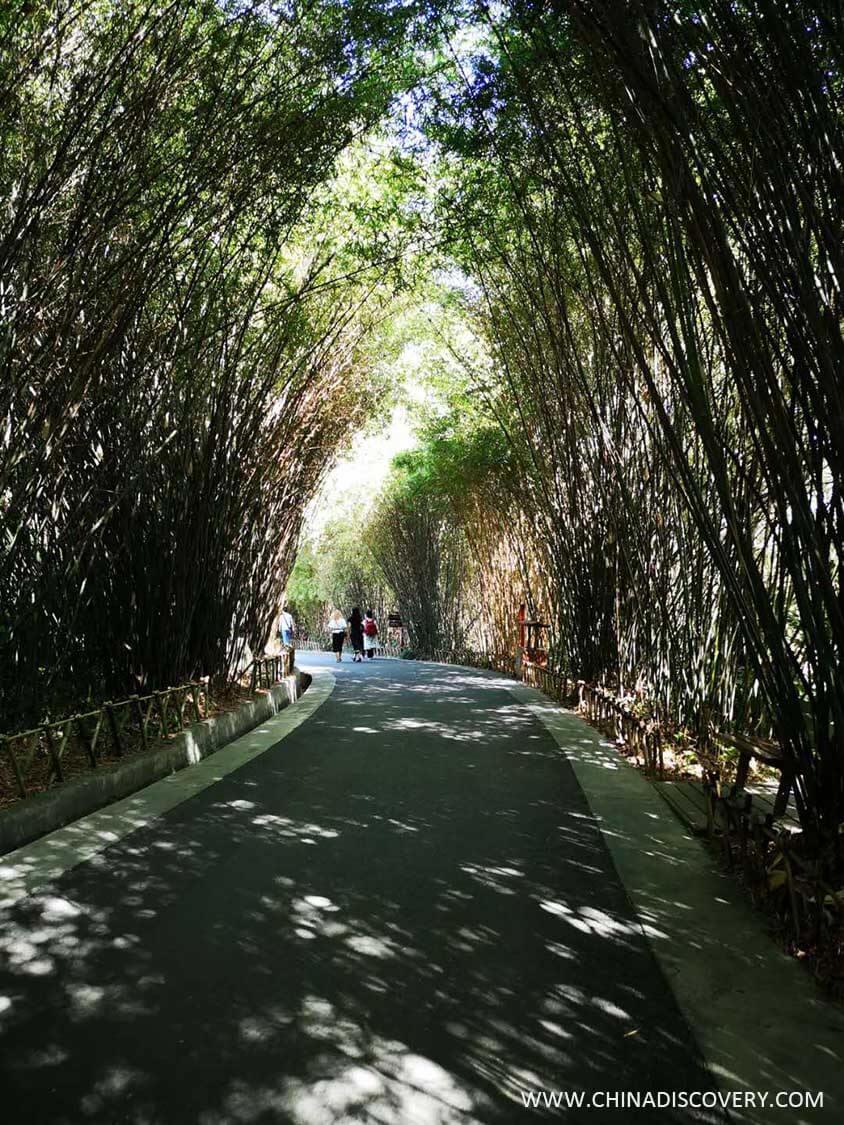 Bamboo-lined Path in the Base
Firstly I went to see the 2 playgrounds of red panda which is on the way to Sun and Moon Delivery Room. Several red pandas climbing and jumping on the trees actively in the garden and even disdain for any camera shot for the fans. Red pandas live in mountain forests at altitude of about 1500 – 2500 meters. They share their habitat with giant pandas in Sichuan, Shanxi, Gansu Provinces. Besides they could also be found in Tibet and Yunnan Province as well as northern India, Laos, Nepal, the Kingdom of Bhutan, Sikkimand Burma. It's listed as the national second class protected animal with estimated wild population of less than 10,000 individuals. I feel happy that there are more red pandas in the garden than 2 years ago when I first went there.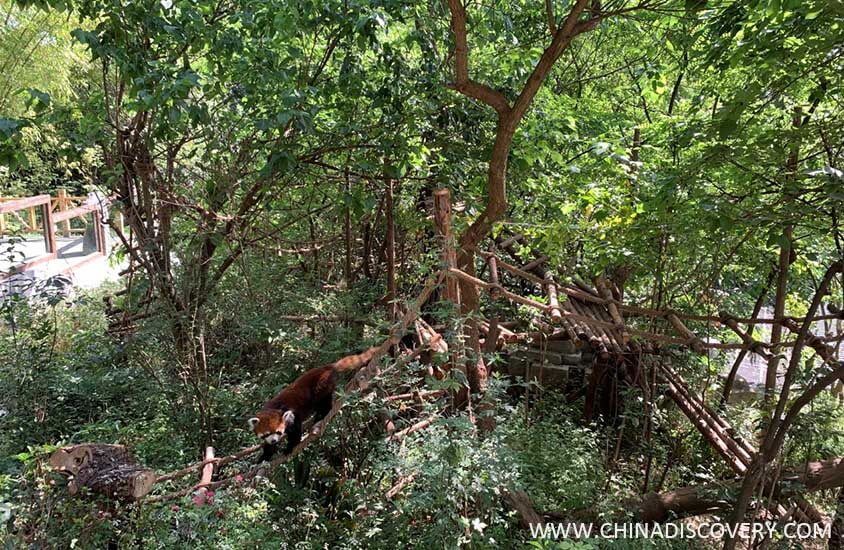 Red Panda in Chengdu Panda Base
Next I went across the road outside No.2 of red panda's playground, and downward to the Sun Delivery Room. The Sun and Moon Delivery Room in the base are the 2 most important places to visit, at which you could have chance to see baby pandas with new grown brushy white & black hair, that's super adorable! But I was not so lucky to see as many baby pandas as possible this time. There was only ONE baby panda at each delivery. May it's too hot and these 2 were chosen to be on duty for exhibition only. Generally Panda gives born in Sep – Nov, so there is large opportunity to see the new born panda (small pink one) if you visit the base during this period.
Baby Panda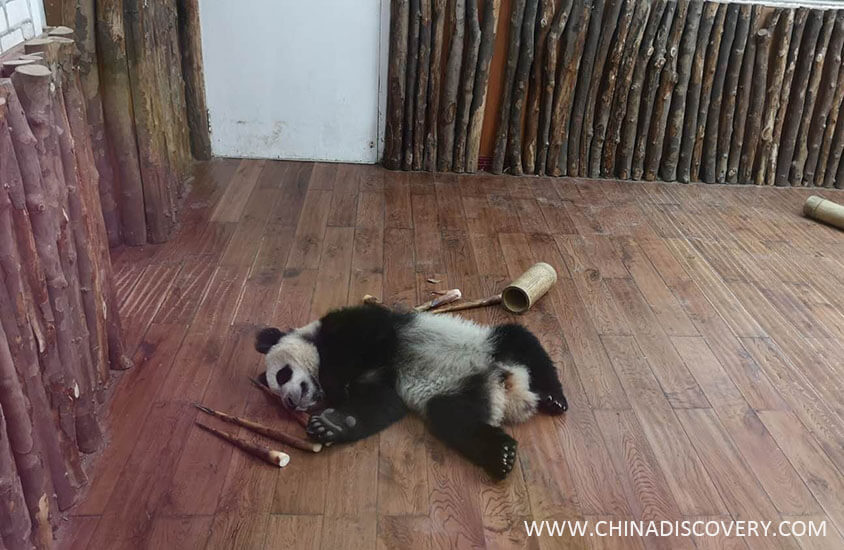 "Lazy" Panda Lying on the Ground
After the baby panda watching, I went to see the yearling giant pandas who are under 1.5 years. At this age pandas are full of vigor and energy. They like playing with each other even fighting with each other to have fun, climbing as high as possible to Show off their flexible body, exploring new things with curiosity and eating bamboo shoots quietly and hanging themselves on the crotch. No matter what they do, they look super cute from every angle. There was one yearling panda walks very fast along the narrow edge of the garden and suddenly Stretchs out its legs and slide itself down to the bush along the slope like playing on the slide. From my personal idea, panda at this age is the most charming and adorable.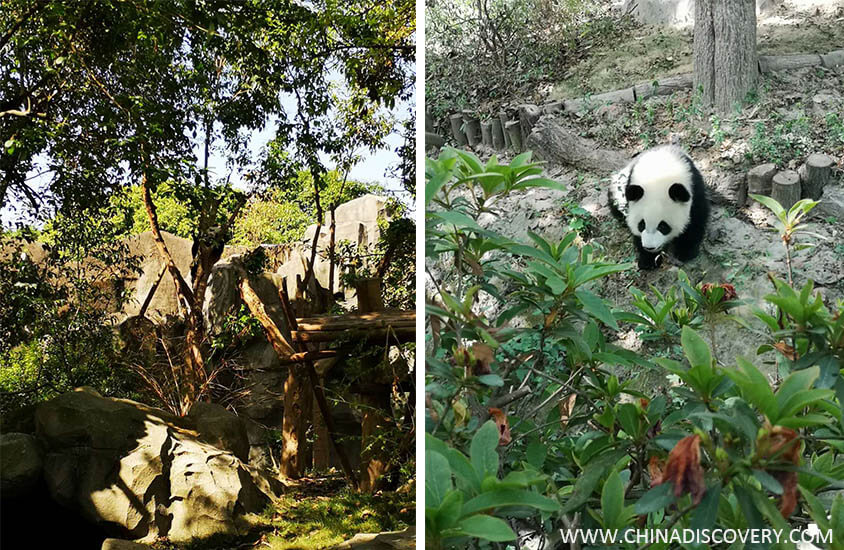 Pandas Playing Around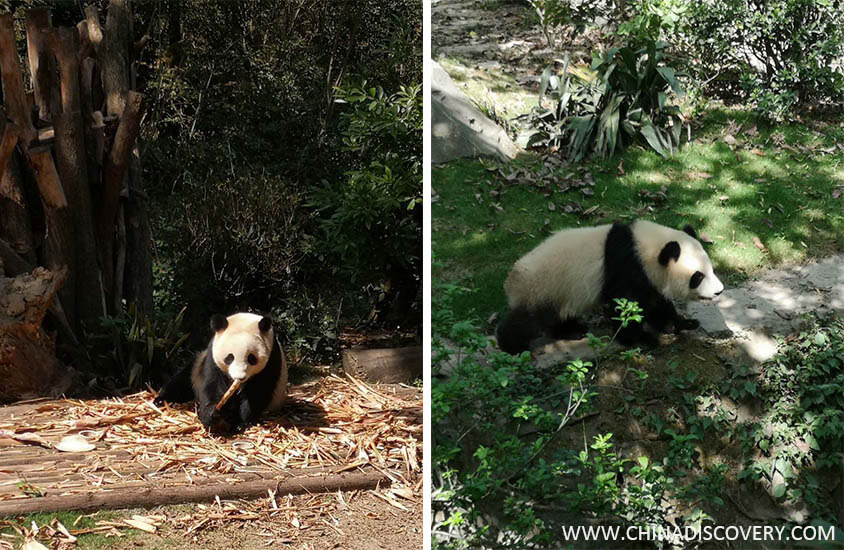 "Do you want to take a walk with me?"
Following the yearling panda visit, I went 3 grown giant panda gardens. But you could nearly see a panda playing in the garden, observing closely, you can find a part body with white or black spot stretched out on the tree. They were sleeping! "The older the lazier", that's a perfect description for giant panda. It's not strange to see an empty garden if the weather is too hot even in the morning. Because they prefer a colder climate and live in dense bamboo forests at an elevation of 2600 – 3500 meters, where there perennial temperature is below 20℃, when it is cool, they may play outside, but when it rises to 25℃, they have to stay in their dens to remain healthy and avoid overheating. That's why we recommend to see the pandas in the early morning when the temperature is not too high, especially in summer time.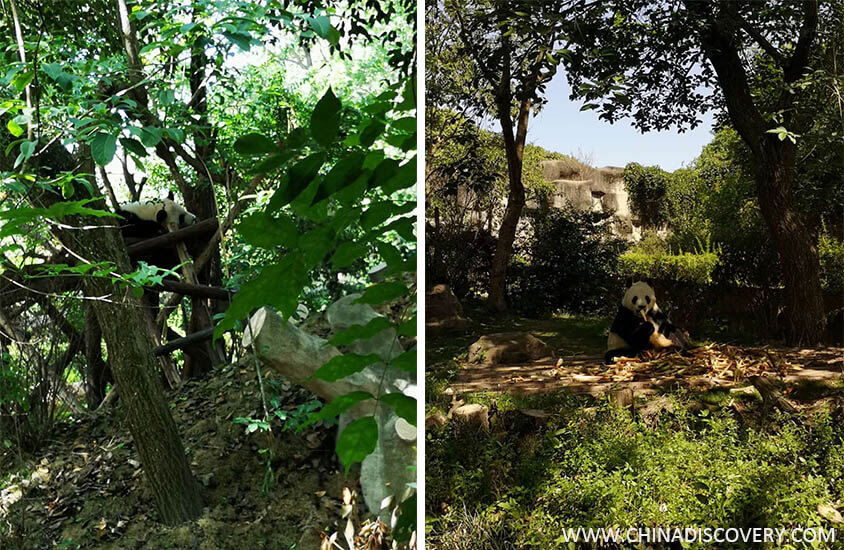 "Tree and Bamboo are my favorite."
Besides the national treasure giant panda in the base, the natural scenery is also stunning. Taking a leisure walk through the bamboo framed path and enjoying the wild flower blooming on the roadside, listening to the brook flowing into a pool, watching the blue sky over the green bamboo…. It's such a beautiful and quiet place to relax from the bustling city life.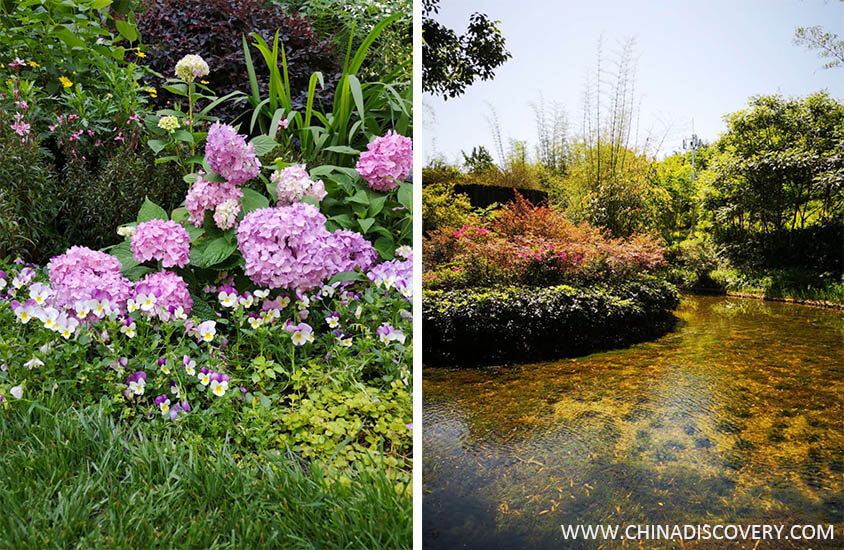 Blooming Flowers and Flowing Brook in the Base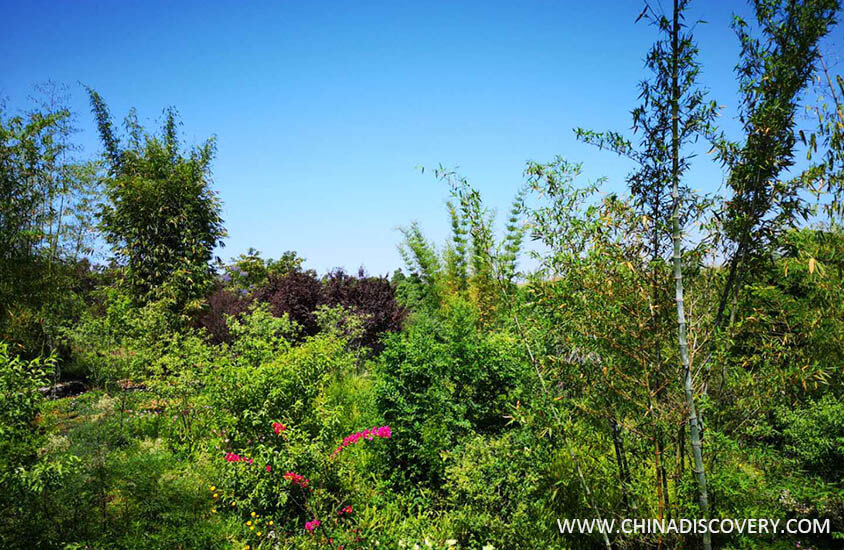 Chengdu Panda Base is Well Afforest
Travel with Me
Hi, I'm Echo. Are you interested in my 1 Day Chengdu Panda Base Tour? Feel free to contact me, and I will be glad to tell you more stunning stories about the places I have visited. Or, if you want to customize a tour on your own, I'm always ready to help at any time. With my passion, knowledge and understanding of the essence of travel, I promise I will try my best to make the tour memorable and meaningful for you.
Echo

Travel Consultant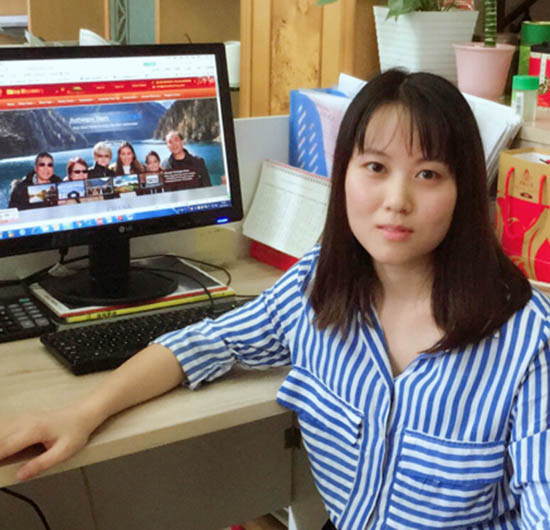 Recommended Tours
Top 3 tours chosen by most customers to explore in the best way. Check the detailed itinerary, or tailor your own trip now with us.
1 Day Chengdu Relaxing Panda Highlights Tour

Chengdu (Chengdu Banda Base, People's Park, Jinli Old Street)
2 Days Chengdu & Lifetime Panda Volunteer Tour

Chengdu / Dujiangyan Panda Base / Chengdu
4 Days Ultimate PANDA Tour for Panda Fans

Chengdu / Dujiangyan Panda Base / Chengdu
Have a question? Get answers from our travel experts or guests
Your Question:

Your Name:

Your Email: