Travel with Echo: A New Place to learn about Chengdu - Chengdu Museum
Departure Date

2019-10

Travel Length

1 Day

Travel Theme

Culture, Museum

Group Size

1

Travel Route

Chengdu Museum

Highlights

Chengdu Museum

Story Tags

#Chengdu#Chengdu Museum#Chengdu Tour
There is a new modern building in the west of Tianfu Square in recent few years, but I didn't go inside the building until last year. And the purpose to go there wasn't for itself, but the Special Exhibition of Chonghua Palace, which was the place of residence of Prince Hongli (Emperor Qianlong) when he got married. This Palace never opened to the public since the Palace Museum was founded in 1925 even in Forbidden City. You could imagine how excited I was when I knew that there was an Exhibition in Chengdu for 2 months. And just so I got the chance to know about Chengdu Museum.
First I would like to share the highlights of Chonghua Palace because it's too precious for ordinary people who love this part of history.
The Exhibition almost restores the layout and decoration of Leshantang and Zhilanshi which are the main places of Emperor Qianlong when he lived there—Living Room and Bedroom.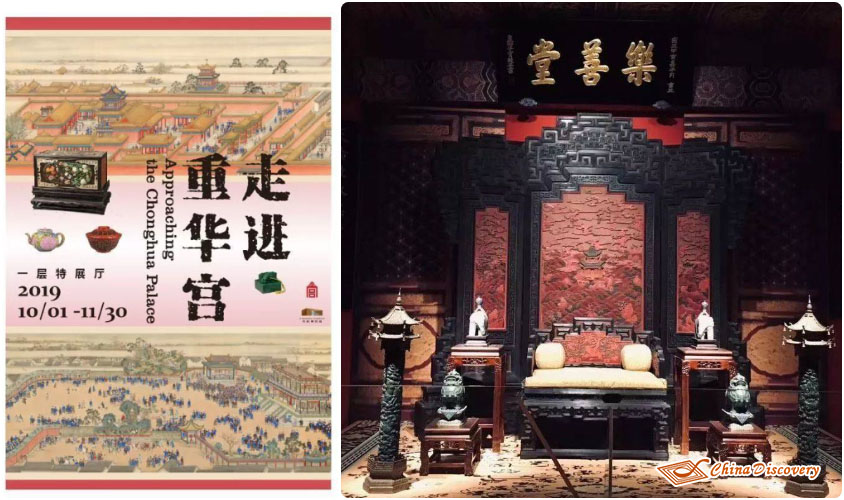 Chonghua Palace Exhibition and Living Room of Emperor Qianlong
It works as the entertainment place to taste the tea and compose poetry with his close families, the Grand Secretary, and Grand teachers of the Emperor at the beginning of Lunar Jan.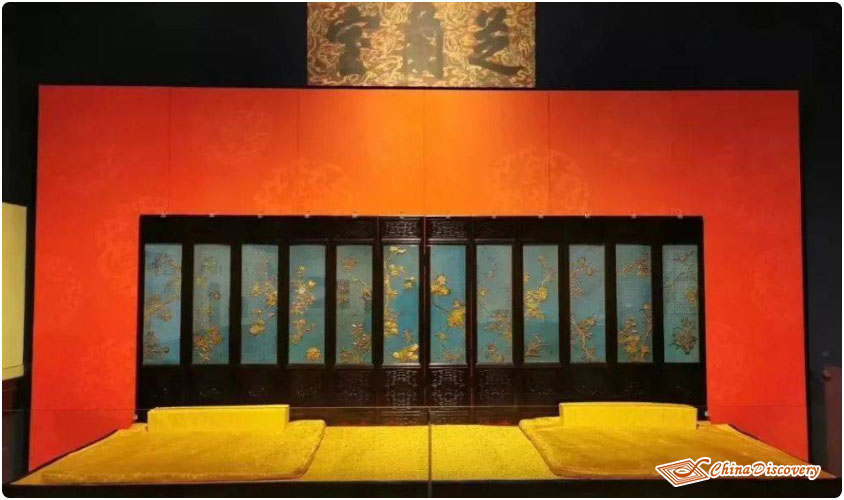 Bedroom of Empress Fucha and Emperor Qianlong
Zhilanshi is the place he lived with his wife Fucha when they got married at the age of 17. And they spent 9 years here together before he succeeded to the throne and named Emperor Qianlong. This Palace means a lot for Emperor Qianlong, he came here in every New Year's Eve during 48 years after the untimely death of Queen Fucha.
There were also the portrayals of Emperor Qianlong and Queen Fucha with court dress in royal time.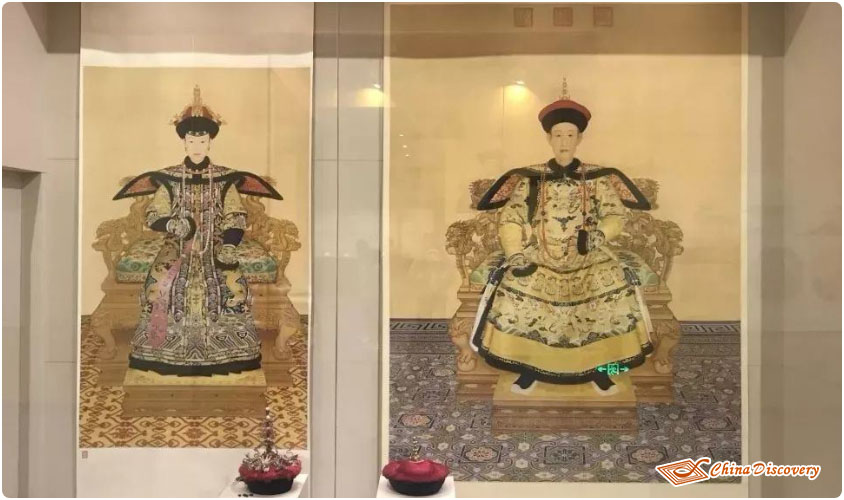 Portrait Painting of Empress Fucha and Emperor Qianlong
At the bottom of the portrayals standing their court hats, the Queen's hat was so exquisite beyond any description.
Emperor Qianlong loves to compose verse and he leaves more than 40000 poems, among which the best are about Queen Fucha. From these poems, we could tell that he loved Fucha very much even he (the Emperor) could have as many as concubines with e both beauty and talent.
There was a study named Changchun Study, he enshrined many gifts from his father and grandfather in this study after he succeeded to the throne, these pen containers, white jade beads, and hand stoves carry Qianlong's memories of his grandfather and father.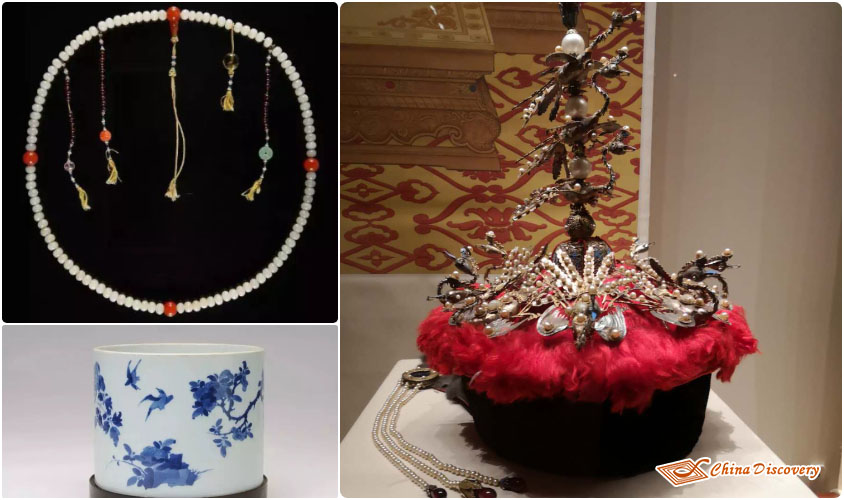 Empress's Crown and Emperor's Pen Holder and Jade Beads
The interesting truth is that Shufangzhai was a large separate theatre connecting Royal Garden; it's like a private cinema. But not the place Xiaoyanzi and Ziwei lived in the TV series Huanzhugege which fulfilled our childhood. It's the venue for most festival celebrations. On every his Birthday, Ghost Festival, New Year's Day, he would escort his mother Empress Dowager Chongqing to watch drama and to have meals.

Chinese Royal Garden and Priceless Gown
The exhibited Custom was embroidered by a gold thread, its exquisite beyond compare and it's needless to say it couldn't be measured by price nowadays.
The decoration in Shufangzhai also USES patterns of bats, peonies peach (they are lucky things in traditional Chinese culture), implying that "longevity" "longevity" and other good wishes. Emperor Qianlong was very filial to his mother, he drew a picture of Duolutu(《多禄图》 to offer birthday congratulations to his mother.
He holds a grand celebration for Empress Dowager Chongqing's 60's Birthday, the below is a part of Wanshoutu(《万寿图》which record this big event.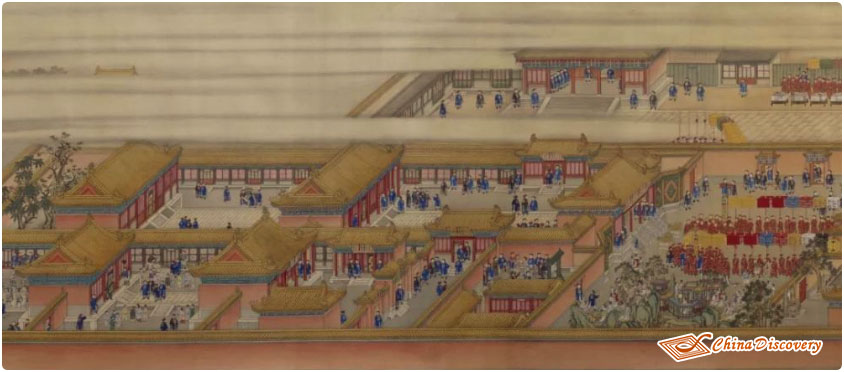 "Wanshoutu", Chinese Painting for Empress Birthday Celebration
We learn about the story of an ancient emperor from these historic relics. We also marvel at the high level of art ware in the Qing Dynasty Qianlong Period.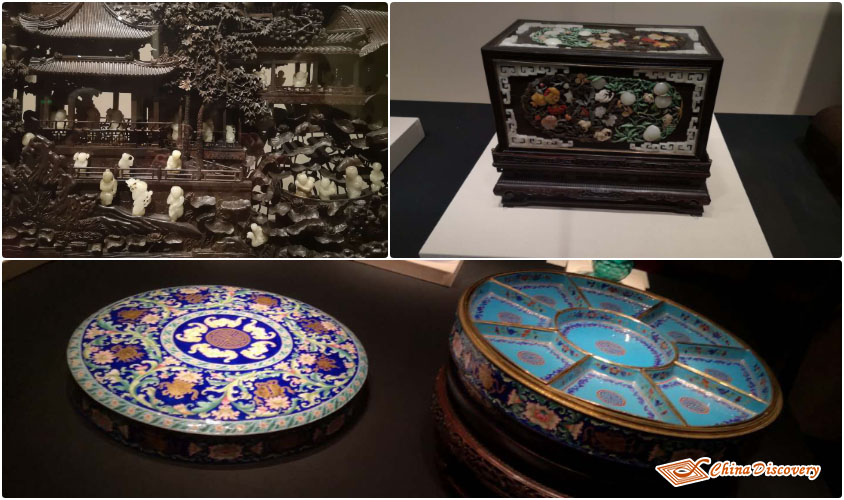 Collections of the Qing Dynasty
These collections are all superb! I even went to the exhibition twice and it's not boring at all, I love every piece of the exhibits.
After seeing this Exhibition, I also went to see the inside layout of this museum and found out that it is like a 3D history book to present the history and development of Chengdu.
There are nearly 200,000 pieces of collections, crossing a period from the Neolithic period to the Republic of China, covering a wide range of bronze, gold, and silver wares, brick portraits, stone carvings, ceramics, calligraphy and painting, shadow puppets, masks, woodcarvings, etc. They are in a high standard both in quantity and quality. In addition to the regular exhibitions, Chengdu Museum also holds a series of temporary exhibitions and special exhibitions, which were widely praised by the audience.
What to See in Chengdu Museum Chengdu Museum has seven floors including one basement floor. The regular exhibitions, which are also the key to our introduction, are from the 2nd to 5th floor dividing into Chengdu general history display, Chengdu folk customs, and Puppetry and Shadow Plays of China. The basement floor has two temporary exhibition halls. The first floor is the entrance lobby and one special exhibition hall. The sixth floor is the viewing gallery.
Chengdu before the Northern and Southern Dynasties (before A.D. 589) - On the second floor there are two exhibitions on the second floor. One is Chengdu of the pre-Qin period (before B.C. 221). Following the development of Shu culture in the pre-Qin period, over 240 fine cultural relics here show Baodun culture in the late Neolithic period, Sanxingdui site and Jinsha site in the Xia (about 2070-1600 B.C.), Shang (about 1600-1046 B.C.) and Zhou (1046-256 B.C.) dynasties, etc. With the help of scene restoration, sand table model, multimedia, and other exhibition forms, it vividly introduces all aspects of the ancient Shu People's life to the audience. The other exhibition is Chengdu from Qin (221-207 B.C.), Han (202 B.C. - A.D. 8; A.D. 25-220) to Northern and Southern Dynasties (A.D. 420-589). At that time, Chengdu is the political, economic, and cultural center of Southwest China and called "the land of abundance". The earliest and most complete 14cm human medical model unearthed in a Han Dynasty tomb and the treasure of Chengdu Museum - Stone Rhinoceros are displayed here.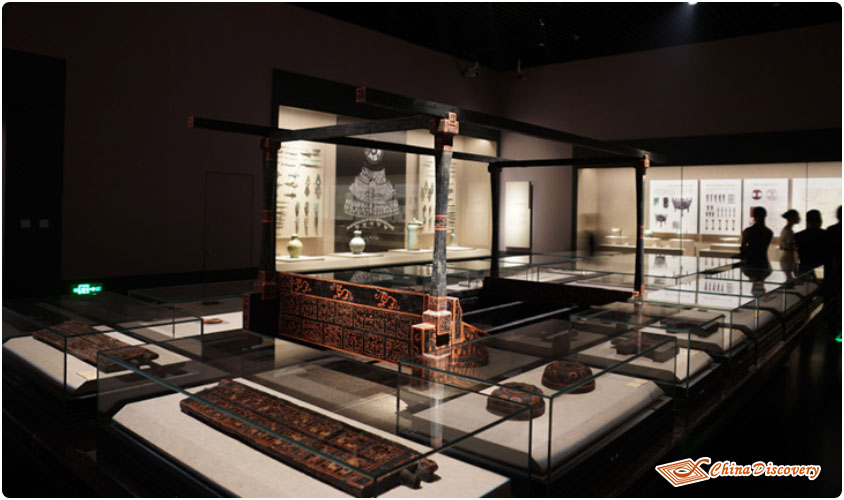 Treasures of the Han Dynasty
Chengdu from Sui to Qing Period (A.D. 581-1912) - The third floor there are also two exhibition halls on the third floor. One mainly shows the prosperous social condition of Chengdu as a Southwest metropolis in Sui (A.D. 581-619), Tang (A.D. 618-907), Five Dynasties (A.D. 907-960), Song (A.D. 960 - 1279), and Yuan (A.D. 1271-1368) Dynasties. There are more than 600 pieces/sets of cultural relics including porcelain, pottery, gold and silver, copperware, etc., reflecting the history of Chengdu. The other one is Chengdu in Ming (A.D. 1368-1644) and Qing (A.D. 1636-1912) Dynasties. There are architectural components and models of the Royal Palace of Shu (Sichuan in short) in the Ming Dynasty, from which we can imagine the grand scenery of the original building. Apart from that, a large number of Ming Dynasty terracotta figures, goldware, jade, and porcelain reflect the prosperity of Chengdu at that time. And various kinds of porcelain, exquisite snuff bottles, and ornaments mirror the well-developed business in Chengdu.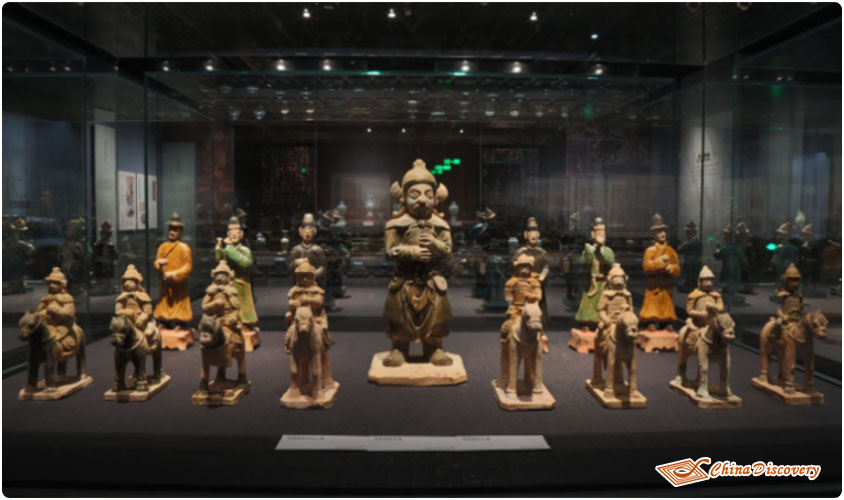 Colorful Pottery Figurines
Recent Historical Period and Chengdu Customs - Fourth Floor Since the middle of the 19th century, Chinese society has experienced unprecedented social changes, in which Chengdu has played an irreplaceable role: the important source of the road protection movement, the strategic town of the rear of the Anti-Japanese War, and the main battlefield of the liberation of the southwest. These three monuments will be forever recorded in the centenary history of modern China. The long process of urban civilization development has created Chengdu's unique humanistic temperament and spiritual outlook. Chengdu people's inclusive manner and leisure and calm attitude towards life has been immersed in the gene of the city. On the fourth floor, the exhibition hall presents many photos, documents, statues, etc. to reproduce the daily life of Chengdu people in the 20th century. The vivid scene will make you feel that you actually go back to Chengdu at that time.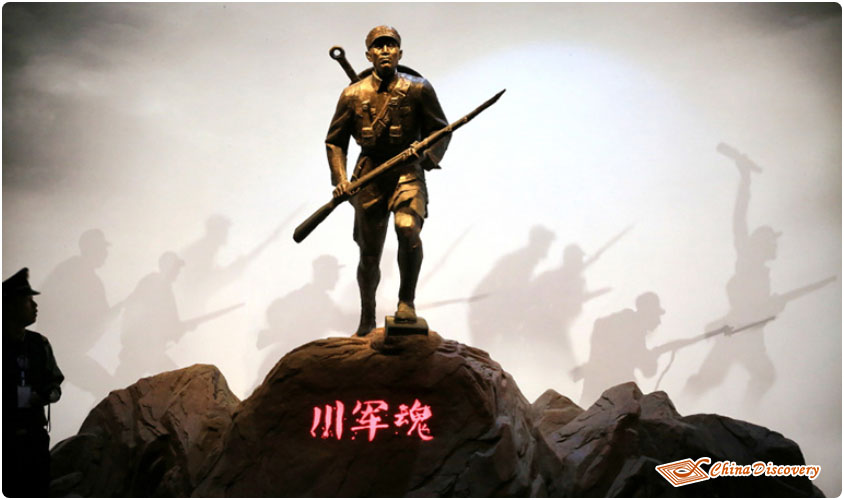 Chinese Soldier Statue
Puppetry and Shadow Plays of China - Fifth Floor Puppetry and Shadow Plays of China on the fifth floor are considered by many people as the most interesting part of the Chengdu Museum. China's puppetry and shadow play is a folk drama form with a long history. The puppets controlled by performers behind the scenes are representatives of different characters. It is unique in the world performing arts with its exquisite modeling, masterly manipulation skills, beautiful singing, and rich repertoire. Here are about 200 exhibits introducing different forms of puppets and its history of development.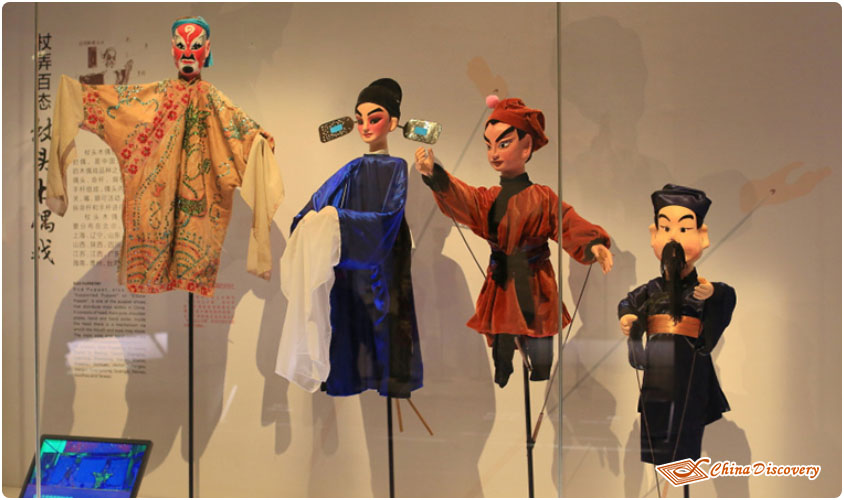 PPuppetry and Shadow Plays of China
In Chengdu Museum, there are some irregularly scheduled temporary exhibitions in the special exhibition hall on the first floor (like Chonghuagong Exhibition) or temporary exhibition hall on the third floor, which are held together with other museums, individuals, or organizations from home and abroad. So besides the presentation of Chengdu itself, we still have a chance to know some other precious Culture and Art Exhibitions. It is a wonderful and interesting place for both tourists and the residents in the city.
Travel with Me
Hi, I'm Echo. Are you interested in my 1 Day Chengdu Museum Tour? Feel free to contact me, and I will be glad to tell you more stunning stories about the places I have visited. Or, if you want to customize a tour on your own, I'm always ready to help at any time. With my passion, knowledge and understanding of the essence of travel, I promise I will try my best to make the tour memorable and meaningful for you.
Echo

Travel Consultant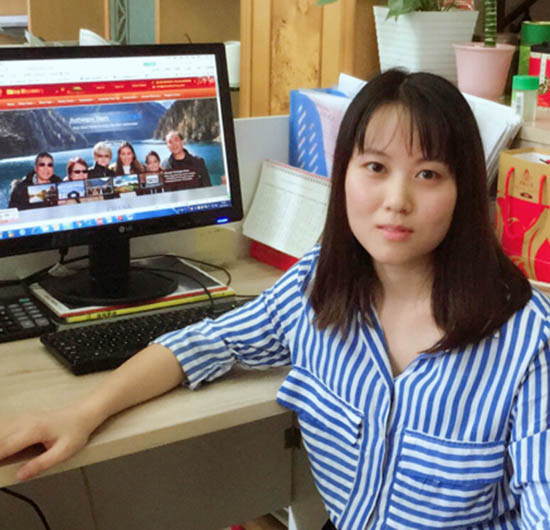 Recommended Tours
Top 3 tours chosen by most customers to explore in the best way. Check the detailed itinerary, or tailor your own trip now with us.
2 Days Leisure Chengdu Private Tour with Panda Visit

Chengdu: Jinli Street, Giant Panda Base, Wenshu Temple
1 Day Chengdu Relaxing Panda Highlights Tour

Chengdu (Chengdu Banda Base, People's Park, Jinli Old Street)
3 Days Chengdu Highlights Tour plus Leshan Giant Buddha

Chengdu: Chengdu Panda Base, Leshan Giant Buddha, Jinli Street
Have a question? Get answers from our travel experts or guests
Your Question:

Your Name:

Your Email: