[Important] Travel News for Expats: China travel is reopening! Travel with China Discovery and learn about where to visit & requirements for each destination! Read Details >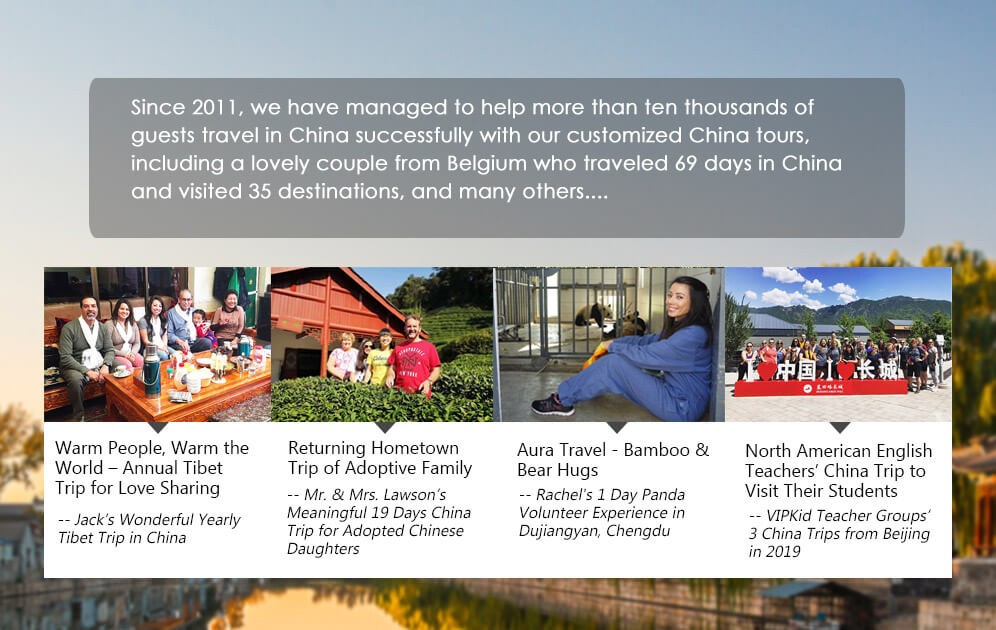 Customize Your China Tour 2021/2022
With our helpful China Tour DIY Tool, your own perfect China tour is only several steps away by letting us know your arrival date, the destinations you want to go, the things and activities you want to experience and your group information. You needn't spend a lot of time searching one tour from the hundreds of China tours collection as one of our travel experts will be your personal consultant who will create your preferred itinerary within 24 hours and send it to you, as well as keep in touch with you before and during the tour to take care of every detail of your days in China.
In 2019, we had helped thousands of guests travel in China successfully with our tailor-made China tours, including a lovely couple from Belgium who traveled with a well-paced and valuable 69 days China adventure which covered 35 great destinations in China.
Step 1: YOUR DESTINATIONS
Step 2: YOUR TRIP DETAILS
Step 3: YOUR GROUP INFO
Step 1 # Choose your favorite China destinations or let us know the place you want to go.
Here are some most popular China destinations listed for you to choose, with suggested travel days and recommended highlights you may not miss. While making your multi-destination trip in China, please pay attention to your planned travel duration with the days you may need in each city.
Suggested Travel Length
4 Days

Highlights:
Forbidden City, Great Wall, Temple of Heaven, Summer Palace

Beijing
Suggested Travel Length
2 Days

Highlights:
Giant Panda Base, Wenshu Temple, Jinli Old Street

Chengdu (Sichuan)
Suggested Travel Length
2 Days

Highlights:
Yungang Grottoes, Haning Temple, Nine Dragon Screen Wall

Datong (Shanxi)
Suggested Travel Length
4 Days

Highlights:
Mogao Grottoes, Crescent Lake, Yumenguan Pass, Echoing Sand Mountains

Dunhuang
Suggested Travel Length
2 Days

Highlights:
Dr. Sun Yat-sen's Memorial Hall, Yuexiu Park, Ancestral Temple of the Chen Family

Guangzhou
Suggested Travel Length
3 Days

Highlights:
Li River, Yangshuo County, Elephant Trunk Hill, Reed Flute Cave

Guilin
Suggested Travel Length
2 Days

Highlights:
West Lake, Lingyin Temple, Six Harmonies Pagoda

Hangzhou
Suggested Travel Length
4 Days

Highlights:
Ice & Snow Festival, Sophia Church, Zhongyang Pedestrian Street

Harbin
Suggested Travel Length
5 Days

Highlights:
Gegentala Grassland, Resonant Sand Bay, Genghis Khan Mausoleum

Hohhot (Inner Mongolia)
Suggested Travel Length
3 Days

Highlights:
Victoria Peak, Wong Tai Sin Temple, Stanley Market

Hong Kong
Suggested Travel Length
4 Days

Highlights:
Yellow Mountain, Xidi & Hongcun Ancient Villages

Huangshan
Suggested Travel Length
3 Days

Highlights:
Huanglong National Park, Jiuzhaigou National Park

Jiuzhaigou (Sichuan)
Suggested Travel Length
4 Days

Highlights:
Xijiang Miao Village, Kaili Ethnic Minority Museum

Kaili (Guizhou)
Suggested Travel Length
2-4 Days

Highlights:
Id Kah Mosque, Karakul Lake, Kashgar Bazaar

Kashgar (Xinjiang)
Suggested Travel Length
3 Days

Highlights:
Stone Forest, Dongchuan Red Land, Western Hill

Kunming (Yunnan)
Suggested Travel Length
4-5 Days

Highlights:
Potala Palace, Jokhang Temple, Norbulingka Park

Lhasa (Tibet)
Suggested Travel Length
4 Days

Highlights:
Lijiang Ancient Town, Tiger Leaping Gorge, Songzanlin Monastery

Lijiang & Shangri-la
Suggested Travel Length
4 Days

Highlights:
Shaolin Temple, Longmen Grottoes, White Horse Temple

Luoyang & Kung Fu
Suggested Travel Length
2 Days

Highlights:
Xiantong Temple, Tayuan Temple, Pusa Ding, Nanchan Temple

Mount Wutai (Shanxi)
Suggested Travel Length
2 Days

Highlights:
Pingyao Ancient City, Jinci Temple, Qiao's Family Compound

Pingyao (Shanxi)
Suggested Travel Length
3 Days

Highlights:
Qinghai Lake, Taer Monastery

Qinghai
Suggested Travel Length
3 Days

Highlights:
Urban Planning Exhibition Center, Yu Garden & Bazaar, the Bund

Shanghai
Suggested Travel Length
2 Days

Highlights:
Humble Administrator's Garden, Grand Canal, Lingering Garden, Suzhou No.1 Silk Factory

Suzhou
Suggested Travel Length
2 Days

Highlights:
Tianjin Eyes, Huangyaguan Great Wall, Porcelain House

Tianjin
Suggested Travel Length
2 Days

Highlights:
Golden Palace, Purple Clouds Palace, Wudang Martial Art show

Wudangshan (Hubei)
Suggested Travel Length
2 Days

Highlights:
Tianluokeng Tulou Cluster, Gulangyu Island, South Putuo Temple,

Xiamen
Suggested Travel Length
2 Days

Highlights:
Terracotta Warriors, Ancient City Wall, Big Wild Goose Pagoda

Xian
Suggested Travel Length
4-9 Days

Highlights:
Chongqing=Yichang, Chongqing=Shanghai, Chongqing=Wuhan cruises

Yangtze River Cruise
Suggested Travel Length
3 Days

Highlights:
Laohuzui Rice Terrace, Duoyishu Rice Terrace, Bada Rice Terrace, Hani Village

Yuanyang (Yunnan)
Suggested Travel Length
3 Days

Highlights:
Zhangjiajie National Park, Golden Whip Brook, Huangshi Village

Zhangjiajie
If you haven't found your favorite destinations, you can also let us know, or tell us your plan in below form:
Continue