China High Speed Rail (HSR) Map & China Bullet Train Map 2021
Updated News: By the end of 2018, China's national railway mileage was about 132,000km, 5 times of that in the early China, among them, high speed railways reached to 29,000km, ranking the longest in the world. In the past 2019, China has constructed more than 5,000-km high speed rails to connect more destinations, increasing to 35,000km and keeping the world's top 1 record ( 70% of global HSR length). In the following year of 2020, China plan to build 2,000 km new high speed lines to complete the network.
With the longest high speed rail network in the world, China has achieved the goal of the Four Vertical and Four Horizontal High Speed Railway Plan with a total length of 25,000 km/15,534 miles high speed rail (HSR), about two-thirds of the world's high-speed rail tracks by the end of 2017. Based on the existing lines, China will expand the rail system into 8+8 HSR Grid to link cities that had no railways and upgrade the conventional railroads. Featuring high speed of 250~350 km/h, China's high speed rails has greatly cuts down the journey time and attracts numerous travelers for its comfort, convenience, safety and punctuality. In China, most major big cities are connected by high speed railways, such as Beijing, Shanghai, Xian, Guilin, Chengdu, Chongqing, Hong Kong, Hangzhou, Guangzhou, Shenzhen, Kunming, Guiyang, etc. Except those, you can get to more than hundreds of destinations by high speed trains.
China High Speed Train Network Map (updated on August, 2021)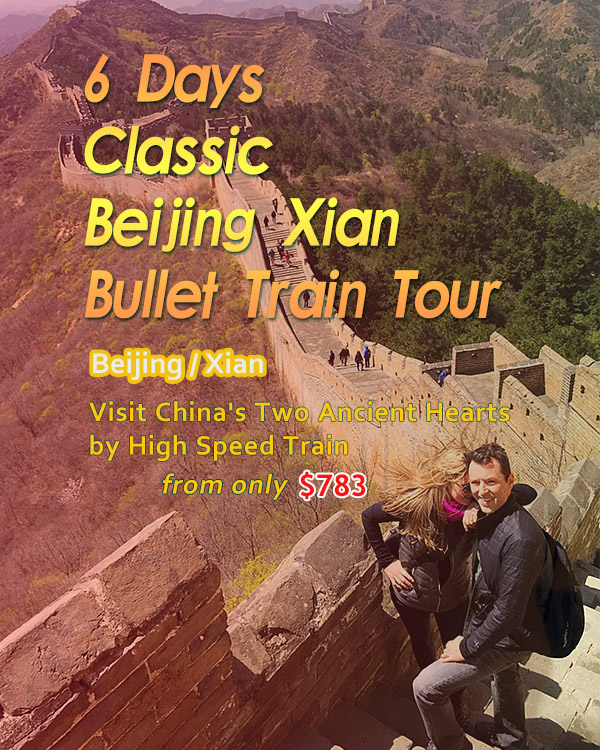 Popular China High Speed Railway Maps
Until the middle of 2018, there are 32 of 34 provinces in China running high speed trains and the number will grow as lots of new lines are under construction to cover more and more regions. Major tourist destinations in China are conveniently linked by high speed railways, thus, many classic high speed rail routes are taken by tourists to enjoy the modern travel experience. Hot high speed railways include the routes of Beijing-Xian, Beijing-Shanghai, Shanghai-Hangzhou/Suzhou, Xian-Chengdu, and Chengdu-Chongqing and so on. Read the following 6 popular high speed railways in China, and you can contact us to get more details of train schedules, tickets, fare and other popular rail lines you may be interested in. Read more
China High Speed Train Maps >
Most Recommended China High Speed Train Tours
Maps of Major High Speed Train Cities in China
The rapid developed high speed rail (HSR) in China has covered more than 150 cities in all directions, including 32 capital cities (municipalities) and over 100 destinations. That means, you can travel from capital Beijing, to northern ice world Harbin, to east coastal Shanghai, to southeast Hong Kong, to northwest Lanzhou, to ancient capital Xian, to home of Panda - Chengdu, to picturesque Guilin and massive destinations within one single day and even less hours. Also you can transfer from the 10 hubs (marked on the map below) to reach farther places in China. Read our map of high speed train cities to design a perfect China train travel for you.
Popular Travel Cities with High Speed Trains >
Featured Maps of Popular Transportations in China
China's transportation systems is made up of various kinds of traffic modes, including the railway network, HSR (High Speed Railway), expressway, air travel and river cruise. Click the maps in the following to get more details about the major transportation network in China.
Are you still looking for more travel maps? Feel free to use the thousands of maps on China Tourist Maps. Or you could just contact us for more relevant high quality China maps & travel information.
Top Popular High Speed Train Routes & Useful Planing Ideas
Recommended Tours
Top 3 tours chosen by most customers to explore in the best way. Check the detailed itinerary, or tailor your own trip now with us.
8 Days Shanghai Hangzhou Beijing Highlights Tour by High Speed Train

Shanghai / Hangzhou / Beijing
9 Days Guilin Guizhou Minority Culture and Landscape Exploration by High Speed Train

Guangzhou / Guilin / Yangshuo / Longji / Zhaoxing / Rongjiang / Kaili
15 Days Classic Ancient China Silk Road Tour with Bullet Train Experience

Kashgar / Tupran / Dunhuang / Jiayuguan / Zhangye / Xian / Beijing
Start planning your tailor-made holiday to China by contacting one of our specialists. Once inquired, you'll get a response within 0.5~23.5 hours.
Customize a Trip
Questions & Discussions
Following are latest questions and answers from our webusers and customers. You can learn many useful information from the discussion and cases. You can also join in the discussions or ask your own question. Our experts will help you ASAP.
Have a question? Get answers from our travel experts or guests
Your Question:

Your Name:

Your Email: