China Desert Map, Gobi Desert China Map 2023
China is rich in deserts. There are many different deserts in Northwest China. The winding sand dunes form many spectacular curves, and the sand ridge is like a soft blade shaped by the wind. The desert is so vast to see, and the sand dunes with different shapes are magnificent. You can go to Dunhuang, climbing Mingsha mountain and overlooking the elegant crescent lake, or take an adventure in Shapotou, Ningxia, and cross the mysterious Badain Jaran Desert to find these romantic colorful lakes...
The deserts are great for sightseeing and photography. In order to help you better figure out the deserts in China, we have listed China Desert Maps, for your reference. If you have any other questions or want a worry-free tour package, don't hesitate to contact us and enjoy the most memorable desert experience.
Where Is the Desert in China - China Desert Location Map
China's desert area is about 600,000 square kilometers. Traditionally, the area covered by shifting and semi shifting dunes in the arid region of the west is called deserts, while the area covered by fixed and semi fixed dunes in the semi-arid or semi humid region of the East is called sandy lands.
The Eight Deserts in China
Qinghai: Qiadam Desert
Xinjiang: Taklimakan Desert, Gurbantunggut Desert, Kumtag Desert
Inner Mongolia: Badain Jaran Desert, Tengger Desert, Kubuqi Desert, Ulanbuh Desert
Most of the deserts in the world appear in the tropics near the Tropic of cancer. However, China's deserts are mainly distributed in Northwest China, between 35° to 50 ° north latitude. In Northwest China, mountains and basins alternately appear, encircling the basin in the middle, with little rainfall, forming a huge desert zone.
China Desert Silk Road Map
Among the deserts in Northwest China, there are also many oases. These oases are connected by the Silk Road and become the precious supply stations for ancient long-distance travelers. Starting from the terminal Xi'an with terracotta warriors, you can appreciate religious art like the Mogao caves in Dunhuang historic relics like the Jiayuguan Fort and Great Wall standing along. Also, with the unique terrain, you will be impressed by the rainbow mountains in Zhangye Danxia Geopark, and eroded landscape of Yadan, the colorful lakes in Badain Jaran and Heisenchulu Stone Forest, etc.
Recommended Silk Road Tours ☛ 7 Days Qinghai Lake Zhangye Danxia Badain Jaran Desert Wonders Tour
☛ 6 Days Zhangye Jiayuguan Dunhuang Discovery Tour
☛ 7 Days Miraculous Land Tour from Dunhuang to Zhangye Xining
Travel with China Discovery
Traveling in the wild area of northwestern China is many travelers' dream. No matter you want to explore the mystery of the silk road or photograph the colorful lakes of Badain Jaran Desert, it never be as easy as traveling in the bigger cities like Beijing and Shanghai. In order to get a worry-free experience and get ride of the hustle and bustle hustle of public transportation and troublesome navigation, traveling with China Discovery is your best choice. As your flight or train arrives, our local guide will meet you at the airport or train station. You will enjoy a high-quality private transfer service, including comfortable car, skilled driver and freedom to stop for sightseeing.
Far more than that, China Discovery is professional to provide high-quality customizable tour. Before your tour, our travel expert will communicate with you one to one and make an itinerary according your own interest, need and budget. Every detail – transfer, hotels, attractions, etc. will be arranged well for you and you just need to focus on sightseeing. Feel free to contact us to start your worry-free private tour now!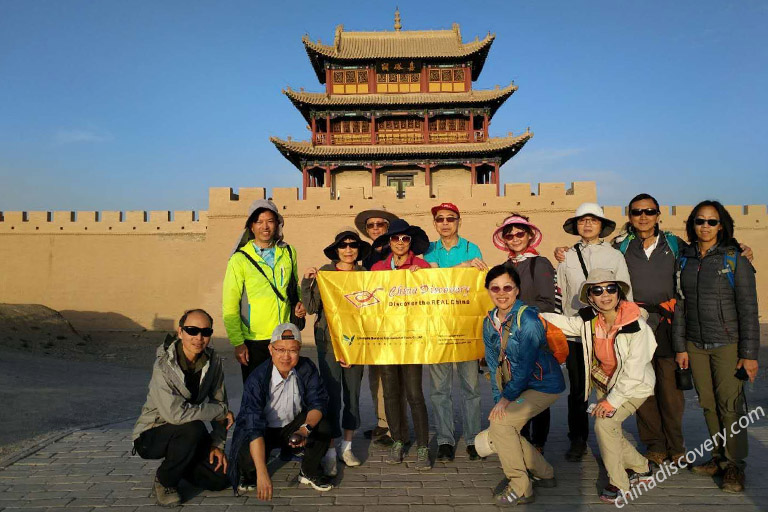 Mrs. Garlen Chan's group from Canada Enjoy A Silk Road Tour with China Discovery
Keep Reading
Recommended China Desert Tours
Top 3 China Desert tours chosen by most customers to explore China Desert in the best way. Check the detailed itinerary,or tailor your own trip now with us.
5 Days Zhangye Danxia Badain Jaran Desert Geography Miracle Tour

Zhangye - Badain Jaran Town - Badain Jaran Desert
8 Days Qinghai Lake Zhangye Danxia Badain Jaran Desert Wonders Tour

Xining - Zhangye - Badain Jaran Desert
3 Days Badain Jaran Desert Real Essence Tour with Jeep Safari

Badain Jaran Town - Badain Jaran Desert