Mark Shen - Our China Travel Consultant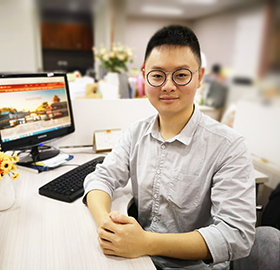 "Hello, there, this is Mark from China Discovery.

Some folks hold that travel is just to see and to experience places where people there had already been bored of. For me travel is never like that at all! If you ask me, I might say it's a journey of making what one heard, read and learned into a visual reality. Additionally, being on the road always offers you an opportunity to reveal a brand new part of yourself which hadn't been found before.

With my professional knowledge, experiences, enthusiasm and patience, Mark is here waiting for you. As the Chinese proverb goes: To read hundreds of books, to cover million miles of road and to meet thousands of people. Let's start to explore, to find and to gain in your Marvelous China tour! I promise to spare no effort to satisfy your needs with all my hearts. Just go!"
Why not take the advantages of Mark's travel experience to design a itinerary just for you, that suits your budget and interests. His passion to serve you never fades away! Ask him a question about your travel or call him at 86-18382262394.
Top Recommended China Vacation Package Deals
Following are our most popular vacation packages which take you to visit featured destinations, experience authentic Chinese culture at lowest price. You can also contact our travel specialists to DIY a unique tour package for you.
8 Days Best of China Tour (Flight/Bullet Train Covered)

Beijing / Xian / Shanghai
13 Days Classic China Tour with Yangtze Cruise

Beijing / Xian / Guilin / Yangshuo / Guilin / Chongqing / Yangtze Cruise / Shanghai
15 Days China Tour with Tibet Discovery & Panda Visit

Shanghai / Guilin / Yangshuo / Guilin / Chengdu / Lhasa / Xian / Beijing